As an Amazon Associate I earn from qualifying purchases.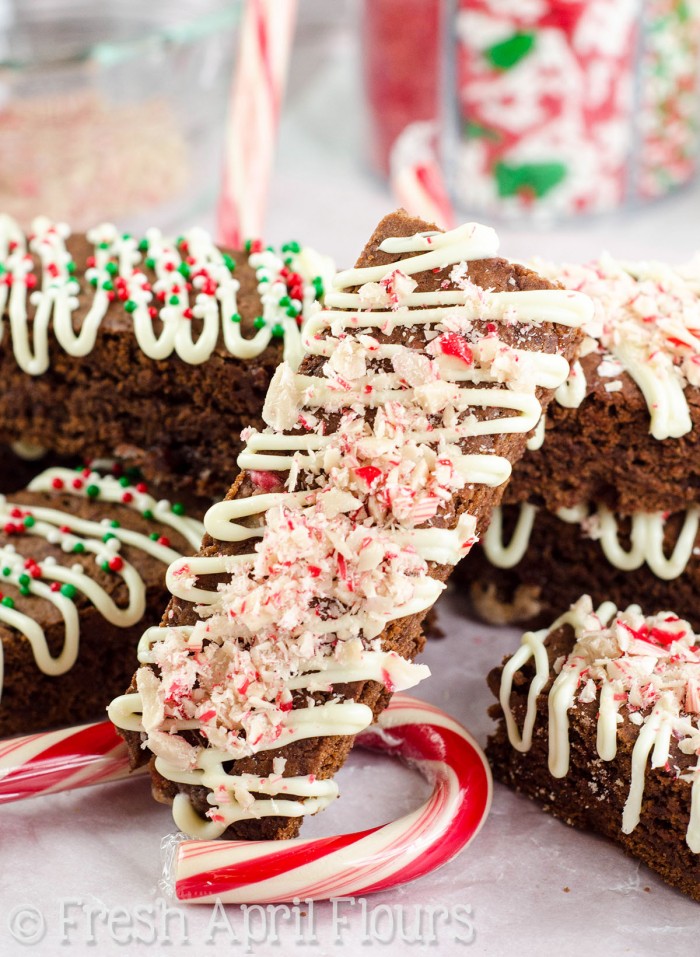 It should not surprise you at all that I have a holiday appropriate biscotti flavor. After all, I did absolutely fall in love with biscotti making this summer and have wanted to make nothing but biscotti since then. But I figure I need to hold myself back a bit and keep a variety of recipes going on here, so as not to deter the non-biscotti lovers among my readers. Although it's hard for me to think people that that exist… Seriously. I love biscotti. #biscottiforlife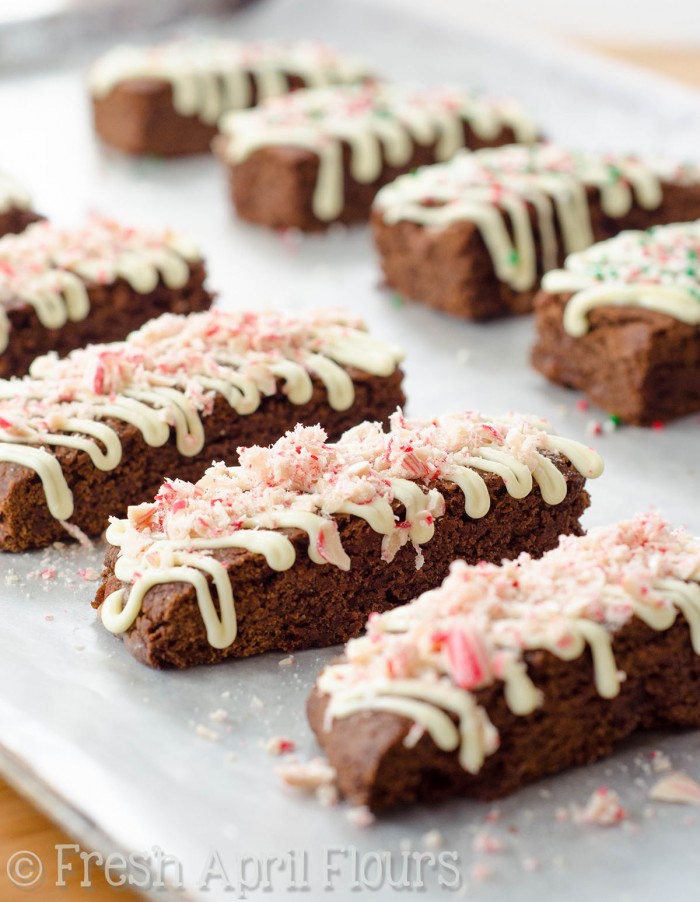 I knew that I wanted to add a biscotti to my 12 Days of Christmas Cookies party and I thought– what better way than with chocolate? AND PEPPERMINT? Chocolate + candy canes = December/Christmas/holiday cheer/jingle jangle/reindeer/Santa… Uhh, you get the idea. And so settled it.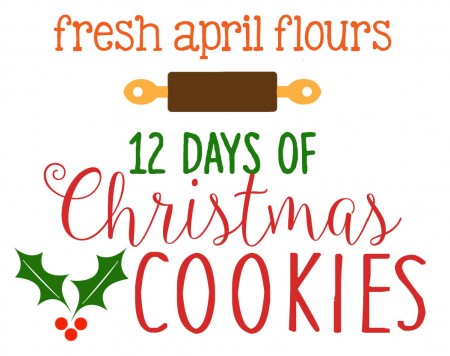 I kept the same basic recipe that I used for the other biscotti on my blog, but I swapped out some flour for some unsweetened cocoa powder to make things chocolatey. And of course, a tiny touch of peppermint extract and bits of candy canes to keep the centers of each biscotti soft, tender, and nice and minty. But not toothpasty. Holiday minty. The best kind of minty!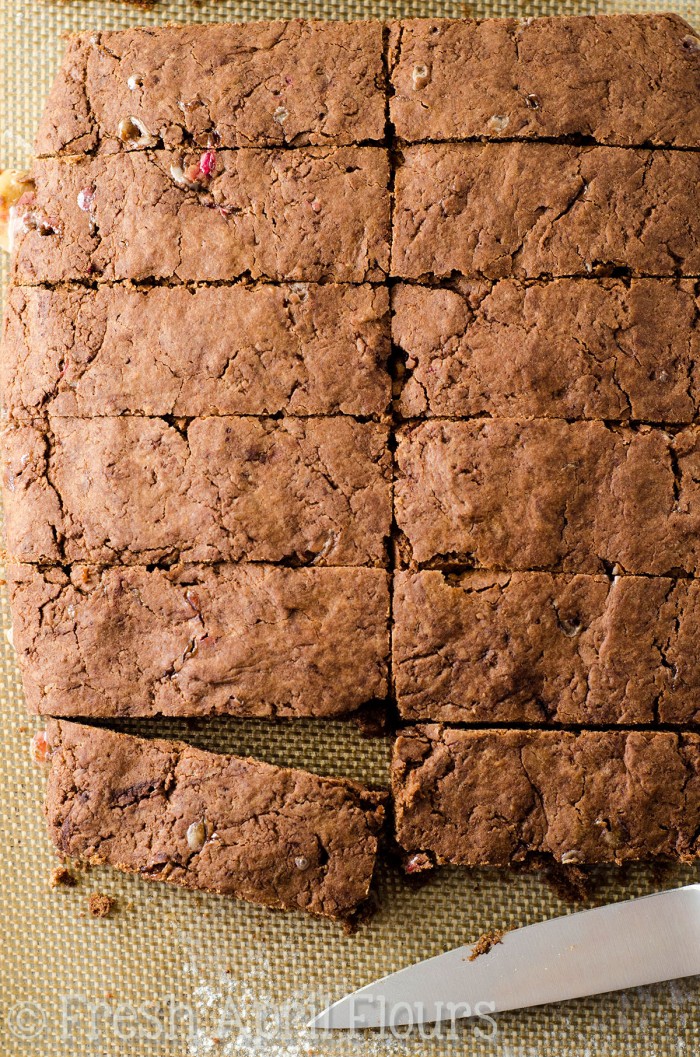 If you've ever made biscotti at home, you know that it's pretty simple, but takes a little time to get the hang of it. First, you mix all of your wet ingredients together, then all of the dry, combine them together and create a slab of dough. Then, you bake this slab for about 20 minutes, allow it to cool, then cut it into individual biscotto and bake them 9 minutes on each side to crispen up each cookie. For visuals on this, see either of my previous biscotti recipes. It sounds like a lot of work, but I promise you that it is not. And if you think that it is, it's worth it. Because biscotti are life.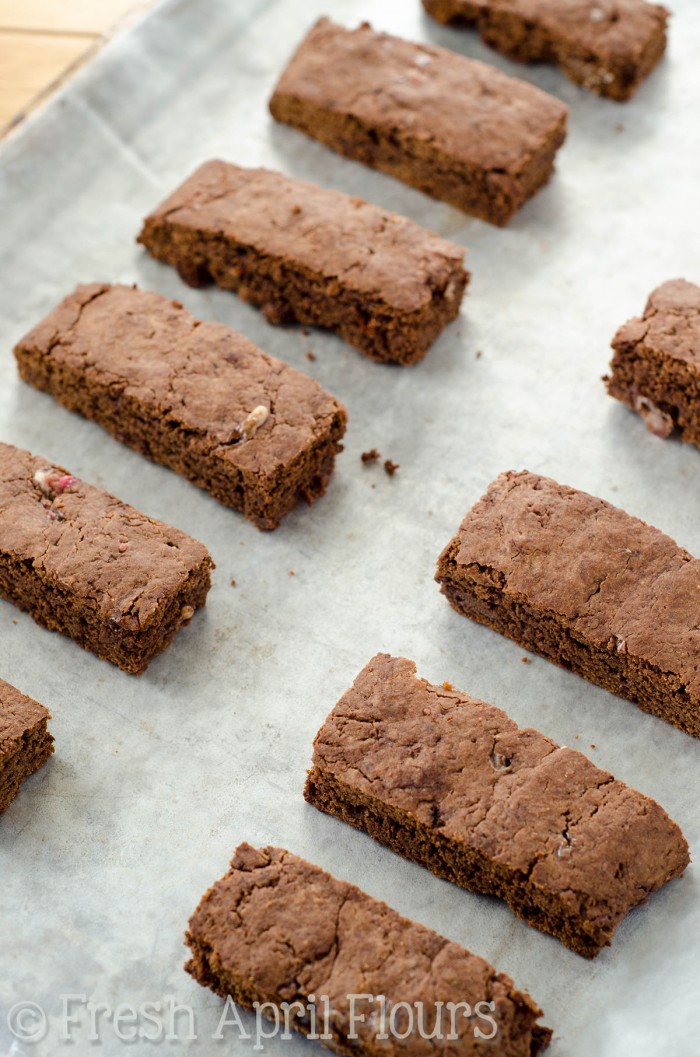 Seriously, I have a problem.
Once your biscotti are completely cool, jazz them up with a decorative drizzle of white chocolate (or semi-sweet or dark– whatevs!). Sprinkle some additional crushed candy canes on top, some festive sprinkles, or even something like crushed holiday m&m's, mini chocolate chips, colored sugar, of just leave them plain. Make 'em pretty and make 'em the way you like 'em!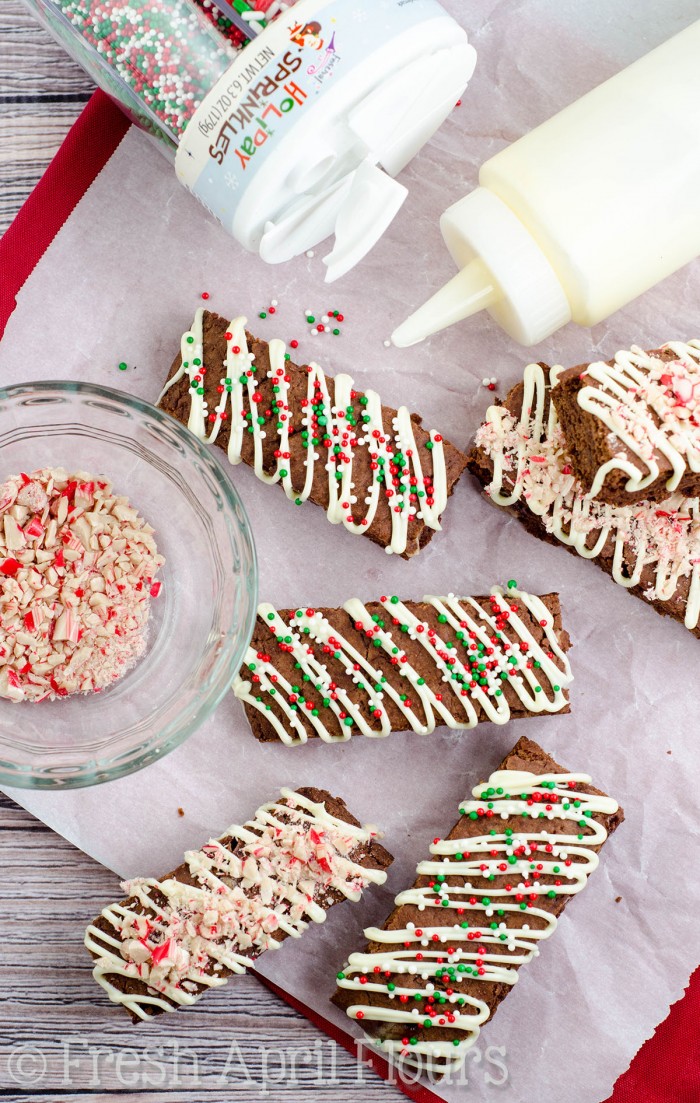 I enjoyed several of these cutie pies dunked in my coffee and/or hot chocolate post lunch a few days during the week I brought them to share with my coworkers. Although these biscotti are totally edible completely on their own, dunking just seems like a must when it comes to this traditional Italian dessert. It would seem sacrilegious not to dunk, because the dunkablity of biscotti is through the roof. That's why we drink coffee, right? To have something to go with the things that we like dunking? It's just one big circle of necessity.
Speaking of– I think if there's one thing your Christmas cookie arsenal needs this year it's these chocolate peppermint biscotti. They're so pretty, they're so festive, and you really can't go wrong with chocolate and candy canes this time of year. They'll fill the spaces of your cookie trays nicely and will totally add some pizzaz to your morning/afternoon/evening/anytime cup of Joe.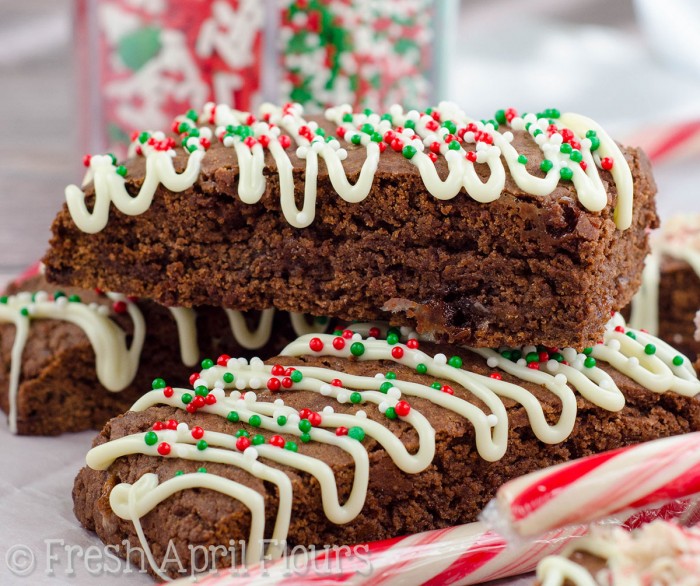 Tender, crispy, minty, chocolatey, and full of holiday cheer. What more could you ask for in a Christmas cookie?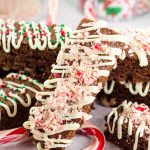 Print Recipe
Chocolate Peppermint Biscotti
Chocolate biscotti bursting with peppermint flavor and bits of candy canes. Add a drizzle of white chocolate and some festive sprinkles and you have yourself a merry little dessert!
Ingredients
1

Tablespoon

unsalted butter

melted

3

Tablespoons

vegetable or canola oil

1

large egg + 1 large egg yolk

room temperature

½

cup

granulated sugar

1

teaspoon

vanilla extract

1/8

teaspoon

peppermint extract

1

and 1/2 cup

1/4

cup

+ 1 Tablespoon unsweetened cocoa powder

1

teaspoon

baking powder

¼

teaspoon

salt

⅓

cup

crushed candy canes

approximately 4 large candy canes, plus more for decorating (optional)

3

ounces

white chocolate

you may certainly use semi-sweet, milk, or dark if you prefer
Instructions
Preheat oven to 350ºF degrees. Line a large baking sheet with parchment paper or a silicone baking mat. Lightly flour the baking sheet. Set aside.

In a medium size bowl, whisk together butter, oil, egg, egg yolk, sugar, vanilla extract, and peppermint extract until combined. Set aside.

In a large bowl, toss together the flour, cocoa powder, baking powder, salt, and crushed candy canes. Add the wet ingredients to the dry ingredients and gently mix with a large wooden spoon or sturdy rubber spatula until everything is combined.

Turn dough out onto lightly floured baking sheet and, with floured hands, pat dough into a rectangle about ½" thick. My rectangle was 6" wide and 7 and ½" long (using a ruler or a ruled silicone baking mat is helpful here).

Bake dough slab for 20-22 minutes. Remove from the oven, but do not turn off the heat. Place baking sheet on a wire rack and allow to cool for 10 minutes. Once the dough is cool enough to touch, cut into 1" thick slices using a sharp knife. Cut these 1" slices in half, making a perpendicular slice down the entire slab. Set slices cut sides up on the baking sheet. Return to the oven to bake for 9 minutes. Remove from oven, turn biscotti over, and bake the other side for 9 minutes. Remove from the oven and allow to cool for 3 minutes on the baking sheet (cookies will become crunchy as they cool). Transfer biscotti to a wire rack to cool completely before dipping in chocolate.
DECORATING THE BISCOTTI
Place the chocolate in a small microwave safe bowl. Heat in microwave for 20 seconds on HIGH, stir, and heat again as necessary in 20-second increments until completely melted.

If you would like to dip your biscotti like I did in my

Funfetti Biscotti

, transfer melted chocolate to a small, shallow dish. Drop each cookie into the chocolate so the bottom gets coated. Turn each biscotto upside down onto baking sheet so chocolate is undisturbed. If desired, add crushed candy canes or sprinkles while the chocolate is still wet. Allow chocolate to set at room temperature (about 30 minutes).

You may also leave the chocolate in the bowl and dip one side of each cookie in the melted chocolate. Add crushed candy canes or sprinkles while the chocolate is still wet. Allow chocolate to set at room temperature (about 30 minutes).

You may also choose to simply drizzle your biscotti with the chocolate. Pour the melted chocolate into a decorating bottle or a zip-top bag with the corner snipped off and drizzle over the biscotti, again, adding crushed candy canes or sprinkles while the chocolate is still wet, if desired. Allow chocolate to set at room temperature (about 30 minutes).

Store biscotti in an airtight container for up to 2 weeks. Baked biscotti may be frozen up to 3 months (freeze without chocolate).