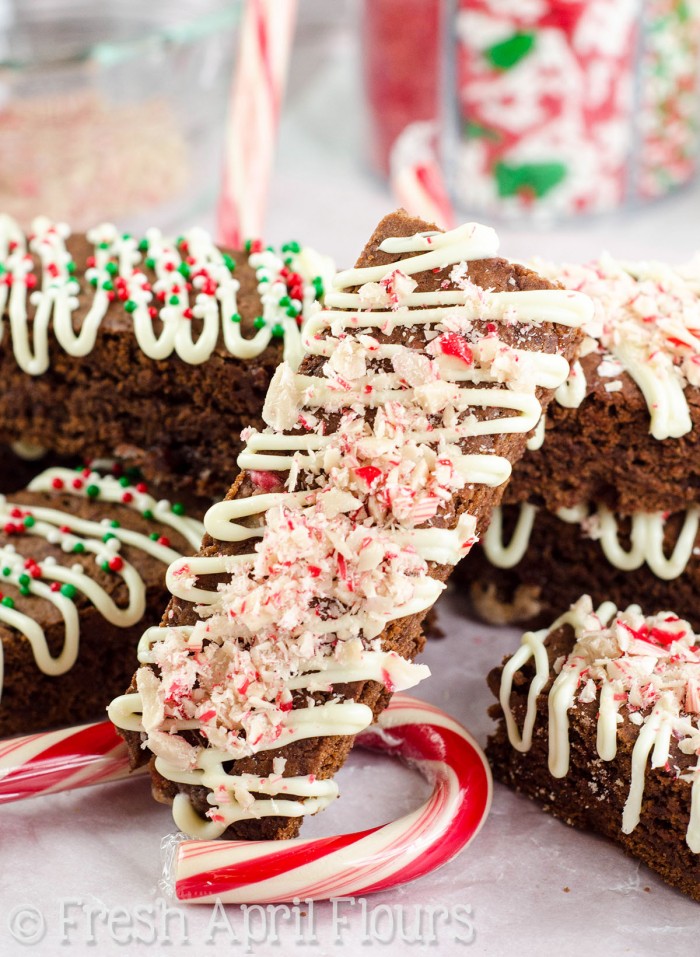 It should not surprise you at all that I have a holiday appropriate biscotti flavor. After all, I did absolutely fall in love with biscotti making this summer and have wanted to make nothing but biscotti since then. But I figure I need to hold myself back a bit and keep a variety of recipes going on here, so as not to deter the non-biscotti lovers among my readers. Although it's hard for me to think people that that exist… Seriously. I love biscotti. #biscottiforlife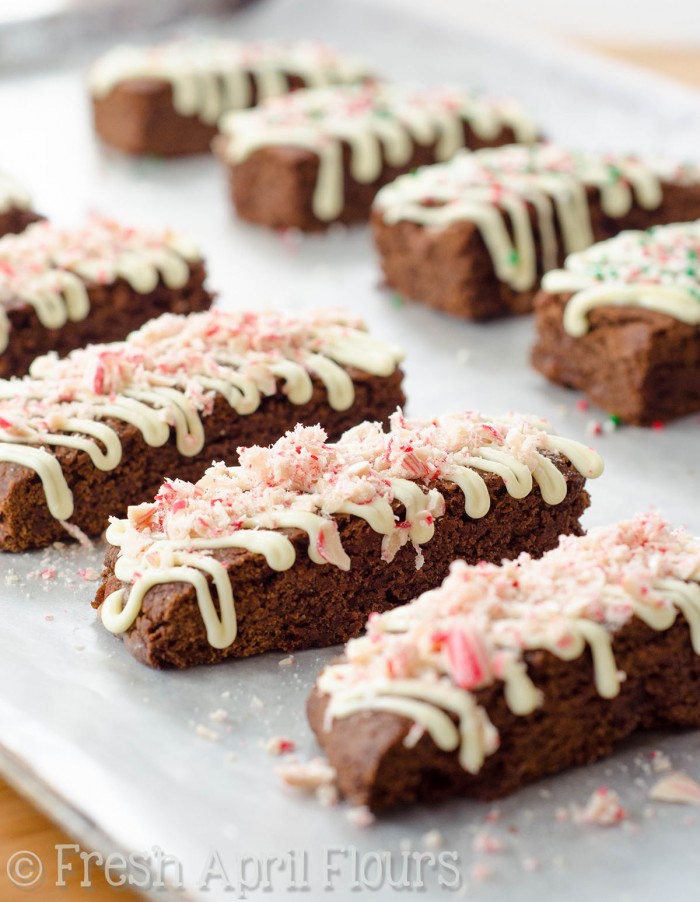 I knew that I wanted to add a biscotti to my 12 Days of Christmas Cookies party and I thought– what better way than with chocolate? AND PEPPERMINT? Chocolate + candy canes = December/Christmas/holiday cheer/jingle jangle/reindeer/Santa… Uhh, you get the idea. And so settled it.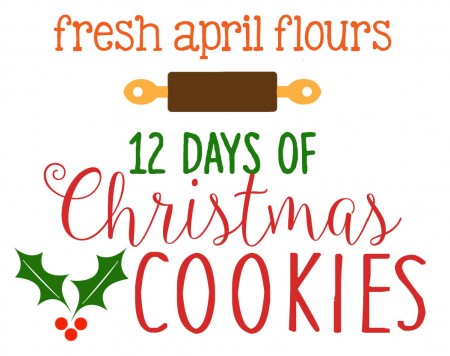 I kept the same basic recipe that I used for the other biscotti on my blog, but I swapped out some flour for some unsweetened cocoa powder to make things chocolatey. And of course, a tiny touch of peppermint extract and bits of candy canes to keep the centers of each biscotti soft, tender, and nice and minty. But not toothpasty. Holiday minty. The best kind of minty!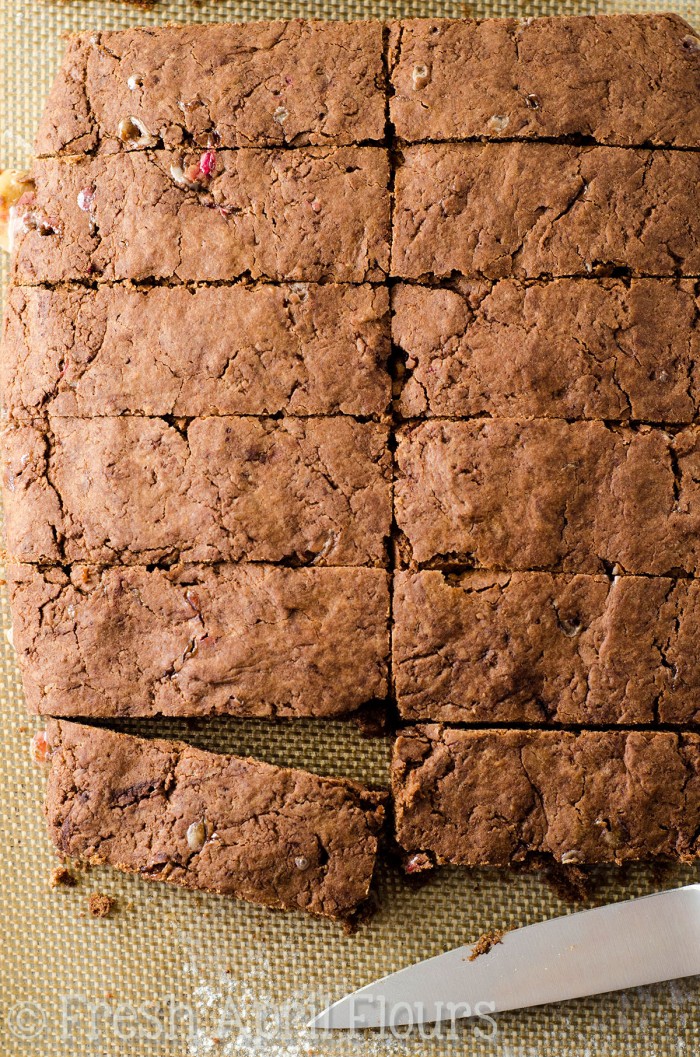 If you've ever made biscotti at home, you know that it's pretty simple, but takes a little time to get the hang of it. First, you mix all of your wet ingredients together, then all of the dry, combine them together and create a slab of dough. Then, you bake this slab for about 20 minutes, allow it to cool, then cut it into individual biscotto and bake them 9 minutes on each side to crispen up each cookie. For visuals on this, see either of my previous biscotti recipes. It sounds like a lot of work, but I promise you that it is not. And if you think that it is, it's worth it. Because biscotti are life.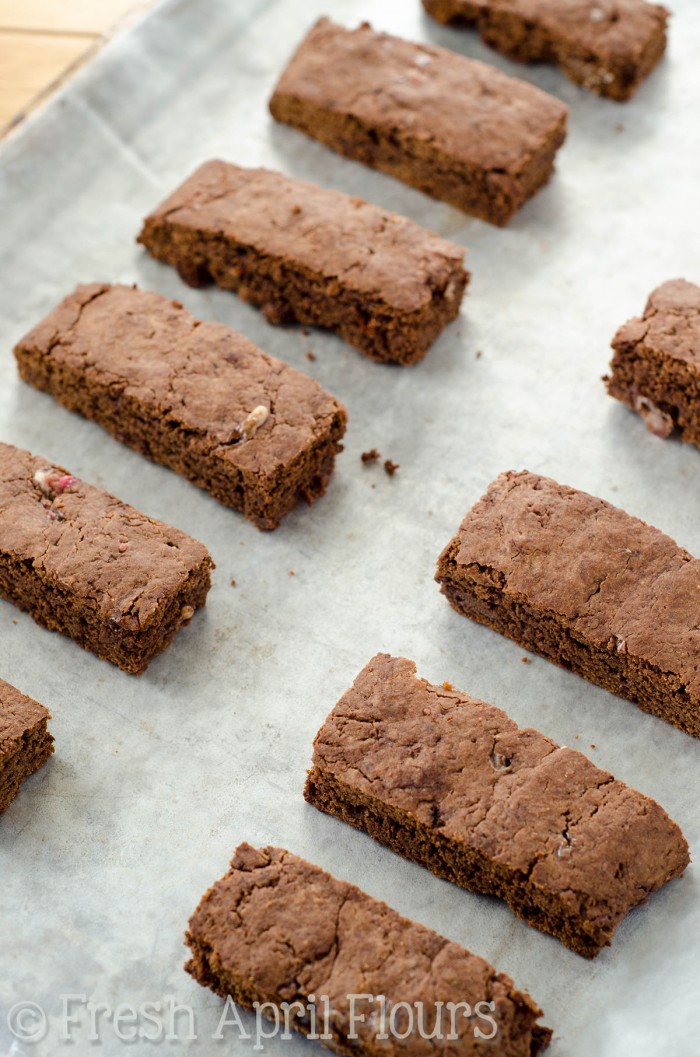 Seriously, I have a problem.
Once your biscotti are completely cool, jazz them up with a decorative drizzle of white chocolate (or semi-sweet or dark– whatevs!). Sprinkle some additional crushed candy canes on top, some festive sprinkles, or even something like crushed holiday m&m's, mini chocolate chips, colored sugar, of just leave them plain. Make 'em pretty and make 'em the way you like 'em!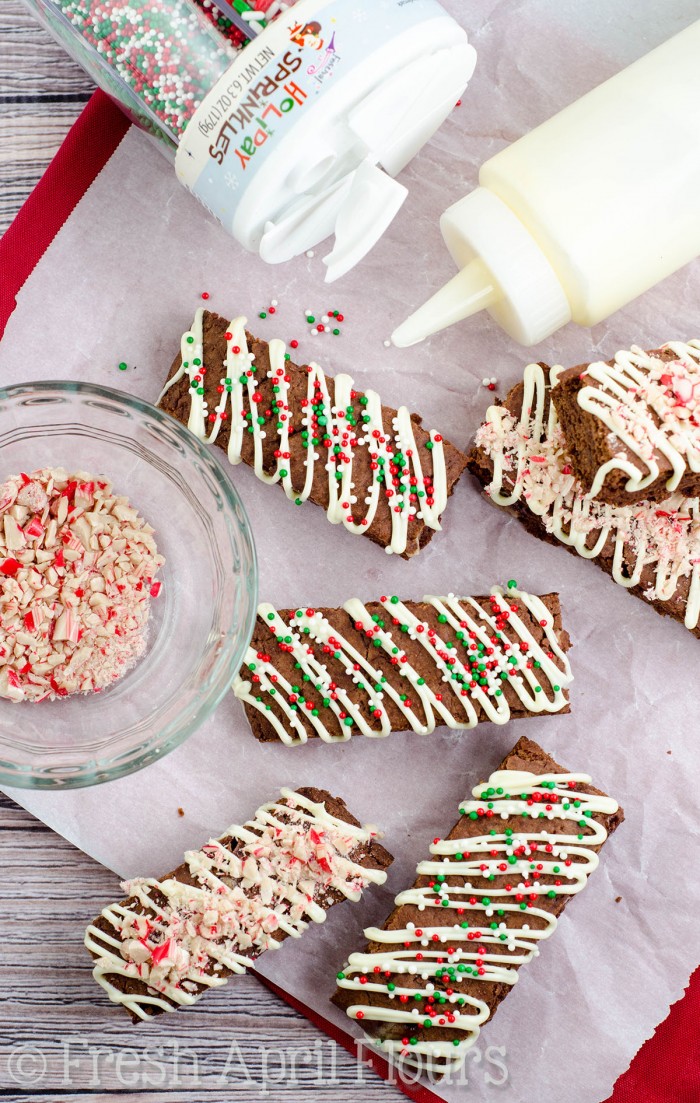 I enjoyed several of these cutie pies dunked in my coffee and/or hot chocolate post lunch a few days during the week I brought them to share with my coworkers. Although these biscotti are totally edible completely on their own, dunking just seems like a must when it comes to this traditional Italian dessert. It would seem sacrilegious not to dunk, because the dunkablity of biscotti is through the roof. That's why we drink coffee, right? To have something to go with the things that we like dunking? It's just one big circle of necessity.
Speaking of– I think if there's one thing your Christmas cookie arsenal needs this year it's these chocolate peppermint biscotti. They're so pretty, they're so festive, and you really can't go wrong with chocolate and candy canes this time of year. They'll fill the spaces of your cookie trays nicely and will totally add some pizzaz to your morning/afternoon/evening/anytime cup of Joe.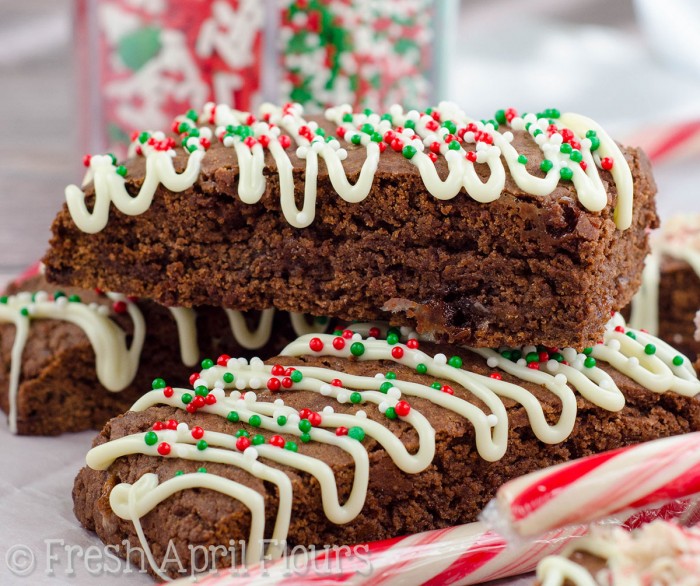 Tender, crispy, minty, chocolatey, and full of holiday cheer. What more could you ask for in a Christmas cookie?