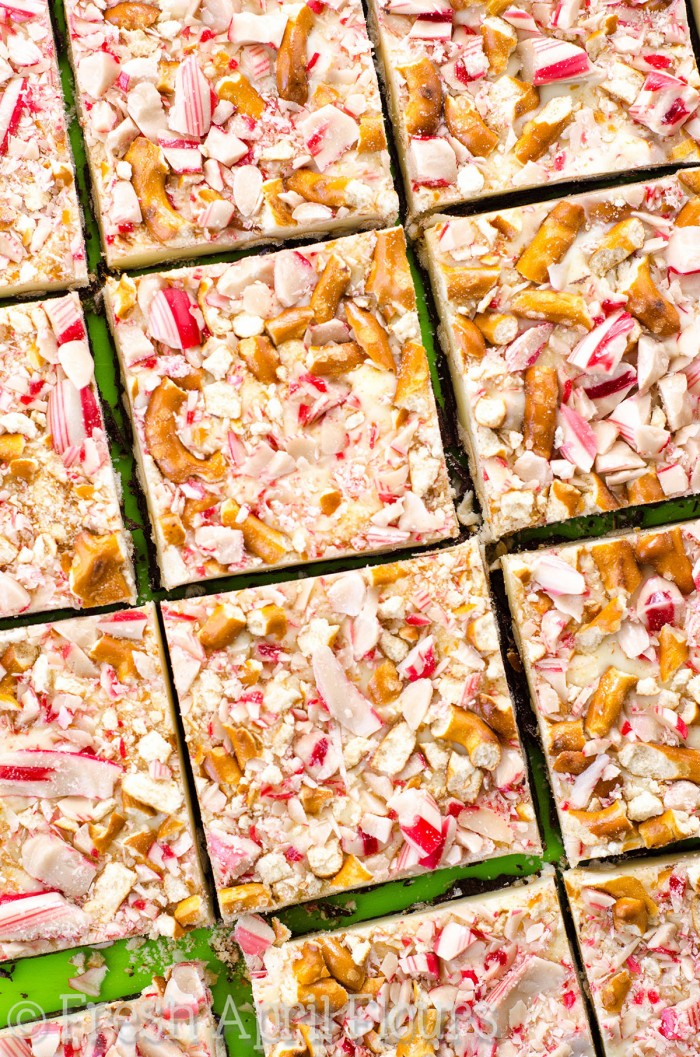 I will keep this short and sweet because 1) we've all got a lot of stuff to do in the next 24-36 hours and 2) I blabbed to you last year about how much peppermint bark needs to happen in your kitchen, so I won't go too crazy this year, but I will say…
Peppermint bark needs to happen in your kitchen. Specifically, this new variety I decided to try out this year.
You see, last year, when I realized I could make my own peppermint bark at home for about $10 (LESS if the ingredients are on sale) rather than shelling out $28.95 for the same amount of peppermint bark from Williams-Sonoma, I could not make it fast enough to share with my people. It's just too good.
Take that idea and combine it with those amazing little chocolate peppermint covered pretzels you can find on the end caps in the grocery store come December (let's be honest– November), I knew 2015 has to be the year of jazzy peppermint bark.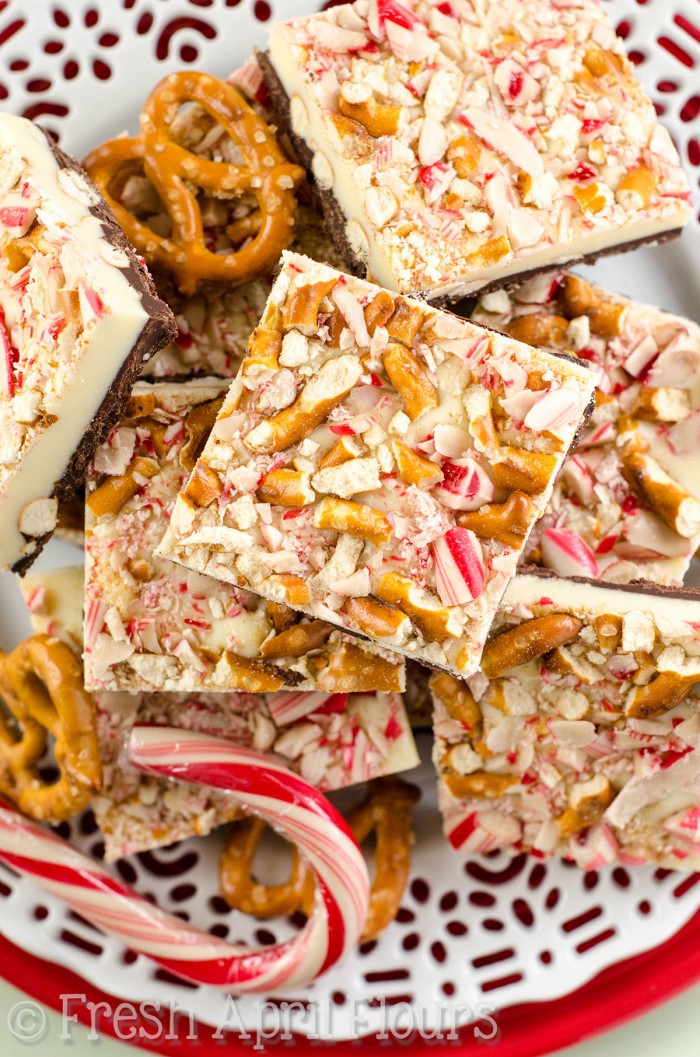 Enter: pretzels.
It turns out this idea was absolute GOLD. Peppermint bark on its own is purely magical: sweet and creamy white chocolate + slightly bitter semi-sweet chocolate + crunchy bits of minty goodness = Christmas in your mouth. Add pretzels to that? Now we're talking salty sweet + peppermint and ohmygod you neeeeeed to try it.
It's so simple to make: melt the semi-sweet chocolate, add peppermint extract, spread it into an 8″ square baking pan lined with foil, sprinkle with crushed pretzels, allow to set, repeat with white chocolate, more pretzels, and a hefty sprinkle of crushed candy canes and YOU, my friend, are moments away from salty sweet minty holiday cheer in the form of edible happiness.
Oh yes, it's that good.
As I said about my gingerbread Rice Krispies treats earlier this week, this peppermint pretzel bark is perfect for accenting cookie trays, as a standalone dessert at a holiday party or gathering, and it also packs up beautifully as a handmade, straight from the heart holiday gift (would be perfect along side theeeeeese cuties!).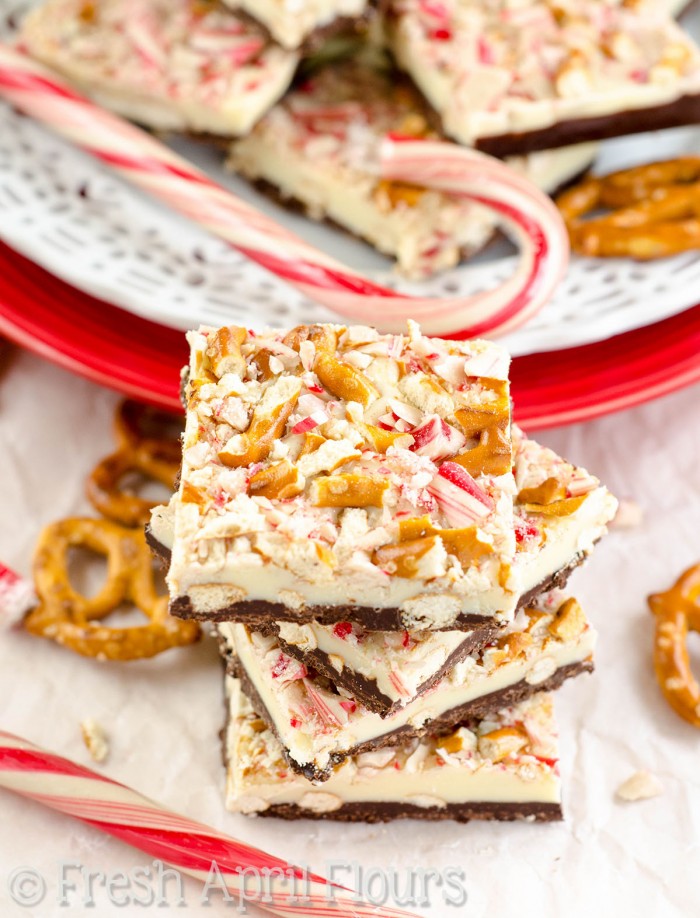 If I could, I would eat this all day long. Seriously. I can't get enough! But alas, I need room for turkey and stuffing and all of the Christmas cookies that I've stocked in my freezer over the last several weeks…
But you better believe when I make some up to give as gifts, I will be taste testing each batch with a very large sampling!!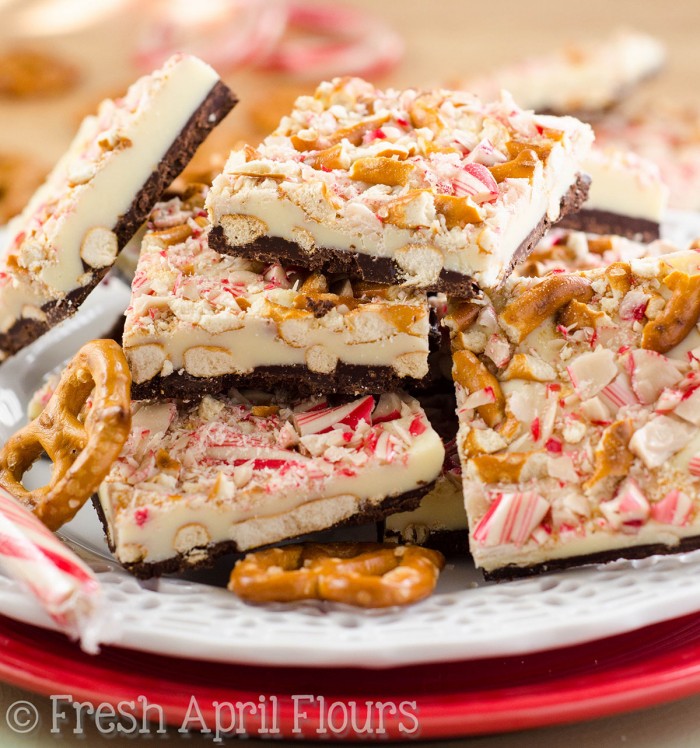 Always taste what you bake. Always… ????