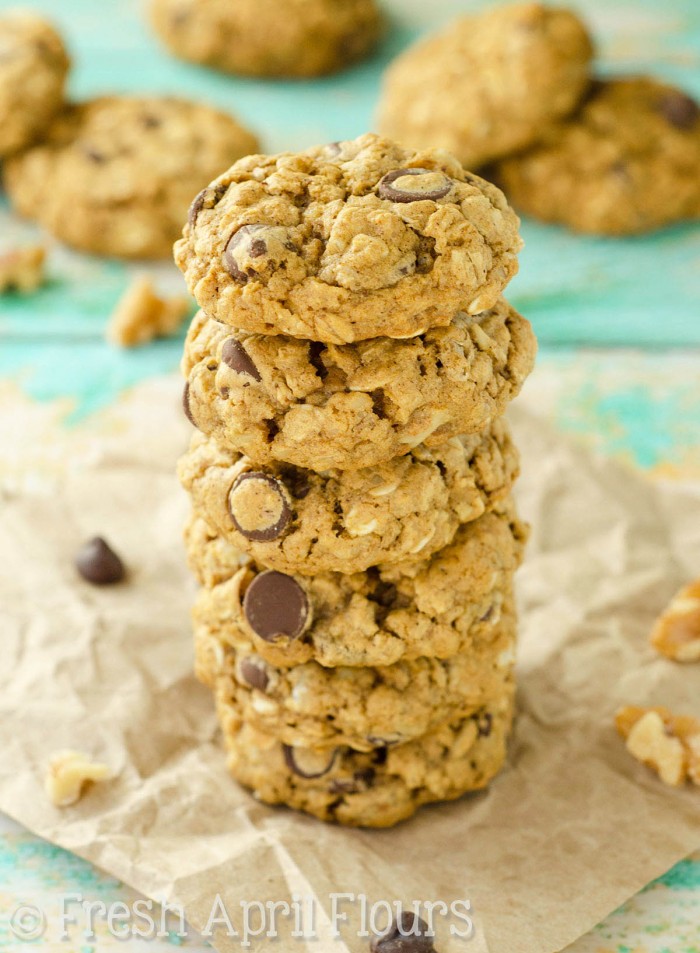 Greetings from Roatan, Honduras!
Ok, not really. I mean… We really are there today, but I'm definitely not taking a break from thoroughly enjoying being disconnected from the rest of the world with my hottie hubby while we float around the Caribbean to write this blog post. Thankfully, the world of technology allows me to put lots of things together for you, schedule them, throw on my sunglasses and flips, and give you recipes while I'm on vacation.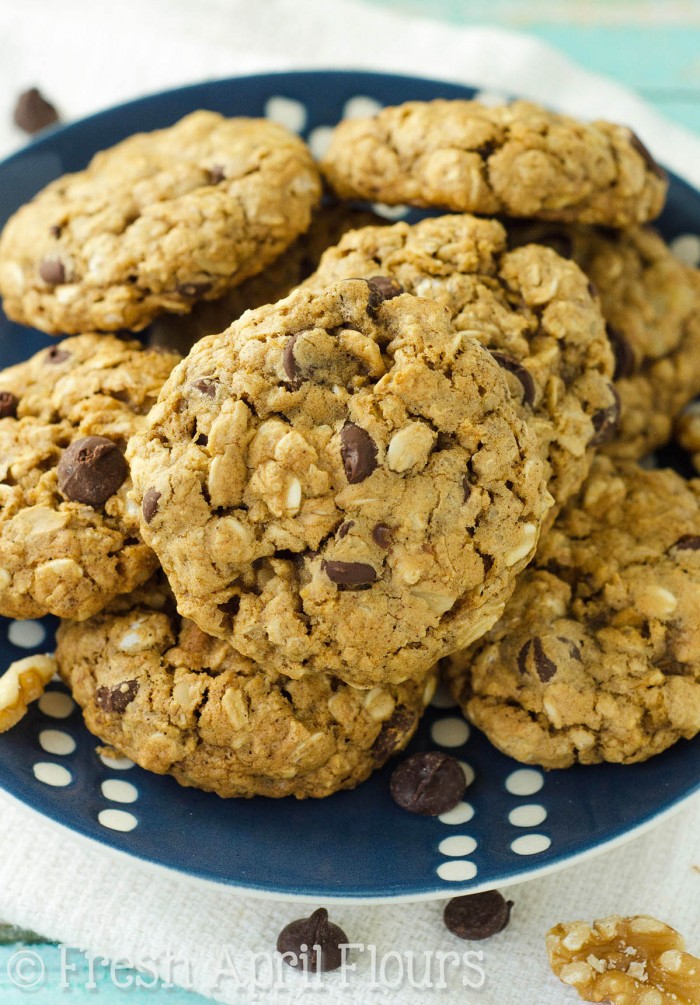 Ahhh… Relaxation. It's been a tough year for us. Aaaaand we have a few things to celebrate, which brings me to the most exciting thing about today's recipe!
If you've been a reader of mine for awhile, you'll remember that last September, all of the recipes I shared contained SPRINKLES. It was Sprinkle September, and it was fabulous. But why is September special?
WELLLLL, a certain somebody (me) has a birthday this month and that certain somebody is turning a certain age (30), so this month will be filled with that certain somebody's FAVORITE THINGS. Yes, it's true– I have dedicated the entire month of September to my favorite foods and flavors. I have a handful of not-the-norm recipes coming your way, so I hope you're excited for something a little different!
Things also being celebrated: Matt is officially a certified personal trainer and we are our 2 year wedding anniversary (although admittedly a little bit late).
To kick off #lynnsfavs, I'm starting with this fabulous oatmeal cookie recipe.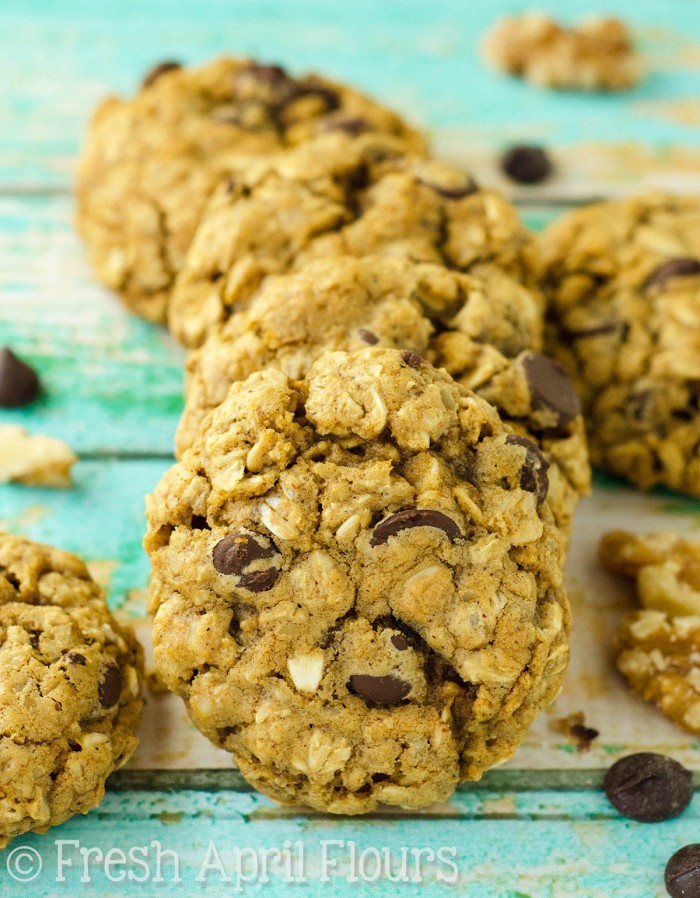 I've certainly talked about my one-dessert-for-the-rest-of-time dessert before. My beloved chewy oatmeal raisin cookies are my favorite dessert ever, followed closely by carrot cake (MY carrot cake, to be exact) and yellow cake with chocolate buttercream. The fact that neither of those other two recipes have links to them shows me I need to GET ON IT.
I know that not everyone is a raisin fan (I die inside), but I know that there are a lot of people out there who do love themselves an oatmeal cookie. Whether that oatmeal cookie has chocolate chips, raisins, nuts, butterscotch chips, none of the above, or all of the above in it… All oatmeal [fill in the mix-in] cookie lovers should agree that the oatmeal cookie itself has got to be on point. It's all about that bass (<– sadly that actually happened) base, and lucky for you, I have that base down pat.
The base recipe for these chocolate chip walnut oatmeal cookies is the same recipe I use for my classic oatmeal raisin cookies and also my oatmeal Raisinet cookies. No alterations, no substitutions (besides the mix-ins), just variations on a perfect recipe. If it ain't broke, don't fix it, right?
While my oatmeal cookie base recipe is quite simple, it does require some chilling– a mere 45 minutes. You can totally watch 2 episodes of HIMYM on Netflix while you wait. Or, do what my husband would suggest and get a quick workout in. I've done both to kill chilling time. No shame in either.
The key to making my oatmeal raisin cookies theeeee best is the addition of molasses. While the use of brown sugar brings lots of moisture to each nook and cranny of these cookies, molasses adds just a touch more and takes the flavor waaaay over the top. Molasses carries a rich, bold sweetness that you just can't get from any other ingredient. It's 100% necessary for these cookies.
I also left the cinnamon in these cookies despite the swap of chocolate chips for raisins. Chocolate + cinnamon = woahhh, mama. Trust me on that one.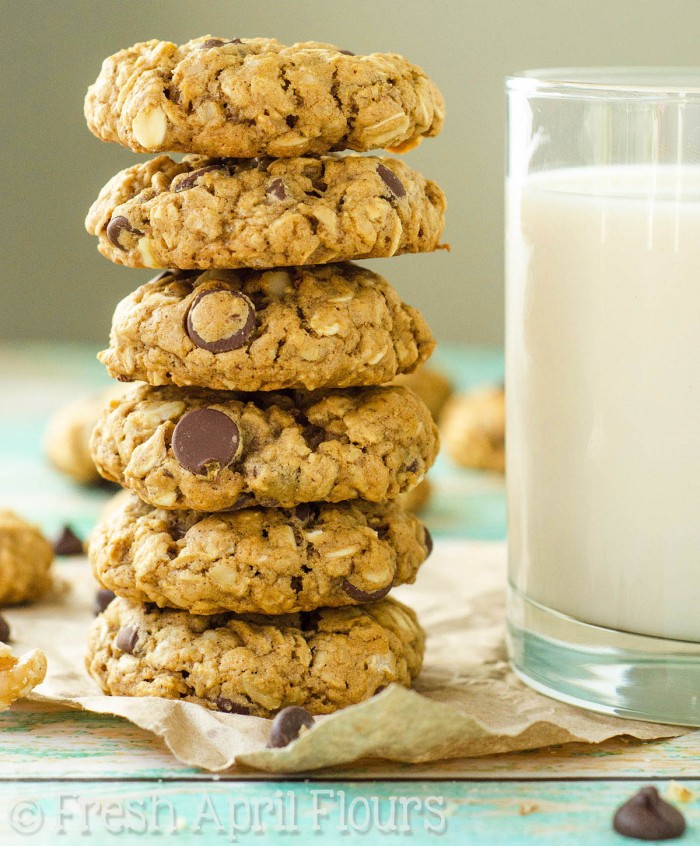 Lots of oats (old fashioned, please), lots of chocolate chips, and lots of walnuts make these oatmeal cookies one for my raisin haters. I know there are nut haters out there too, so if you leave them out, you've totally got a cookie for the oatmeal chocolate chip cookie lovers. Aaaand if for some crazy odd reason there those of you out there who don't like chocolate chips (?!), leaving them out will basically give you a bowl of oatmeal in cookie form (because a bowl of oatmeal is only made perfect with a sprinkle of chopped nuts, amirite?!).
Then again, If you don't like anything getting in the way of you and your oatmeal cookies and would prefer to leave out raisins, chocolate chips, walnuts, and all things mixable, rest assured the base for this oatmeal cookie is one for the books and you will find comfort in knowing you'll love my recipe sans extra goodies.
And yes, since I love oatmeal (raisin) cookies ♥ so much ♥, later this month, I have a seasonally appropriate oatmeal cookie for all you seasonally appropriate dessert/cookie lovers. And I can barely contain myself over that one.
Thanks for helping me kick off #lynnsfavs, and I hope you're ready for a month of wonderful things! I mean, at least I think they're wonderful. We could find out that you and I have absolutely no samesies favs. But that's ok, because I'm turning 30 this month and that means you should be nice to me and pretend these are all your favs too. In October, you can tell me how you really feel about oatmeal cookies… But really… HOW CAN YOU NOT LOVE THEM?!
Soft and chewychewychewy cookies with just a hint of crispness on the outside and absolutely loaded with chocolate chips and finely chopped nuts. Keep the nuts on the chunkier side for a more prominent nut flavor, if you so desire. However it is you prepare your mix-ins, grab a tall glass of milk, kick up your feet, and take pleasure in each little nibble (or gobble) of the most flavorful oatmeal cookie on the block!