As an Amazon Associate I earn from qualifying purchases.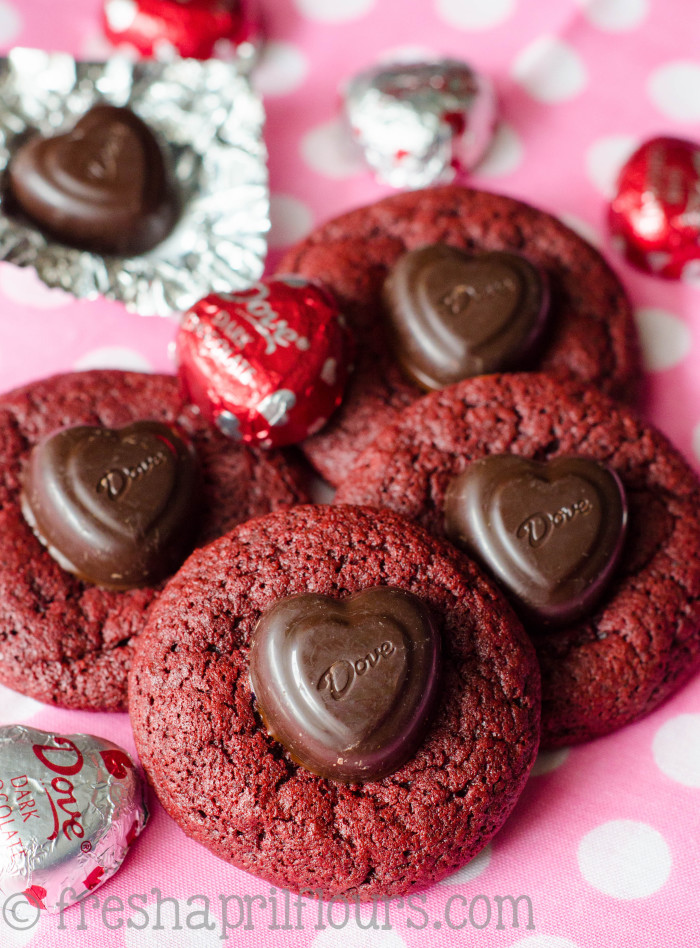 Crinkle blossoms? Yes, crinkle blossoms. Sounds like something from Willy Wonka, doesn't it? Well, it's not. It's something from the FAF-happy-accident-kitchen-adventures pile, and I think you're going to love it.
Let's start from the beginning…
When I made these chocolate peppermint blossoms back in December, I had a Facebook friend mention that he likes to make red velvet cookies with dark chocolate kisses for Valentine's Day. Well, that friend (I don't know if he's a reader, but… Hi, Chad!) is a genius, and planted the red velvet blossom seed into my head. So I got to work on a red velvet cookie recipe.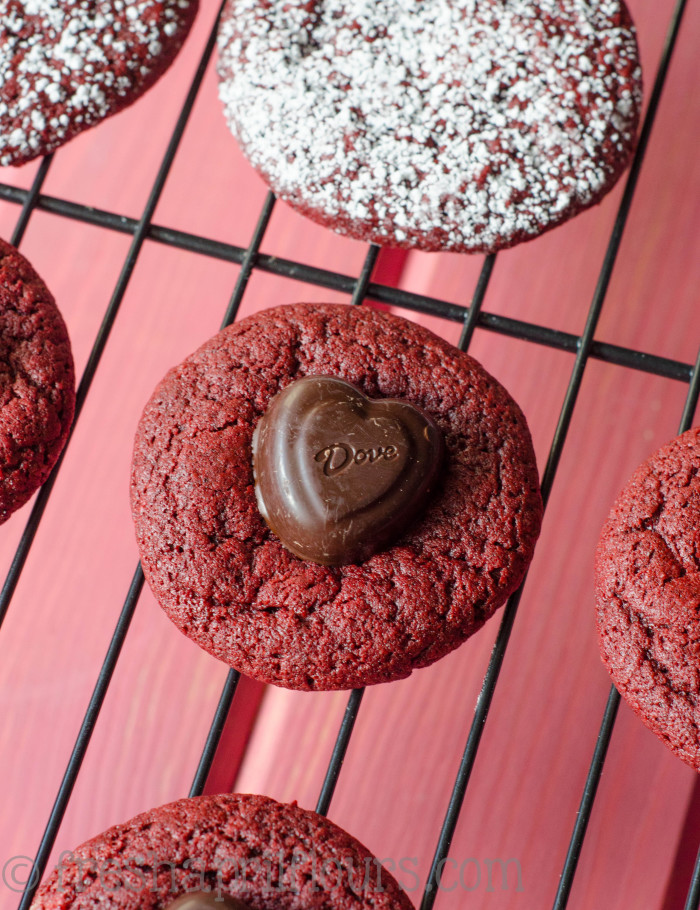 I did some red velvet cookie research (because I'm pretty familiar with the cake, if you recall from my post earlier this week), and found a lot of recipes exist out there in the food blogging world, but many of them begin with a box mix. And we all know how I feel about box mixes (ahem). The more I read, the more I realized the basic outline was quite similar to my peppermint blossoms, so I made a few adjustments to account for differing ingredients and voila! Red velvet cookies from scratch– yay.
This is where my happy accident happened… While I did chill my dough (more on that in a bit) for an entire day, I found the cookies baked best when they were chilled an additional 10 minutes on the cookie sheet before baking. The ones that I rolled and baked immediately spread quite a bit. Not a travesty, but certainly not the greatest base for a blossom. I decided to forego the Dove heart on top of those ones and dusted them with powdered sugar instead (great decision) and deemed that batch the "crinkles" of the bunch. If you're not familiar with crinkle cookies, they're typically rolled in powdered sugar before baking. As they bake, the cookie spreads a bit and forms cracks on the surface. Feel free to do this method! I suppose whoever named them "crinkle cookies" thought it was a cuter, more appealing name than "crack cookies." Yeesh.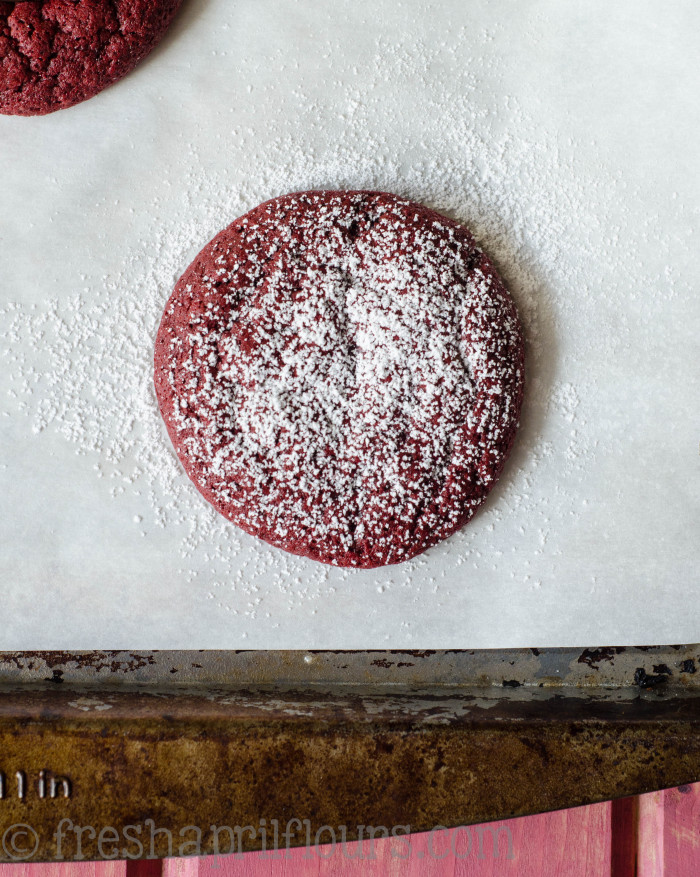 For the cookies I turned into blossoms, I rolled the balls a bit smaller (1 Tablespoon with a measuring spoon as opposed to 1 and 1/2 Tablespoons with my cookie scoop) and chilled them before baking. And when I say "chilled them," I mean put them outside on the porch because, WINTER. After baking, I let them rest for 3 minutes, then quickly pressed Dove dark chocolate hearts into the tops and popped the whole tray in the freezer for 10 minutes.
So there you have it… Crinkle blossoms… Because one recipe can yield different results depending on how it's treated. Hooray for science! And if you don't want to do either of those things, you can always just make plain old red velvet cookies (how boring-but-not-really because your cookies would still be RED VELVET).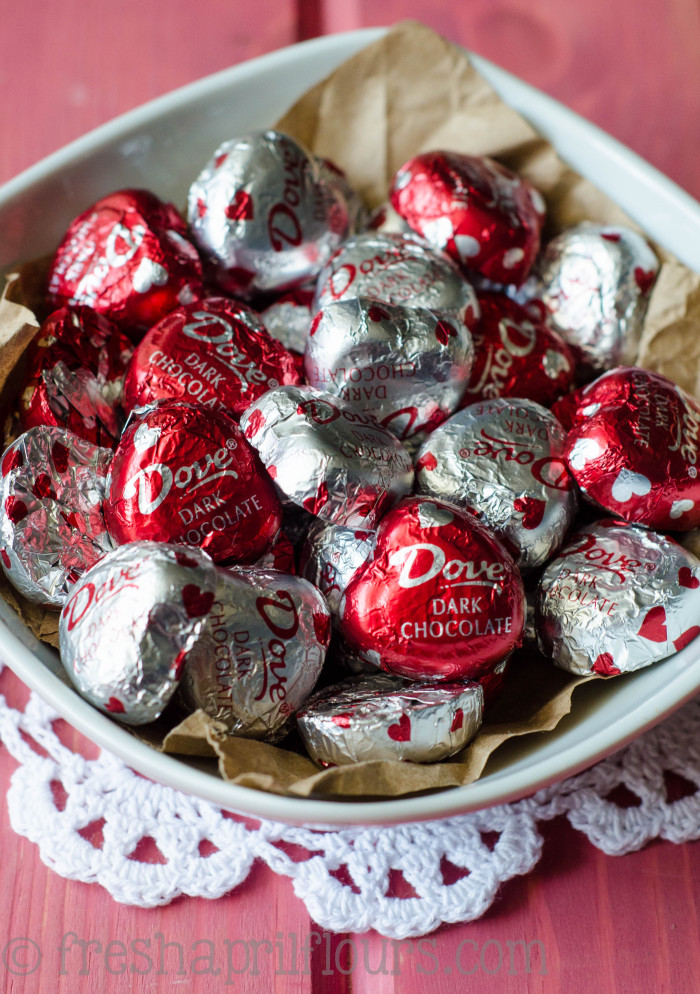 While these cookies don't require either of the "staple" ingredients we used in our baked red velvet donuts (white vinegar or buttermilk), they still end up tasting just like red velvet cake. Consider adding white chocolate chips, semi-sweet chocolate chips, or a combination of both!.
These cookies are soft and chewy, my favorite qualities in a cookie, and jam packed with red velvet flavor without a hint of a box mix! While they will take a bit of planning ahead, they're definitely worth it and I'd venture to say they're sure to jazz up your Valentine's Day (oh man, I didn't even try to make that rhyme, but I have to leave it)!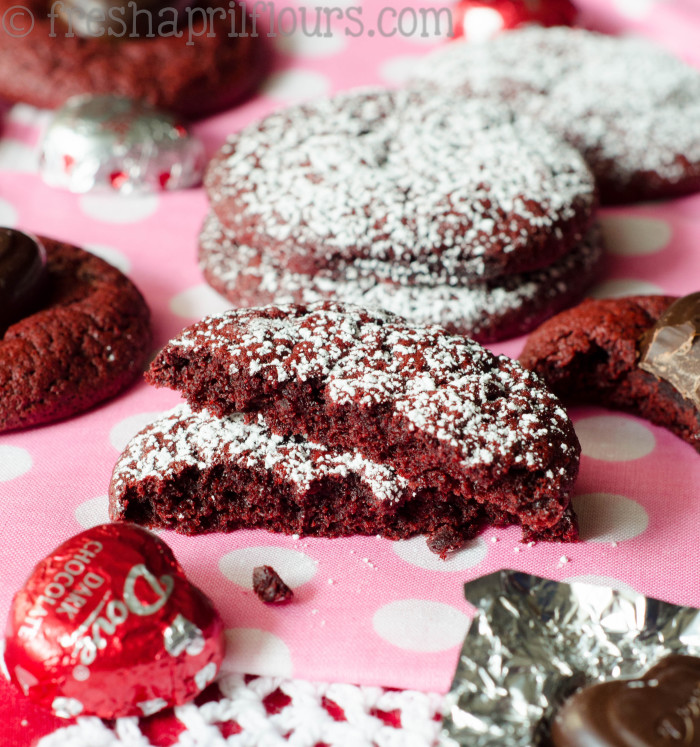 Whether in crinkle or blossom form, you have to try these cookies. Do it for Cupid!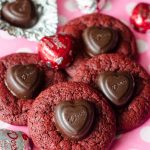 Print Recipe
Red Velvet Crinkle Blossoms
These cookies are soft, chewy and jam packed with red velvet flavor. The best part is, they're 100% from scratch!
Servings:
2
and 1/2 dozen cookies
Ingredients
1

and 1/2 cup all-purpose flour

1

teaspoon

baking soda

1/4

teaspoon

salt

1/3

cup

unsweetened cocoa powder

1/2

cup

unsalted butter

softened to room temperature

1/2

cup

granulated sugar

1/2

cup

firmly packed brown sugar

2

eggs

at room temperature*

1

teaspoon

vanilla extract

2

Tablespoons

red food coloring

approximately 28 dark chocolate Dove hearts or Hershey's Kisses

unwrapped

powdered sugar for sprinkling and/or rolling

optional
Instructions
In a medium size bowl, toss together flour, baking soda, salt, and cocoa powder. Set aside.

In a separate medium size bowl with a hand mixer or the bowl of a stand mixer fitted with the paddle attachment, cream butter and both sugars until light and fluffy, approximately 3 minutes. Add eggs one at a time, beating after each addition, and scraping down the sides as necessary. Add vanilla and red food coloring and beat on medium speed until combined. Using a spatula, scrape down the sides and all along the bottom of your bowl to ensure coloring is distributed evenly. Beat again on medium speed until everything is incorporated.

Decrease mixer speed to low and add the flour mixture.. Beat on low until dough has formed and no more pockets of flour remain. Cover bowl with plastic wrap or foil and refrigerate for at least 2 hours and up to 3 days. If chilling longer than 2 hours, allow dough to sit at room temperature for 30 minutes before rolling into balls.

When you are ready to bake your cookies, preheat oven to 350ºF and line a baking sheet with parchment paper or a silicone baking mat.

If making blossoms, roll dough into balls approximately 1 Tablespoon in size and place 9 dough balls per baking sheet. Refrigerate dough balls on baking sheet for 10 minutes, then bake immediately for 10-11 minutes. Cookies will look underdone. Remove baking sheet from oven and allow to cool for 3 minutes. Working quickly, press a chocolate heart into the tops of each cookie, and place baking sheet in freezer immediately for at least 10 minutes to prevent chocolate heart from melting. When cool, remove from freezer and transfer to wire rack.

If making crinkles, roll dough into balls approximately 1 to 1 and 1/2 Tablespoons in size and place 9 dough balls per baking sheet. Alternatively, you may roll dough balls in powdered sugar before placing them on baking sheet. Bake immediately for 10-11 minutes. Cookies will look underdone. Sprinkle with powdered sugar while cookies are still warm. Allow to cool on baking sheet for 5 minutes, then transfer to wire rack to cool completely. Cookies can be stored in an airtight container at room temperature for up to 7 days or frozen for up to 2 months.
Notes
*Room temperature eggs are crucial for proper incorporation into batter. To bring eggs to room temperature quickly, place in a bowl of warm water for 10 minutes.