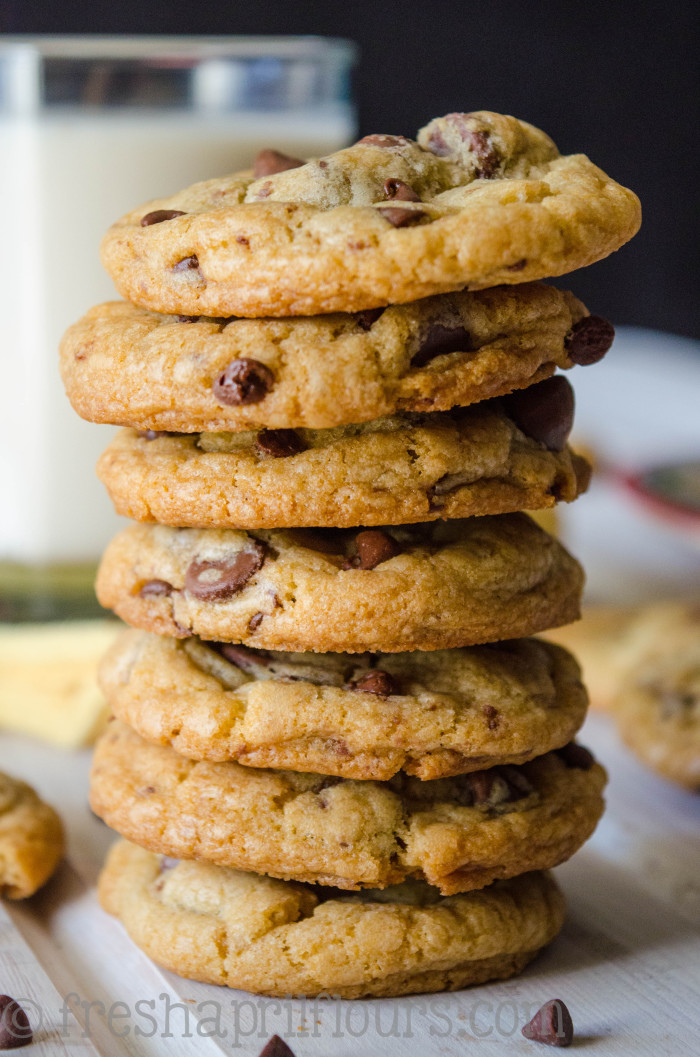 It's amazing how much people love a classic chocolate chip cookie. If you look through the comments on either of those posts, you'll see that nearly everyone has their own way they love their chocolate chip cookies. Do you like yours soft and chewy? Thick? Thin? Puffy? Do you like them hard and crunchy (<– my husband)? Do you like them somewhere in between super soft and crunchy?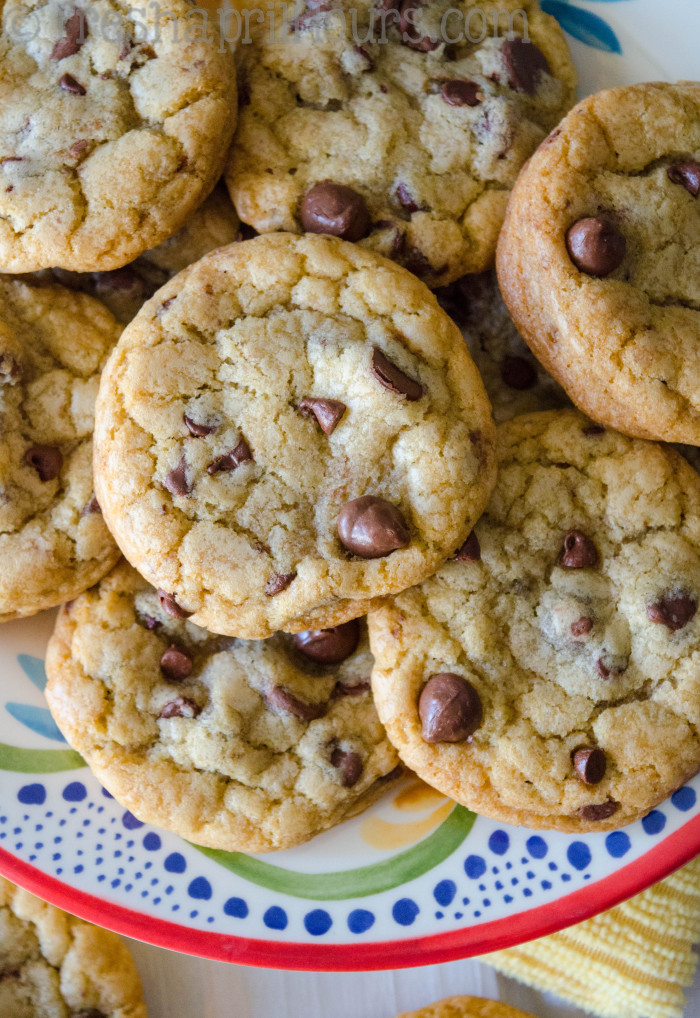 I'm an in-between-er. I love my chocolate chip cookies a little but crunchy on the edges and soft and chewy on the inside. This stems from my high school days. Our cafeteria served amazingggg cookies (STHS'ers, amiright?), and every single day after I finished lunch, I would get 2 of them: one sugar and one chocolate chip (oh, to have THAT metabolism again). Both of them were baked so perfectly every time that there was an ever so slight crunch to the outside that led to a soft, chewy interior. The best of both texture worlds.
Chocolate chip cookies have been studied by foodies all over the world for a long time. The science behind what makes them crunchy or chewy or puffy or cakey or however in the world you prefer them to be… Is incredible. I've read up on the science A LOT, and if you care to see the resources that I love and have read multiple times (true story), here is the lengthy version and here is a short one. I am such a science geek, so I really love the long version. If you're not as big of a science geek as me or just prefer a concise version, check out the shorter one.
If you would prefer to read the reasons why I chose my ingredients from my standpoint (gee, I'm so flattered!), I'll tell you why. If all you care about is getting chocolate chip cookies in your mouth, go ahead and scroll down to the recipe.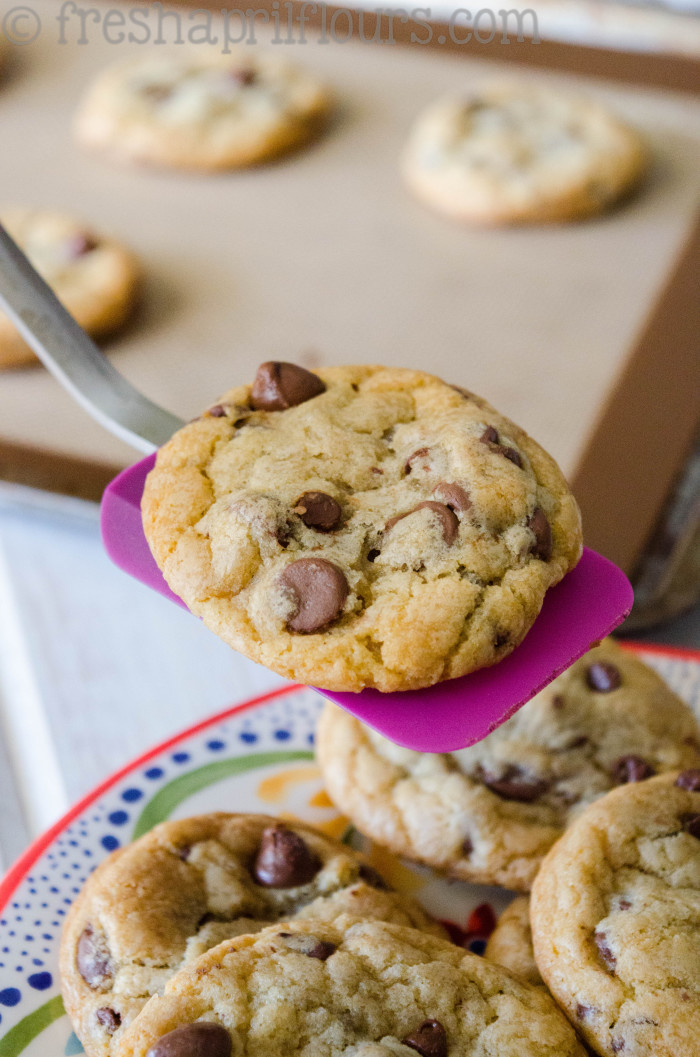 I've said before, the Nestlé Tollhouse recipe is a winner. It's a classic. It's a go-to. It's a no-fail. I use it as the base for my chocolate chip cookie dough bites, leaving out the eggs and leavening agents. But in order to create my absolute favorite texture in my chocolate chip cookies, there are a few things I like to change.
*Add some cornstarch: just the same way I add a little cornstarch to my red velvet donuts to give them a softer, cakey texture, I add some cornstarch to my classic chocolate chip cookies to help increase the chew factor but not so much that we start talking "cakey" cookies.
*Add an egg yolk: eggs, as a whole, add structure to baked goods and help them rise. Egg whites bring a large quantity of the moisture to a cookie, and yolks create a source of fat. With fat, we find a great vehicle for flavor. For my cookies, I remove one egg white (we'll add in more moisture in a second) and leave the yolk. Doing so brings a large source of fat to the cookie and helps keep the cookies fudgy (like brownies) and dense (less pockets of air). Denser cookies will cook from the outside faster (think flatter) creating crunchy edges and leaving the inside chewy.
*Decrease the amount of butter and melt it: butter, while imperative to the flavor of cookies, can cause cookies to spread a lot in the oven. Furthermore, using softened butter and creaming it with sugar incorporates air into cookie batter, bringing lift to cookies while they bake. You would do this if you wanted your result to be a puffier cookie. Classic Nestlé Tollhouse cookies call for 3 sticks of softened butter, which they direct you to cream with your sugars. I like to melt my butter because it helps keep the cookies chewy and dense, so I remove one stick of butter to prevent the cookies from ending up too greasy. Plus, one less stick of butter = healthy. Right? 🙂
*Increase brown sugar: I've said it before (and before aaaand before) and I'll say it again– brown sugar brings super chew to baked goods. Brown sugar is white (granulated) sugar with molasses in it, so it automatically brings moisture with it when it's added to cookies (remember, we took some moisture out by removing that egg white). Plus, it caramelizes faster, so the toffee/butterscotch flavors in the cookie are unparalleled vs a cookie made with all or mostly granulated sugar.
*Chilling the dough: there is much debate over this in the chocolate chip cookie world, but I have made a lot of chocolate chip cookies in my life, and I am here to tell you… Chilled cookie dough > non-chilled cookie dough. For one, since we are using melted butter in the dough, we need some time for the butter to solidify again so that our cookies don't end up as cookie puddles (although I'm sure those are delicious). Secondly, the longer your cookie dough sits, the longer the flour has to absorb moisture from the butter, eggs, and brown sugar which leads to chewiness. Lastly… Marriage of flavors. You can't argue with that one.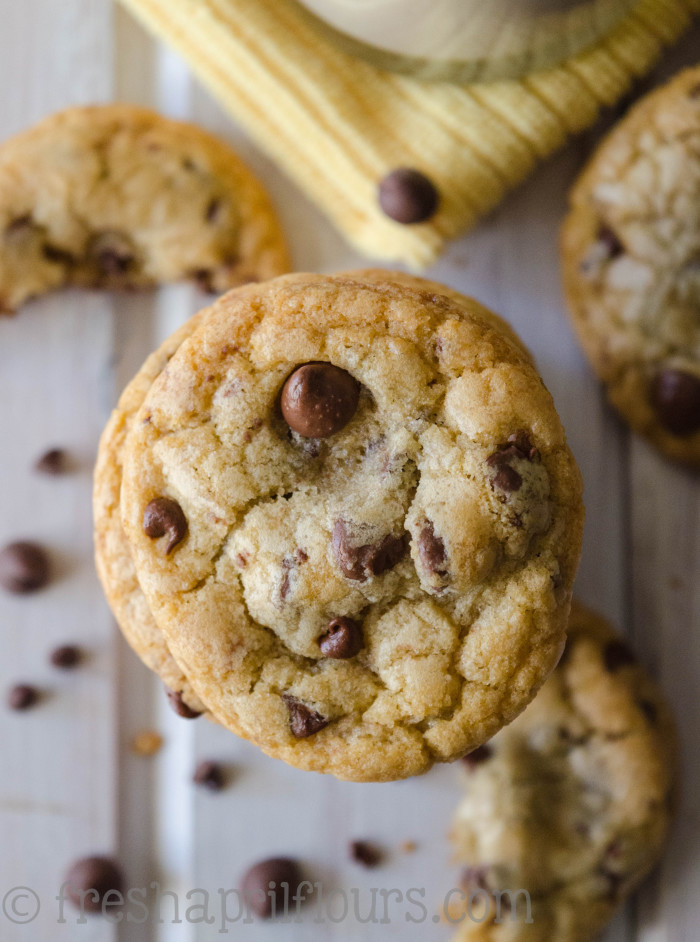 Because I use melted butter in these cookies, you don't need your mixer (yay!). Dry ingredients, wet ingredients, and then some chocolate chips. My frugal maternal grandmother always doubled the cookie recipe but kept the amount of chocolate chips the same. That equaled like 2 chocolate chips per cookie. A TRAVESTY! I like to use a mixture of mini chips and regular chips, and also milk chocolate and semi-sweet chips. The size and flavor of your chips is totally up to you… This is just the way I prefer mine.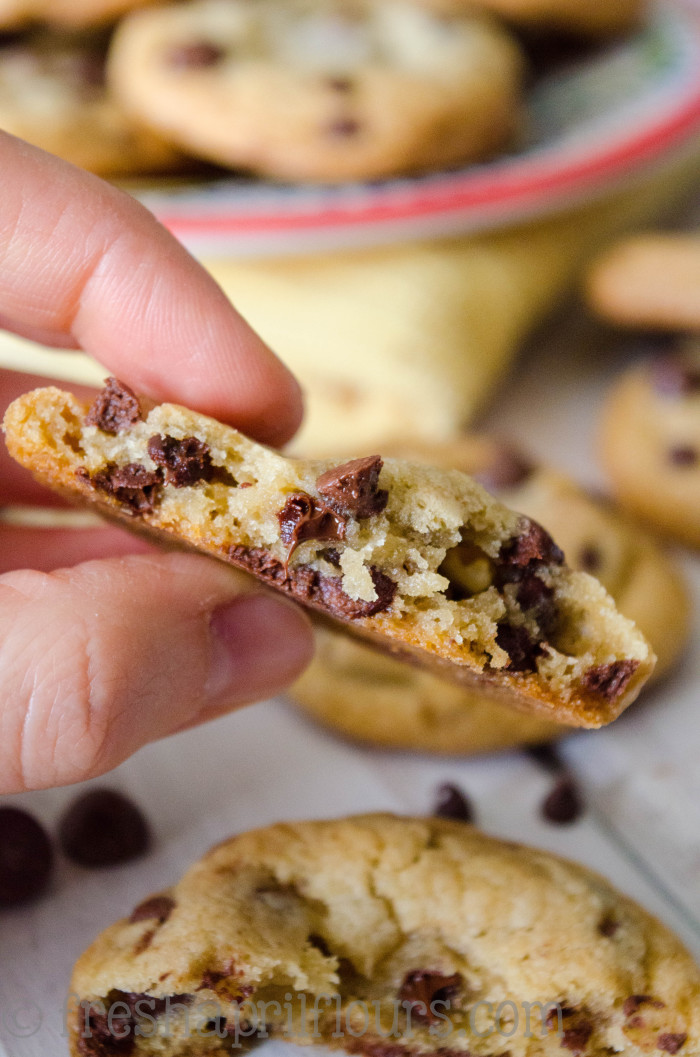 Once your dough is chilled (at least 2 hours and up to 3 days), you'll roll it into balls that are 1 ounce in size (about 1 Tablespoon). Bake for 10-11 minutes, remove from the oven when they juuuuust start to turn brown, and then allow them to cool on the baking sheet for 5 minutes. Leaving them in the oven until they just start to brown will ensure you have a bit of crispiness to your edges. Allowing them to cool on the sheet continues to bake the bottoms and parts of the edges, caramelizing the sugars further and bringing more toffee/butterscotch notes to the overall flavor. I told you… Chocolate chip cookie science is real.
Fill them with chocolate chips, mini-m&m's, butterscotch chips, peanut butter chips… Whatever kind of chips you love! This recipe is a great base for add-ins, and now that I've established my favorite cookie base in my little part of the food blogging world, I'll help you add fun things to it!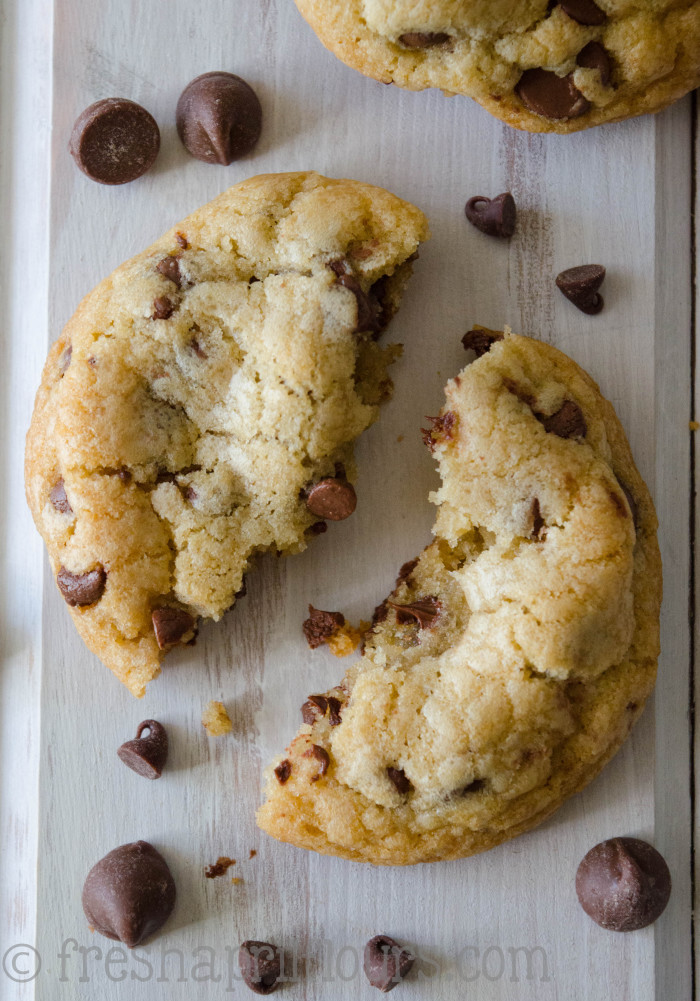 A classic chocolate chip cookie recipe is something every baker should have in his or her repertoire. If you're into strictly chewy or carefully crunchy, I'll get to you one day, I promise. For now, crunchy-edged-soft-centered-cookie lovers unite.
If you l-o-v-e chocolate chip cookies, but like to eat the batter more than the cookie, then these Chocolate Chip Cookie Dough Bites are for you!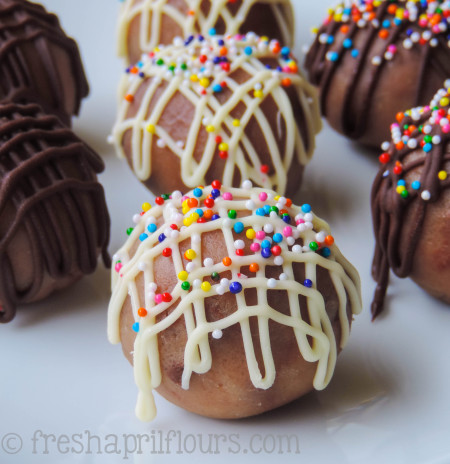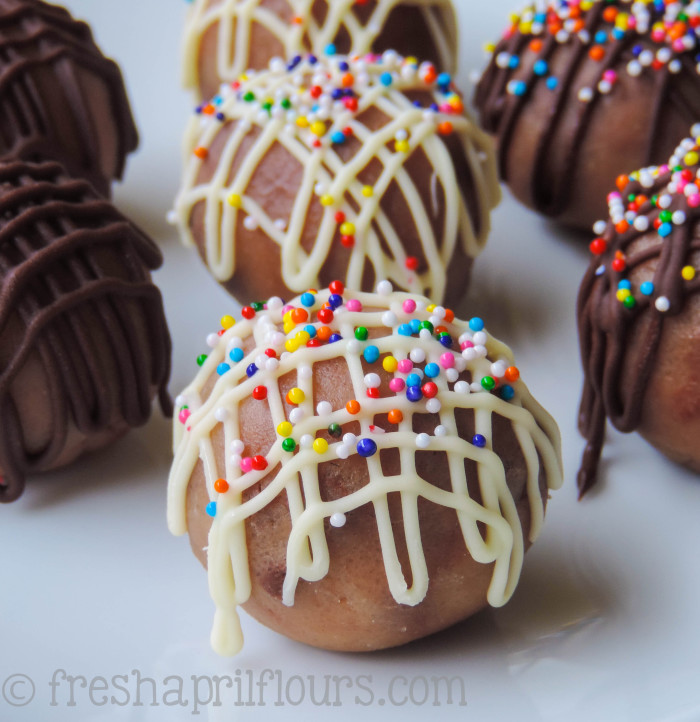 See all cookie recipes.
See all chocolate chip, semi-sweet chip, and white chocolate chip recipes (don't forget about the minis!).
And of course, if you're into it… One biiiiiig chocolate chip cookie will do the trick at your next celebration! Check out my chocolate chip cookie cake with chocolate FUDGE frosting!