Strawberry Lemonade Quick Bread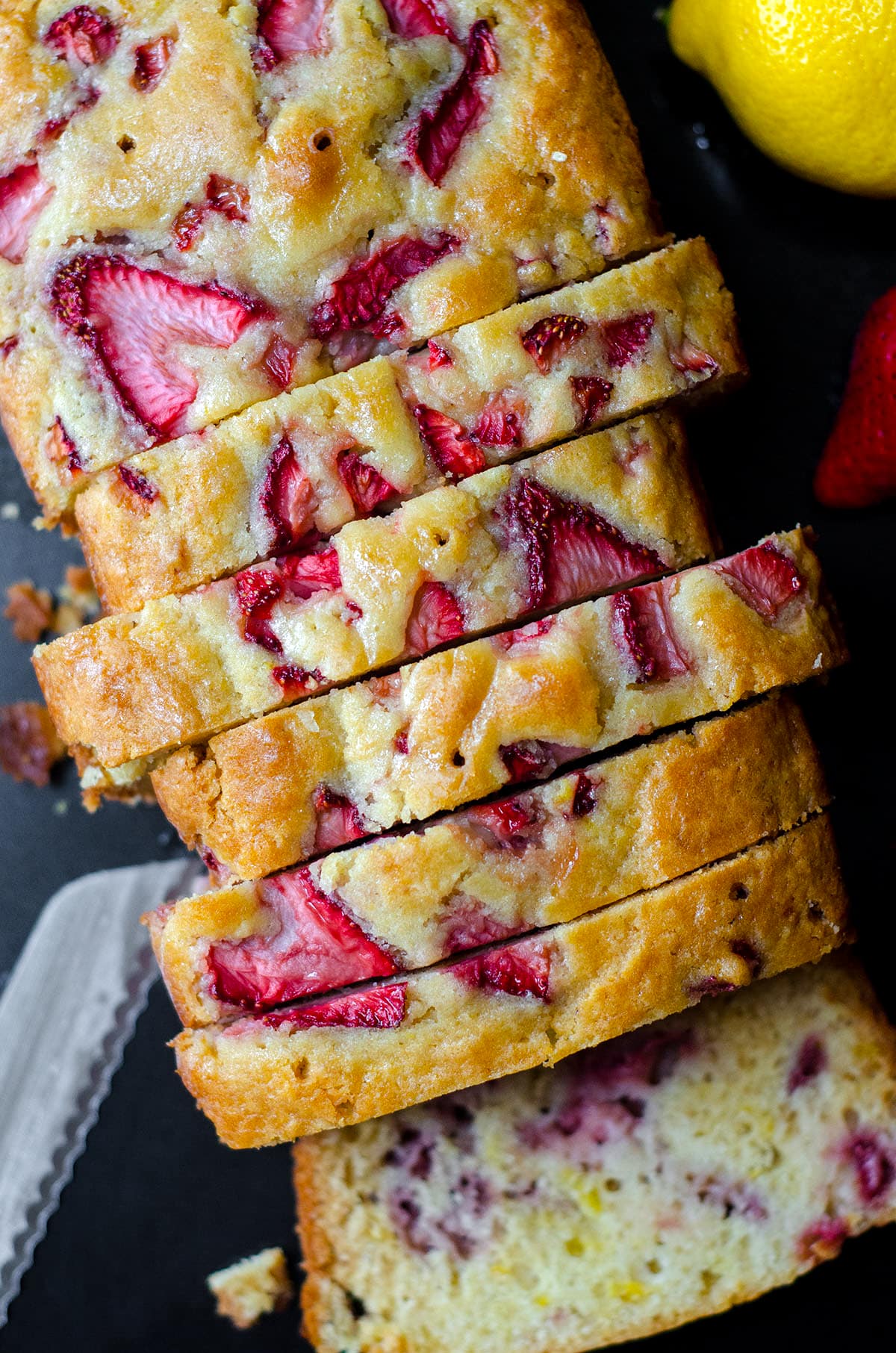 As an Amazon Associate, I earn from qualifying purchases. Read the full disclosure here.
A simple quick bread loaded with strawberries and covered in a lemonade glaze. Perfect for summer!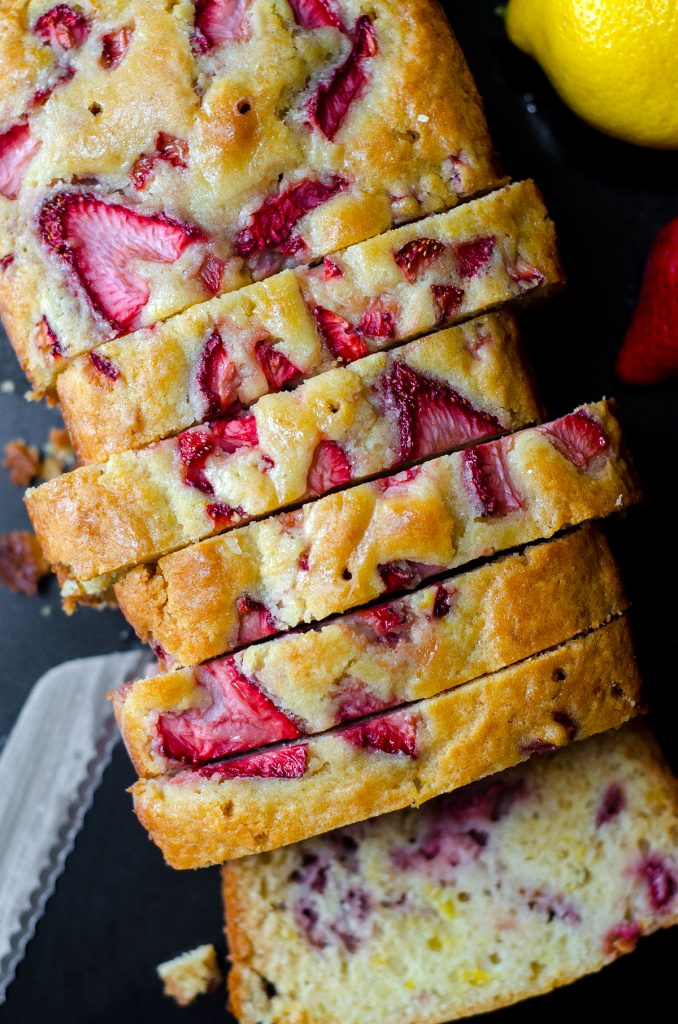 FRIENDS! So many apologies for my absence. It's been an ENTIRE MONTH since my last post, which was April's Bread of The Month recipe.
And here we are– May's BOTM sitting pretty in all its quick bread glory. But before we get to that, let me tell you about this last month and why I've been so absent.
If you follow me on FB or Insta, you know that we held our Sweat For A Cause: National Infertility Awareness Week at the end of April. For those of you who aren't familiar, this is an annual event hosted by my husband Matt at his gym, sort of co-hosted by me, mostly by default as his wife, but also as a co-host via Fresh April Flours.
This was our third annual event in which we raise money for a local couple going through fertility treatments. We actually find a couple who goes to the same fertility clinic that we went to, and all of the proceeds of the event go straight to them.
You may have seen me talking about this at Easter, which was the first day of the week of awareness.
All of my advertising income that week went into the donation pot, and y'all did NOT disappoint! We racked up a pretty penny from ad revenue that week, and for that, I am so grateful. For not only following along on the blog, but also showing up for our couple.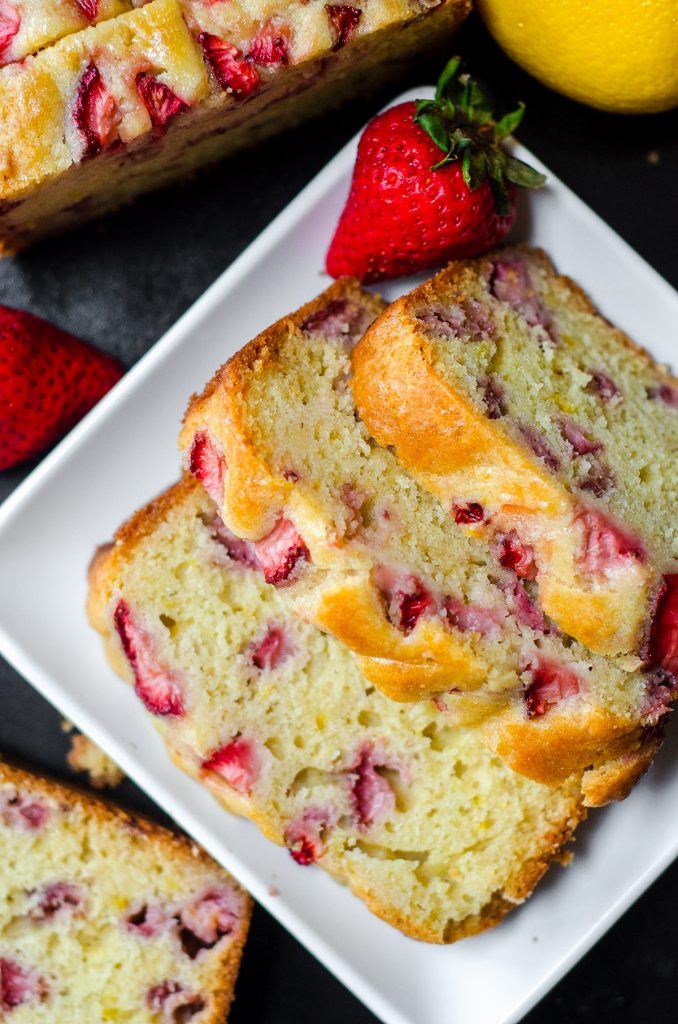 We were able to donate a little over $3000 to this couple, and our clinic so generously matched our donation dollar-for-dollar. That's a solid amount of money to help a couple (hopefully) make their dreams come true.
We wish our special family the very best of luck on their journey.
So that was at the end of April, and THEN, our younger son turned 1 on May 10th, so we had THAT happening, plus his birthday party, plus add in a weekend of solo parenting and ALSO each of us got some kind of snotty sickness that we passed around our whole house…
It's just been a lot.
May, let's get back to it!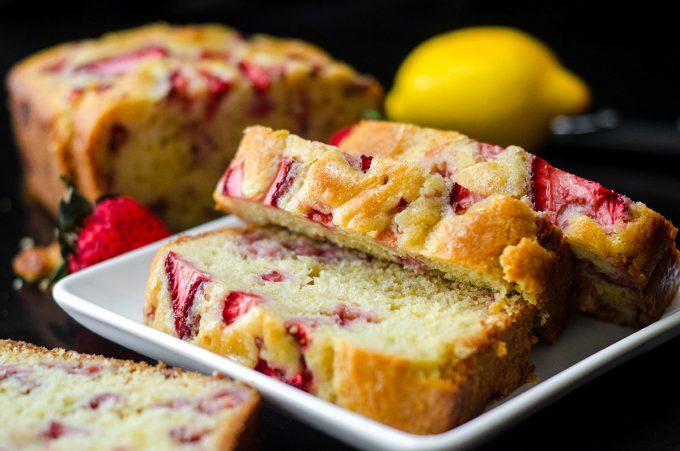 This bread came about sort of by accident but also came with about 3 years of sitting on my list of ideas for recipes that I perpetually have on my phone/in my computer.
I had a carton of strawberries staring me in the face that were on the shrively side but certainly not bad, and I realized that even 4 of us humans could not ingest them fast enough before they were way too shrively for life.
Plus, Easter was coming up, so to my list of ideas I went– and I came across something I had written down LITERALLY YEARS ago. I had written "strawberry lemon quick bread?" and I answered that huge question mark with a big ole HELL YES and this bread was born in my kitchen.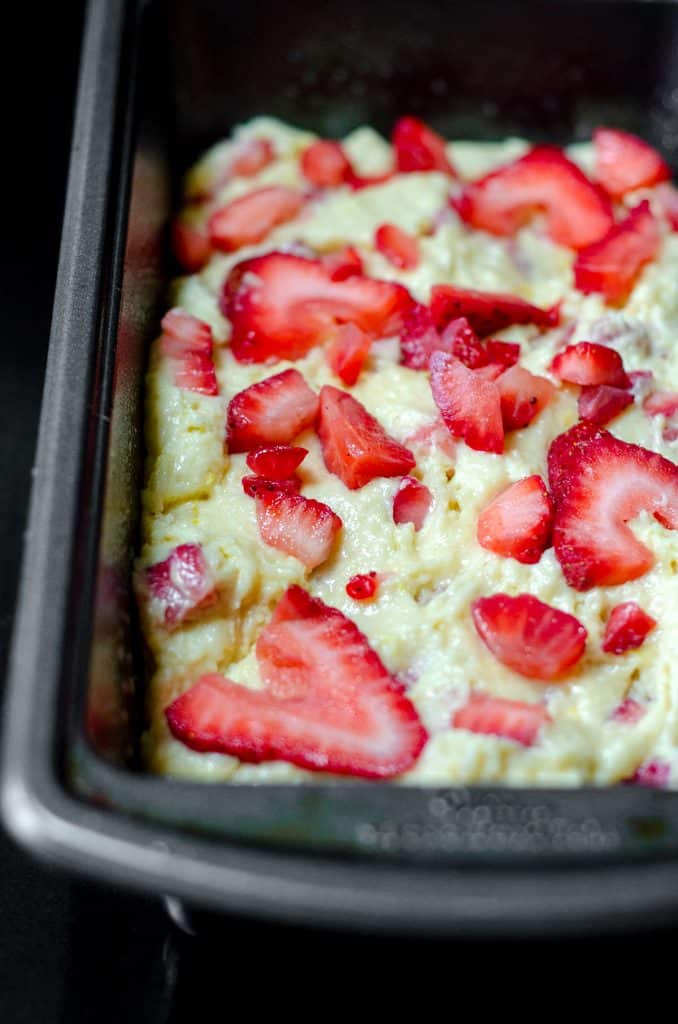 It's a very simple bread. A very basic quick bread base that is made up of all the usual suspects for baked goods plus some lemon juice, lemon zest, and of course, tons of strawberries.
I took this bread out of the oven and though it smelled aaaaamazing, looked absolutely, positively delicious, I thought it needed something.
So, while it was still hot, I made a little bit of a glaze, tasted it with a spoon, decided it was pretty much like lemonade, and then poked holes in the loaf and dumped that glaze all over the hot strawberry lemon loaf.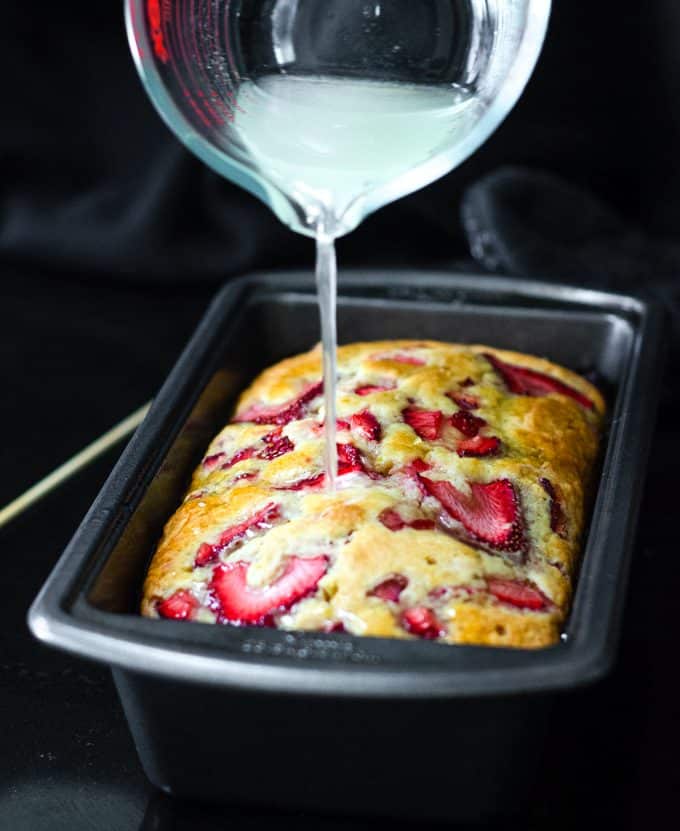 And, folks, it was pure heaven once I took my first bite.
Welcome to the world, strawberry lemonADE bread!
Because this bread is so moist, I decided the best place for it was the fridge, and as it turns out, all of our Easter guests decided it should always be this way because warm/room temperature lemonade is not as delicious as an ice cold lemonade.
Feel free to leave it at room temp, but definitely keep an eye on it so that it doesn't get moldy or go bad before you've eaten all of it.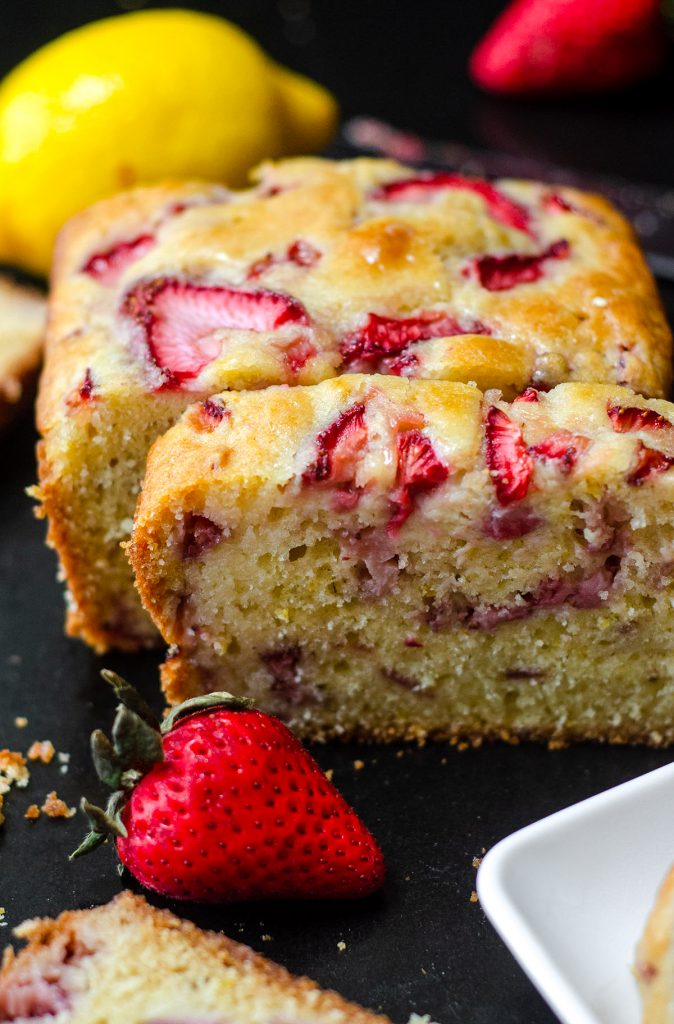 Then again, you may eat it faster than anticipated, and if that's the case, you go, friend! This bread is just scrumptious, so no blame from me in that department!
If you're looking for a "different" kind of quick bread and something that has summer written all over it, this is definitely it. It's a great way to use fresh summer fruit, or if you're feeling summery in the dead of winter, you can always use frozen strawberries to get the job done for you.
Strawberries + lemons are my new fav summer pair. And if you're into putting lemons with other fruits like I am, and like so many of my readers are, put these blueberry lemon pie bars next on your list and you'll be all set for summer 2019!
Strawberry Lemonade Quick Bread
A simple quick bread loaded with strawberries and covered in a lemonade glaze. Perfect for summer!
Ingredients
STRAWBERRY LEMONADE BREAD
2

cups

(240g) all-purpose flour be sure to measure properly

½

cup

(100g) granulated sugar

1

teaspoon

baking soda

¼

teaspoon

salt

8

ounces

(227g) fresh strawberries (about 10 medium strawberries)*

hulled and chopped

¾

cup

(180mL) milk

½

cup

(113g) unsalted butter

melted

1

large egg

½

teaspoon

vanilla extract
the juice of half of a lemon

about 2 Tablespoons

zest of one lemon
LEMON GLAZE
¼

cup

(50g) granulated sugar
the juice of half of a lemon

about 2 Tablespoons

2

Tablespoons

(30mL) warm water
Instructions
STRAWBERRY LEMONADE BREAD
Preheat the oven to 350ºF (177ºC). Spray a 9" x 5" loaf pan with non-stick spray. Set aside.

In a large bowl, whisk together the flour, sugar, baking soda, and salt. Gently fold in the strawberries, reserving some to press into the top of the loaf before baking, if desired. Set aside.

In a medium size bowl, whisk together the milk, butter, egg, vanilla extract, lemon juice, and lemon zest until everything is combined.

Pour the wet ingredients into the dry ingredients and, using a spatula, gently stir the mixture together until no flour pockets remain. Pour the batter into the prepared loaf pan and press reserved strawberries into the top, if desired. Bake loaf for 55-60 minutes or until a toothpick inserted in the center comes out mostly clean.

Remove the loaf from the oven and, while the loaf is still hot, poke several holes into the top of the loaf with a skewer or knife. Then, prepare the glaze.
LEMON GLAZE
In a small container with a spout, whisk together the sugar, lemon juice, and warm water.

Pour the lemon glaze slowly and evenly over the hot loaf. Allow loaf to cool completely before removing from the baking pan and serving. Leftovers can be kept in the refrigerator, covered tightly, up to 5 days. Loaf freezes well, up to 2 months. Thaw in refrigerator overnight.
Notes
*If using frozen strawberries, do not thaw.
Nutrition Disclosure
All nutritional values are approximate and provided to the reader as a courtesy. Changing ingredients and/or quantities will alter the estimated nutritional calculations.