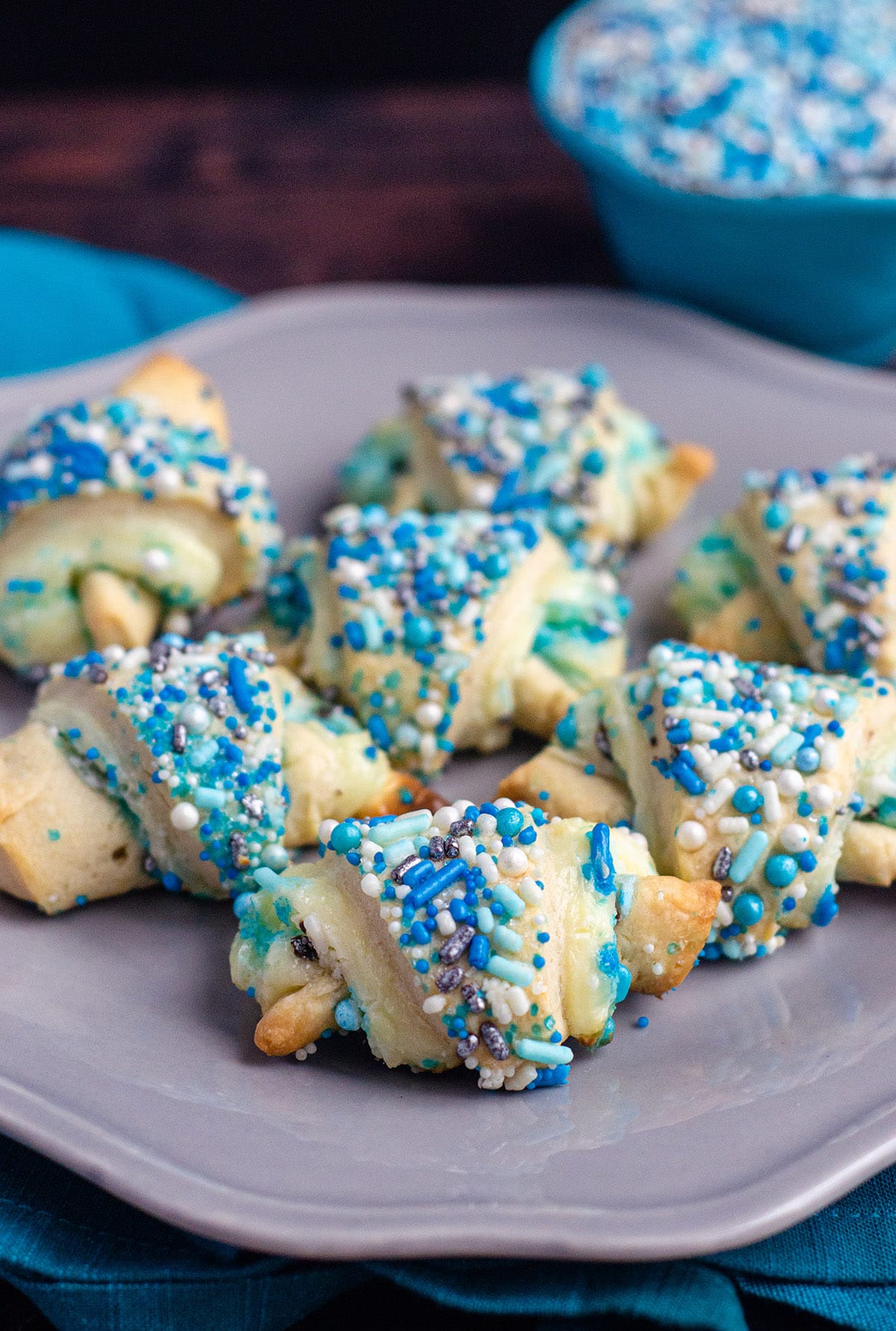 As an Amazon Associate, I earn from qualifying purchases. Read the full disclosure here.
Basic rugelach filled with a sweetened cream cheese filling and plenty of sprinkles inside and out.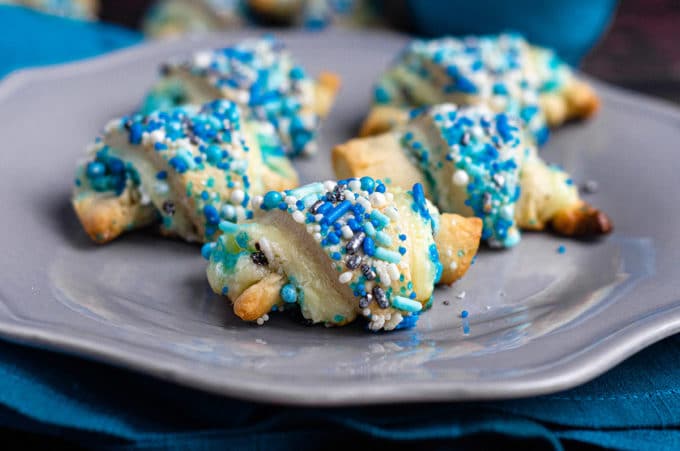 If you've been following along this week, you may be wondering "how in the world is rugelach considered basic or simple?"
And you'd be right. It's a little not-basic, but it is simple, and it's fitting in with our lineup of holiday treats in that it is a staple for a holiday that is near and dear to many hearts I know, but also my own.
I grew up in a town in central Pennsylvania that has a huge Jewish population. As in… I was kind of a minority as someone being raised Lutheran. And it was just so normal for me to have off of school for Jewish holidays, eat matzoh ball soup at my friends' houses during Passover, and play with gelt and a dreidel around Christmas time.
When I went off to college, that Jewish culture sort of disappeared, and it truly made me sad. I had so many new friends at college who had never even met someone Jewish, let alone had those folks make up the majority of their collection of childhood friends.
When I launched Fresh April Sprinkles, I knew I wanted to have a Hanukkah-inspired blend, and that I also wanted to feature it in a December recipe alongside all of my Christmas-y ones.
That blend, my friends, is so affectionately named Love You A Latke. And if you've never had a latke, you need to change that.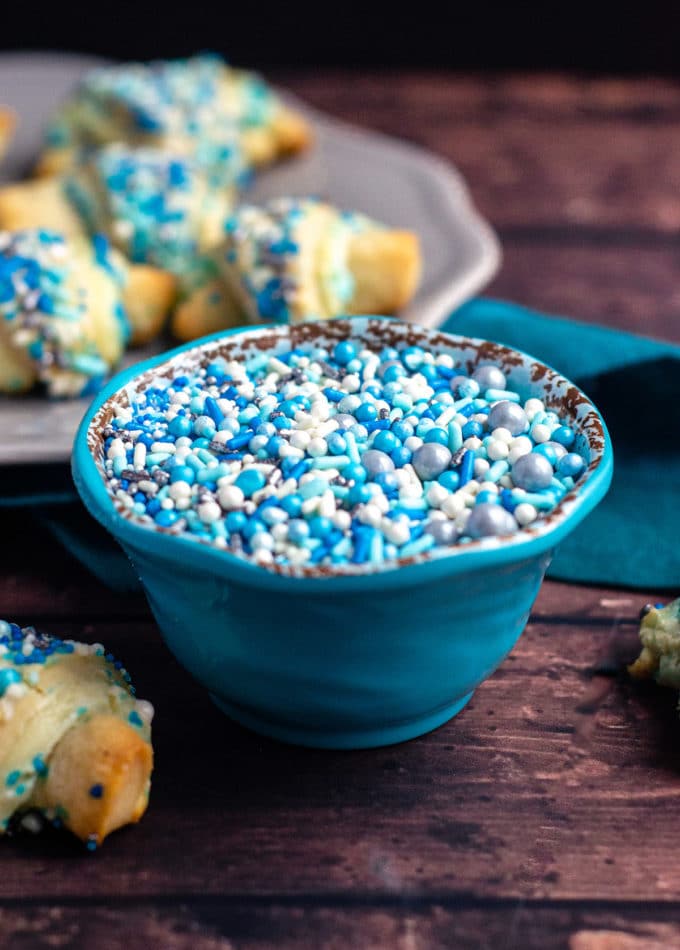 Since I've never actually made rugelach, I did some digging around the internet, consulted one of my Jewish blogging besties (hey, Julie!), and decided to made funfetti rugelach I found from What Jew Wanna Eat, which is basically my new favorite blog name.
This funfetti rugelach actually does fit right in with our simple recipes lineup, because it's a million times simpler than I thought it was going to be. And I was happy to see that I didn't even need eggs. Not that I mind having eggs in my cookie dough– that's just one less ingredient and we loveeeee short ingredient lists around here.
One thing I did add to the original recipe was almond extract, which I have typically added to my funfetti recipes to give that "cake batter" flavor. It's totally optional.
What exactly is rugelach?
To put it simply, rugelach is a bite-size cookie made from a triangle of dough rolled up into a crescent around a filling. It is similar to a croissant but, this version anyway, is made more from a cookie dough than a yeasted bread dough.
Rugelach is typically made with a cream cheese filling, though there are many dairy-free versions in order to keep kosher.
Today's version is very much cream cheesy. We've got cream cheese in the dough itself and also in the filling.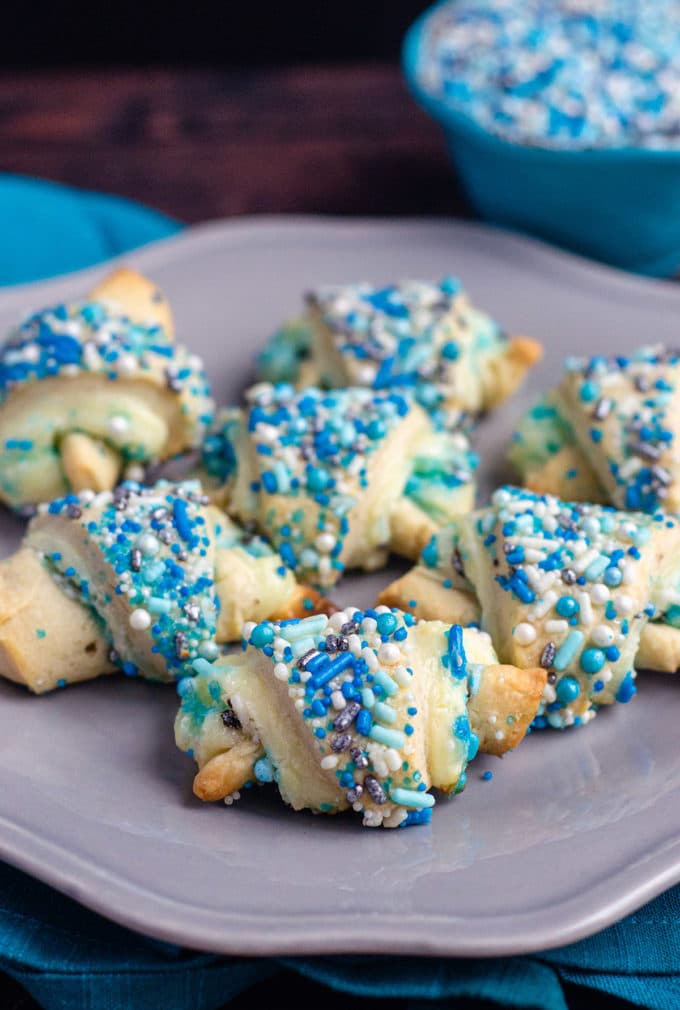 I mentioned in my butterscotch cookies post that I love that recipe because it's unfussy and it doesn't require any chilling. Well, this rugelach dough is definitely unfussy, but we're going to have to do some chilling in order to yield the best results.
Once your dough comes together, you'll form it into a disc. Mine was about 5-6 inches in diameter. You'll then wrap it in plastic wrap and chill it for a minimum of 2 hours.
Once it's fully chilled, you'll roll it out to be about 8 inches in diameter. And then… The fun starts.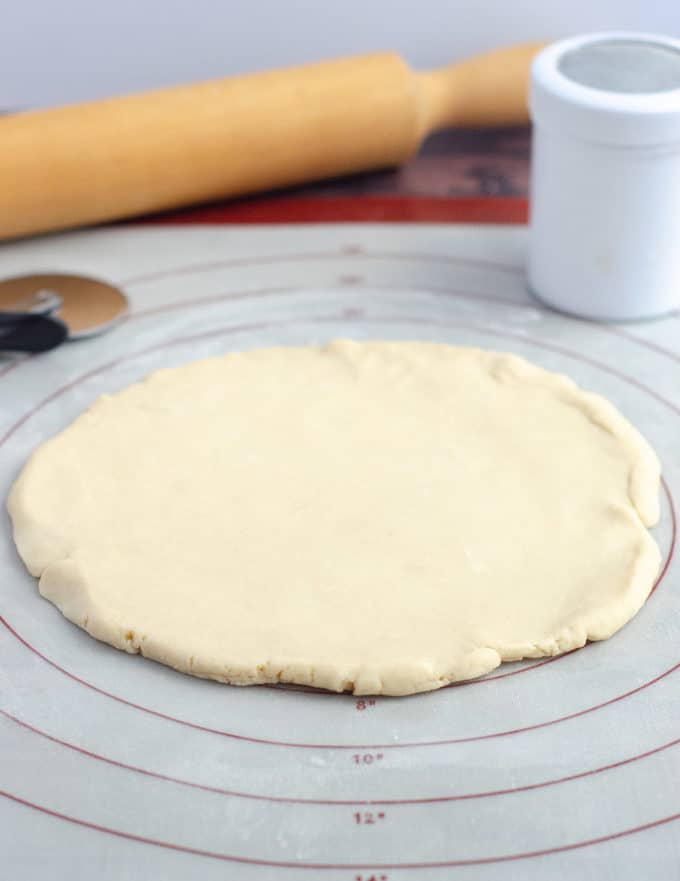 Sprinkle about 2 Tablespoons of your sprinkles evenly over the dough, and then roll it some more until it gains an inch and is approximately 9 inches in diameter.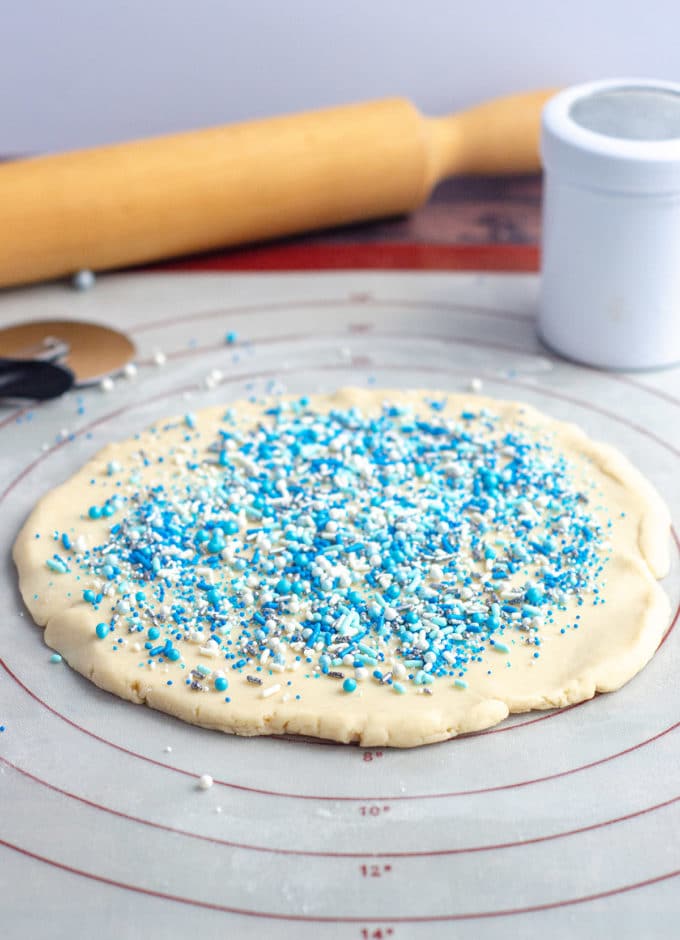 I actually removed the larger candy beads from my blend before sprinkling on my dough. I advise doing this to avoid lump and bumps in your rugelach.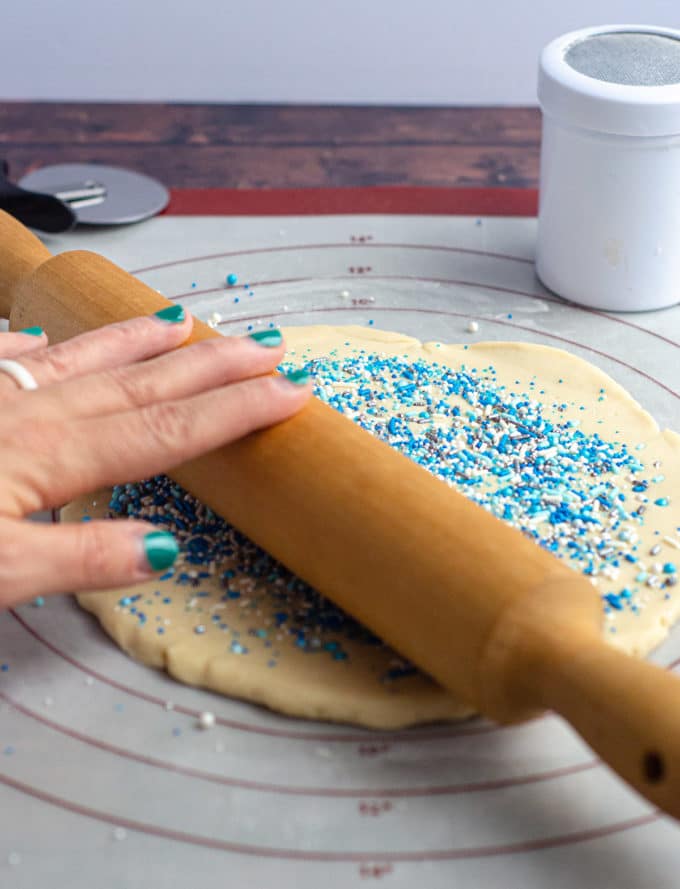 At this point, you're going to flip your sprinkle-loaded dough disc over so that you're now working with a blank canvas on top again. The sprinkle side will be face down.
You'll spread the cream cheese filling evenly over this blank disc, and then sprinkle, again, with more sprinkles. Only about 1/2 Tablespoon this time.
Next up, you'll cut your dough into 12 even pieces. I used a pizza cutter to do this, though you could also use a very sharp knife. Take it slow. There's no rush. The filling is sticky and can make this step a little difficult. Wipe your pizza cutter or knife clean after each pass through the dough.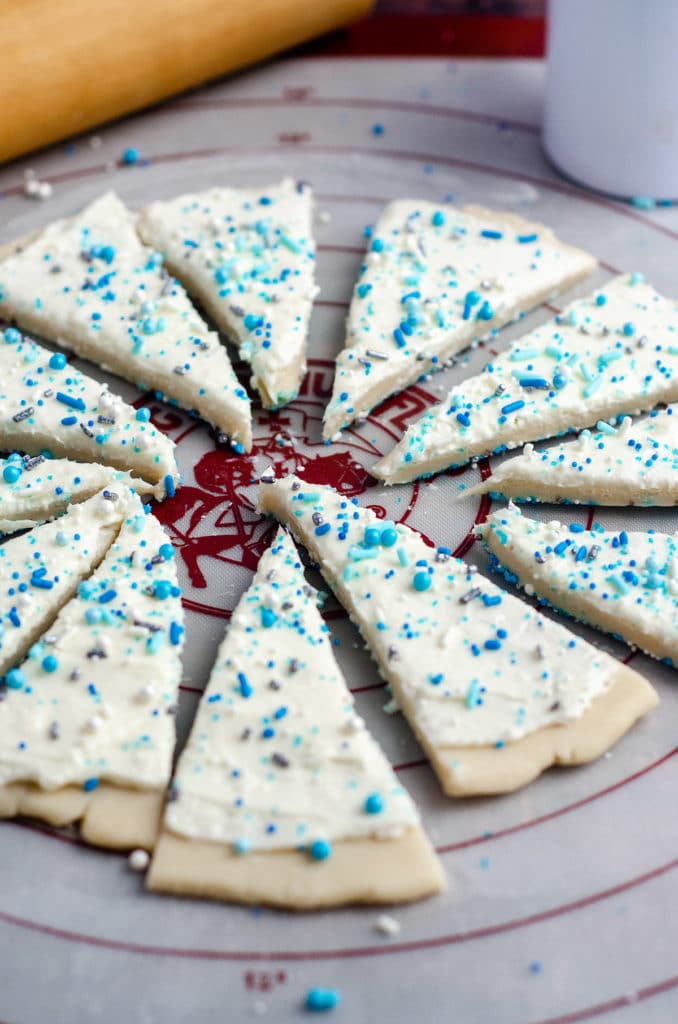 Once you have your 12 triangles, simply roll them up and set them on a baking sheet with the tip of the triangle tucked under the crescent. They will spread a little bit, but no worries about everything being on one baking sheet.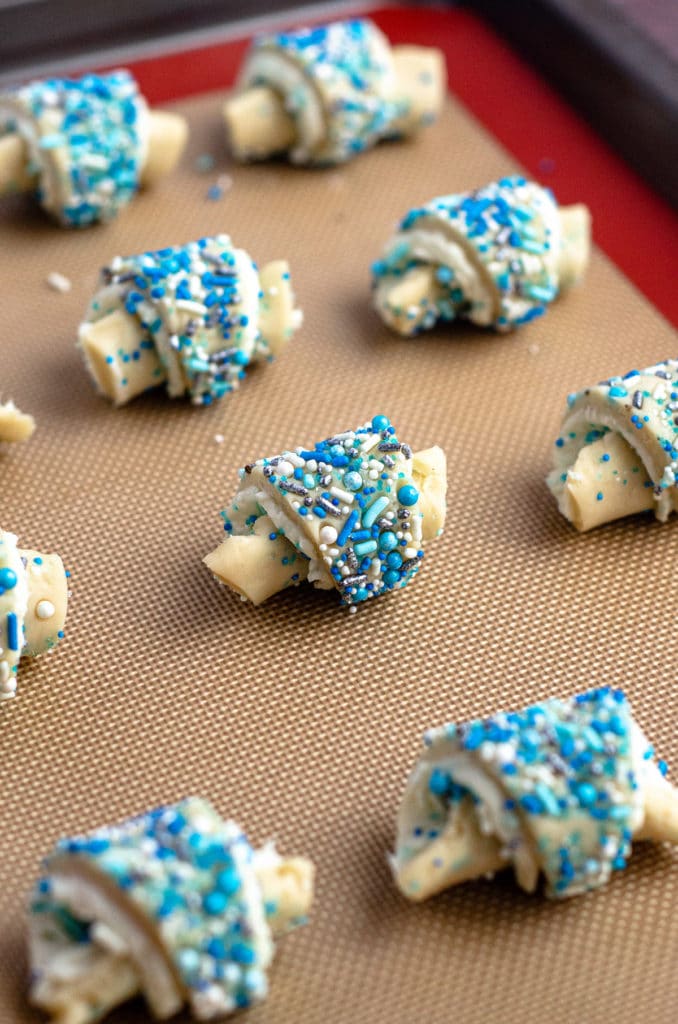 Now, this is where you trust the system. I was 100% sure I would find cream cheese puddles in my oven when the bake time was up. But… Spoiler alert… I didn't.
They were beauuuuutiful little Hanukkah crescents, and they were nearly impossible to stop eating.
We ate all 12 in less than 24 hours. Oops!
These funfetti rugelach are so good, and they're not incredibly sweet by any means. They've got a delicate dough that isn't weighed down by eggs, so it's light and chewy, and the tangy and subtly sweet filling makes a wonderful complement to that texture and taste.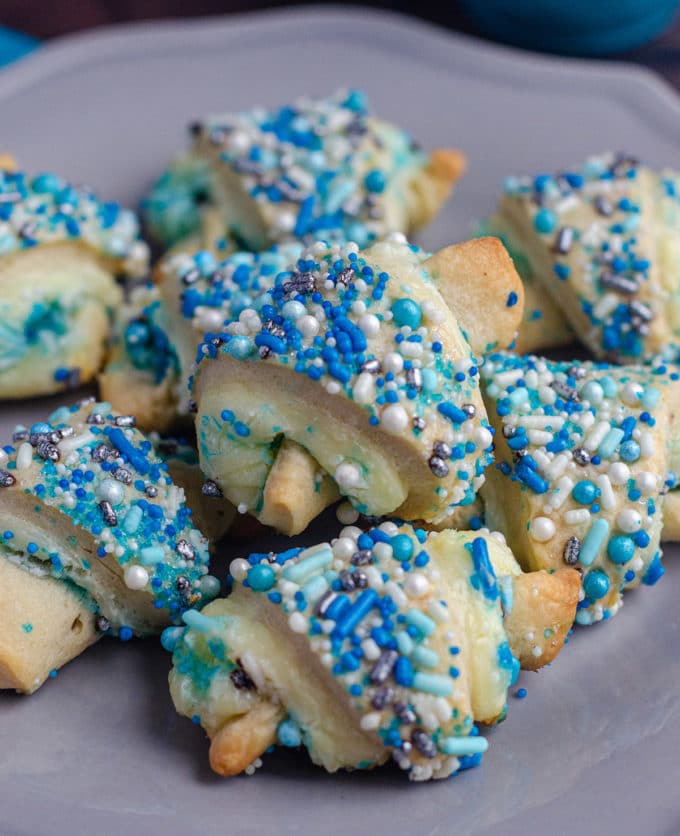 The sprinkles add that extra little crunch that kicks the cookie up a notch, and I mean, who doesn't just love sprinkles in the first place?!
I thought this was the perfect cookie to help showcase our Love You A Latke sprinkles and also give a nod to Hanukkah which is right around the corner. If you know someone who celebrates Hanukkah, consider whipping these up for them if you're visiting them this holiday season, or add them to your cookie trays as something a little out of the norm.
Thanks for letting these cuties be in our lineup of basics throughout the 10 days of new recipes to kick off December, even though they aren't exactly a basic.
Or are they?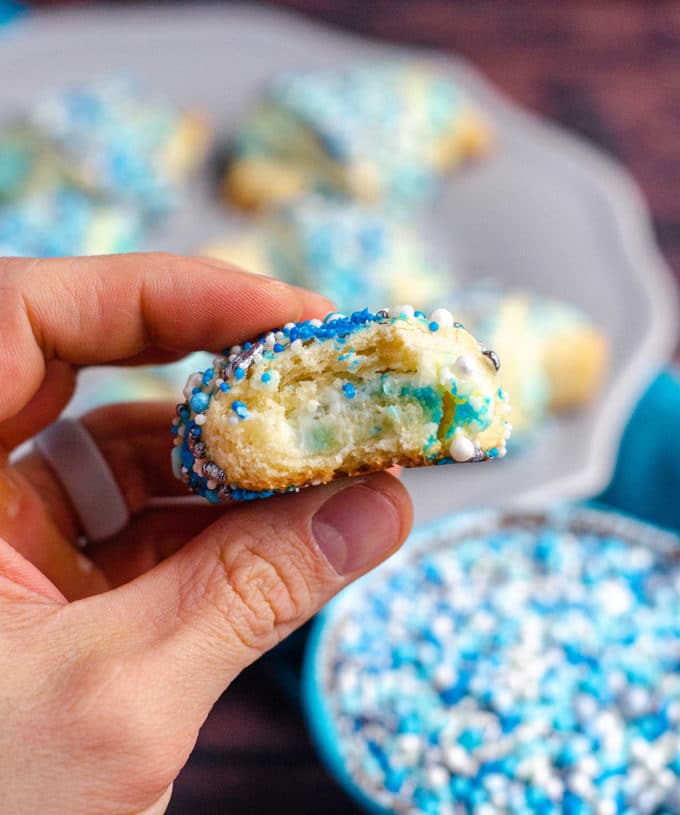 I think it's a great idea to have "rugelach" crossed off on our "I've got a really good recipe for" list. Thanks for helping us out, What Jew Wanna Eat!
Funfetti Rugelach
Basic rugelach filled with a sweetened cream cheese filling and plenty of sprinkles inside and out.
Ingredients
DOUGH
¼

cup

(57g) unsalted butter

softened to room temperature

2

ounces

(28g) full fat cream cheese

softened to room temperature

2

Tablespoons

(25g) firmly packed light brown sugar

½

teaspoon

vanilla extract

¼

teaspoon

almond extract optional1

½

cup

(60g) all-purpose flour be sure to measure properly

⅛

teaspoon

salt

1 and ½

Tablespoons

(23mL) milk

any fat content; I prefer whole

2

Tablespoons

sprinkles
FILLING
4

ounces

(56g) full fat cream cheese

¼

cup

(30g) powdered sugar

⅛

teaspoon

vanilla extract

⅛

teaspoon

almond extract optional1
pinch of salt

½

Tablespoon

sprinkles
Instructions
DOUGH
In a large bowl with a handheld mixer, or the bowl of a stand mixer fitted with the paddle attachment, cream together the butter, cream cheese, and brown sugar on medium-high speed until light and fluffy, about 2-3 minutes. Add the vanilla and almond extract (if using) and continue mixing until everything is combined, scraping down the bowl as necessary.

Turn the mixer speed down to low and add the flour and salt. Continue mixing until the dough starts coming together, then add the milk, turn the mixer speed up to medium, and blend until everything is completely combined.

Gather the dough and gently pat into a disc about 5-6" in diameter with your hands. Wrap in plastic wrap and chill in the refrigerator at least 2 hours and up to 3 days.
FILLING
When you are ready to bake the cookies, preheat the oven to 350ºF (177ºC). Line a large baking sheet with parchment paper or a silicone baking mat. Set aside and prepare the filling.

In a small bowl, mix together the cream cheese, powdered sugar, vanilla and almond extracts (if using), and salt. You should be able to do this with a spatula.
ASSEMBLE AND BAKE THE DOUGH
Unwrap your dough disc and roll out with a rolling pin on a lightly floured surface into an 8" disc. You can use your fingers to press the sides together to keep a uniform circle, if desired.

Pour the sprinkles evenly onto the surface of the dough. Use the rolling pin again to stretch the disc into a 9-10" disc.

Carefully flip the disc over so the sprinkles are now on the bottom. Spread the cream cheese filling evenly onto the non-sprinkle side of the dough, leaving about ½" of dough around the edge. Cover lightly with sprinkles.

Using a pizza cutter or sharp knife, carefully cut dough into 12 even triangles. Clean off pizza cutter or knife after every pass through the dough as it will get messy and sticky and become difficult to use.

When you are finished cutting the dough, roll each triangle up into a crescent-- starting with the longer edge, roll toward the point tightly but gently and seal the crescent with the tip of the triangle. Place rolled crescent with the tip of the triangle on the underside of the cookie on the baking sheet.

Bake the cookies for 25-27 minutes, or until lightly browned. Remove from the oven and allow to cool on a wire cooling rack until completely cool. Store leftovers at room temperature up to 3 days, or in the refrigerator up to 1 week. Rugelach freeze well, up to 2 months. Thaw in the refrigerator overnight.
Notes
Almond extract: this is entirely optional in this recipe. I like to use it to give a more "cake batter" flavor. 
Adapted from What Jew Wanna Eat
Nutrition Disclosure
All nutritional values are approximate and provided to the reader as a courtesy. Changing ingredients and/or quantities will alter the estimated nutritional calculations.
Serving:
1
cookie
|
Calories:
83
kcal
|
Carbohydrates:
11
g
|
Protein:
3
g
|
Fat:
4
g
|
Saturated Fat:
3
g
|
Polyunsaturated Fat:
0.2
g
|
Monounsaturated Fat:
1
g
|
Trans Fat:
0.2
g
|
Cholesterol:
12
mg
|
Sodium:
126
mg
|
Potassium:
46
mg
|
Fiber:
1
g
|
Sugar:
5
g
|
Vitamin A:
127
IU
|
Calcium:
58
mg
|
Iron:
0.2
mg