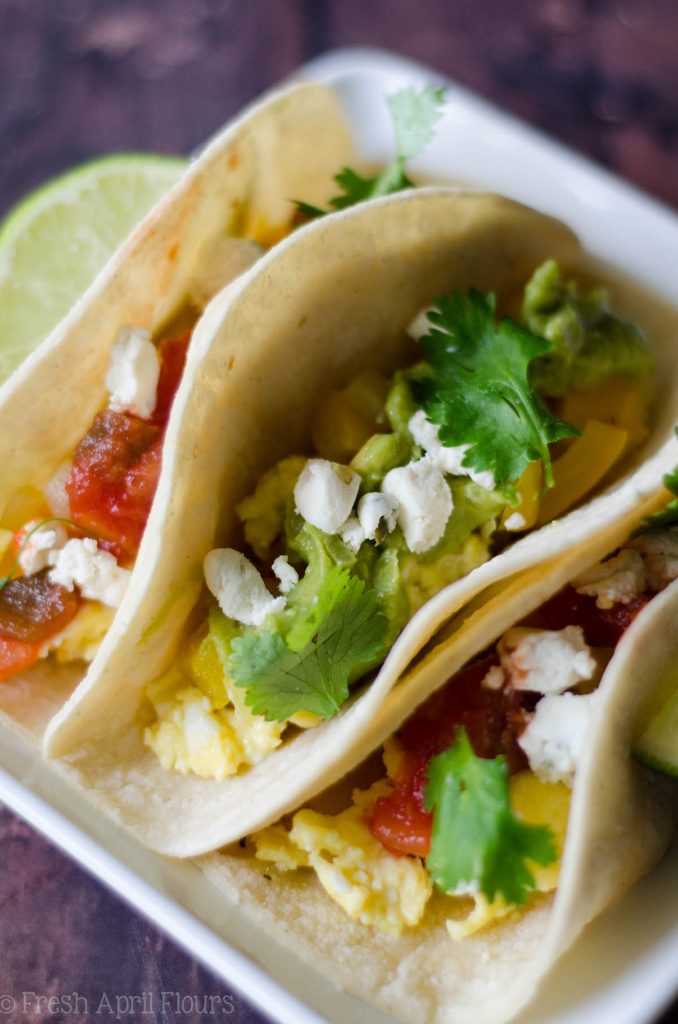 Have you ever baked or cooked something and it was so good that you just never wanted it to end? That was us last weekend, after we devoured the best breakfast tacos we've had since our trip to Venice Beach and our consumption of Tequila Sunrise Wraps from The Cow's End.
I'm telling you that every bite of these breakfast tacos was perfection and when we scraped every last bit of cheesy eggs off of our plates, we were so sad that we made everything all over again. True story.
Since my friends at Sincerely, Brigitte came out with their new line of goat cheese, I have been in cheesy love all over again. I brought you chocolate raspberry cheesecakes in February, but we're going savory this time with a little jalapeño action, and I think you'll be delighted with what's going on in these not-your-average breakfast items.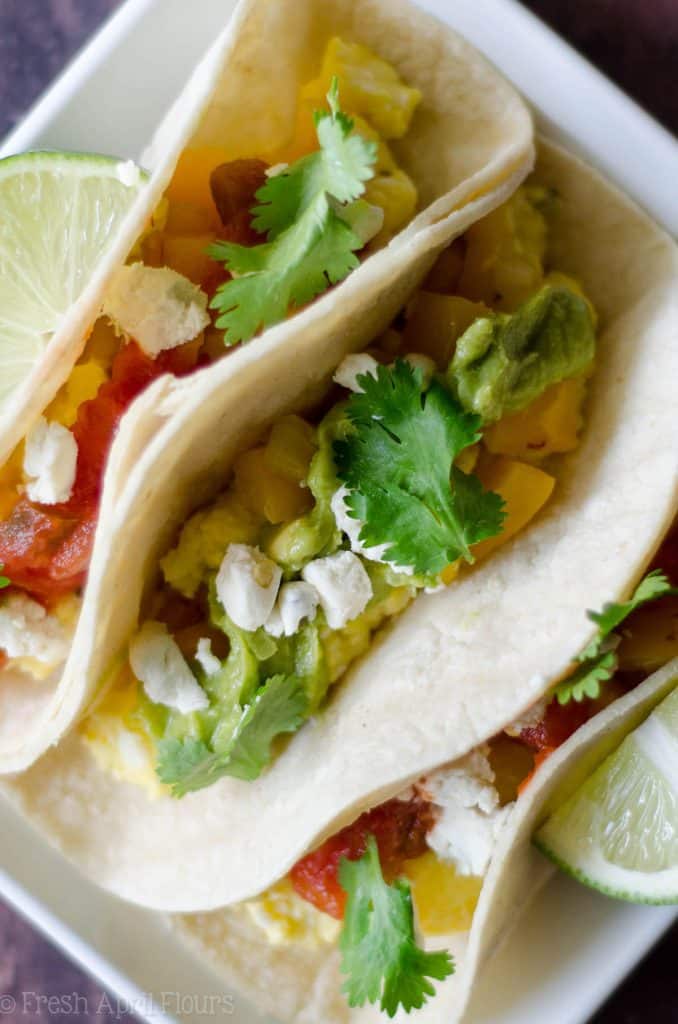 Now, don't get me wrong, the "recipe" I have for you today is merely a guide to making breakfast tacos that are to your liking. We didn't put black beans in ours, simply because we didn't have any. We did, however, load them up with salsa and guacamole, but if those aren't your bag, leave 'em out. These are your tacos, your breakfast. You know how you like things. But there is one thing I think you have got to keep in your breakfast tacos, and that is the very best cheesy eggs you will have ever eaten. Yes, folks, we're cheesing up our scrambled eggs with a hefty dose of jalapeño goat cheese.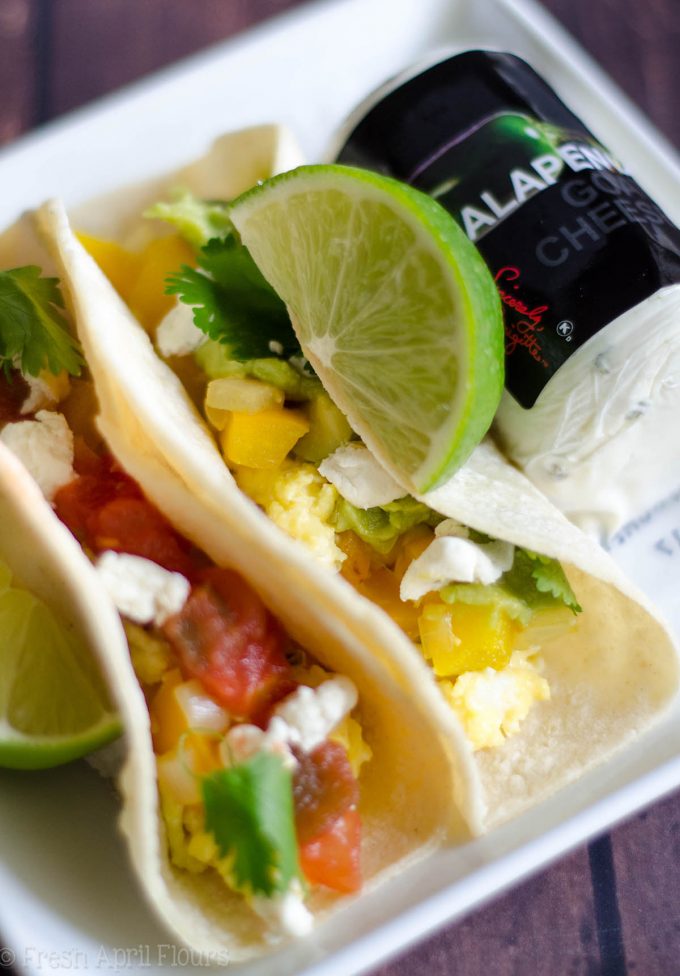 I wasn't quite sure how this would work out, but that's what my job is: to find you that "just right" combination of ingredients to yield the perfect taste, texture, and flavor complements for your meals and desserts.
We found the best egg to cheese ratio here was 8 eggs and 3 ounces of goat cheese. It turns out that 4 ounces was too much, and saving an extra ounce for sprinkling on top of the finished tacos was a much better way to go in this cheesy egg business for the best breakfast tacos ever. Keep this ratio in mind if you're scaling up or down for your crowd size. It should be an easy calculation!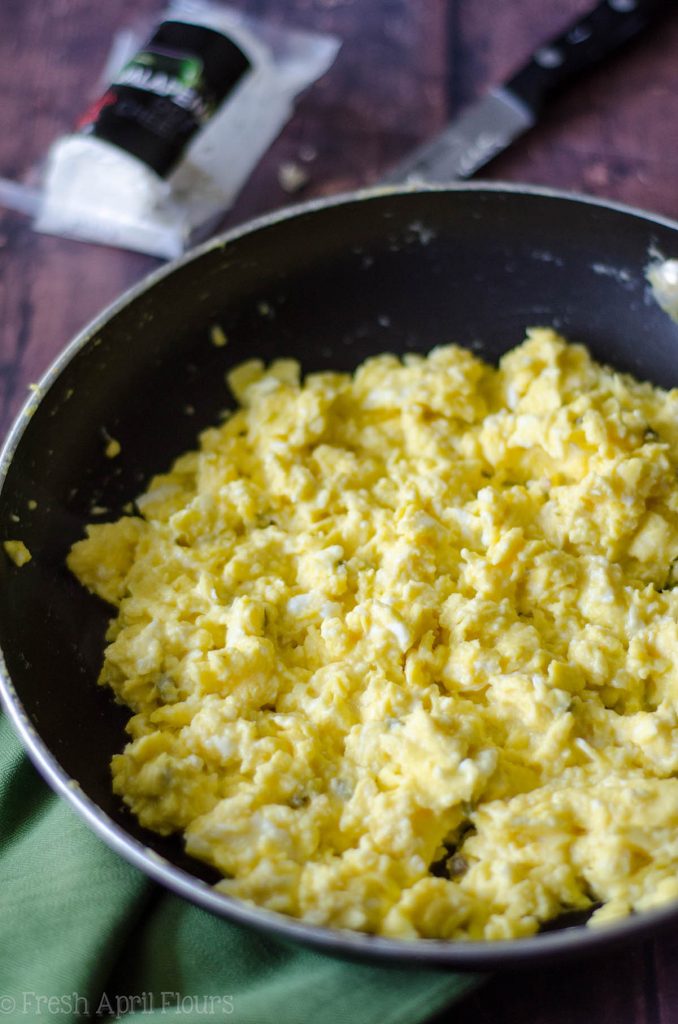 Speaking of crowd size, we were able to make 8 decent sized tacos (smaller 5-6″ corn tortillas) out of our egg mixture and we had a bit left over to share with our kiddo. SIDENOTE: he lovedddddd these eggs. Gobbled them up like a cheesy egg maniac. I mean, he is a cheesy egg maniac, so that helped, but we were surprised that he kept wanting more of these eggs since they had a little spice to them. But that's just it! Sincerely, Brigitte made their jalapeño goat cheese something that can be well-liked by jalapeño enthusiasts and those who just like a little spice with their food. We didn't find the spice to be overpowering, and the flavor of the peppers is totally there. Nicely done, SB!
Alongside the cheesy eggs is a cooked pepper/onion/garlic mixture that takes just a few minutes to prepare. Any color bell pepper will do– we chose orange because it's mah fav.
Load up your warm tortillas with a layer of cheesy eggs, some peppers/onions, and then your favorite toppings. We did just guac on some, just salsa on others, and a combination on the rest. Change it up! An extra sprinkle of jalapeño goat cheese on top, a few sprigs of cilantro, and a nice bright squirt of lime juice to liven things up, and you are all set for a wonderful breakfast, my friend!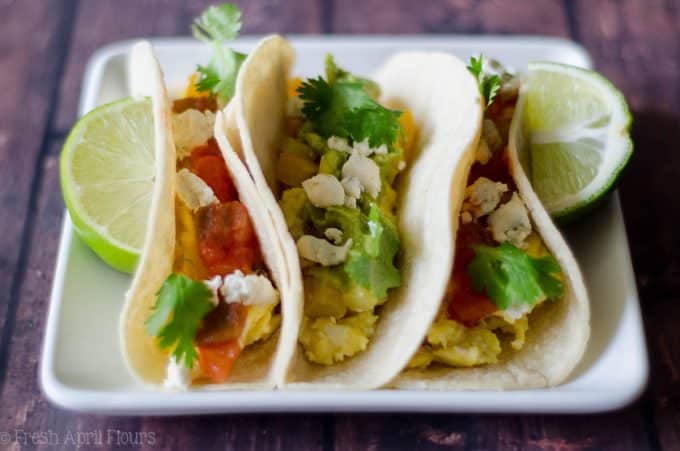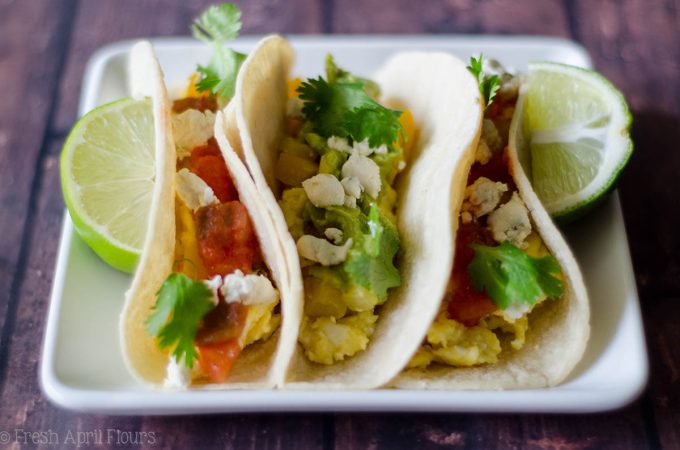 Like I said, these had the perfect amount of spice and flavor for us, but that doesn't mean you can't add your favorite spicy condiments like hot sauce or salsa verde. Mix and match your favorite toppings and set it up like a taco bar for entertaining multiple guests. Just keep a stack of tortillas warm and have your guests load up their breakfast tacos to their liking.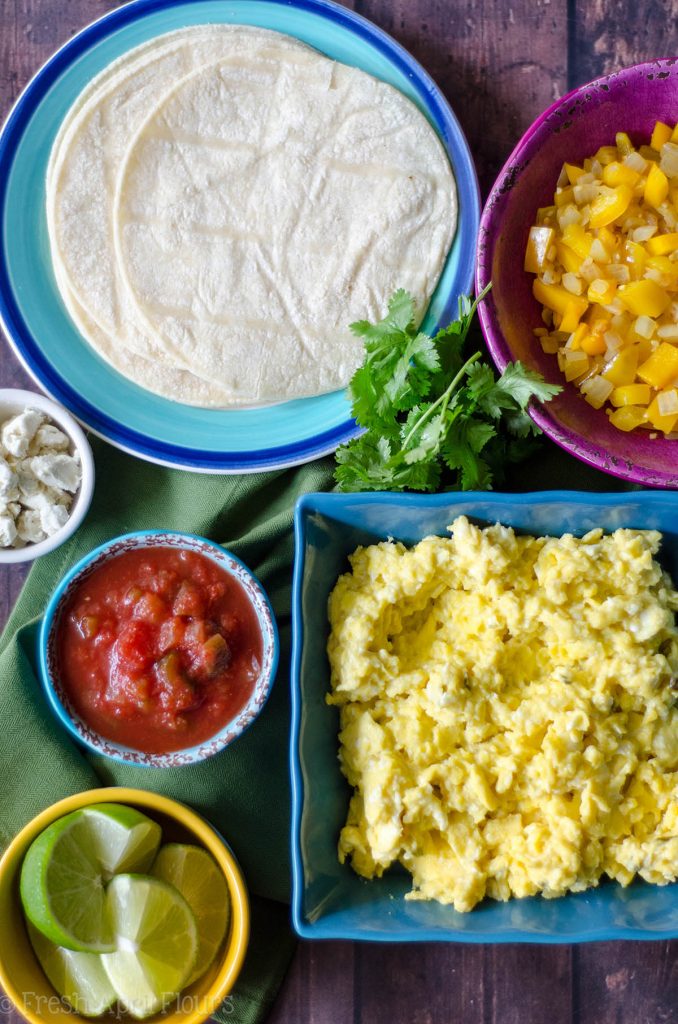 If you're looking for something to change up the usual breakfast, this is it. Put away your boring oatmeal and classic scrambled eggs and swap them out for these jazzy vegetarian breakfast tacos.
I guarantee you'll be jumping out of bed to go eat some, so really, this can only do great things for your Monday, right?
My friends at Sincerely, Brigitte provided me with the cheese for this recipe. All opinions are 100% my own. Thank you for helping me work with brands that I love!