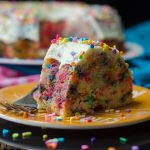 Print Recipe
Funfetti Bundt Cake with Whipped White Chocolate Ganache Frosting
Classic white cake loaded with sprinkles and covered in a buttery white chocolate ganache.
CAKE
Place oven rack on the middle setting and preheat the oven to 350ºF. Generously grease and flour (or use homemade cake release) a 10" bundt pan.

In a large bowl with a handheld mixer or the bowl of a stand mixer fitted with the paddle attachment, combine the flour, cornstarch, sugar, baking powder, and salt. Blend ingredients together on low until completely combined, about 1 minute. Add the room temperature butter and beat mixture on low speed until it resembles sand. Scrape down the sides and bottom of the bowl with a spatula and mix again on low for a few seconds until thoroughly combined.

Combine the heavy cream, egg whites, and almond and vanilla extracts in a large container with a spout (like a 2-cup glass measuring cup) and mix gently with a fork until blended. With the mixer speed on medium-low, add half of the milk mixture (about 1 cup) to the crumb mixture and mix until blended. Add the remaining milk mixture to the batter and beat again on medium-low until everything is incorporated. Turn the mixer off, scrape down the sides and bottom of the bowl with a spatula, and increase mixer speed to medium. Beat the batter for about 30 seconds until batter is smooth. Carefully fold in the sprinkles with a spatula until just combined.

Pour the batter into the prepared bundt pan and bake for 40-42 minutes, or until a toothpick inserted in the center comes out clean.

Remove from oven and allow to cool for 10 minutes on a wire cooling rack. Using oven mitts, carefully flip the bundt cake onto your serving dish/platter. To do this: flip the serving dish/platter over and place on top of the cooling bundt pan. Flip everything over and allow cake to cool completely in the pan, sitting on the serving dish. When cake is completely cool, lift pan off of the cake.
GANACHE
Place the finely chopped chocolate into a medium size bowl. Set aside.

In a small saucepan over medium heat, combine the heavy cream, butter, and almond extract and heat to steam. Remove from heat and immediately pour over the bowl of chocolate. Allow to sit for a few minutes, then carefully stir mixture until all of the chocolate is melted. Allow to cool at room temperature, then refrigerate until completely cool, about 4 hours.

Place the cooled ganache in a large bowl or the bowl of a stand mixer. Using a handheld electric mixer or a stand mixer fitted with the paddle or whisk attachment, whip the ganache until soft peaks form, about 2-3 minutes.

Spread over the cake using a spatula and decorate with more sprinkles. Cake stays fresh covered in the refrigerator for up to 7 days. Cake freezes well, up to 2 months. Wrap in plastic wrap, then in foil, then place in a large freezer bag or freezer-safe container. Thaw in the fridge overnight.
It is imperative to use room temperature ingredients in this recipe. Allow ingredients to sit out at room temperature at least 45 minutes before beginning.
You must use high-quality chocolate for this ganache, like Ghirardelli. White chocolate chips will not work for ganache as they contain stabilizers that prevent them from melting smoothly.