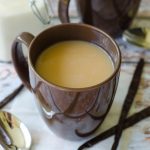 Print Recipe
French Vanilla Coffee Creamer
You only need 3 ingredients for this all-natural, chemical free, and 100% homemade coffee creamer.
Servings:
1
cup of creamer
1

cup

half-and-half

or cream, milk, non-dairy milk, etc.

2

whole vanilla beans

split and de-seeded

1/4

cup

+ 2 Tablespoons granulated sugar

1/4

cup

+ 2 Tablespoons water
Pour the half-and-half (or whatever liquid you prefer in your coffee) into a small saucepan. Set aside.

Using a sharp knife, split the vanilla beans in half, scrape out the seeds, and put everything into the saucepan with your half-and-half.

Heat over low heat until mixture just starts to steam. Turn off the burner but leave the saucepan on the burner while it cools. Allow beans to steep for 30 minutes.

After the 30 minutes, remove the pods with a fork or tongs. Strain the vanilla infused half-and-half through a fine mesh screen fitted with cheesecloth or a coffee filter. Set aside.

In a small saucepan over medium heat, combine granulated sugar and water and heat until sugar is just dissolved, about 2-3 minutes. Remove from heat and combine with vanilla infused half-and-half in a vessel you can easily pour from. Stir until combined. Store in a covered container in the refrigerator and use within 2 weeks, shaking well before using.