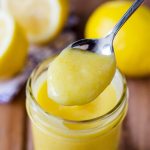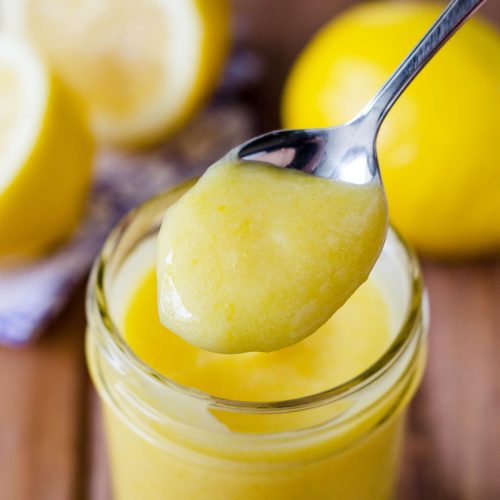 Print Recipe
Homemade Lemon Curd
Tart and sweet lemon curd, ready in just 10 minutes. Great for filling cakes, pies, cupcakes, or as a spread.
4

large egg yolks

3/4

cup

granulated sugar

Zest of 3 lemons

1/2

cup

fresh lemon juice1

1/8

teaspoon

salt

8

Tablespoons

unsalted butter

at room temperature and cut into 8 pieces2
Fill the bottom pot of a double boiler with 3-4" of water and turn heat to high. Bring the water to a boil, then reduce to a simmer. You may also use a pot with a heatproof bowl on top instead of a double boiler. Prepare the water the same.

Combine egg yolks, sugar, lemon zest, lemon juice, and salt in the top pot of the double boiler. Use a whisk to continuously whisk the mixture as it cooks. It is important to keep the mixture moving so the eggs don't cook or curdle. Continue whisking the mixture until it becomes thick, approximately 10 minutes.

Remove double boiler or top bowl from heat and whisk in butter pieces 2 at a time, adding the next pieces after previous pieces have mostly melted. When all of the butter has melted, place a piece of plastic wrap directly on top of lemon curd, making sure the plastic wrap is touching the surface of the curd. Allow to cool in the refrigerator (curd will thicken as it cools). Remove plastic wrap when you are ready to use it. Leftover lemon curd stays fresh in the refrigerator, covered tightly, up to 10 days or in the freezer, up to 3 months. Thaw in the refrigerator overnight.
Do not use bottled lemon juice. Use freshly squeezed lemon juice from the lemons that you zest.
You may use salted butter. Do not add additional salt.
Recipe adapted from Ina Garten