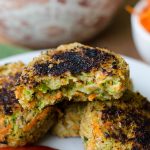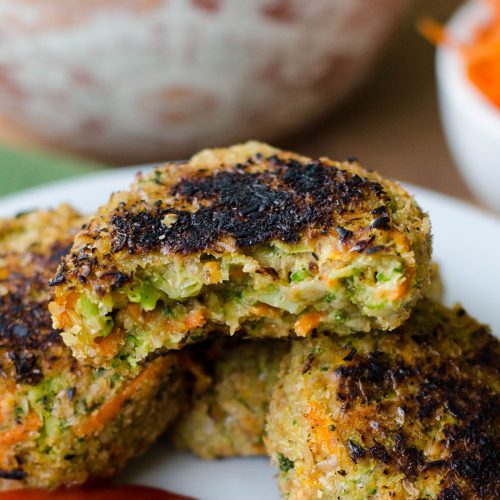 Print Recipe
Veggie Nuggets
Gluten-free vegetable patties perfect for little hands and adults alike.
1

and 1/4 cup ground flaxseed

1

teaspoon

salt

1/2

teaspoon

pepper

1

teaspoon

garlic powder

1/2

teaspoon

onion powder

1/2

teaspoon

dried parsley

1/4

teaspoon

dried oregano

3

cups

broccoli florets

steamed

1

cup

shredded carrots

approximately 2 large carrots

1/2

cup

shredded cheese

2

large eggs

lightly beaten

olive oil

as needed
Combine flaxseed, salt, pepper, garlic powder, onion powder, parsley, and oregano in a small bowl. Set aside.

Place the steamed broccoli florets in a food processor and pulse until broccoli is in very small pieces. Pour broccoli into a very large bowl. Add the shredded carrots to the broccoli and stir to combine. Add 1 cup of the seasoned ground flaxseed and shredded cheese and stir again to combine. Before adding the eggs, taste the mixture and add more seasoning to your taste, if desired. When you are happy with the flavor, add the eggs, and stir well to coat all of the mixture with egg.

Form veggie mixture into balls, approximately 1" in diameter. Flatten slightly with your hands to about 1/2" thickness, roll gently in the remaining 1/4 cup of seasoned flaxseed, and place on a large plate or baking sheet until all of the veggie mixture is gone.

Heat a bit of olive oil in a large skillet over medium-low heat. Without crowding, add veggie nuggets to the pan and cook for 4-5 minutes until underside is lightly browned. Carefully flip nuggets with a spatula and cook other side for an additional 4-5 minutes, or until lightly browned. Remove from skillet, allow to cool on a cooling rack, and cook remaining nuggets, adding additional oil to the pan as needed. If you prefer to bake your veggie nuggets, bake for 400ºF for 15-20 minutes, until lightly browned. Cooked patties can be kept in the refrigerator in an airtight container up to 1 week, or in the freezer for 1 month.