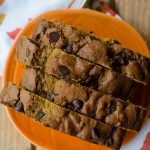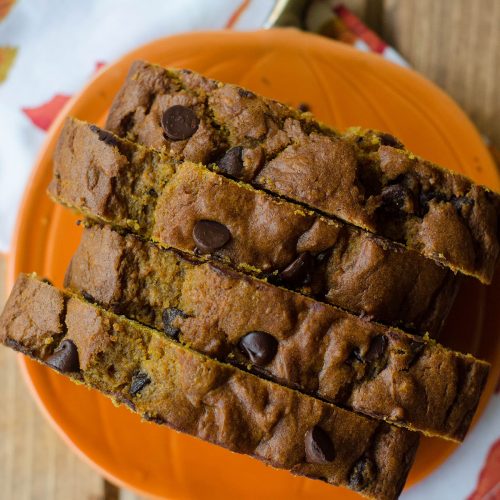 Print Recipe
Chocolate Chip Pumpkin Quick Bread
An easy bread spiced with real pumpkin and spices and sweetened with brown sugar and chocolate chips.
Preheat oven to 350ºF. Spray a loaf pan (9" x 5") with non-stick spray. Set aside.

In a large bowl, whisk together the flour, baking powder, baking soda, pumpkin pie spice, cinnamon, and salt. Set aside.

In a medium size bowl, whisk together the brown sugar and butter until no sugar lumps remain. Add the eggs, pumpkin, milk, and vanilla and whisk until smooth. Pour the wet ingredients into the dry ingredients and stir gently until just combined. Add the chocolate chips and stir to disperse evenly.

Pour the bread into the prepared loaf pan and bake for 55-60 minutes, or until a toothpick inserted in the center comes out mostly clean. Tent foil over the top of the loaf pan halfway through the baking time to prevent too much browning. Allow bread to cool completely in the loaf pan on a wire cooling rack before serving. Leftovers stay fresh at room temperature up to 4 days or in the refrigerator up to 1 week. Loaf may be frozen, up to 3 months. Wrap tightly in plastic wrap and foil before freezing. Thaw overnight in refrigerator.