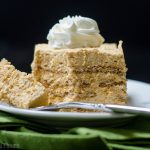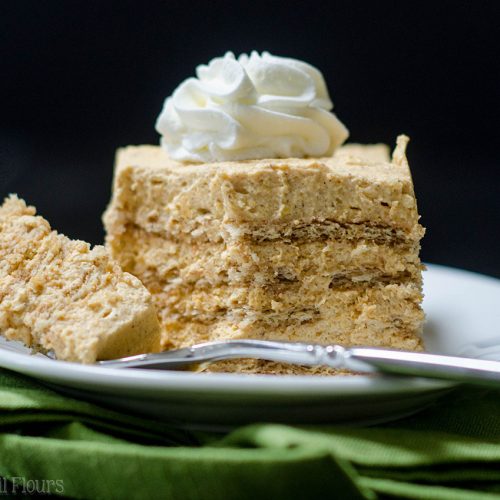 Print Recipe
No Bake Pumpkin Icebox Cake
Layers of graham crackers filled with pumpkin whipped cream. An easy no bake treat for your favorite fall gatherings!
Line an 8" square baking pan or casserole dish with parchment paper, leaving an overhang. Set aside.

In a large bowl with a handheld mixer, or the bowl of a stand mixer fitted with the whisk attachment, beat the heavy cream on high speed until soft peaks form. Add the powdered sugar and vanilla extract and beat again on high speed until stiff peaks form.

Fold in the pumpkin puree, cinnamon, nutmeg, cloves, and ginger with a spatula until everything is incorporated.

Spread a very thin layer on the bottom of the baking pan, on top of the parchment. Place a layer of graham crackers on the bottom of the pan, and then layer with about 1/4 of the pumpkin mixture. Repeat this 3 more times. You will wind up with 4 layers of graham crackers and 4 layers of pumpkin.

Refrigerate cake at least 4 hours, or overnight. You may also freeze, at least 4 hours. Slice and serve with a dollop of whipped cream, if desired. Store leftovers in the refrigerator, covered, up to 4 days.