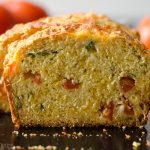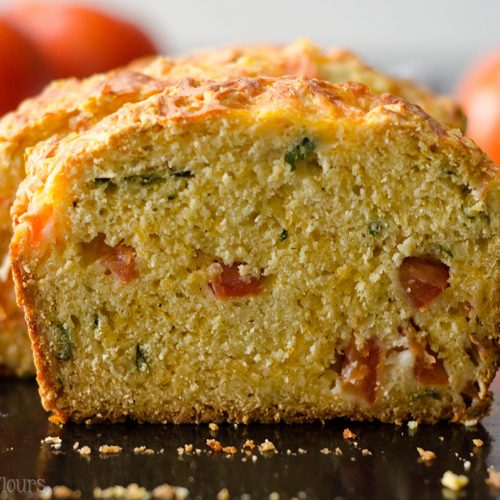 Print Recipe
Herbed Tomato Quick Bread
A savory bread that comes together quickly using fresh tomatoes and basil. Perfect for using summer produce!
Preheat the oven to 350ºF. Spray a loaf pan with nonstick spray or olive oil. Set aside.

In a large bowl, whisk together the flour, baking powder, baking soda, salt, and pepper. Set aside.

In another large bowl, toss together the tomato, basil, and garlic. Add the eggs, olive oil, and milk, and toss again to coat everything.

Pour the wet ingredients into the dry ingredients and stir until mostly combined. Add 1 and 1/2 cups of the cheese and continue to stir until everything is evenly dispersed. Batter will be thick.

Pour the batter into the prepared loaf pan and spread evenly with a spatula. Sprinkle the remaining 1/4 cup of cheese on top of the batter.

Bake loaf for 55-60 minutes or until a toothpick inserted in the center comes out mostly clean. Allow to cool in the pan at least 15 minutes before removing and serving warm. Store leftovers covered tightly at room temperature up to 3 days, or in the refrigerator up to one week. Since bread is very moist, it will spoil quickly at room temperature. Warm slices in the microwave or toast in a toaster oven or broiler, if desired. Loaf freezes well, up to 2 months. Thaw in refrigerator overnight.