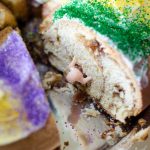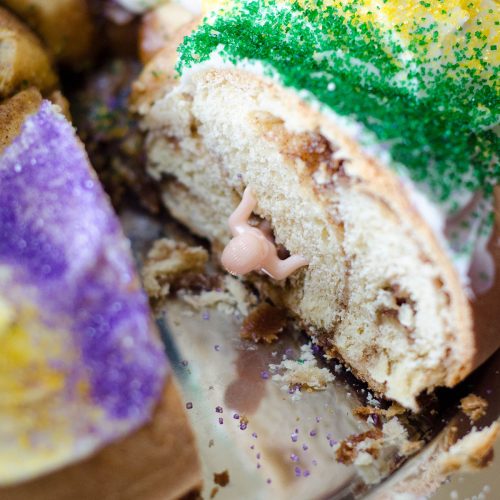 Print Recipe
Mardi Gras King Cake
A simple spiced yeast dough is filled with a cinnamon sugar filling, twisted into a ring, and donned with colored sugar.
CINNAMON FILLING
1

cup

firmly packed brown sugar

¼

cup

all purpose flour

2

teaspoons

ground cinnamon

⅛

teaspoon

salt

1

reserved egg white

2

Tablespoons

unsalted butter

melted and allowed to cool
BREAD
Sprinkle yeast over warm water. The best way to test the temperature of your water is to take it from the tap and run your wrist in the stream. If you can't feel the temperature of the water, it's perfect. Stir yeast in with a fork until it is dissolved and set aside.

In a large mixing bowl with a wooden spoon, blend the milk, sugar, salt, vanilla extract, and cinnamon. Stir in the butter, 2 egg yolks, and yeast mixture.

Gradually stir in flour. If using a stand mixer, use your dough hook. If mixing by hand, continue to use a wooden spoon. Add bread flour until your dough is soft enough to handle, usually when it can easily pull away from the sides of your bowl.

Turn out dough on a lightly floured surface and knead until smooth and elastic. You may need to add the last cup or so of bread flour by hand. Your dough should feel like PlayDoh to the touch and "snap" when you pull it apart.

Place in a warm, greased bowl, turning the dough to coat the top. Cover with a towel and allow to double in size, about 2 hours.

After dough has doubled, punch down dough and turn out onto a floured surface, then make the cinnamon filling.
CINNAMON FILLING
In a medium size bowl, whisk together brown sugar, flour, cinnamon, and salt.

Add one reserved egg white and the butter and stir until everything is combined.
ASSEMBLE THE DOUGH
Line a baking sheet with parchment paper or a silicone baking mat. Set aside.

Roll out the dough onto a surface safe for cutting into a 14" by 18". Using a sharp knife or pizza cutter, cut the rectangle in half long ways so you now have two long rectangles of dough, approximately 7" by 18".

Using a spatula, spread the filling evenly over each rectangle of dough, leaving about a 1" border around the edges.

Working from the long side, roll each rectangle of dough into a tight log. Gently roll the logs back and forth until they are about 20" long.

Transfer the logs to the prepared pan. Pinch one end of each log together and alternate the logs over and under each other (similar to a braid) to form a twisted loaf of bread. Connect the starting and ending pieces together and form the logs into a circle.

Cover with a towel and allow to rest and rise again for 1 hour.

When you are ready to bake the bread, preheat the oven to 350ºF.

Bake the bread for 38-42 minutes. The loaf is done when it produces a hollow sound when you tap on it. Allow to cool completely on the baking sheet before decorating.
ICING
In a medium size bowl, mix together the powdered sugar, cream or milk, and vanilla extract. Stir until everything is combined. Mixture will be thick. If you want it thinner, add more liquid 1/2 Tablespoon at a time until you reach desired consistency.

Spread icing over cooled bread and decorate with sanding sugar or sprinkles. Bread stays fresh covered at room temperature up to 5 days or in the refrigerator up to 1 week. Un-iced bread freezes well, up to 2 months. Thaw at room temperature before decorating and serving.