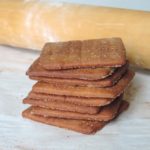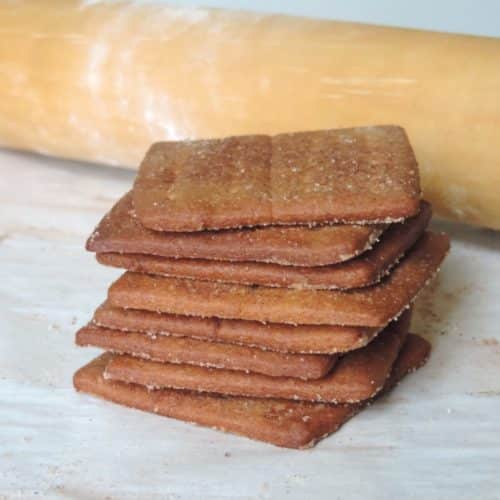 Print Recipe
Homemade Cinnamon Graham Crackers
Buttery graham crackers spiced with cinnamon-- way better than anything you can get in a box!
In a medium size bowl, whisk together both flours, baking soda, salt, and cinnamon. Set aside.

In a large bowl with a handheld mixer or the bowl of a stand mixer fitted with the paddle attachment, combine the butter, brown sugar, and honey. Beat at medium-high speed until light and fluffy (about 2 minutes). Scrape down the sides of the bowl. Add the milk and mix on medium speed until completely combined. Scrape down the sides of the bowl again.

Add the flour mixture and mix on low speed until dough is just combined.

Transfer dough onto a piece of plastic wrap, press into a square about an inch thick, and wrap tightly. Refrigerate for at least 3 hours and up to 3 days.

When you are ready to bake the cookies, preheat the oven to 350ºF. Line two large baking sheets with parchment paper.

On a floured surface, roll out the dough to a 1/8″ thickness and cut into 2″ squares. Transfer to the baking sheet, being careful to space the crackers about a half inch apart. Gather scraps, re-roll, and cut more crackers.

OPTIONAL: Line the middle of each cracker with a butter knife and dot each side with a fork for an "authentic" graham cracker look.

Sprinkle a mixture of 3 Tablespoons granulated sugar + 1 Tablespoon cinnamon over the crackers before they go into the oven.

Bake crackers for 10 minutes, rotate baking sheet a quarter turn, and bake for another 2-4 minutes. Crackers are done when they are golden brown and firm to the touch. Let crackers cool on baking sheet for a minute, then transfer to a cooling rack (they will crisp up as they cool). Let cool completely before storing in an airtight container for up to 5 days.