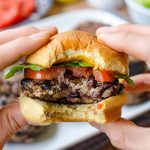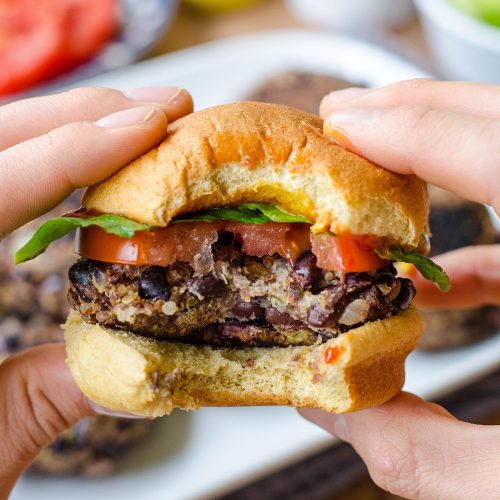 Print Recipe
Black Bean Veggie Burgers
Hearty, flavorful, meatless burgers that can easily go on the grill or in a skillet on the stove top. Great between a bun or over a salad.
olive oil

1/2

of a medium yellow onion

diced

2-15

ounce

cans black beans

drained, rinsed, and patted dry

1 and 1/2

cups

ground flaxseed

1

cup

cooked quinoa

1

Tablespoon

+ 1 teaspoon burger seasoning*

2

teaspoons

garlic powder

1 and 1/2

teaspoons

kosher salt

1/2

teaspoon

freshly cracked black pepper

2

large eggs

lightly beaten
Heat some olive oil in a large skillet over medium heat. Add the diced onion and sauté until onions are tender and slightly translucent (approximately 6-7 minutes). Remove from heat and set aside.

In a very large bowl, mash the black beans with a fork, potato masher, or whisk until most of the beans are fully mashed. Some full beans are fine, but most should be either mashed or mostly broken. The mixture should feel damp but not incredibly moist and shouldn't quite hold together when squeezed yet. Add the flaxseed, quinoa, and seasonings. Mix well with a spatula and taste the mixture. Add more seasoning if needed. When you are sure the burgers are seasoned to your liking, add the beaten eggs and stir again until completely combined.

Using a 1/4 cup measuring cup, form the burger mixture into patties. If you are having trouble with the mixture sticking to the measuring cup, line cup with plastic wrap, fill with burger mixture, pull out the plastic, and mold burger with your hand. Create a compact patty with your hands that is about 1/2" to 3/4" thick. Place on a large plate or baking sheet. When you are finished forming all of the patties, refrigerate for at least 30 minutes or up to 1 day. If chilling longer than about an hour, cover tightly with plastic wrap or foil so burgers do not dry out.

When you are ready to cook the burgers, prepare your grill or cast iron skillet by brushing it with oil. You may also use a cooking skillet on the stove, brushed with oil on, over medium heat. Cook the burgers on one side until desired char appears. Flip and cook the other side. The burgers on our skillet took about 8 minutes each side, and the ones in the cooking skillet took about 5-6 minutes each side. When burgers are done, remove from grill/heat and serve immediately.

Serve warm with burger buns and fixings or over a bed of lettuce and toppings. Cold burgers make great salads as well. Burgers stay fresh in the refrigerator, wrapped tightly, up to 3 days. Reheat in the microwave as needed, wrapped or covered in a damp paper towel or on a baking sheet in the oven at 375ºF for about 20 minutes or until heated through. Make ahead: cooked veggie burgers can be wrapped tightly and frozen, up to 2 months. Thaw in refrigerator and reheat as desired.
*I used McCormick's Grill Mates Worcestershire Pub Burger Seasoning. We love using this for ground meat. If you cannot find or would rather not purchase this spice: taste the mixture before adding the eggs and season to your liking.

Suggested spices:

paprika, cumin, additional garlic powder, onion powder, cayenne pepper.