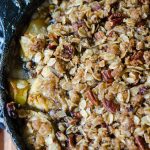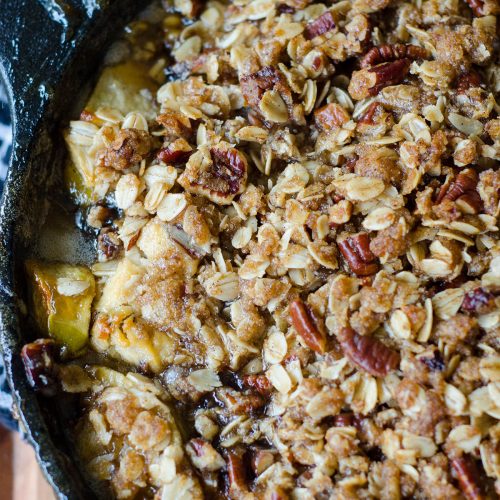 Print Recipe
Maple Pecan Goat Cheese Skillet Apple Crisp
A gluten free apple crisp with a touch of tangy goat cheese and full of some of the best flavors fall has to offer.
TOPPING
3/4

cup

old fashioned oats

1/2

cup

packed light brown sugar

1/2

cup

chopped pecans

1/2

teaspoon

ground cinnamon

1/4

teaspoon

salt

4

Tablespoons

unsalted butter

melted
Preheat the oven to 350ºF. Position a rack in the middle of the oven.

Place an empty baking sheet on the lower rack to catch bubbling drippings.
TOPPING
In a small bowl, stir together the oats, brown sugar, pecans, cinnamon, and salt until completely combined.

Drizzle the melted butter over the mixture and stir until butter is evenly dispersed and all of the oats are moist. Set aside.
FILLING
In a large bowl, combine the apples, brown sugar, maple syrup, cornstarch, lemon juice, vanilla extract, and salt. Stir together until everything is evenly dispersed. There will be a lot of liquid at the bottom-- this is ok. Set aside.

Heat a 9" cast iron skillet over medium-high heat. When skillet is adequately heated, pour apple mixture evenly into it. When apples begin to steam, begin stirring to evenly distribute the brown sugar sauce. It will start to thicken. Cook while stirring until sauce is thick and evenly coats all of the apples, approximately 5 minutes. Turn off the heat, but leave the skillet on the burner.

Place the butter and goat cheese pieces over the top of the cooked apples, trying your best to evenly distribute them. Top everything with the oat topping

Cover with foil and bake for 15 minutes. Remove the foil and bake until crisp and brown on top, an additional 20-25 minutes. After that time, turn off the oven and allow crisp to sit in the oven with the door cracked until the sugar stops bubbling and you can safely handle it.
*I used my apple corer/peeler for 3 of the apples, and peeled and cut the other 2 by hand for varying sizes of apple chunks. You may use whichever method you prefer.
If you don't have a cast iron skillet, you can cook the apples in a metal skillet and transfer to a baking dish before baking in the oven.
Adapted from Pioneer Woman