As an Amazon Associate I earn from qualifying purchases.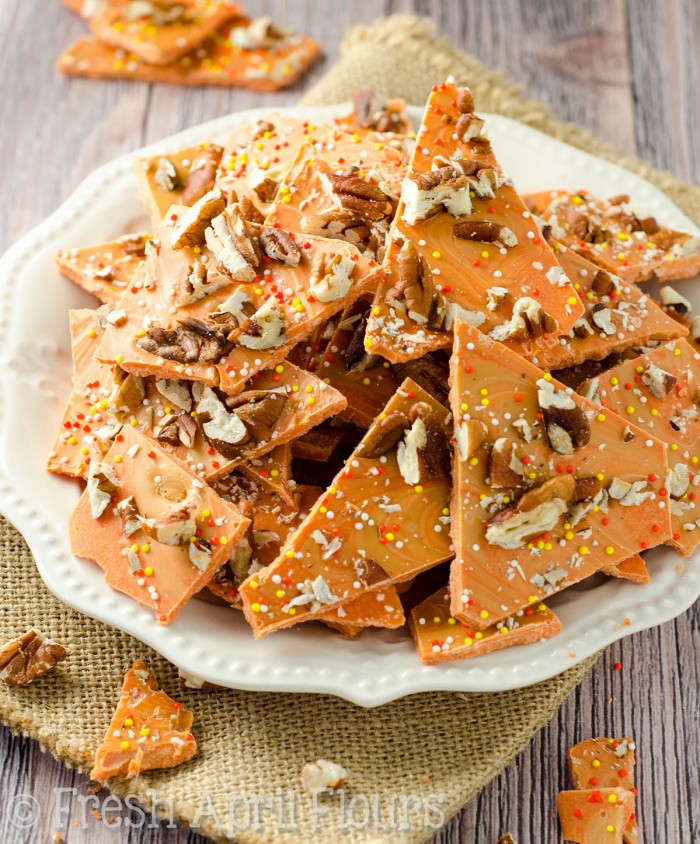 Some of my favorite recipes aren't really recipes at all (see any of my homemade nut butters, my candy corn pretzel bark from this time last year, my favorite buffalo blue salad or homemade pita chips) and wind up as some of the most popular recipes on my blog.
You all love simple, and I don't blame you! Recipes with a ton of ingredients and/or steps just don't do it for me. Of course, you'll find the occasional slightly more involved recipes around here, but I'll tell you what… I loveeeee the simple.
Liiiike bark. Bark is one of the best things to make when you're stuck on a snack to bring to a party or pack in a goodie bag for a holiday or even just decorate a cookie tray or snack display.
Last winter, I showed you how to make peppermint bark, and today, I've got this delightful little fall bark that is even easier than its peppermint friend.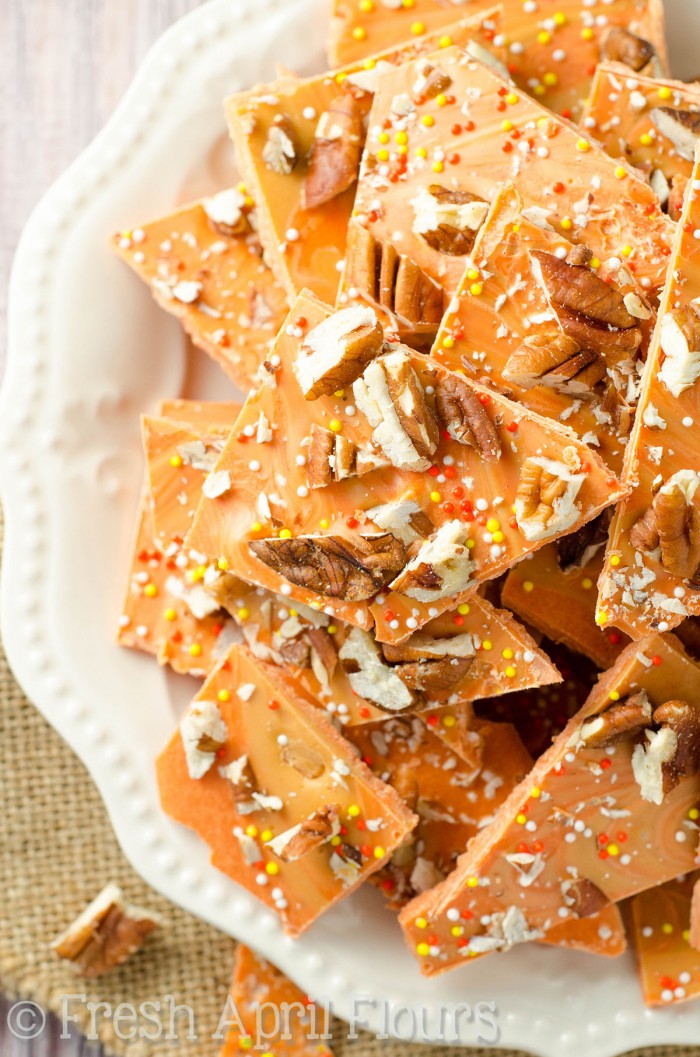 Did you know that pumpkin and butterscotch go so well together? They're kind of like chocolate and peanut butter. Or citrus and poppy seeds. They just… Go.
And as if they needed a little boost, pecans nicely complement this flavor combo with their nuttiness and slightly salty notes that cut right through all that sweetness.
Not that sweetness is a problem, especially this time of year… But it does add another level of texture and flavor.
There's a lot packed into this simple bark "recipe" as far as flavor/texture goes, but ingredients? Umm, 3. Ok, 4 if you count the sprinkles.
I tried this bark with a few different ingredients, but the only one that got that true pumpkin flavor going was pumpkin spice candy melts. There is no substitution here.
I tried white chocolate with pumpkin pie spice in it, regular chocolate with pumpkin pie spice… Nope. Nada. None of it worked the way I wanted it to, so pumpkin spice candy melts are the way to go.
My favorite are Wilton brand, and you can find them in any craft store in the candy making section.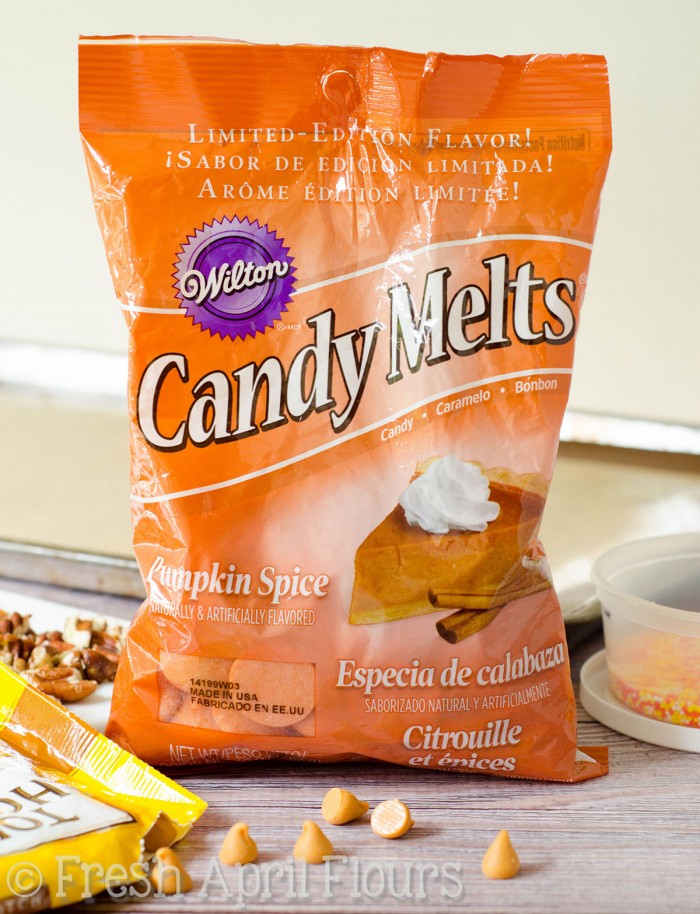 You'll start by lining a baking sheet with a silicone baking mat or parchment. Melt the pumpkin spice candy melts and spread the mixture evenly over the baking mat. You want about 1/4″ thickness for your bark.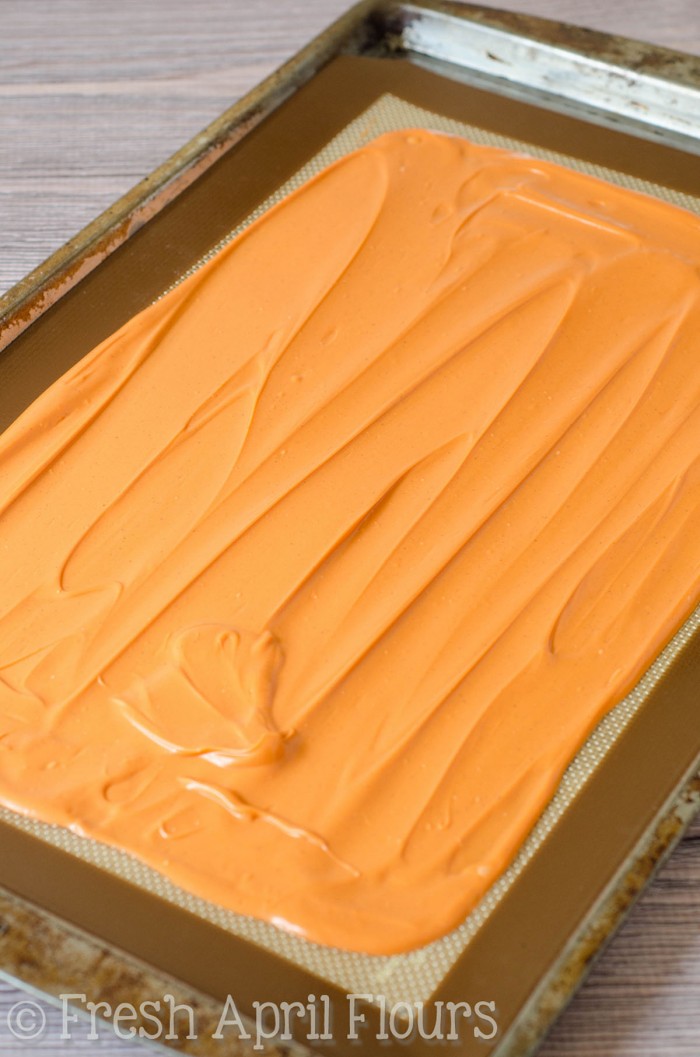 Next, melt the butterscotch chips and dollop the mixture on top of the melted pumpkin mixture.
Take a knife, spatula, or toothpick and swirl swirl swirl. It doesn't have to be pretty! Just don't swirl too much or you'll completely blend the colors. Keep the swirls simple.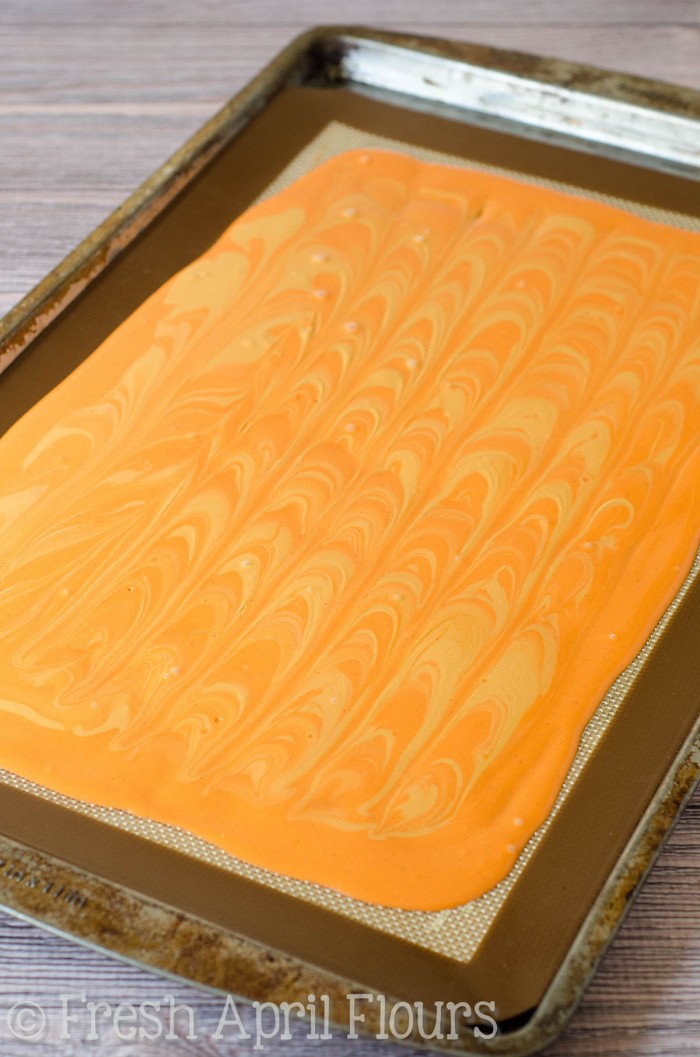 Lastly, sprinkle with some festive sprinkles and some chopped nuts, let it cool completely at room temperature, then break into pieces!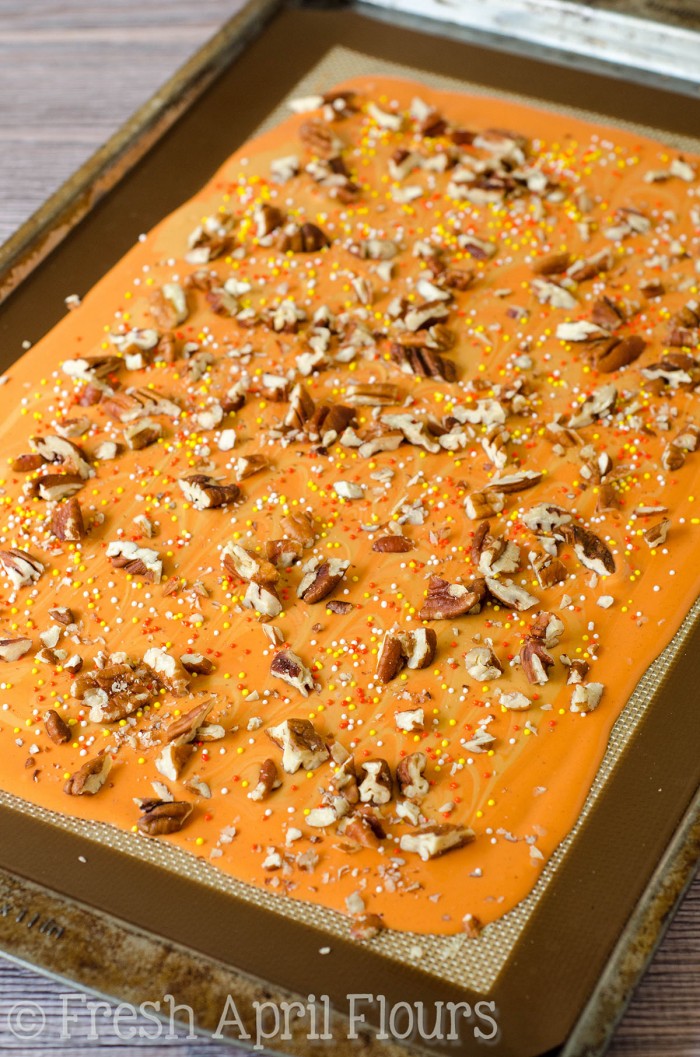 EASY. PEASY.
Package up for Halloween goodie bags, use them to accent a plate of candy bar blondies, or serve them at your costume party with dessert!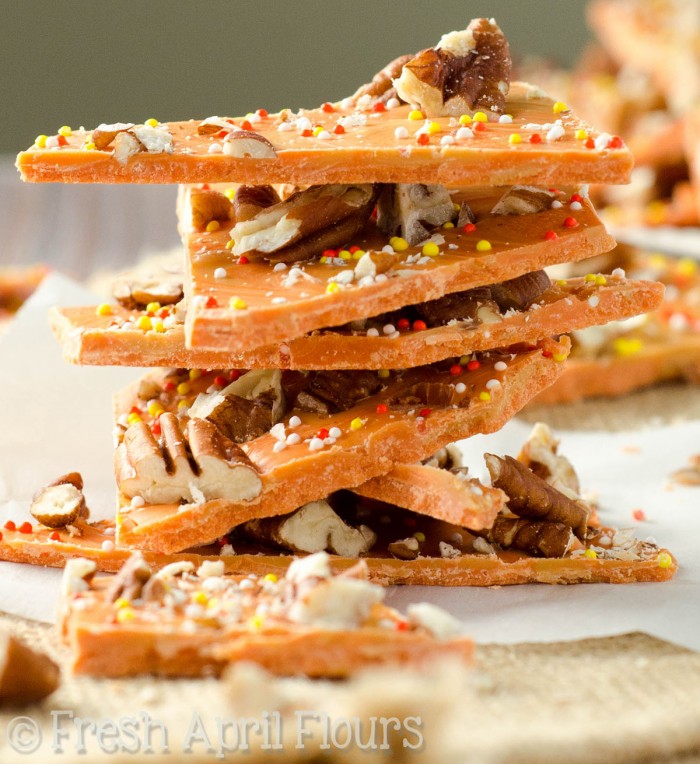 Pumpkin-y, butterscotch-y, and so very fall-y. Make this.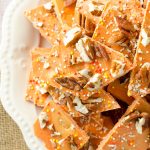 Print Recipe
Pumpkin Butterscotch Bark
An easy bark made with pumpkin spice candy melts, butterscotch chips, and chopped nuts. Great for Halloween goodie bags!
Ingredients
1-10

ounce

bag pumpkin spice candy melts

2

ounces

butterscotch chips

approximately 1/3 cup

2

ounces

chopped nuts

I prefer pecans
Instructions
Line a large baking sheet with a silicone baking mat or parchment paper. Set aside.

In a medium size microwave safe bowl, melt the pumpkin spice candy melts in the microwave on HIGH for 20 seconds. Stir the melts and heat again in 20 second increments until completely melted and smooth. Pour onto prepared baking sheet and spread out into a large rectangle. You're looking for about 1/4" thickness for your bark.

Melt the butterscotch chips in a separate small microwave safe bowl on HIGH for 20 seconds, stirring after each increment until completely melted and smooth. Dollop, drizzle, or pour the melted butterscotch chips evenly over the pumpkin spice rectangle. Use a knife, spatula, or a toothpick to swirl the two melted mixtures together.

Sprinkle with chopped nuts and festive sprinkles, pressing down lightly on the nuts to make sure they settle into the melted candy.

Allow the bark to set at room temperature in a cool, dry place. Mine usually takes about 1 hour. When completely cool, break into desired size pieces. Store bark in an airtight container at room temperature or the refrigerator up to 1 month.