10K Insta Followers Challenge + Giveaway!
As an Amazon Associate, I earn from qualifying purchases. Read the full disclosure here.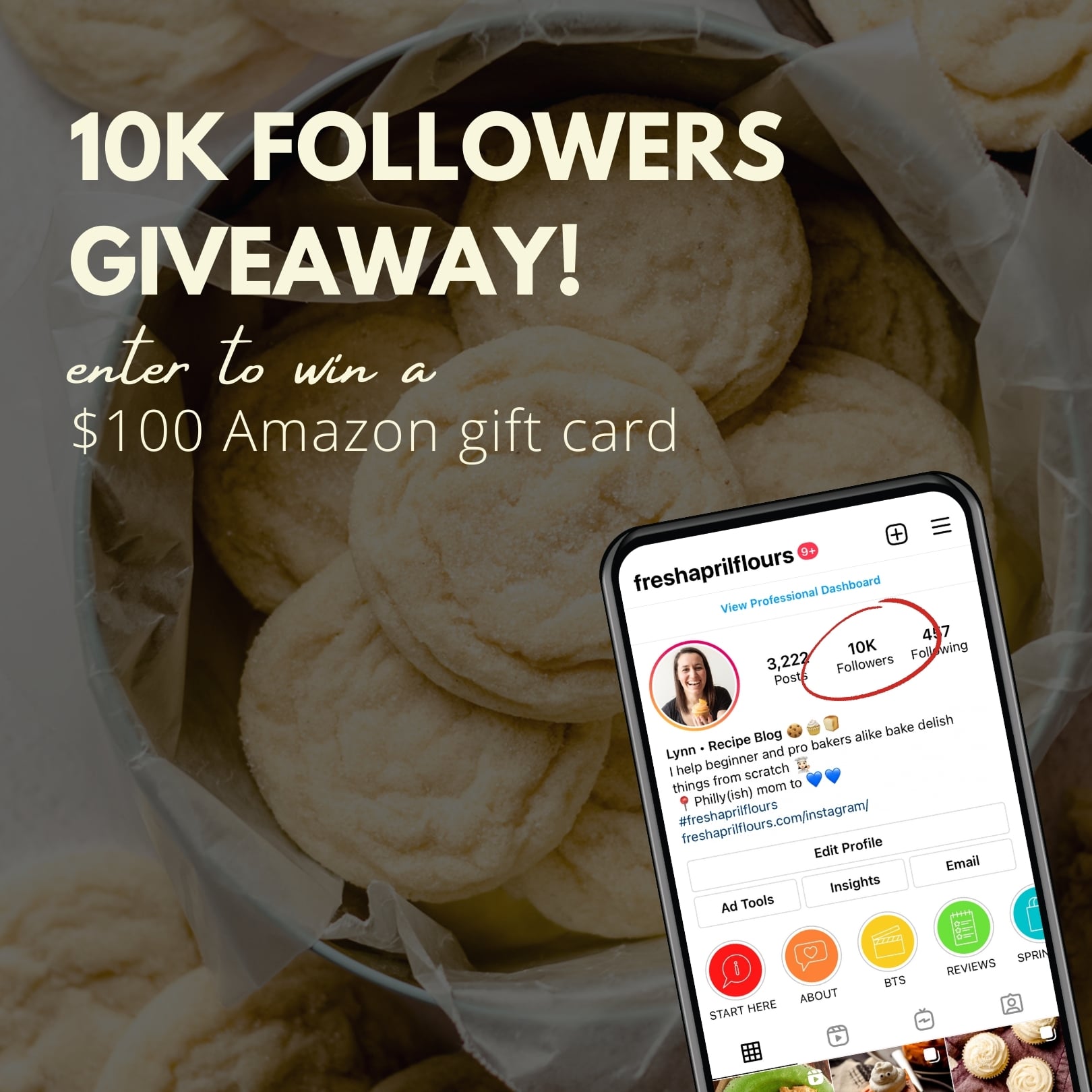 Phew! It has been a crazy past few weeks, my friends!
I set a goal in 2020 to hit 10K Instagram followers, and then when that didn't happen, I set the goal for 2021. And in September, things were still looking a bit grim. I was just a bit over 7 000 followers when these vanilla bean sugar cookies went viral on my feed (here is the post), and I was gaining hundreds of followers daily.
We went hard at getting the algorithm to bump up my engagement, and within 6 weeks, we did it.
On exactly the 7 and ½ year mark from hitting publish on Fresh April Flours, we hit the coveted 10k!
So now, we all get to celebrate. And I'm giving you a chance to win a $100 Amazon gift card!
HERE'S HOW TO ENTER
STEP 1
Make anything from my site. Yes, anything. It can be sweet, it can be savory, it can be a no bake treat– anything! Pick something you've made before and love, or try something new!
STEP 2
Go back to that recipe on my site and leave a star review. Being as detailed as possible is so helpful to me and other readers.
STEP 3
Send me an email at lynn@freshaprilflours.com with a picture of what you made and either a screen shot of or written confirmation that you left review (as in, you can just tell me you left the review– I will see it anyway).
Doing all 3 of these things will get you an entry into my 10K giveaway!
BONUS ENTRY
Post a picture of what you made to your own Instagram (either a static post on your grid or in your stories), be sure to tag me (@freshaprilflours), and use the hashtag #bakingwithfreshaprilflours! Then, send that post to me in a DM (because if your account is private, I won't see it otherwise unless I happen to be following you).
Giveaway ends October 31, 2021 at 11:59pm ET. Winner will be announced on November 1, 2021 live on Instagram.
I can't wait to see what you make!