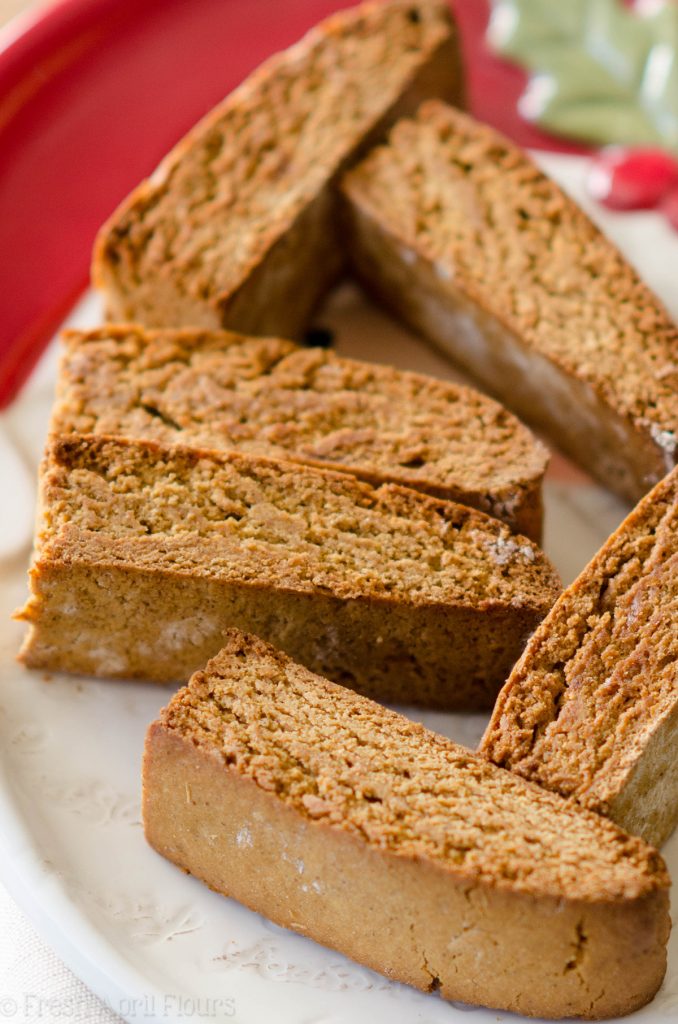 Another holiday season, another biscotti flavor, amirite? It's times like this I really wish I could just make all the biscotti all the time and never stop ever. Watch out, the future of my blogging may be "Fresh April Biscotti" real soon.
No, but really… One cannot live on just biscotti alone, and a blog dedicated to just one type of cookie certainly couldn't entertain that many people, so I'll just have to settle for throwing in a good ol' biscotti recipe here and there. Lucky for you, if you're in the biscotti camp with me, we are here! And I don't know about you, but I've got my eggnog ready for these gingerbread babies.
Recipe #9 of our 12 Days of Christmas Cookies party comes to you straight from the land of ginger and molasses, two of the key ingredients to making gingerbread what it is. We've visited gingerbread land here and here before, so there's really nothing too new going on with this recipe. You'll find the usual suspects of my basic biscotti recipe: butter, an egg, flour, and spices. But we're introducing a few new players to the game in order to get the perfect texture, flavor, and color of these gingerbread cookies.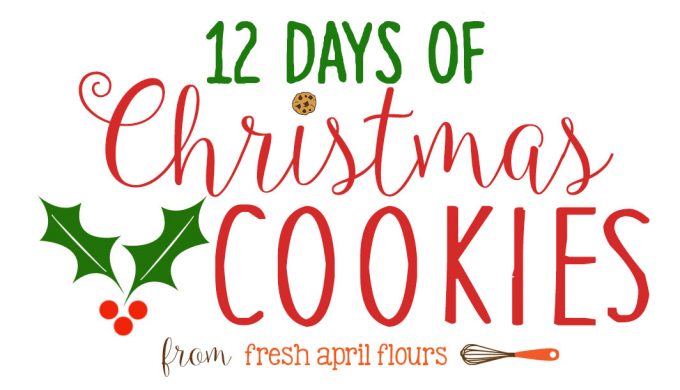 Typically, my biscotti use both melted butter and vegetable oil for fat and moisture. Instead of using oil, I left it out completely and used molasses in its place. That way, I still had enough moisture, but not too much moisture, and I was able to get the gingerbread flavor off on the right foot.
Other key players in flavoring these gingerbread biscotti: cinnamon, ginger, allspice, cloves, and yes, black pepper. You've used black pepper in my gingerbread cookies and also my pumpkin pie. Juuuuust a pinch gets the job done. It just sets off all of those other familiar flavors and adds a little something special. I promise, you will not feel like you're eating peppery cookies.
As all biscotti goes, you'll form your dough into a slab.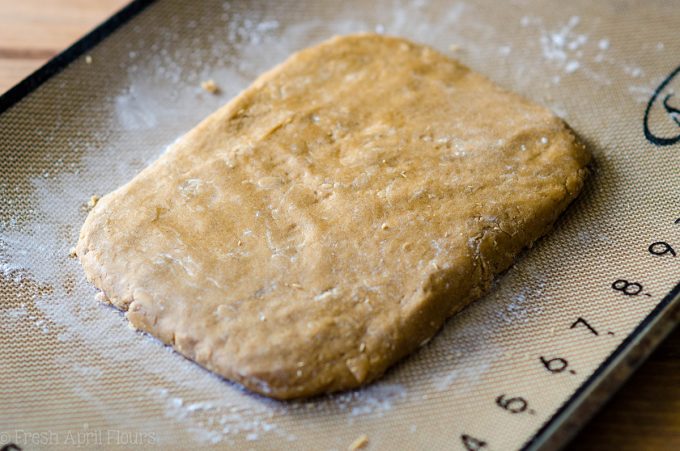 You'll bake that slab for about 20 minutes, then allow it to cool for 10.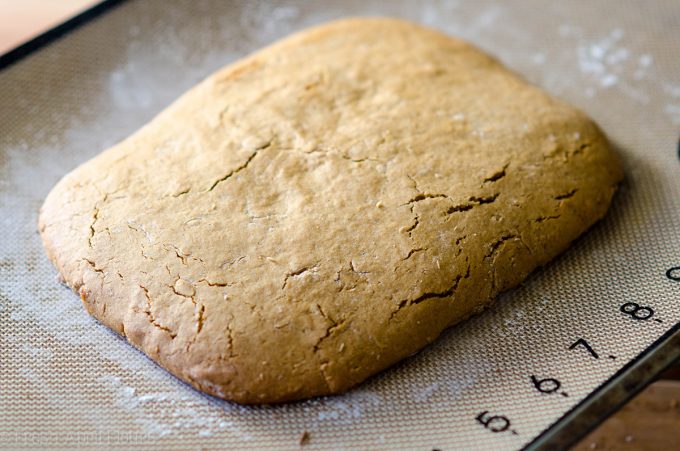 After it's cooled a bit, you'll cut it into its 12 individual cookies. Each cookie gets flipped on its side and the cookies bake for 9 minutes before flipping one more time to bake the other side. Easy peasy!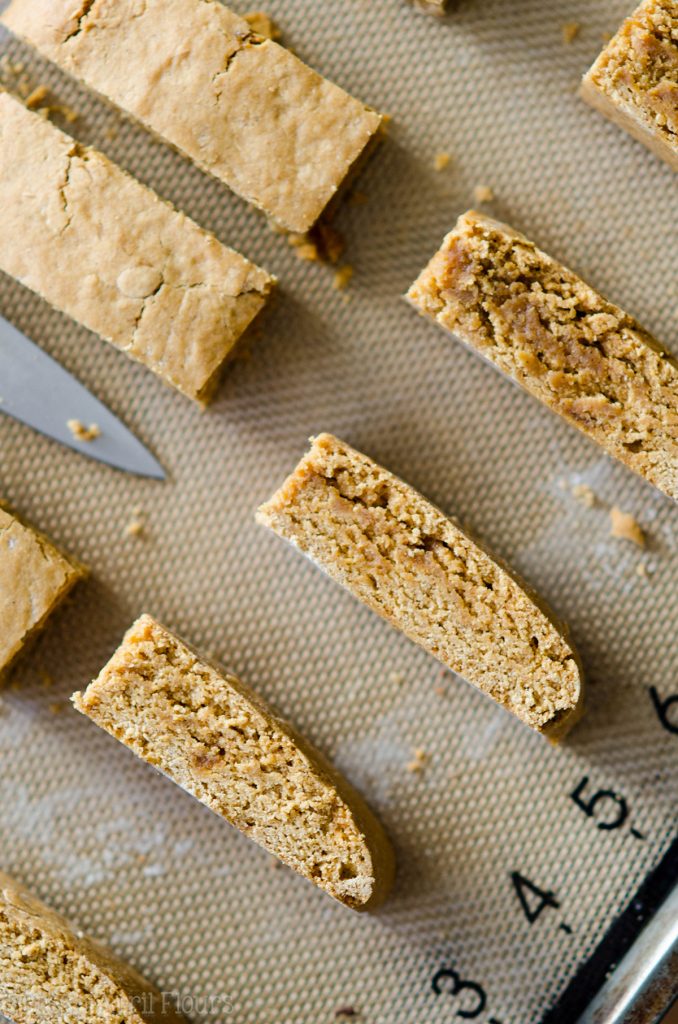 Once the biscotti are cool, you can dust them with powdered sugar or leave them plain. You can also decorate with white chocolate, if you so desire.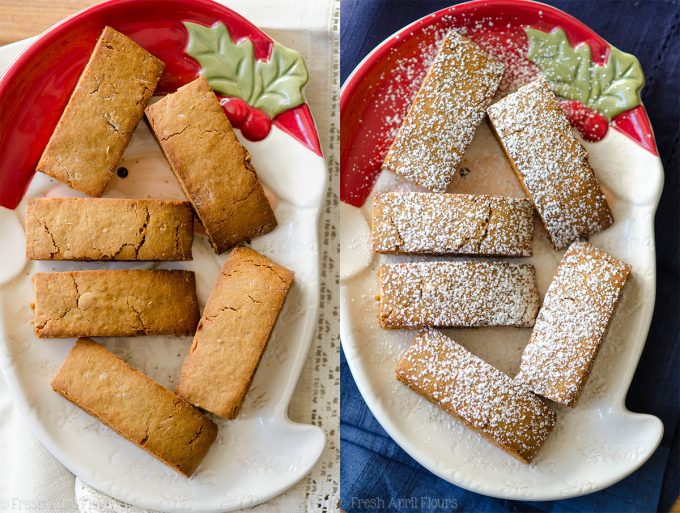 These gingerbread biscotti are a must-have during the holiday season. While gingerbread really knows no season to me, there's something about those warm spices that make everything a little more jolly. Plus, you know I am all about that dunk. I dunked these cuties in coffee, but they would probably be a million times better dunked in eggnog! Side note, if you love eggnog, make these cookies. Now!
Easy, gingerbready, jolly, tasty… These biscotti would make a perfect addition to your cookie baking arsenal and a cute filler cookie for the spaces between all the circle cookies on your cookie trays.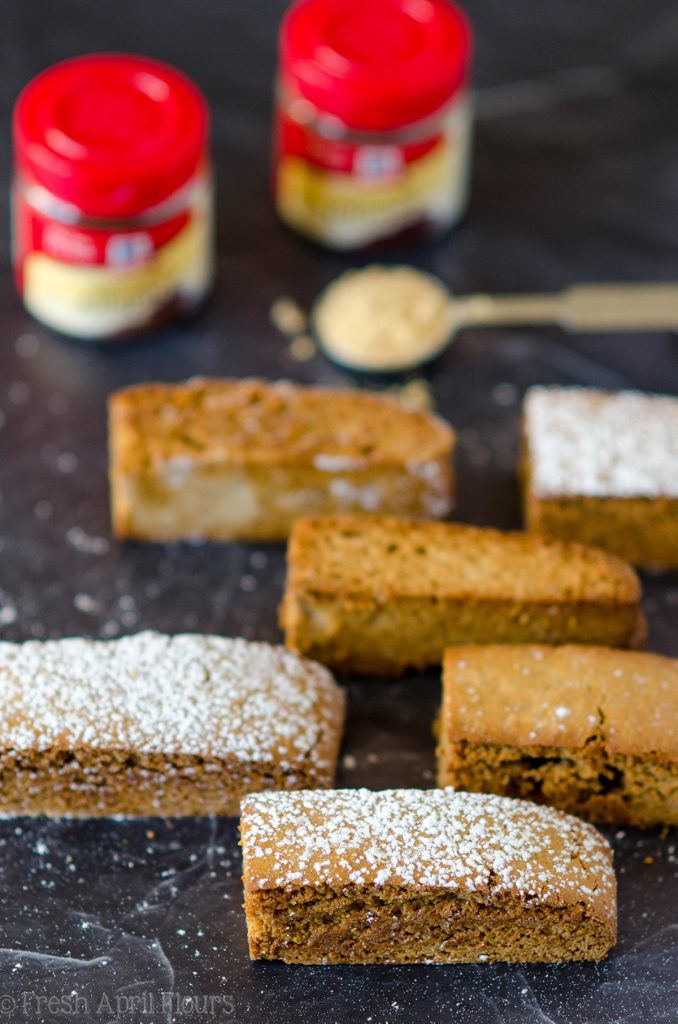 Because just like great people, great cookies come in all shapes and sizes. And even sometimes with black pepper.