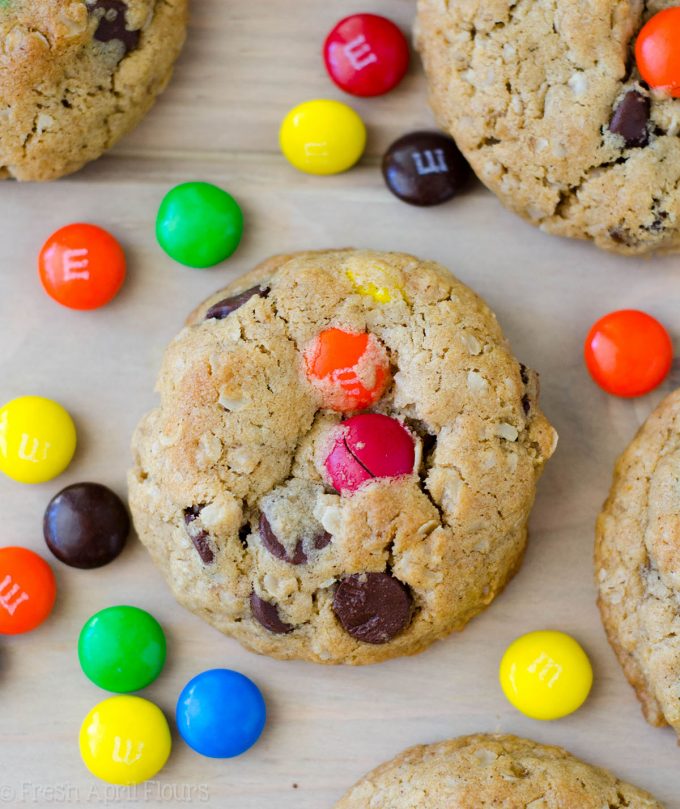 Brand new week, brand new cookie recipes! Welcome to recipe #3 in my 12 Days of Christmas Cookies! We're hitting #4, and #5 later this week, so saddle up, get out your butter and sugar, and roll out that parchment paper. This week is jam-packed with lots of cookie madness.
This is a cookie I'm sure you've seen before, but up until this past fall, I had never actually made a monster cookie. WHAT? A baker who has never made a monster cookie?! Blasphemy! I like to have creative recipes on my blog, but I also like to throw in some classics every once in awhile.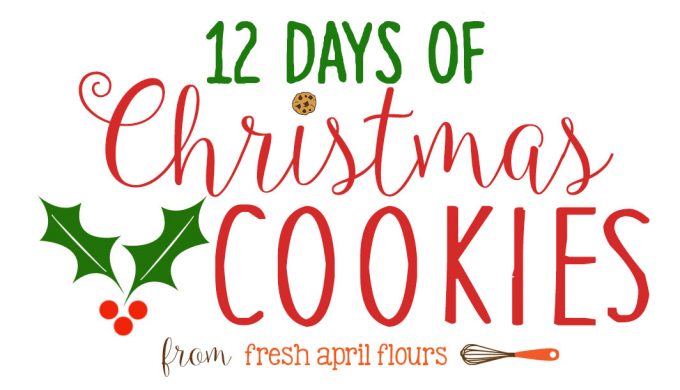 Why do we call these cookies "monster" cookies? Is it because they're just so full of stuff that their real name would be too long? Peanut butter, oatmeal, chocolate chip, m&m cookies? Is it because they're such a hodge podge? I've read before it's because they're usually ugly? I don't know what those people are talking about though– monster cookies can be so colorful!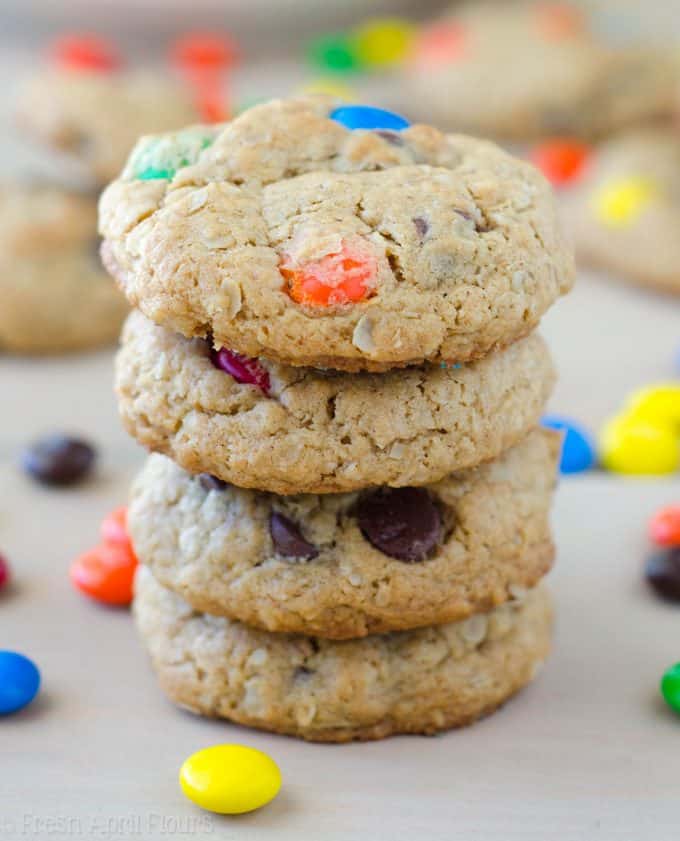 Maybe it's because they're scary. Because you just can't stop at one five. Who else agrees monster cookies are nearly impossible to stop eating? I think it's because they're so full of allofthethings that you just want to keep tasting them all. So… Five at a time it is!
These cookies took a few tries to get perfect, but third time was a charm for me. The first time, I used old fashioned oats and they just didn't even form dough. At all. I pressed the dough into a baking pan and basically made cookie bars. It got the job done, but it wasn't what I was looking for. Try #2 I switched to quick oats, but I didn't have nearly enough liquid, and the cookies never spread. Buuuut they tasted great, so I melted the butter instead of just softening it, and that was the ticket.
Melted butter and creamy (not natural) peanut butter are they key ingredients to making these cookies the perfect texture. Since we're working with quick oats, we need a lot of moisture for the oats to soak up in order to make a cookie that spreads without melting and but can also hold up to add-ins (the chocolate chips and m&m's).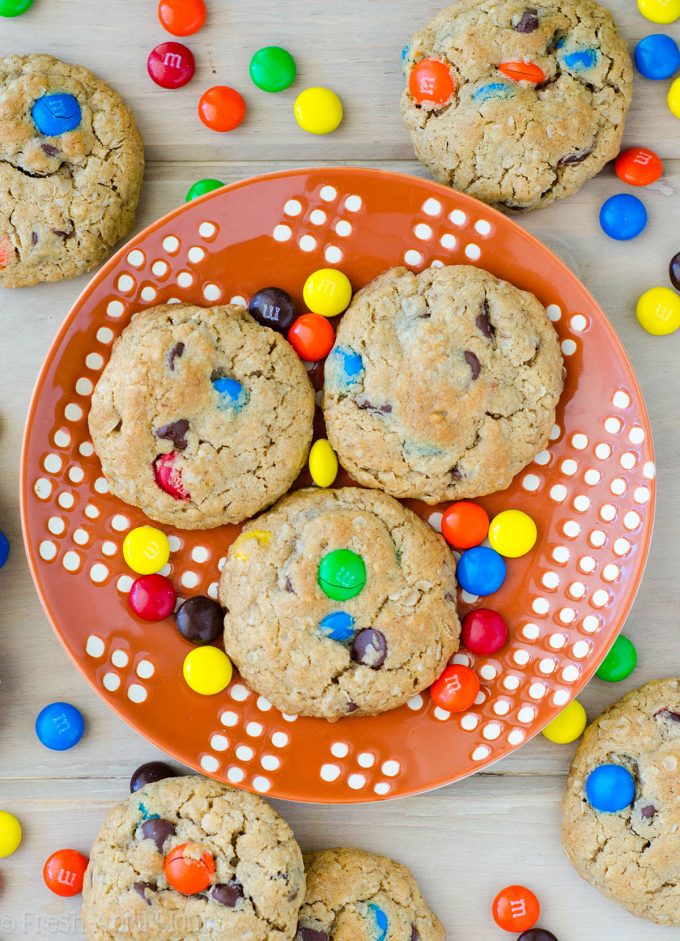 Other key players in this monster cookie business: brown sugar for major chew and cinnamon for an added layer of flavor. I love me some cinnamon in my oatmeal cookies, and since these are basically an oatmeal cookie, we have to stay true to form. Don't leave it out!
You don't have to chill this cookie dough at all, so these cookies come together in a snap, and you won't even need to get out your mixer. How can you not love that about these cookies?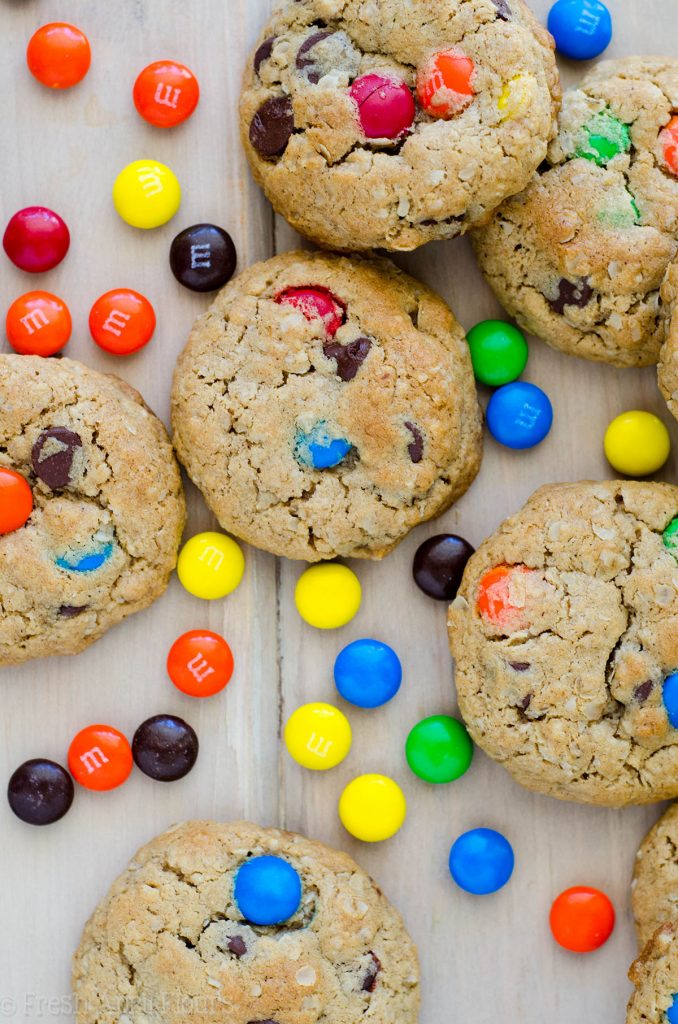 What I think I love most about monster cookies is that you can cater them to whatever it is you're celebrating. Whether it be Christmas (red and green), Easter (the pastels), Thanksgiving (the fall colors), a baby shower or gender reveal (pink/blue), or maybe you can get extra fancy with special m&m's for a favorite sports team, you really have so many reasons to make monster cookies in any given year. Something else to consider? Butterscotch, peanut butter, and/or white chocolate chips in place of or in addition to the chocolate chips. Ohh, my my my. Let's just make monster cookies everyday and be done with it. No cookies will ever need to exist ever again.
Ok, that's a lie. We still have 9 more cookies to go in this celebration. Let's not pump the breaks yet!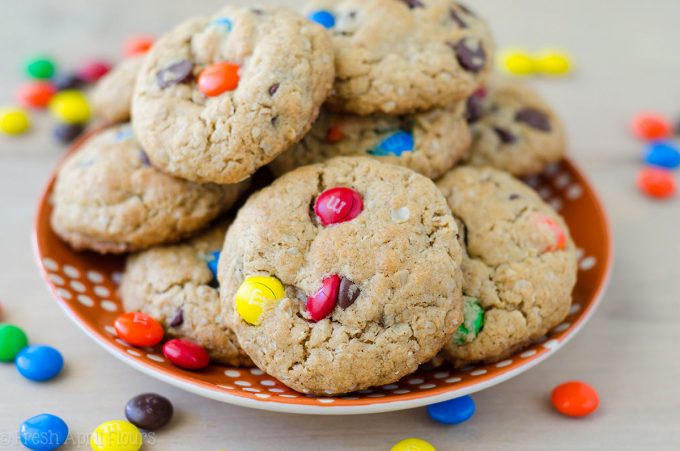 These monster cookies are quick, easy, a crowd pleaser, full of goodies, and sure to add some color to your cookie trays this year. If you whip some up for yourself, tag me with the #freshaprilflours and #faf12daysofcookies hashtags so I can see your colorful creations!