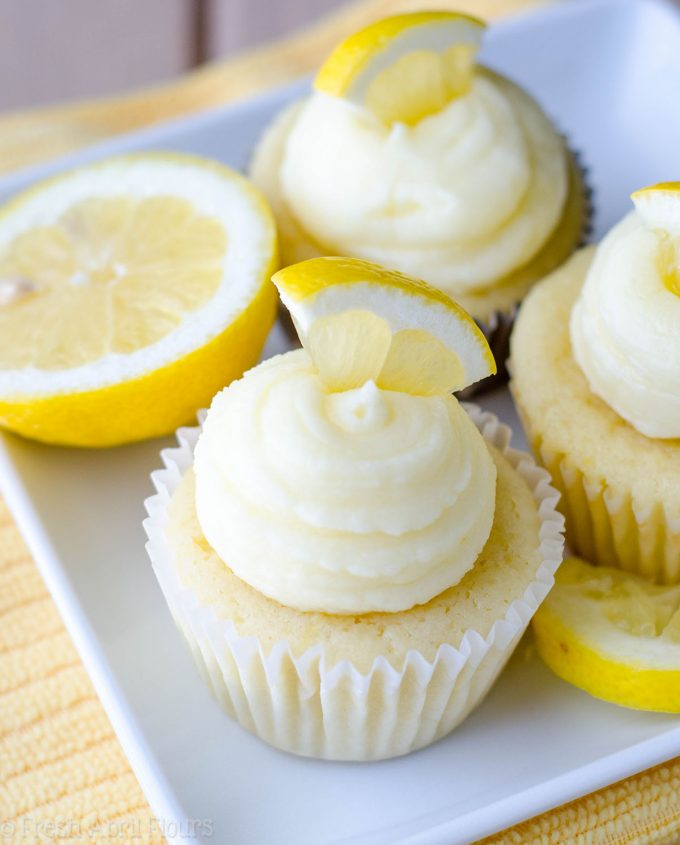 If we're talking dessert, we're talking going all out. And if we're starting with something great (LEMON), then the next best thing is to double that lemon… So why not just go for the gold while we're at it and make it triple good?
We are not messing around here, my fellow lemon lovers: I bring you triple lemon cupcakes, because dreams are made of lemon desserts while we float around on sunshine yellow clouds of lemon buttercream.
So what makes these cupcakes triple lemon? We've got:
1) a tender lemon cupcake
2) a homemade lemon curd filling
3) a fluffy buttercream flavored with more lemon curd
Triple. Lemon. Heaven.
So I already showed you how to make the simple lemon curd filling for these bad boys, and lucky for you, you can find the lemon cupcakes and lemon buttercream in other forms around the blog. You'll recognize the cupcake batter from my orange creamsicle layer cake (just sans orange marmalade and of course, with lemons instead of oranges) and the buttercream is my traditional vanilla buttercream, just with a splash of more lemon curd to jazz it up a bit. It's great having base recipes that we can easily adapt to accommodate other flavors!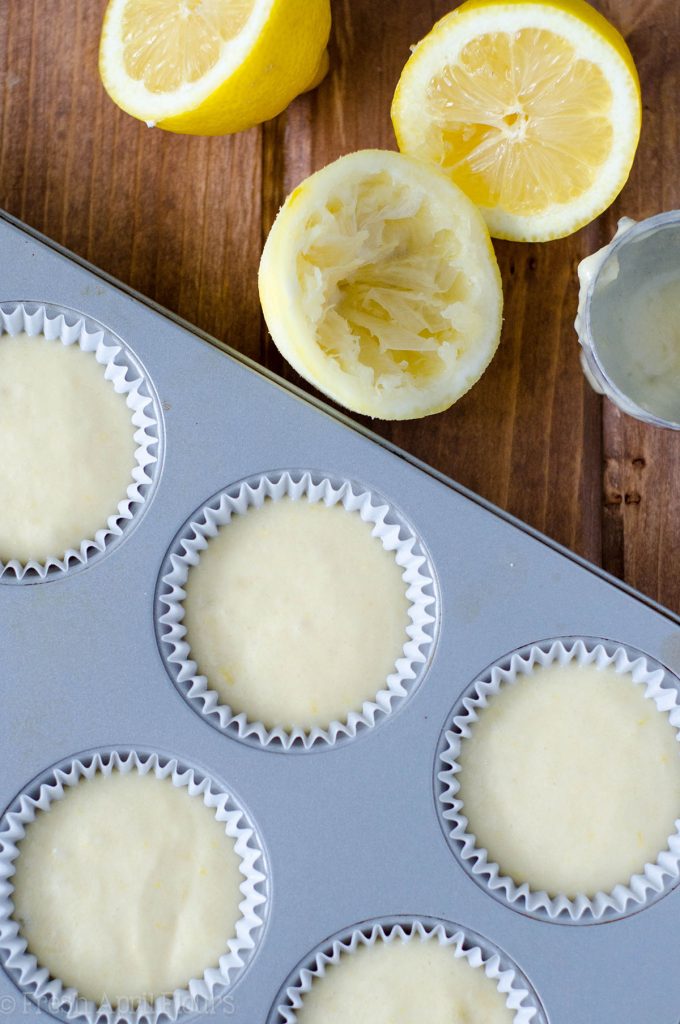 Let's start by chatting about the cupcake batter. It's very easy. You're just going to have to remember the importance of alternating the flour mixture with the lemon/milk mixture when adding it to the creamed butter and sugar. I spoke about why we do this in my orange creamsicle layer cake recipe, but I'll say it again because it's good to know! The base of this cupcake batter is quite buttery and wet. You can only add so much more liquid to this mixture before it just can't absorb any more. It's likely to separate if there's too much liquid introduced into such a wet base before there's anything there to help absorb it. If we start with a little bit of flour, we have a bit more of a vehicle for adding more liquid. I always find the lightest crumb with my alternating additions method. This isn't always the method when it comes to making a cake or cupcake batter, but the ratios in this batter benefit from it.
There's your dose of baking science for the week!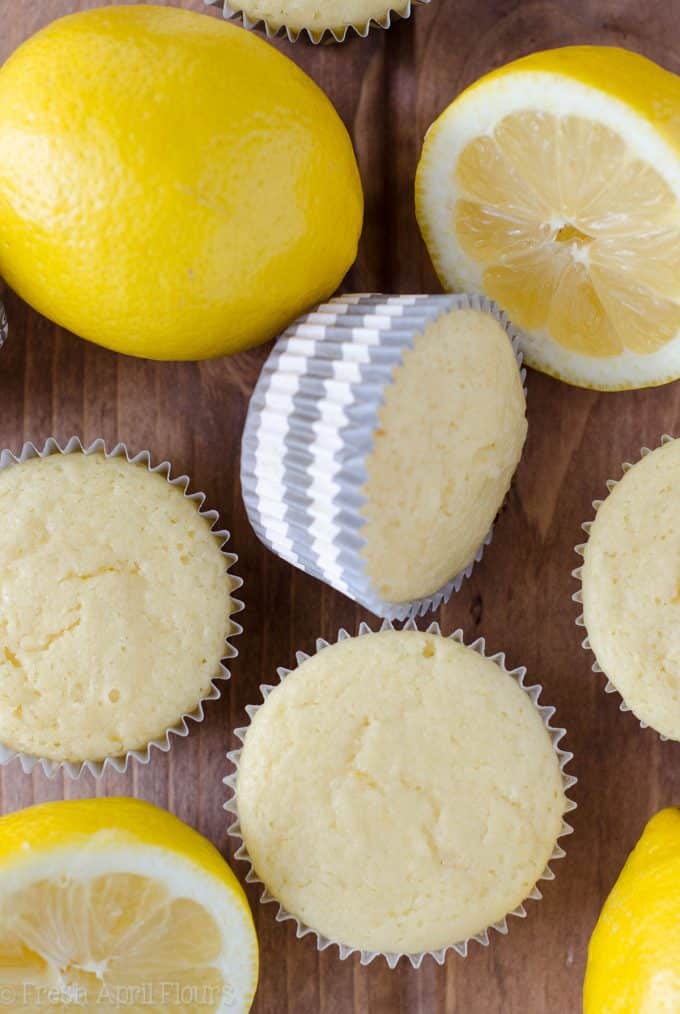 While the cupcakes bake, you can get to work on the buttercream, which is also pretty simple. Butter, powdered sugar, some vanilla extract, milk or cream, and of course, the star of the show: the lemon curd. Creamy, fluffy, lightly lemony, and perfectly sweet for topping those tender lemon cupcakes filled with tart lemon curd.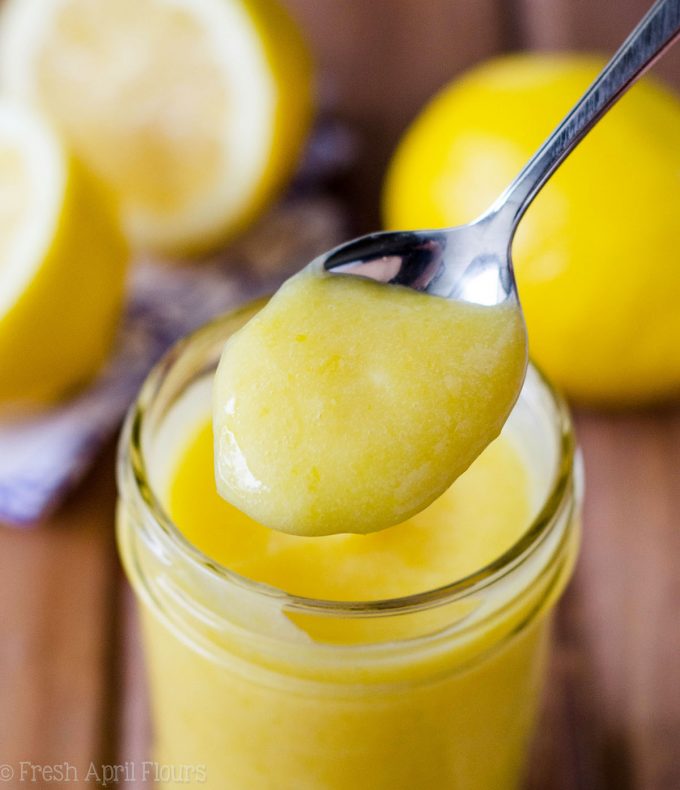 How many times do you think we can say "lemon" in this post?
Now you'll need to wait for your cupcakes to cool completely before you fill them with the lemon curd, but since they're so small, it won't take all that much time. Once they're cool enough, you'll cut out a small hole with a knife. I've also used a melon baller or a tiny circle cookie cutter. Whatever makes life easier for you.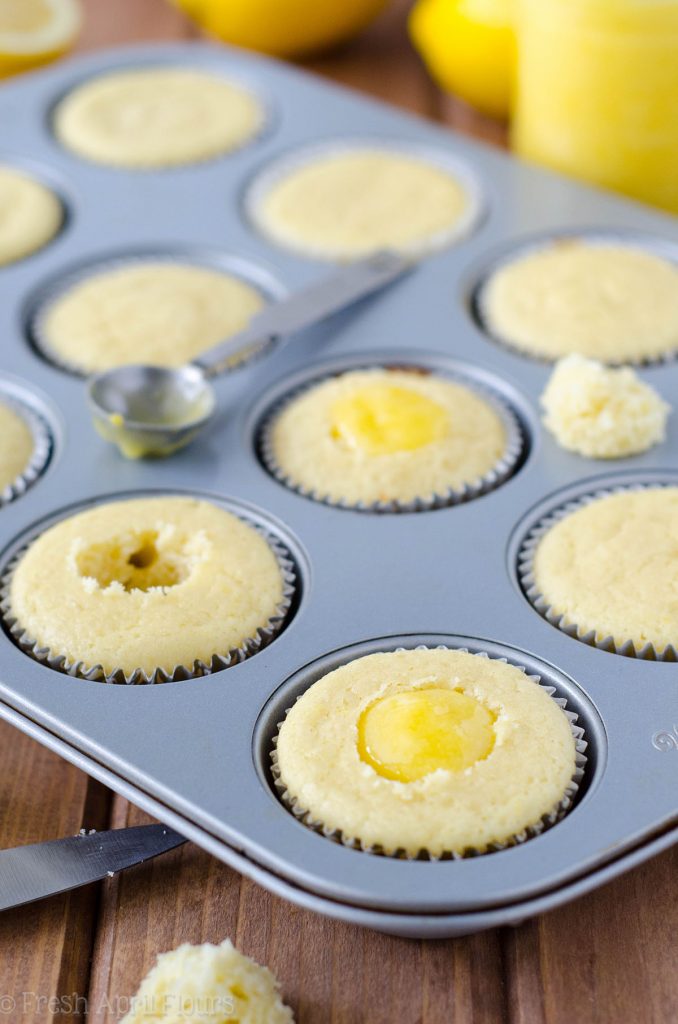 Fill the hole with about a teaspoon of the lemon curd, and replace the portion of the cupcake you cut out. A little cupcake hat. So adorable. It's ok if some filling squishes out, just make sure it's not spilling out all over the top of the cupcake. That can get messy. Remedy this problem by either making your holes bigger or putting a little less filling in them.
Once filled, they're ready for their sunshine clouds of lemon buttercream. I like to use a Wilton #12 tip (here's a quick video on my IG for how exactly I do it), but you can always just use a zip-top bag with the corner snipped off. Whatever. As long as that lemon buttercream gets on top of those cupcakes somehow, you're in good shape.
I made these triple lemon cupcakes for my baby shower (yes, that's what a baker does!) because they were yellow, just like J's nursery, and they were a HUGE hit. When it was time for dessert, I heard lots of "mmm"s and "oh my goodness"es and some expletives (the good kinds, of course) and asked our guests if they were "blog worthy." I got a unanimous yes, plus lots of requests for taking home the extras. I also had 2 myself. Yep. Pregnant lemon loving woman coming through.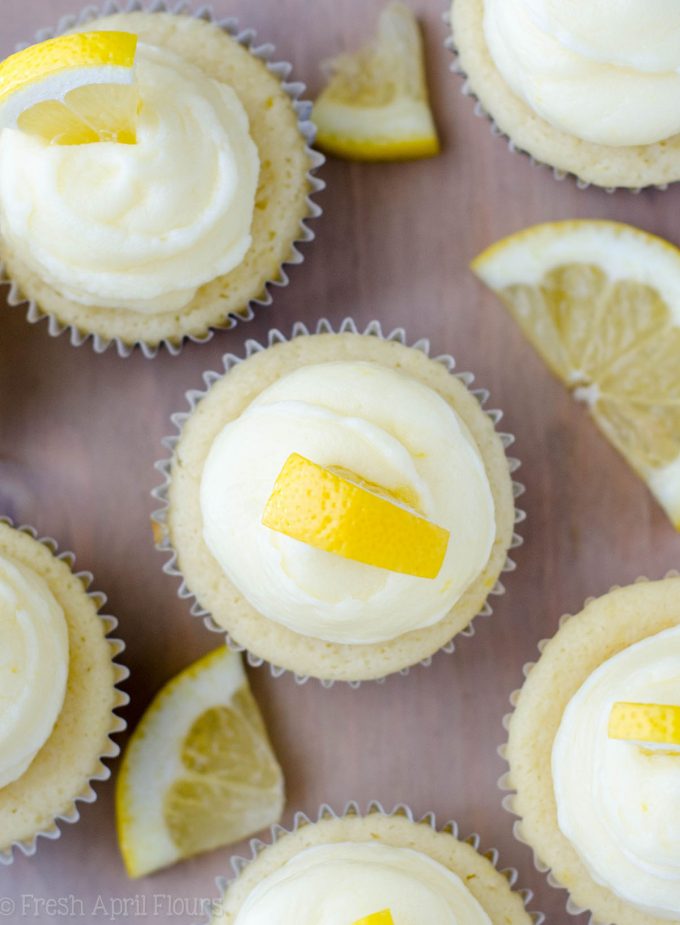 These cupcakes will make you wonder where they've been all your life. Not only do we have the most tender cupcake that is bursting with lemon flavor and not at all overly sweet, there's a tart, buttery lemon curd accent to each bite, all of which is topped off with a sweet and creamy buttercream with the softest hint of lemon to accompany it. I wasn't kidding when I said these are a lemon lover's dream. All the heart eye emojis 😍
Perfect for summer, perfect for impressing your dessert guests, and perfect for any time you need a sunshine pick-me-up. And not to worry– if you don't feel like making the lemon curd, you can always buy some (although I can tell you right now, it's certainly not as tasty!) or just go without it.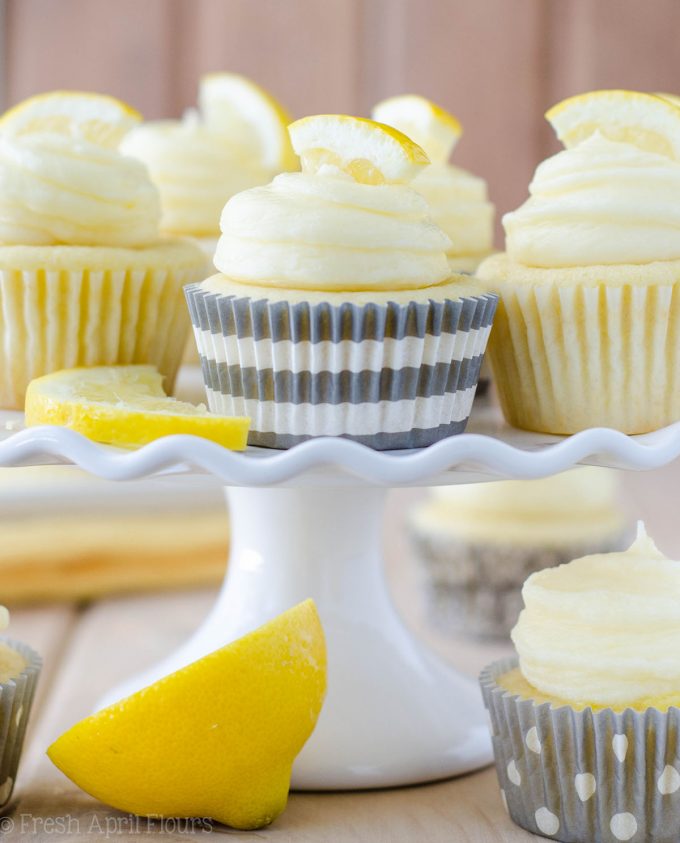 Still tasty, but then you wouldn't have triple lemon cupcakes, and that sounds like such a sad sad cupcake world. Remember– go for gold and triple it! Lemon lovers unite!
A lemon favorite among readers: Lemon Cream Pie Truffles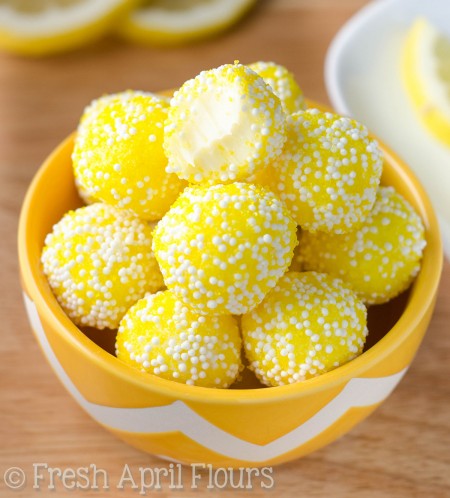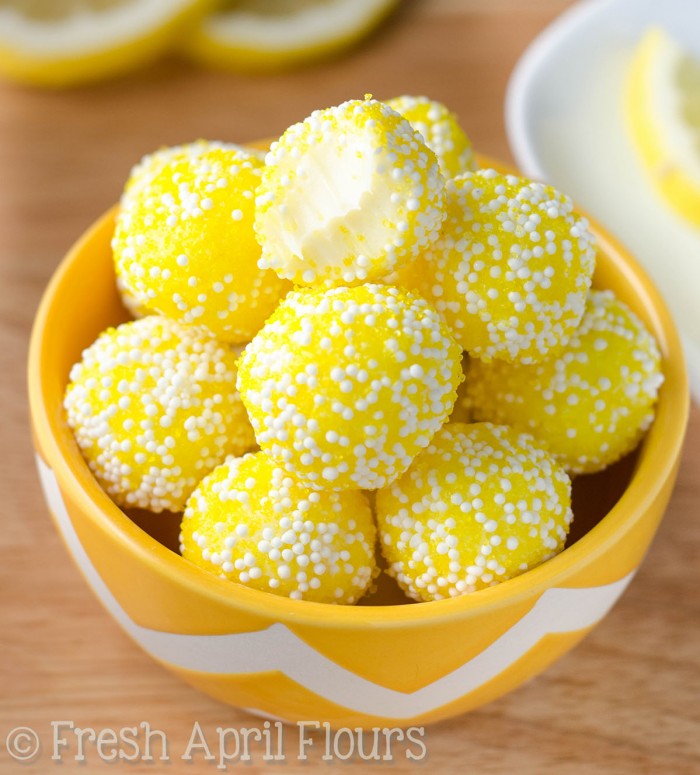 And a whole slew of cupcakes for you to try!
These Mini Cookies & Cream ones are a reader favorite.