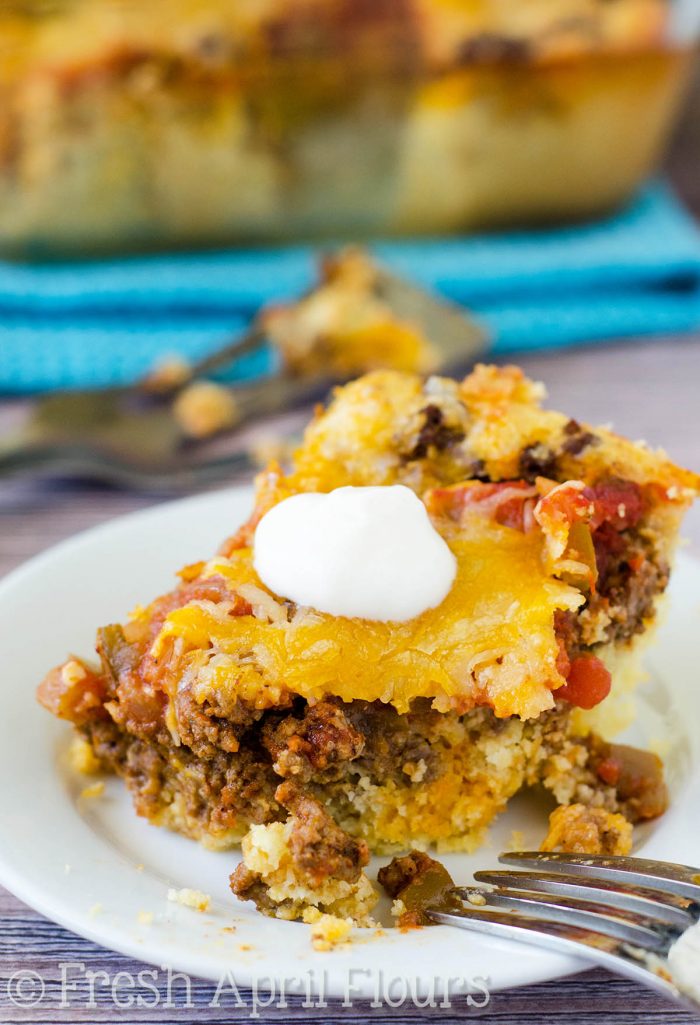 Now that you are fully equipped with my favorite homemade taco seasoning recipe, it's time to make one of my favorite easy weeknight meals to ever exist in the history of my small "cooking" repertoire.
I've mentioned before that I do not cook. Exhibit A. It's just not for me. Thank goodness I married a man who is a great cook, because if I hadn't, life would be much like it was when I lived alone for 4 years… Lots of frozen meals, pasta, and things like this casserole. It's no wonder I was in the best shape of my life (and the least "fluffy") after Matt and I moved in together. Personal trainer and good cook? Pshhh. I totally married up.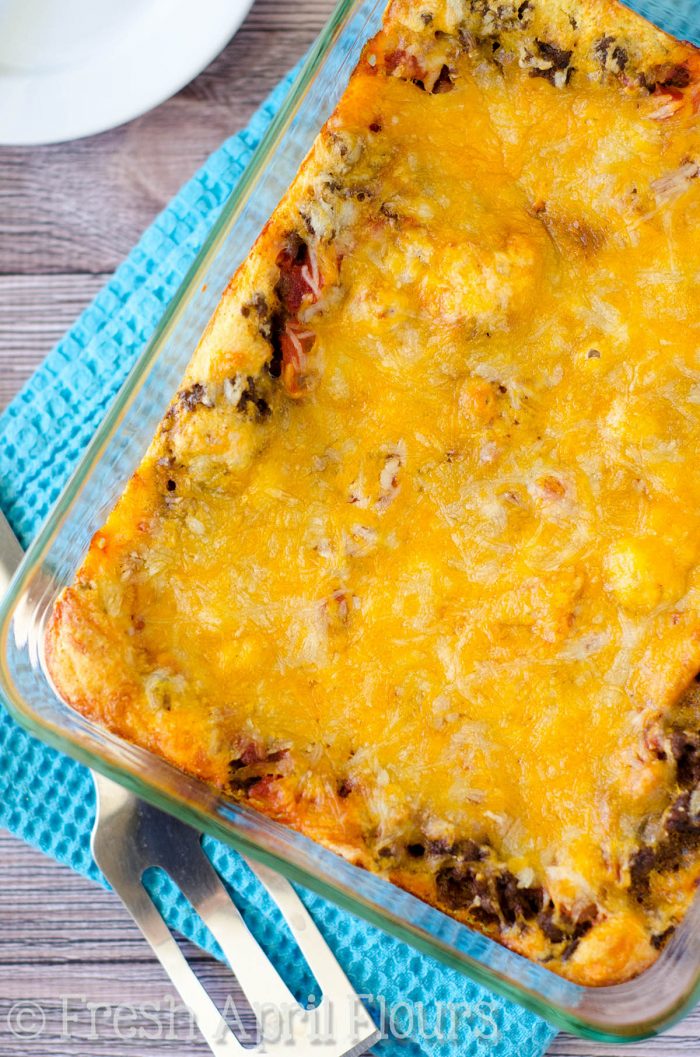 I can absolutely cook if by "cook" you mean maybe do a little work and then throw it all into a dish to bake. It's basically baking disguised with savory ingredients, so I'm pro. That's why I love this baked ziti recipe so much. A little work on the outside (boiling pasta) and then all the magic happens in the oven. Yes, please!
This baked taco casserole is very much the same as that ziti recipe in that most of the work is done in about 10 minutes, and the oven makes it all fancy. Browning the meat is the hardest part, if that tells you anything about the simplicity of this casserole. Thankfully, browning meat is a specialty of mine. Totally made tons of taco meat when I lived alone. It's pretty much my cooking specialty.
If you've read my baked ziti post, you know I love taking that dish to friends who just had a baby, and before that ziti was my staple, this taco casserole was my go-to. The OG baby casserole. Things I love about that recipe: easy, freezable, reheatable, hearty, travels well, tasty. Well, guess what? This baked taco casserole is all of those things as well. Shocking.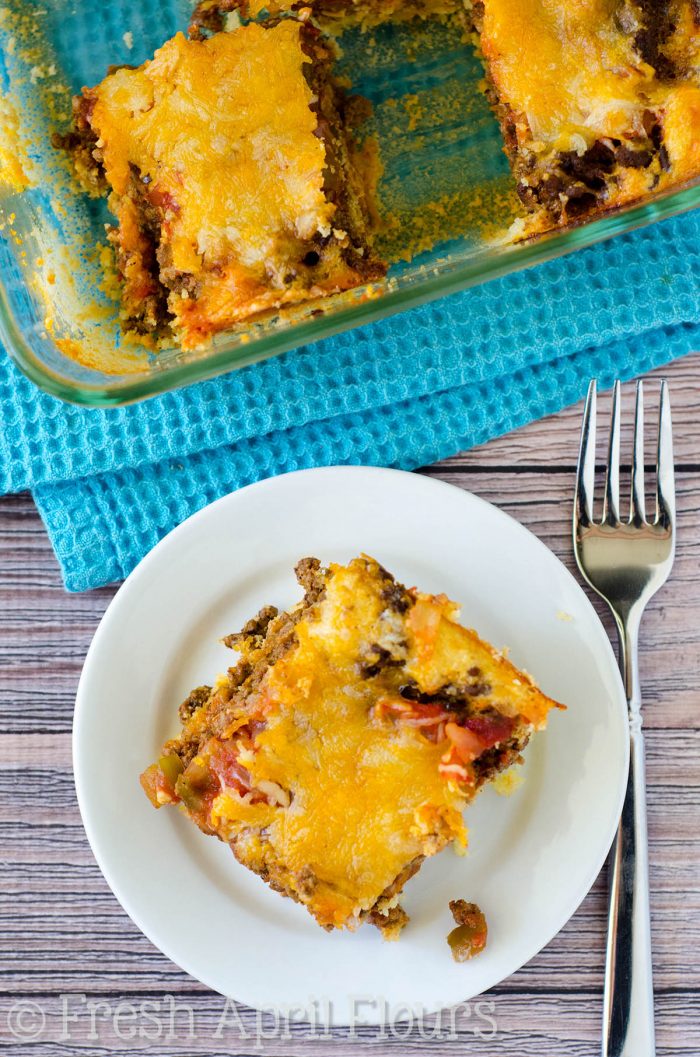 I have to be honest and say that this recipe is not my own. It was actually given to me by my wonderful graphic designer (who designed my beautiful FAF logo!) manyyyyy many years ago, and she got it from Fleischmann's. Which means that yes, it does contain yeast, BUT don't go running yet. You don't have to do anything with the yeast except put it in a bowl.
I told you, easy.
This baked taco casserole consists of 4 deeeeelicious layers: a light cornbread layer graces the bottom, followed by seasoned meat, salsa, and of course, cheese to top it all off.

The cornbread layer sounds complicated, but it is not in the slightest. You'll need some flour, corn meal, 2 envelopes of yeast, some sugar to get the reaction going, a touch of salt, and then warm milk, oil (I have used vegetable, corn, or olive here), and just one egg. No kneading, no rising, no nothing. Just mix it all up and begin layering your casserole.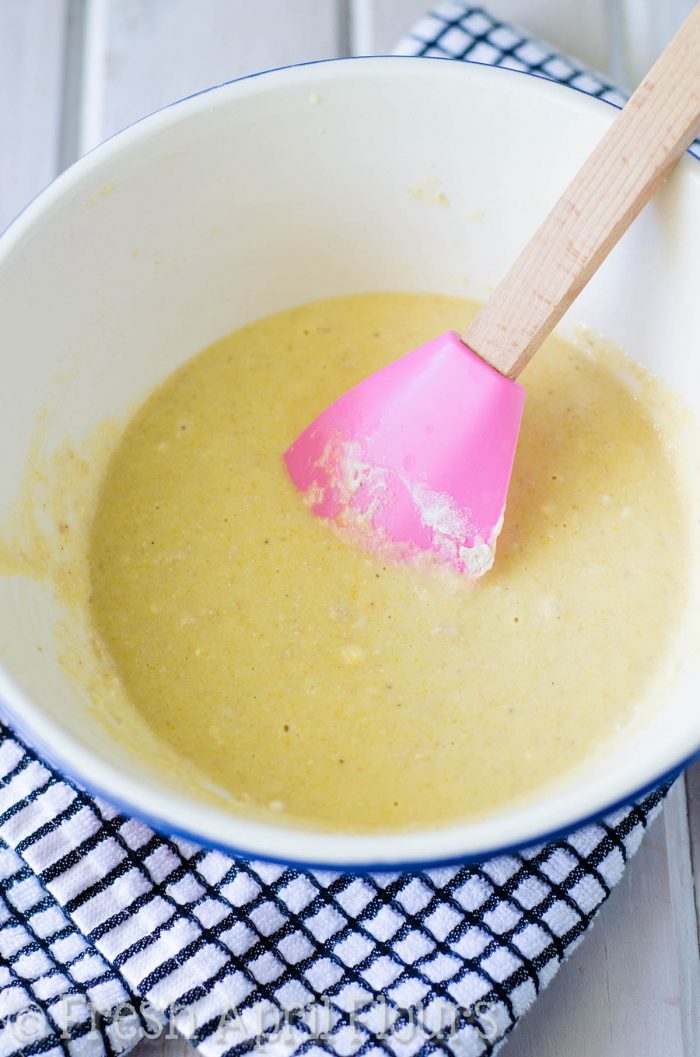 Another thing I love about this recipe is that it starts with a cold oven. That's right– no waiting for the oven to heat up! Starting cold allows the yeast to react with the warm milk/sugar/flour gradually. The cornbread layer will start as a batter but wind up a light and fluffy bread texture by the end of the 30 minutes in the oven. Like I said earlier, all the magic happens in the oven. My kind of recipe.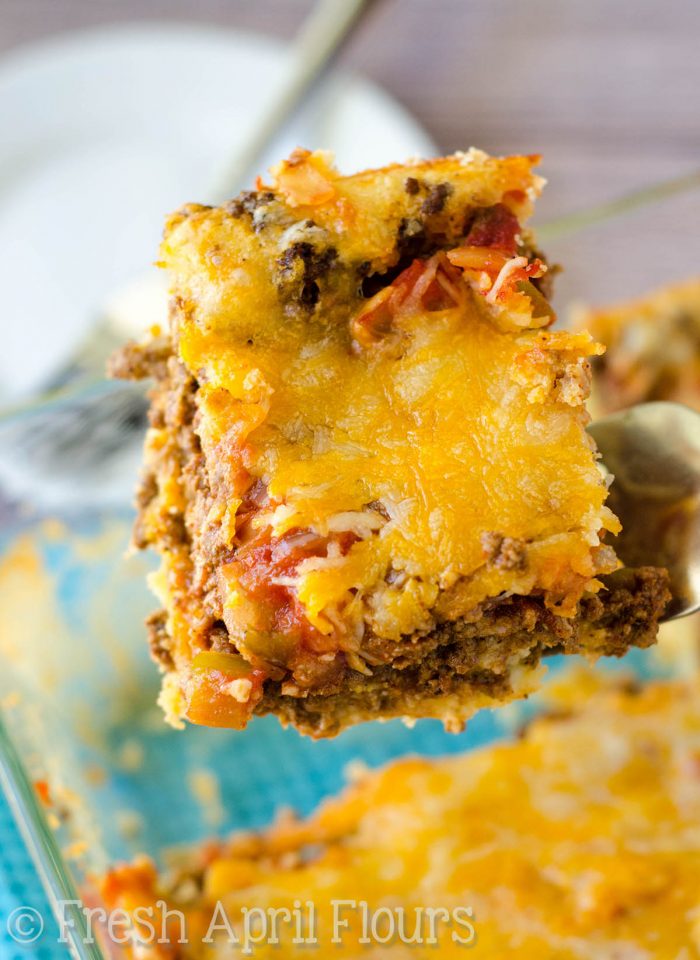 Once you dig into a slice of this taco casserole, you'll know why I love it so much. It's essentially like eating a taco without a shell, or dipping into taco dip with a fork instead of a chip. It's a warm taco you can sink your silverware into without getting all drippy and messy with toppings. Which also means it's great for little hands and mouths! Tacos for everyone!
Hot from the oven, reheated to warm from the "leftovers" stash, or honestly, even cold… This baked taco casserole is the easy way to tacos that requires minimal cleanup and easy storage.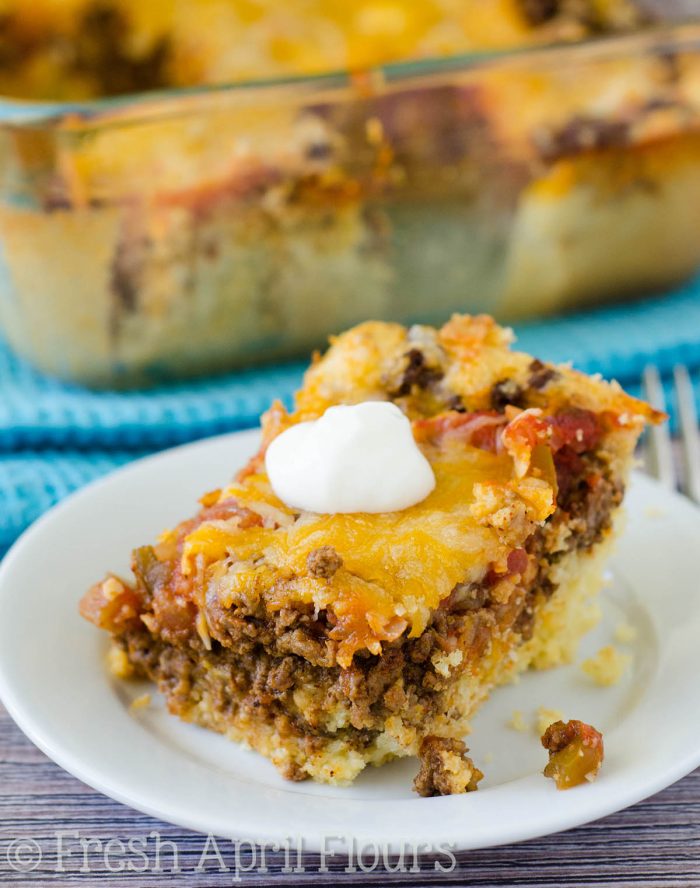 Don't get me wrong, I love me an overflowing, overstuffed, drippy, messy taco… But if I can make this casserole happen in my oven with very little hands on time– I'm 110% in!
More spicy recipes!