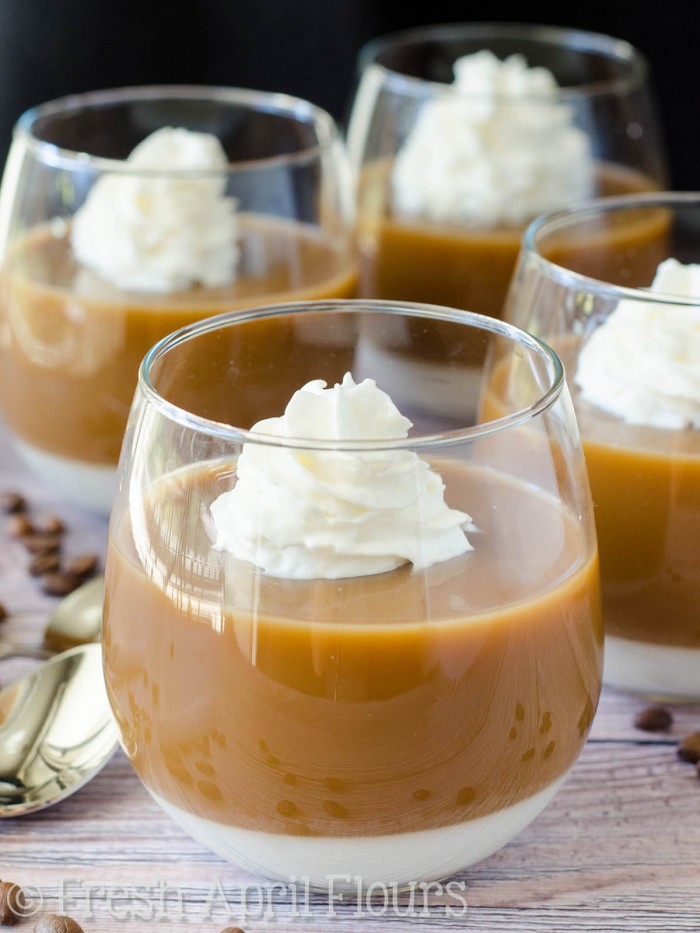 Friends! How was your Easter? Did you do anything super fun? Get anything fabulous in your Easter basket? Does the bunny still come to your house? It's been a little while since I got an actual Easter basket, but I'm thinking next year, even though our little guy will only be about 9 months old, we will have to start up the annual basket giving. And the next year when he's old enough for an egg hunt? Don't even get me started. I already can't even handle how fast time is going.
Cue mom tears.
Anyway…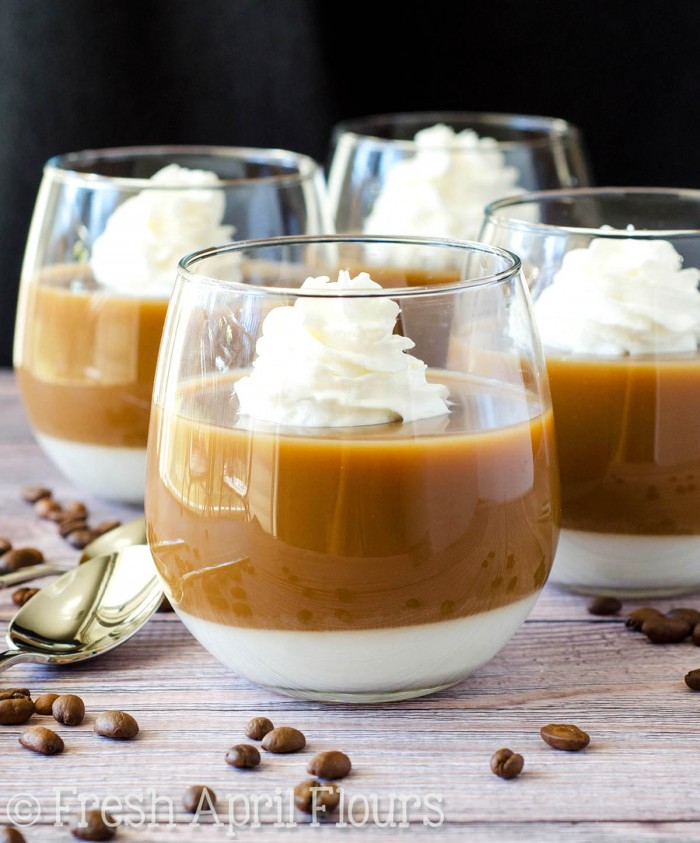 It's been awhile since I brought you a coffee recipe! How so very unlike me! Unless we count the compost cookies (which contain coffee grounds) I brought to my cookie party in December, it's been almost a year since I posted my mocha chocolate chunk muffins. I feel like for as much as I tell you I love coffee, a recipe like this should have come sooner! Thank goodness for my serious brainstorming and my new favorite gelatin, coffee treats have made a comeback.
Do you remember these blueberry oatmeal protein cookies I made last month? I made those beautiful cookies with collagen peptides, a flavorless, organic, certified gluten-free protein powder from my friends at Vital Proteins. Well, those guys also make a grass fed gelatin, which I used in today's recipe to turn coffee into my new favorite dessert.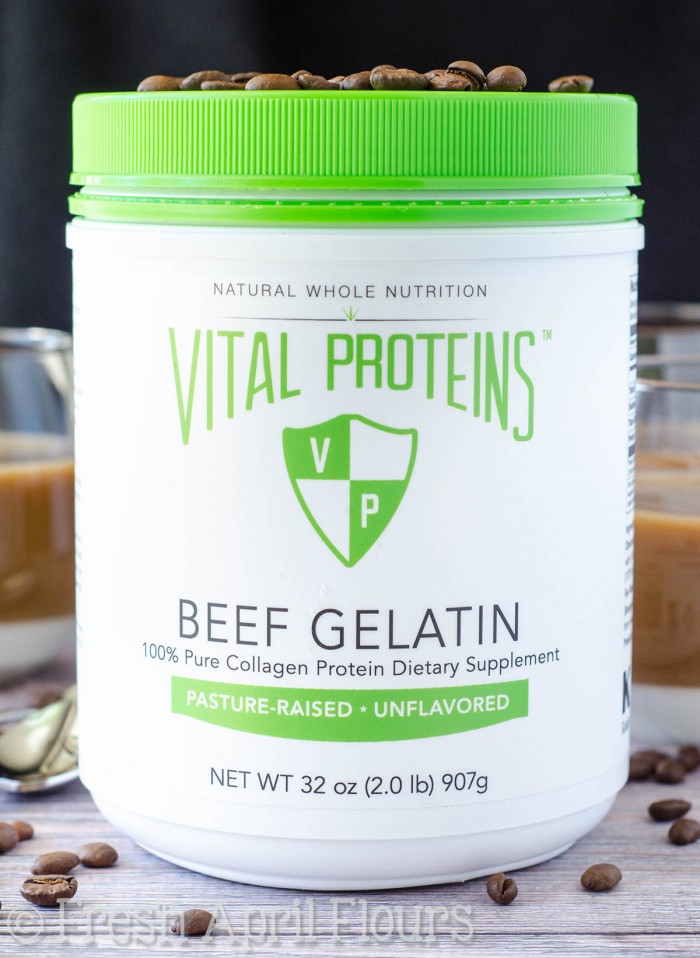 Ok, maybe not absolutely favorite. There's still this and these (more recently) and always always always THESE. But it's pretty high up there!
You've likely worked with gelatin before– an easy box of Jell-O hardly has a learning curve. There's some waiting involved, and it's kind of the hardest step, as the rest is basically just stirring things together until they're completely combined.
If you've ever done the boxed Jell-O, you're totally capable of these adorable coffee and cream gelatin parfaits. Promise.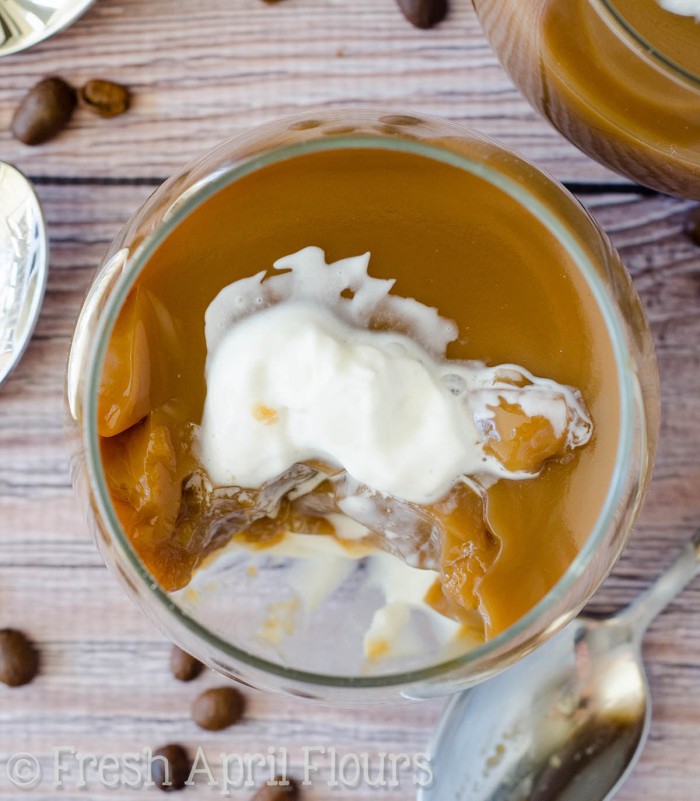 First, you'll start by heating up some water in a saucepan. To that, you'll add your gelatin, sweeten it with a little sugar, and then add some half-and-half (you could also use milk, cream, or non-dairy milk). Pour that into 4 parfait cups, allow to set (about 1 hour), and then you're ready for the coffee layer.
For the coffee layer, you're going to use instant coffee grounds. I prefer to use Folger's, but you're welcome to use any kind you like. If you don't have instant coffee, just brew some regular coffee and dilute (or remove some) to 8 ounces. Heat up another cup of water in a saucepan, add another scoop of gelatin, a little more sugar than last time, and then combine with your prepared coffee. Split that up evenly into the chilled parfaits with set half-and-half gelatin, being careful to pour down the side of the glass (or onto the back of a spoon) to prevent disturbing the half-and-half layer.
Another couple hours in the fridge, then you're good to go! Top with whipped cream, eat straight up, serve as dessert, as an afternoon snack/pick-me-up, or really, whenever you deem it appropriate to have some coffee (<– any and all the time).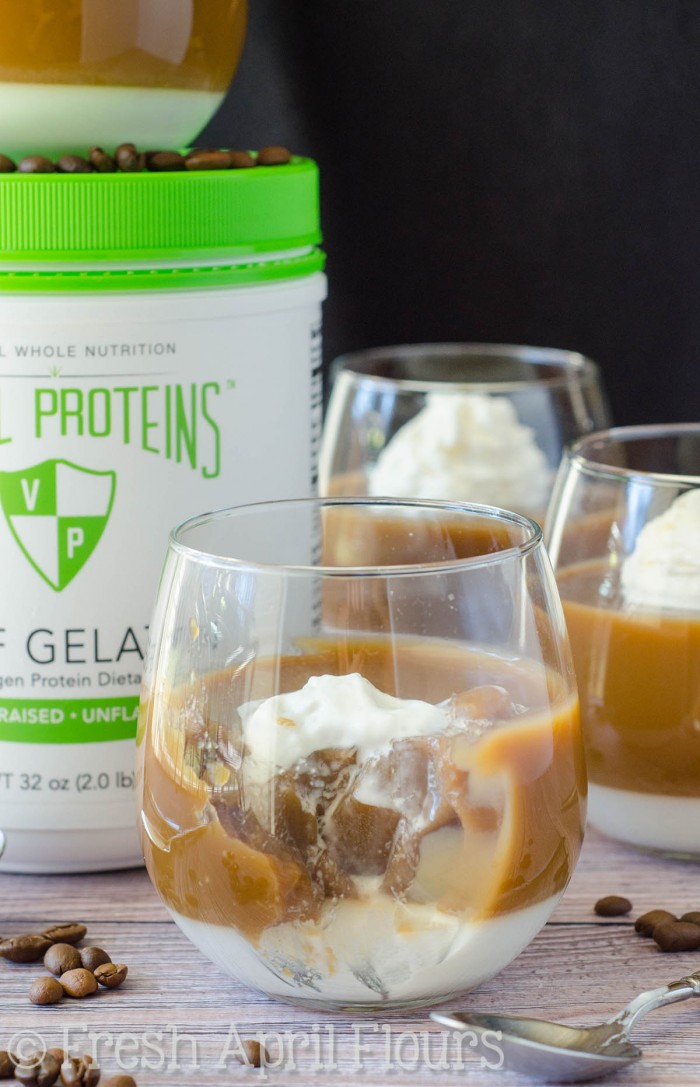 These little coffee & cream gelatin parfaits are perfect for entertaining (use smaller cups and make 8 of them!), impressing dinner guests, or simply finding a way to creatively enjoy your coffee, especially with these warmer months ahead of us.
I can just picture it already… Sitting on our deck this summer, spooning my tasty coffee gelatin between newborn screams and diaper changes. Ahhh, perfection.
At least I won't have to worry about my coffee getting cold, right? 😂
I'm working with my friends at Vital Proteins to bring you today's recipe. All opinions are 100% my own. This post contains affiliate links.
More coffee treats!