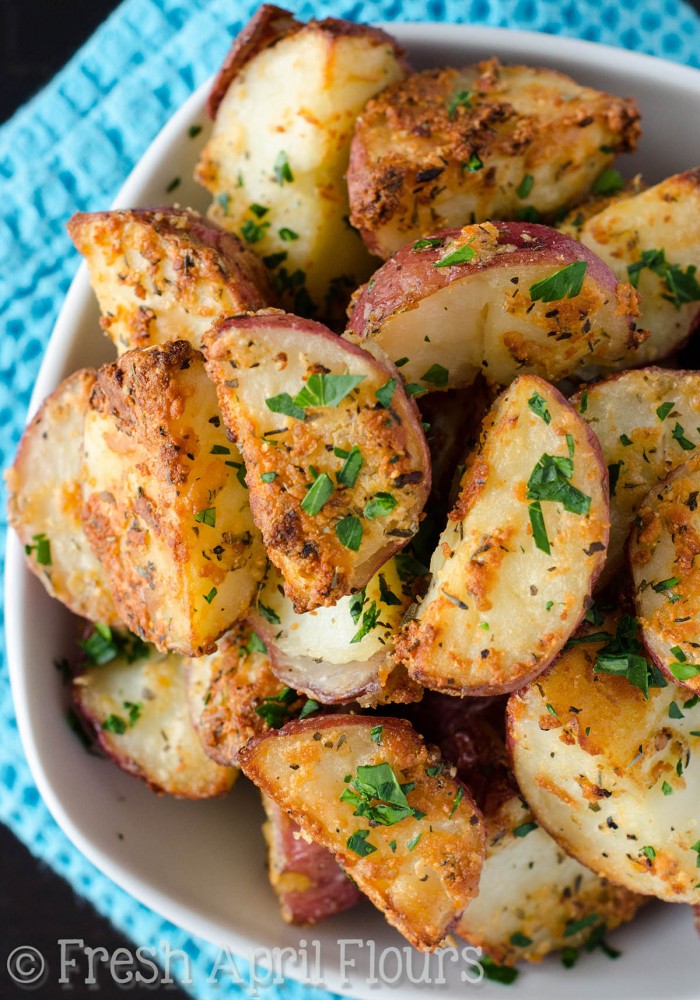 If you follow me on Snapchat, you know that I post a lot of sneak peaks, teasers, and behind the scenes stuff (and if you don't follow me, what are you doing?! frshaprilflours!). You're likely to see recipes that I'm working on, my messy kitchen, and the occasional session of photo editing. I'll usually get a couple Snaps back from some of you who are excited for what's coming or eager to hear more about what ingredients I'm working with, but I don't know that I've ever had so many people Snap me back about a recipe than I did when a video of these roasted herbed potatoes showed up on my story.
Potatoes.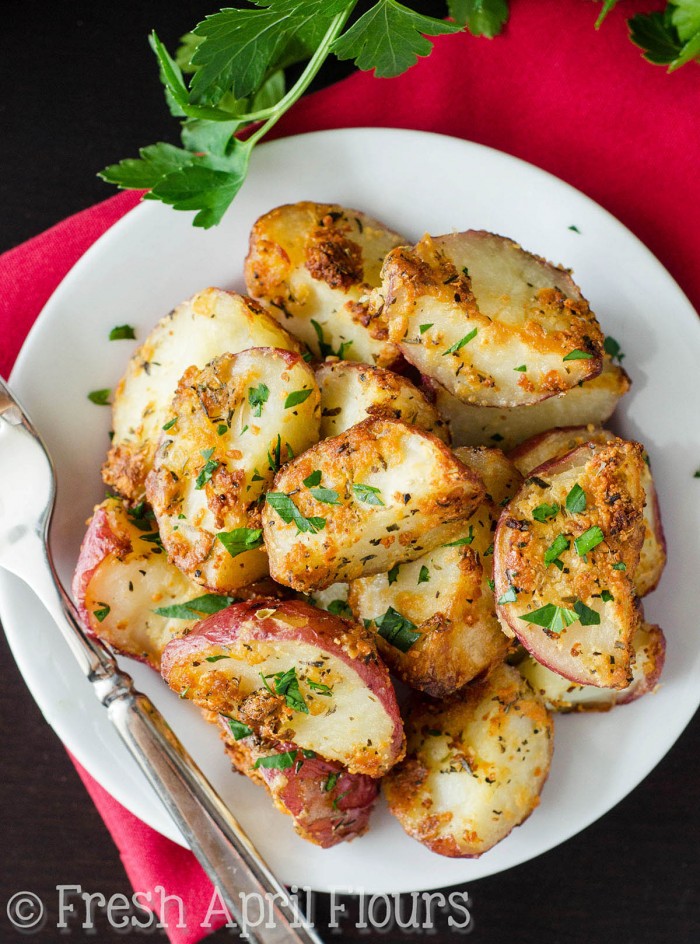 Friends, I had no idea you were such potato people. Don't get me wrong, I am a big fan of potatoes, especially ones that taste really good and are crispy and flavorful and coated in all kinds of tasty things, but honestly… I've put this and these and this and THESE on my story before, and these potatoes have STILL generated the most excitement.
Hey… Whatevs. Let's breakfast/brunch/side dish together, shall we?
First of all, these herbed potatoes are e-a-s-y peasy. The list of ingredients might look intimidating, but it's really not bad at all. It's just a lot of spices that blend together to make the perfect complement of flavors to that crispy Parmesan coating (<– ohhh, mama!). Trust me when I say you need all of them. You (and your tastebuds!) will thank me later!
The most labor intensive part of this recipe is cutting up the potatoes. And I think that you, dear reader, are completely competent in completing this task. After they're cut, it's just a matter of tossing them in my glorious herb blend (with a little olive oil, to make it stick, of course).
Spread everything on a large baking sheet, and get to baking!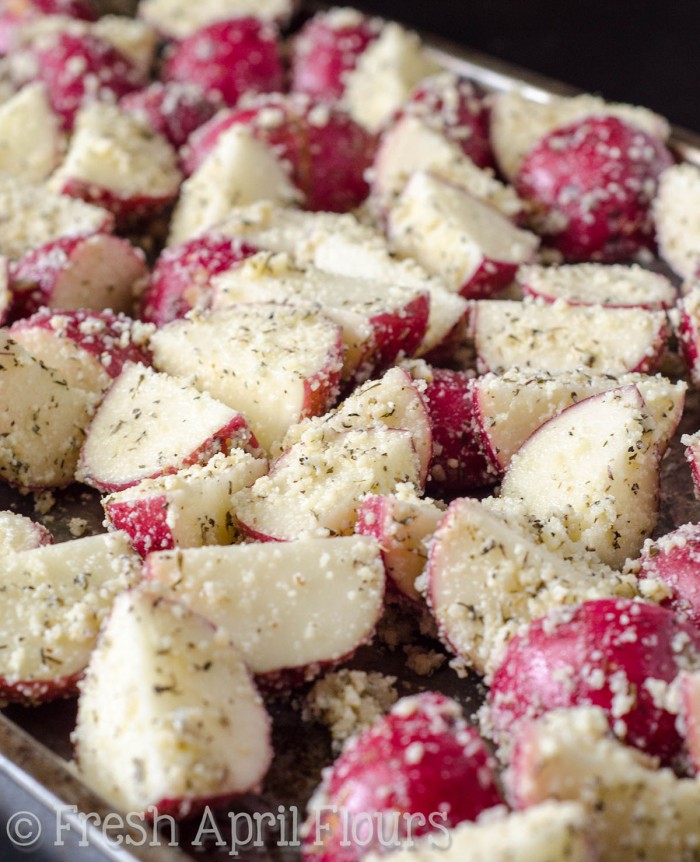 The potatoes will need about 50 minutes to achieve maximum crispness, and you'll need to push them around every 15 minutes to ensure even browning. These potatoes are kind of like granola, where a little more hands on time while it bakes yields the best end result for your mouth.
You can certainly bake these longer than 50ish minutes if you feel they're not as brown as you'd like them. You know better than anyone else how you enjoy your oven roasted potatoes. You do you, friend.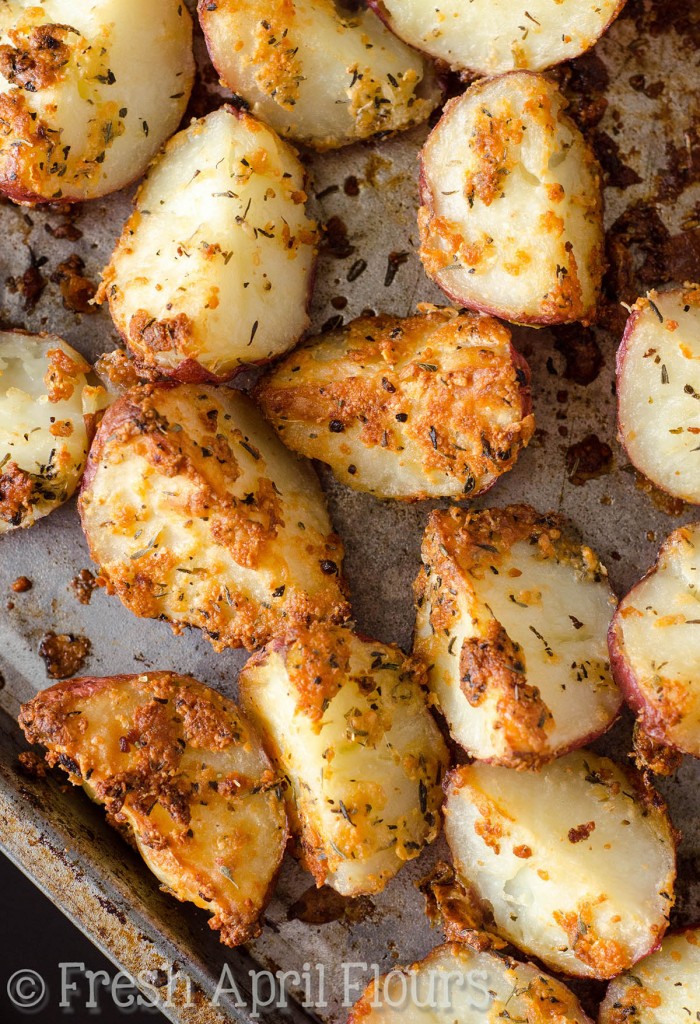 After they're perfectly browned, these tasty taters go wonderfully with breakfast. Also brunch. Also as a snack. And of course, with dinner. Needless to say, after I roasted these potatoes, ate a small plate with some eggs, took a large portion to brunch with my girlfriends, and brought home enough for Matt and me both to have some alongside our chicken that night, I found myself with zero potatoes left, NO RAGRETS, and one happy belly.
I'm telling you what… I might realize now why you all got so excited about potatoes.
These roasted herbed red potatoes will become a staple in your kitchen after you try them, I'm sure of it. Perfect for feeding a crowd while entertaining, great to bring to a pot luck (reheating directions included in the recipe!), and a quick and easy way to add a side dish to dinner.
I sure do love me some versatile recipes, and this is one that can help you out for any meal you're planning. And just for the record, these potatoes were totally kid approved, so go ahead and feed the fam!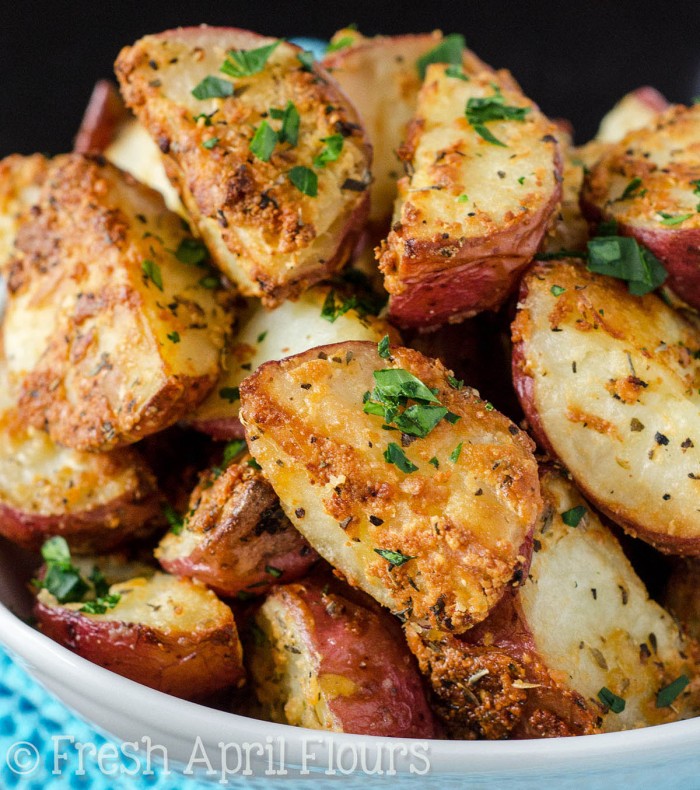 Just don't say I didn't warn you about possibly wanting to double the recipe (<– official warning)…
Consider these potatoes on the side of one of my quiche recipes!
Cheesy Vegetable Quiche with Cauliflower Crust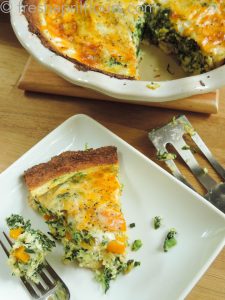 Crustless Mushoom & Tarragon Quiche