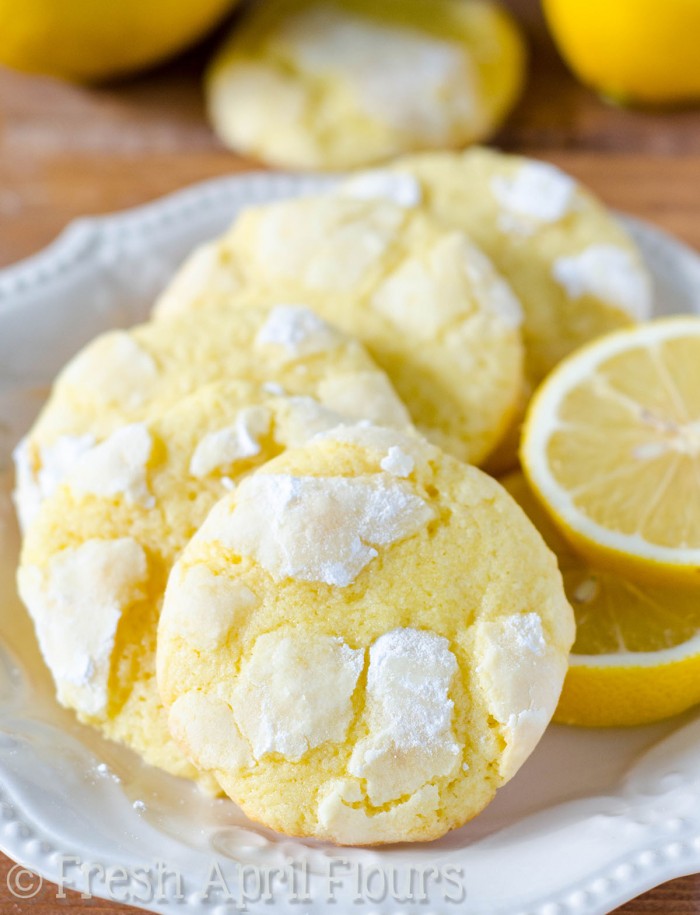 So I've been talking a lot about cookie trays and cookie parties and cookie exchanges during my 12 Days of Christmas Cookies celebration, so are you wondering… Am I actually making any cookie trays or going to any cookie parties with my cookies?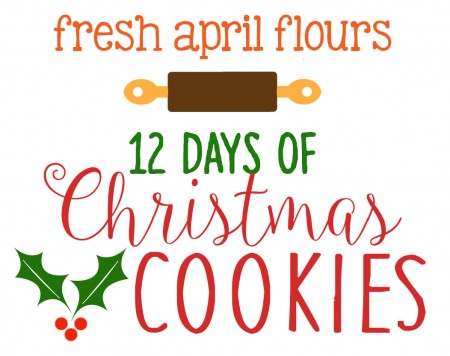 The answer is no, I'm not making any cookie trays, because I have been sharing my cookies with my friends and neighbors over the past several weeks. In fact, this past weekend, I boxed up some thumbprints and these cookies for the elderly women who live on either side of us. It warmed my heart to share my love of baking with people who could use an extra smile, especially at the holidays.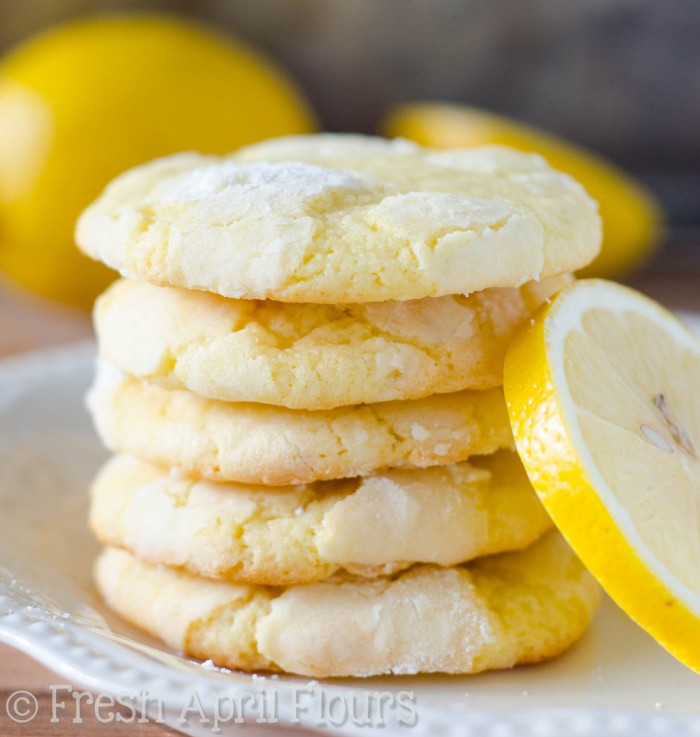 I also took these cookies to the annual cookie exchange that I do with my girlfriends at work.
(Also pictured are molasses cookies, Norwegian sugar cookies, and brown butter toffee cookies!)
Last year, I made spiced gingerbread cookies. Cookies from exchanges past include cherry almond date cookies and also eggnog chocolate chunk cookies. I have a history of making cookies that stay in my cookie arsenal for years to come, and this cookie is definitely no different.
I loveeeee lemon. In the form of biscotti, truffles, and pie bars. But a cookie? I had never made any sort of lemon cookie, and when I went searching for one, I really wanted one that did not involve any cake mixes or lemon pudding. I wanted true, natural, unadulterated lemon flavor. The juice, the zest… I wanted it all! And I found it in a recipe from Lauren's Latest. It seemed it was going to fit the lemon bill, but I amped up the lemon flavor a bit more, because I really do feel like you just can't ever have too much lemon flavor.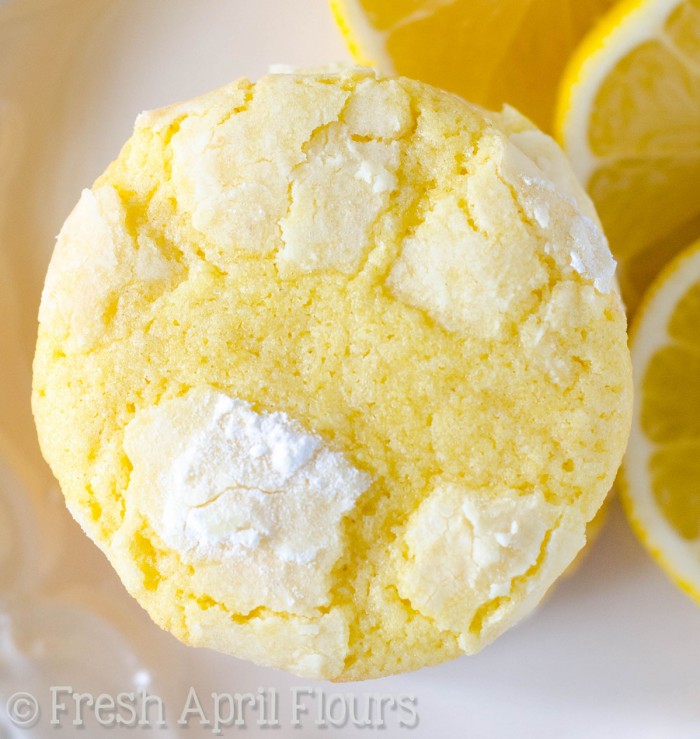 And I am so glad that I did that, because these cookies are lemony lemon and so delicious and maybe I might put our local grocery store out of stock of lemons for the rest of time because they are that good.
So have you ever made crinkle cookies? I think they're so cute and I've always wanted to make them, so I was happy to see that Lauren's recipe was a crinkle cookie. Are you wondering what a crinkle cookie is? It's pretty much a basic cookie, but the dough gets rolled in powdered sugar before it gets baked. As the dough bakes, it flattens out and the surface cracks, exposing the dough under all that powdered sugar and leaving patches of white powder on the tops. Crinkles! They're just so darn pretty.
The batter for these cookies is super uncomplicated. We've got the usual suspects (flour, sugar, butter, etc), but we're using almost all of the lemon! The whole zest and a Tablespoon and a half of the juice, freshly squeezed. I actually added a few drops of yellow food coloring to my cookie batter to make them extra yellow, but this is 100% completely optional. You'll need to refrigerate your cookie dough, but only for an hour.
Guys. These cookies are so good. At first bite, the powdered sugar coating melts in your mouth, and once you sink your teeth into the actual cookie– mannnn oh MANNNN the lemon flavor just completely takes over. They are pretty sweet, given all of the sugar involved on the inside and the outside of the cookie, but the lemon flavor is tart and bright and blends so well with all that sweet. The centers are soft, the edges are slightly crispy, and each bite is packed with so much lemon flavor. They really remind me of lemon bars, but without all the gooeyness and crust.
I am a big fan of these cookies that can last year round, and I'm betting this would be a perfect cookie for the summer time!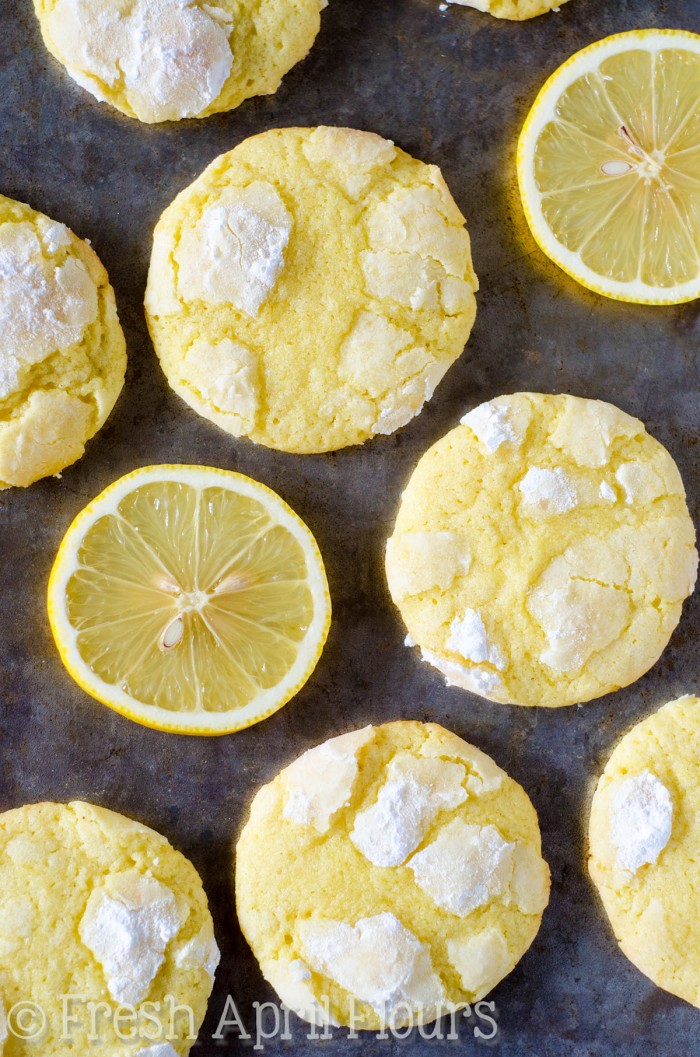 Oh, and speaking of summer… In case you missed my announcement on IG…
We are expecting a little Junebug next summer. I'm thinking this will be my best recipe yet! 😉
Now get to baking, my favorite cookie monsters! We're almost done with our 12 days! Do you have a favorite yet?