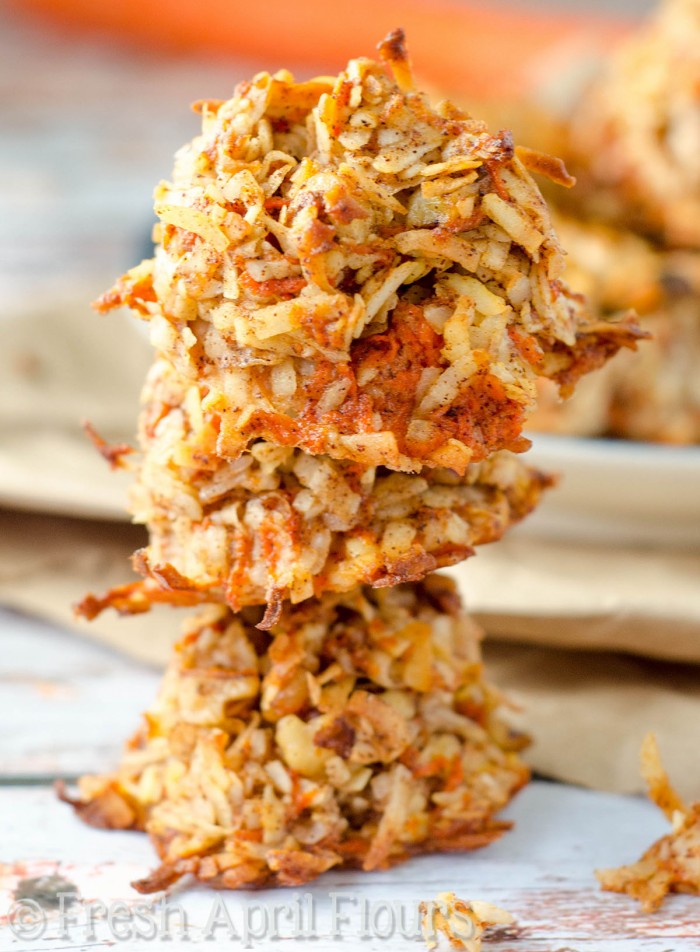 Welcome to recipe #5 in my Christmas cookie lineup. This one is a doooooozy!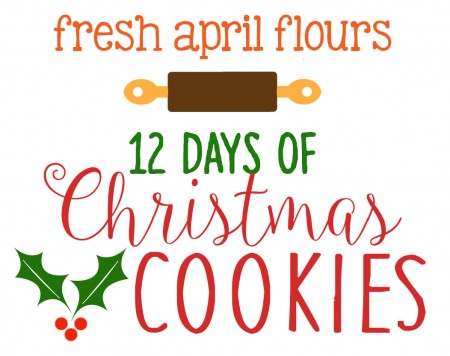 Whenever I make a new recipe, I will often say it's the best thing that's come out of my kitchen ever. Usually, I'm just exaggerating, but this time… I think I mean it.
Guys, these macaroons are some of the best things I have ever made. Ever. And I made them back in September, so I've baked a lot since then.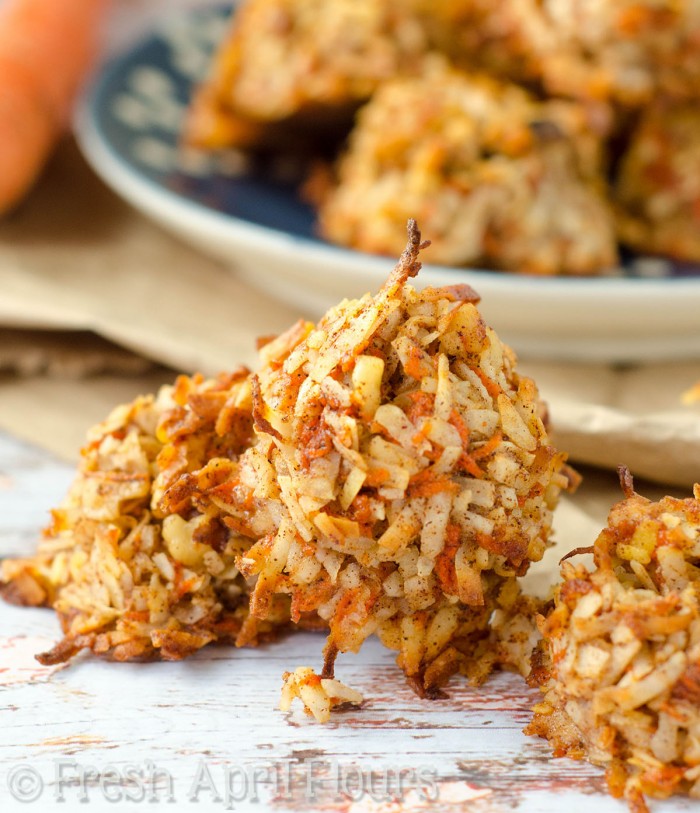 Now, it may be my absolutely undying love for carrot cake that makes me say this, but even still, these macaroons are so packed with flavor and texture and crunch and chew… There's just so much to love!
Have you ever made macaroons before? They're pretty simple, and my favorite part: they're a naturally gluten free cookie! So feel free to share with all of your peeps. All of 'em!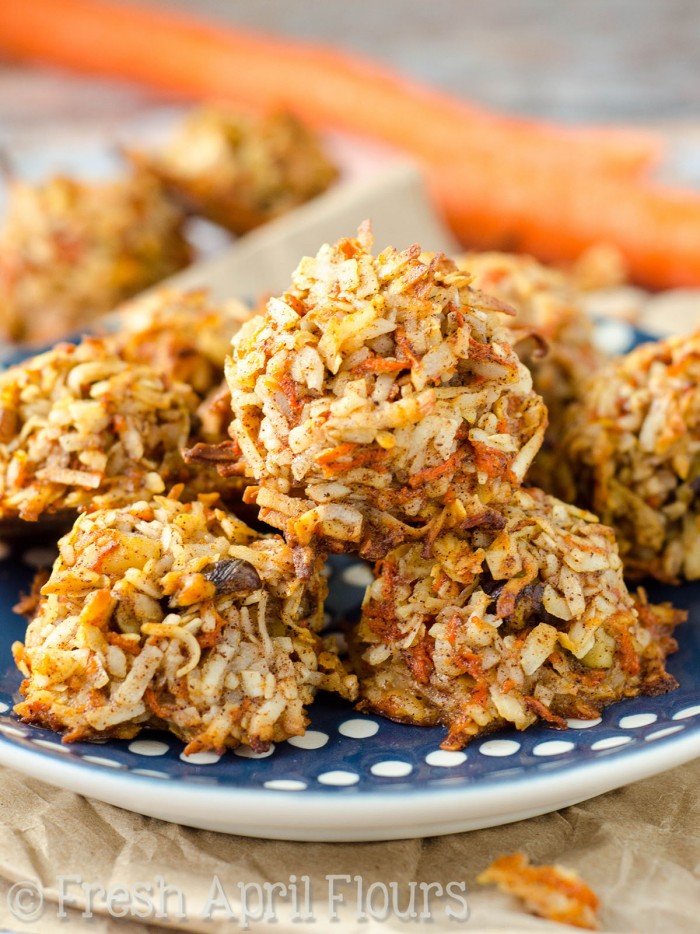 Most cookies use butter and eggs for substance and binding. Macaroons are pretty different– no egg yolks, and no butter whatsoever. They're light! Which means you can totally eat more than three one.
Instead, you'll work with just egg whites and sugar (plus some spices and vanilla extract) to make the glue. Put it all in a large bowl and whisk whisk whisk until it becomes nice and fluffy. The sugar will dissolve, the mixture will become foamy, and get a little stiff. This is how meringue starts, but we're not going that far, so stop when you notice a foamy, stiff mixture. It will have increased in size significantly. If you're more comfortable using a mixer, whisk for at least 2 minutes.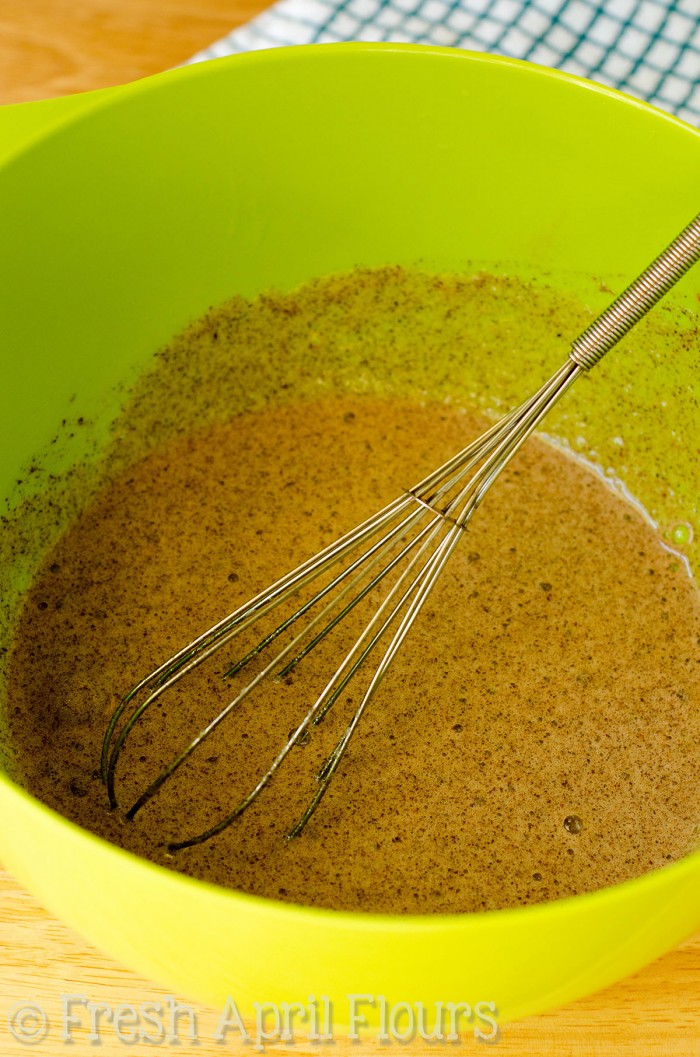 Next, fold in your flaked coconut, grated carrots, and chopped nuts (walnuts are my fav but pecans would work great too). The mixture will be very wet. This is very good. Makes for a nice and moist macaroon!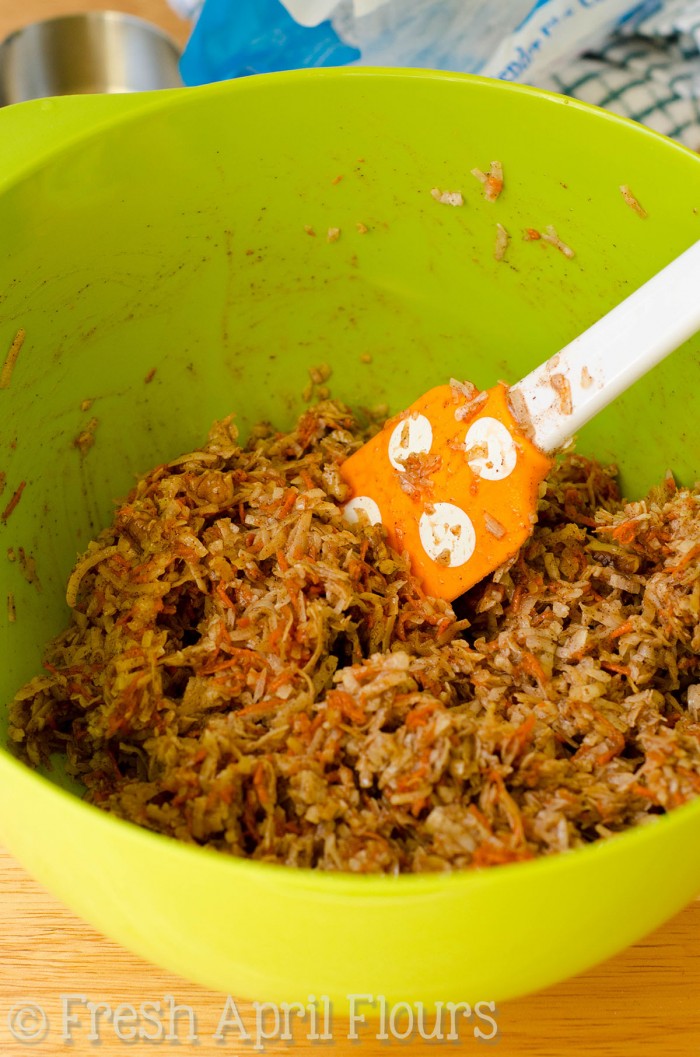 A little on the grated carrots… We're talking grated. Teeny tiny grated. Use the small holes on your box grater or shred those babies in a food processor. Just don't make carrot mush. You still want beautiful strands of orange going through your macaroons!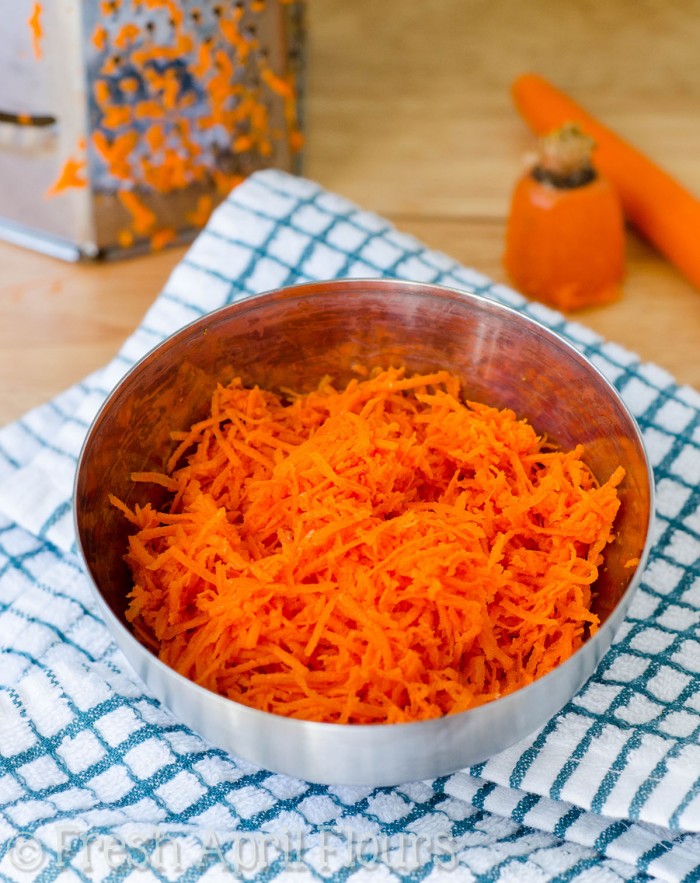 Bake for 20 minutes, rotating the baking sheet 1/4 of a turn halfway through the baking time to prevent burning. Coconut burns easily because of all the sugar and the delicate pieces. Although, if I'm being honest, some of the crispy coconut edges were my favorite! Toasty coconut. Yumm-o!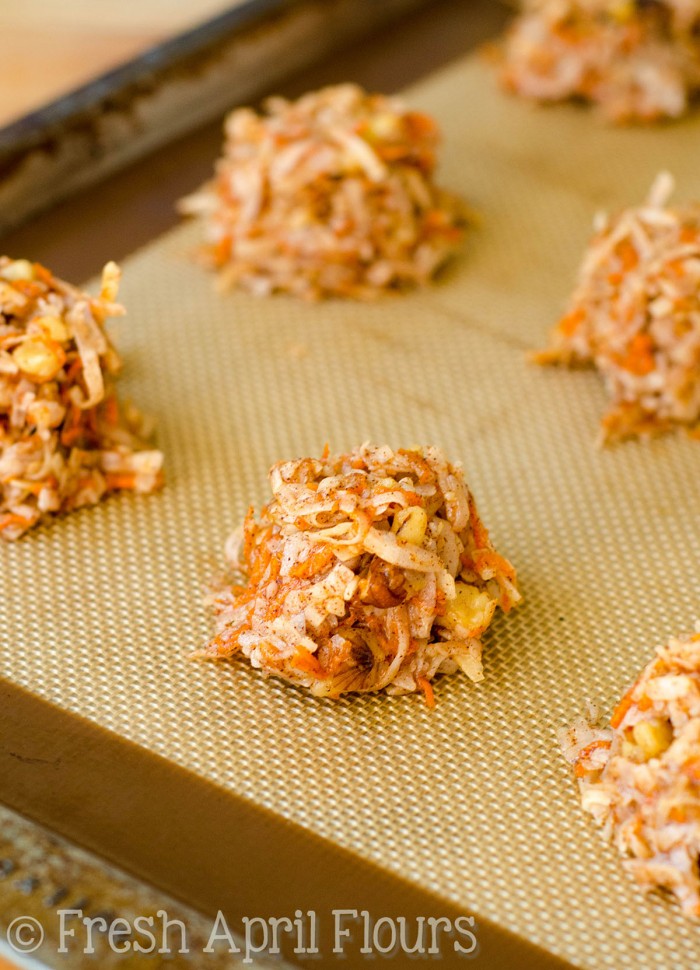 Seriously. These macaroons. I died. I ate 3 of them while they were still warm because 1) I have no self control and 2) warm macaroons are right up there with warm chocolate chip cookies! I also served these at Thanksgiving (because hellooooo, they freeze beautifully!) and they were one of the first desserts to go.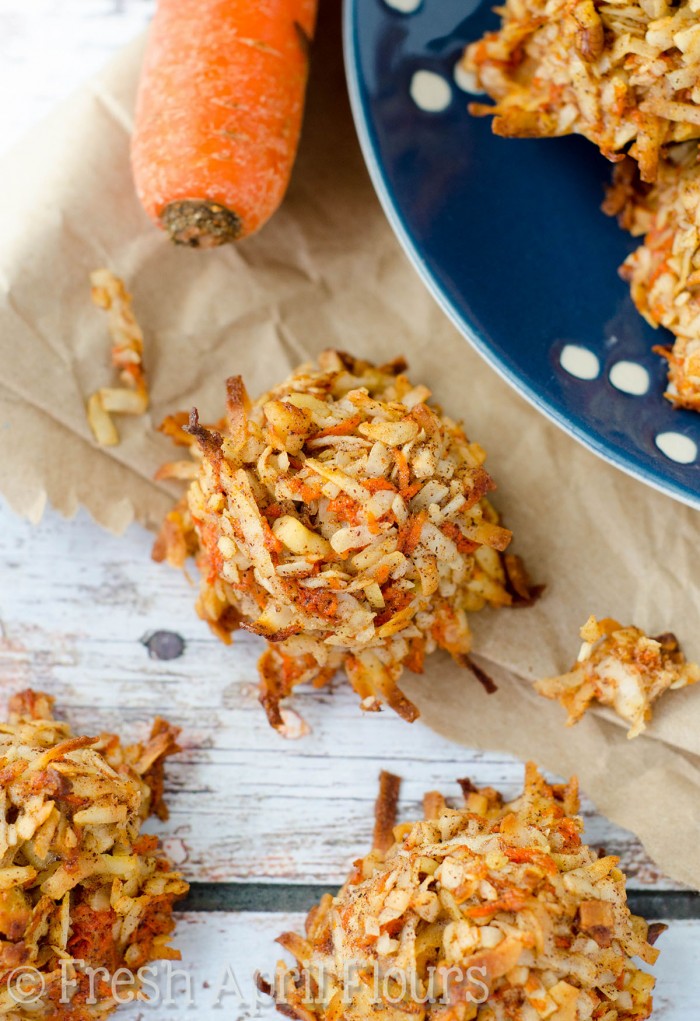 If you love coconut and are a fan of warm, toasty spices, you're going to love these carrot cake macaroons. They're just a bit crispy on the outside while staying tender, chewy, and sweet on the inside. Just like an Almond Joy or Mounds Bar!
While I've added this to my Christmas cookie collection, it's certainly a cookie that can grace your cookie jar year round. Carrot cake in the form of granola AND cookies? I'm like a carrot cake freak over here– and I'm not afraid to admit it. I really do promise that I will share my carrot cake recipe someday… So until then… Lots of things flavored just like it.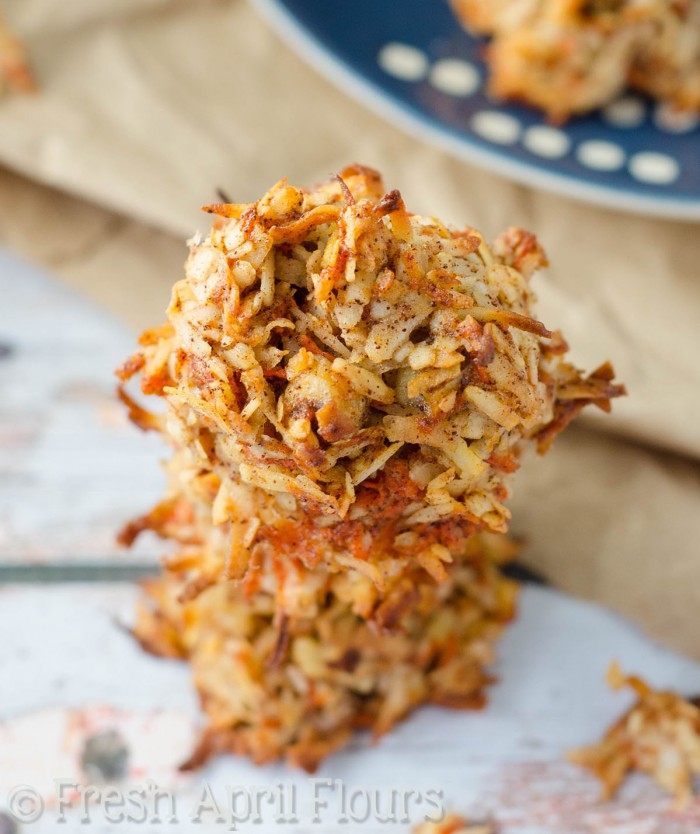 How are you doing with the 12 Days of Christmas Cookies? Have you made any yet?