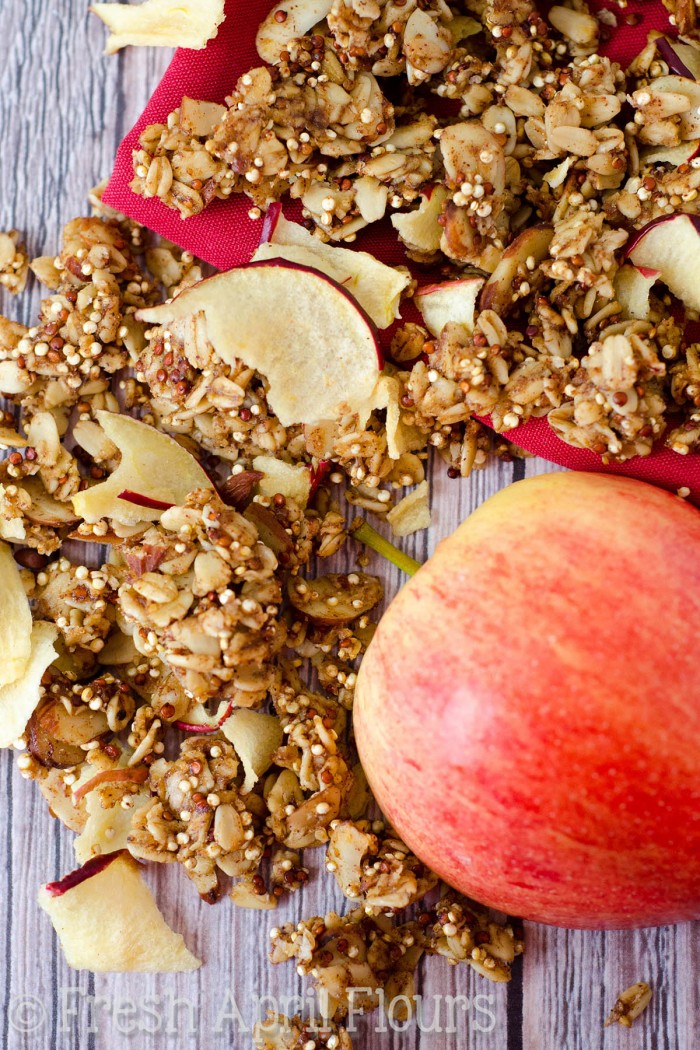 I have fallen head-over-heels in love with homemade granola. It all started last year when I made soft-baked carrot cake granola, and then I remembered how much I loved it when I made my Almond Joy variety this summer. I've been going back and forth between those two and just plain, fairly boring granola over the past year or so, but when fall came around in full swing with its pumpkins, apples, cider, and cozy spices, I knew it was time for another seasonal homemade granola!
Although I tried my girl Leah's pumpkin spice granola (MAKE THAT) and it was just what my October needed, I started feeling bad for all the other wonderful flavors that the fall has to offer, like apples. So apples in my granola happened and I am so glad that they did.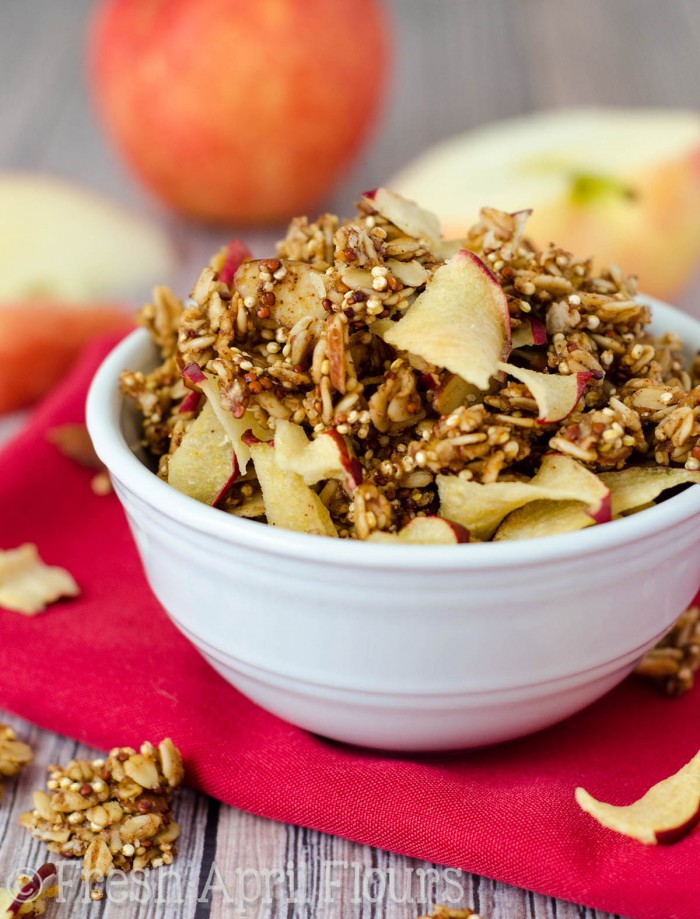 I actually made this granola twice: the first time was a semi-flop and the second time was GOLD (and also at 3am– yay insomnia 😳). Lucky for you, my first time around helped me figure out what not to do when I brought the recipe to you. So let me tell you a little about this granola…
First of all, I knew that I wanted full-bodied apple flavor, but I wanted it right there on the granola pieces, not just added with the apple chips. I know homemade granola starts out pretty wet and goopy (technical term), so what's apple-y, wet, and goopy? Applesauce. Yes! Let's do it. I went with unsweetened applesauce because I really wanted to add some sweetness with my favorite sweet ingredient: brown sugar. Brown sugar is far superior to granulated sugar when it comes to deep, warm sweetness. It's bold, it's caramel-y, and it was perfect for my apple snack. Also adding sweetness to this granola party? Pure maple syrup. This is the first time I've used pure maple syrup and HELLOOOOO, it will return. BUHLIEVE ME. There's just something about the richness of that maple flavor that brings the sweetness to just the right level in my apple granola. You could use honey, but I assure you, it will not taste as good. You've been warned.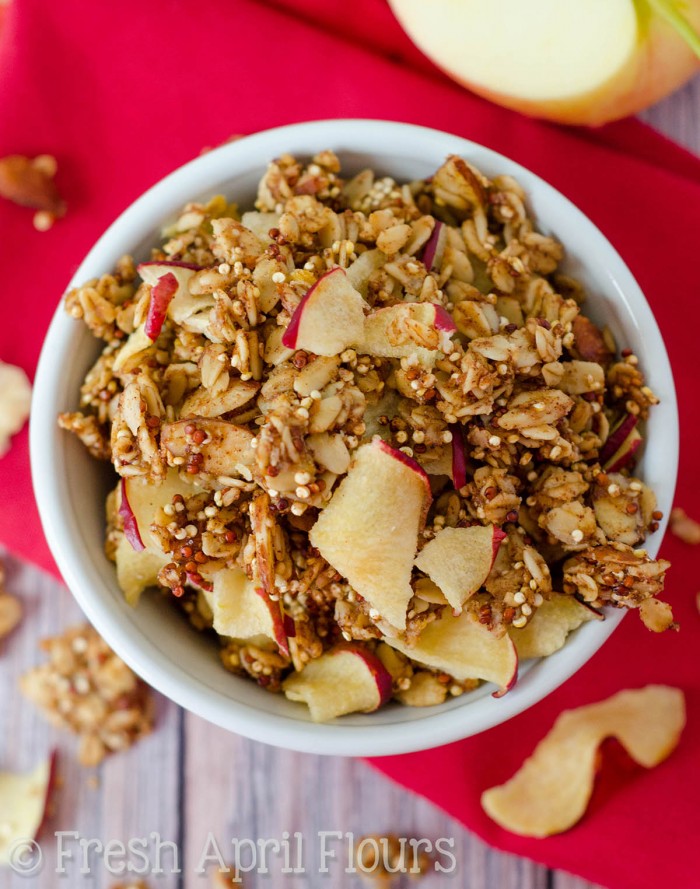 Also making an appearance in this granola: slivered almonds. Slivered almonds are waaaaay better than whole almonds because they aren't in-your-face crunchy when they're all sliced up. Also, they have flat surfaces which, to me, means better coating to almond ratio vs the whole ones. I'm all about that granola coating!
I knew that the applesauce would likely diminish the crunch factor in my apple granola, so I decided to add some dry quinoa. It added the perfect little crunch to each cluster, and I urge you not to leave it out. White or red is fine. I actually used both.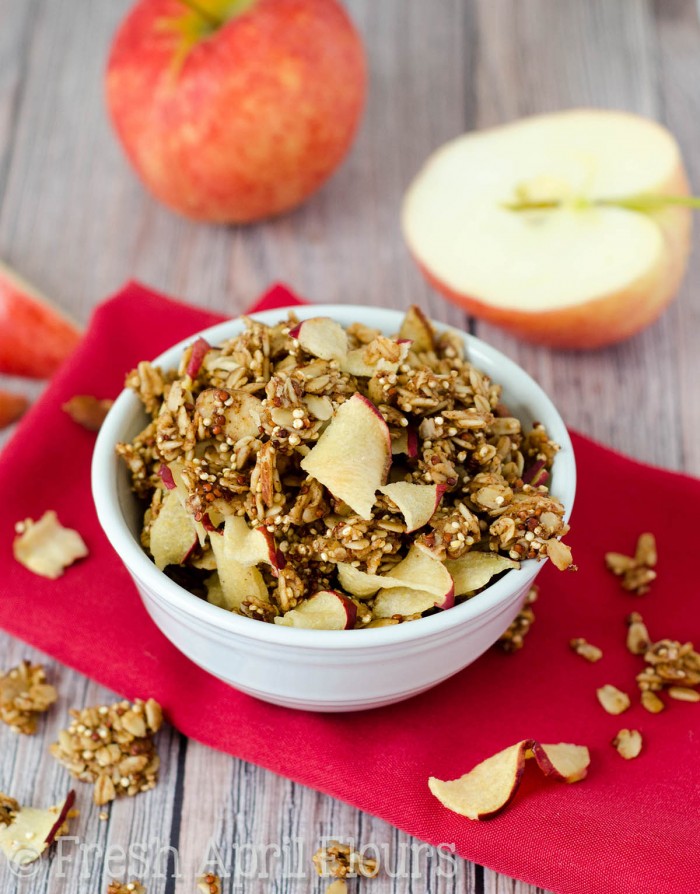 The last thing that goes into this granola is melted coconut oil. And yes, you'll add it very last before the granola goes into the oven. Why last? Coconut oil is what helps give the granola that signature crispness. Since there's a lot of moisture going on in the the wet part of the granola (applesauce and maple syrup) and we're adding apple chips at the end, I needed to make sure to keep this granola as crunchy as I could. Adding it at the end almost seals in all of that moisture and keeps the outside as crunchy as it can be. Think of it as a crunchy hug. No? Weird? Uhh, anyway… Although this granola is definitely not as crispy as my Almond Joy granola, it's certainly not soft-baked. It's firmly in the middle, and it was the perfect texture for all that apple flavor.
We enjoyed this granola straight up, stirred into plain Greek yogurt, and in a bowl with milk. It's so versatile! Breakfast, snack, dessert– you be the judge.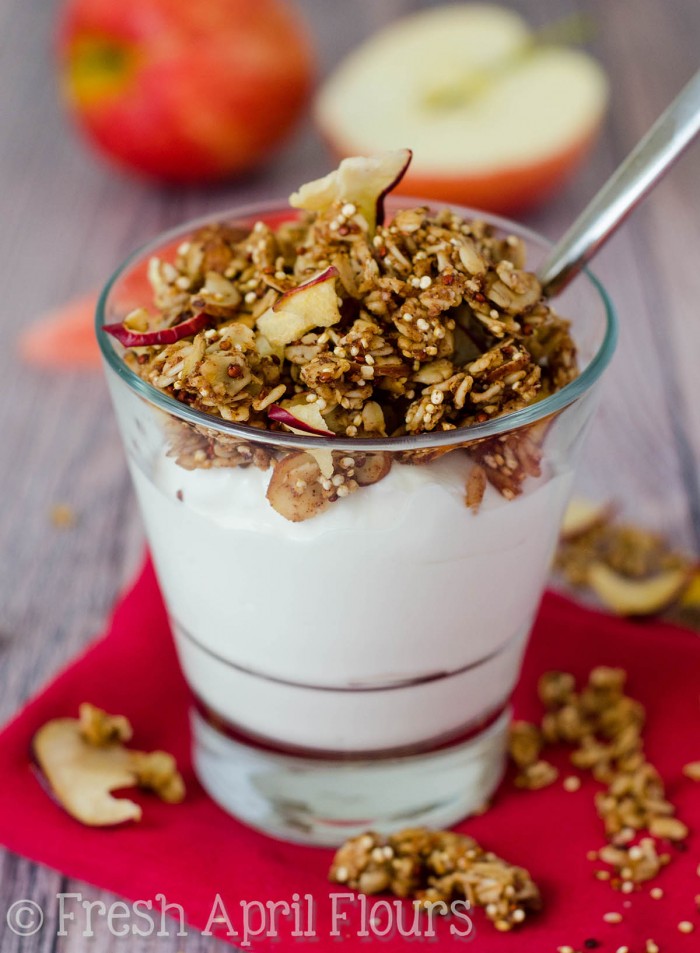 And since there's fruit (apples + applesauce) and a super food (the quinoa), you don't have to feel guilty about eating it often. Like… At each meal. Or every time you pass the bag of it. Or even think about it and find yourself hovered over a bowl of it. Wait… What? I'm just guessing this is what happens to people who really love granola.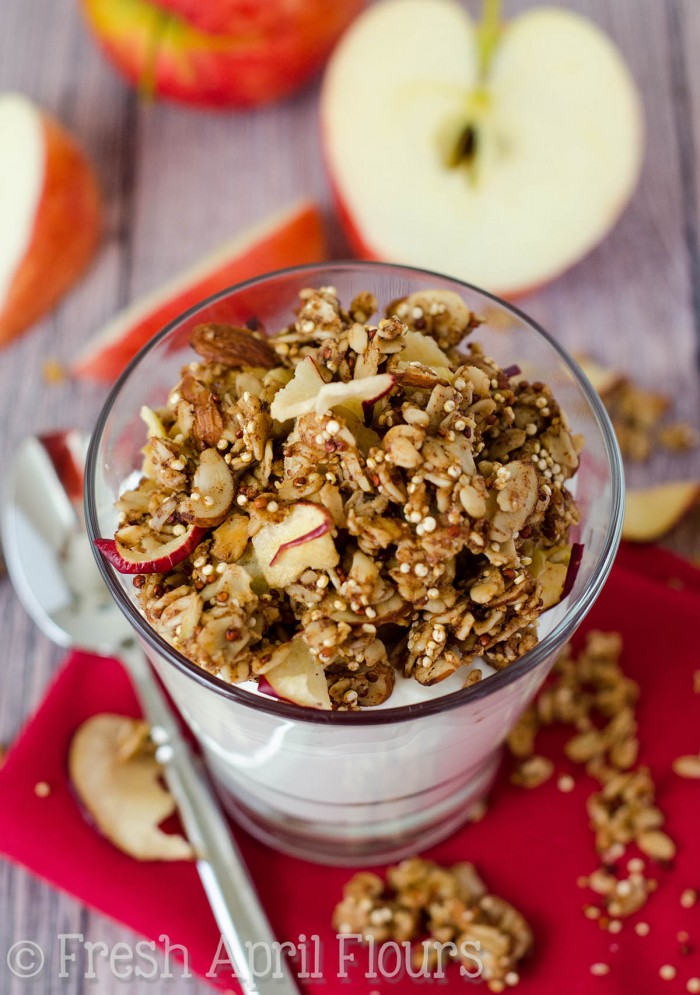 Ok ok, I am speaking from personal experience. But seriously… When you try this fall inspired homemade granola, you won't blame me for eating so much of it!
Try some more of my favorite fall snacks!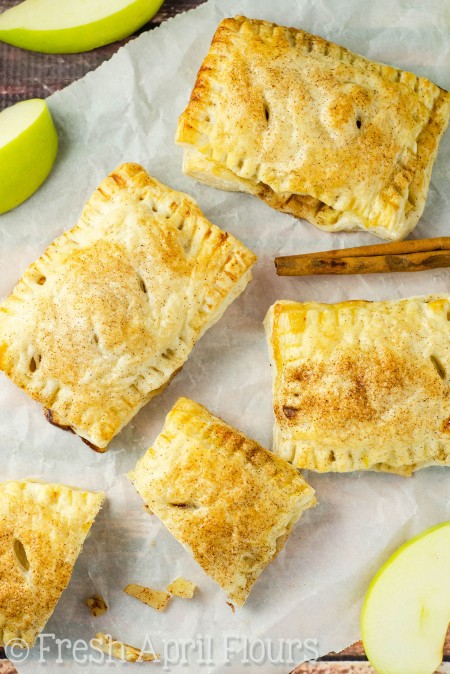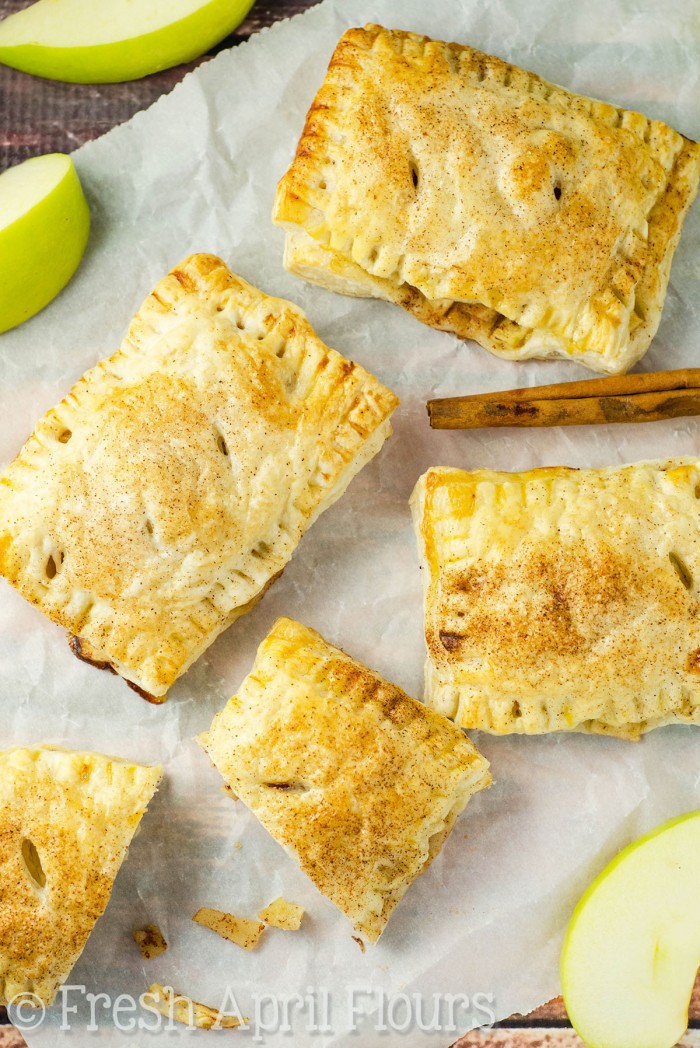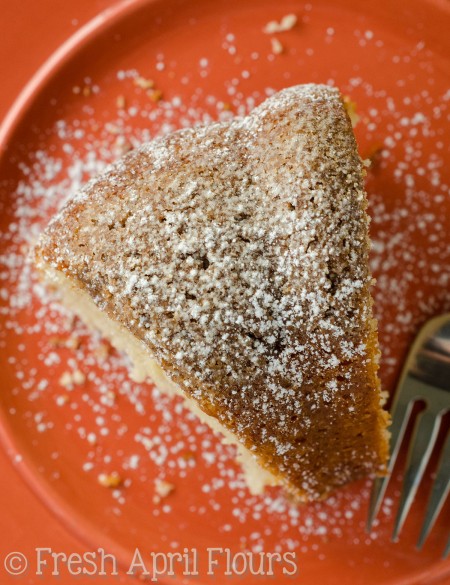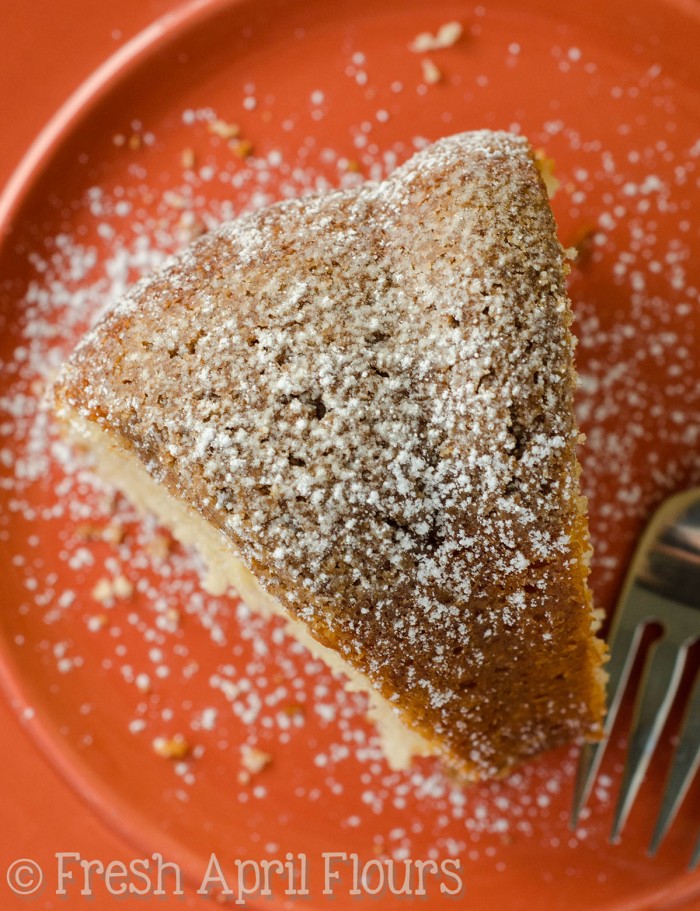 Oatmeal Chocolate Chip Walnut Cookies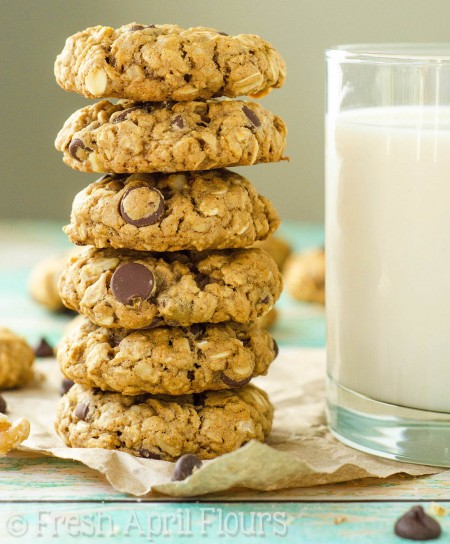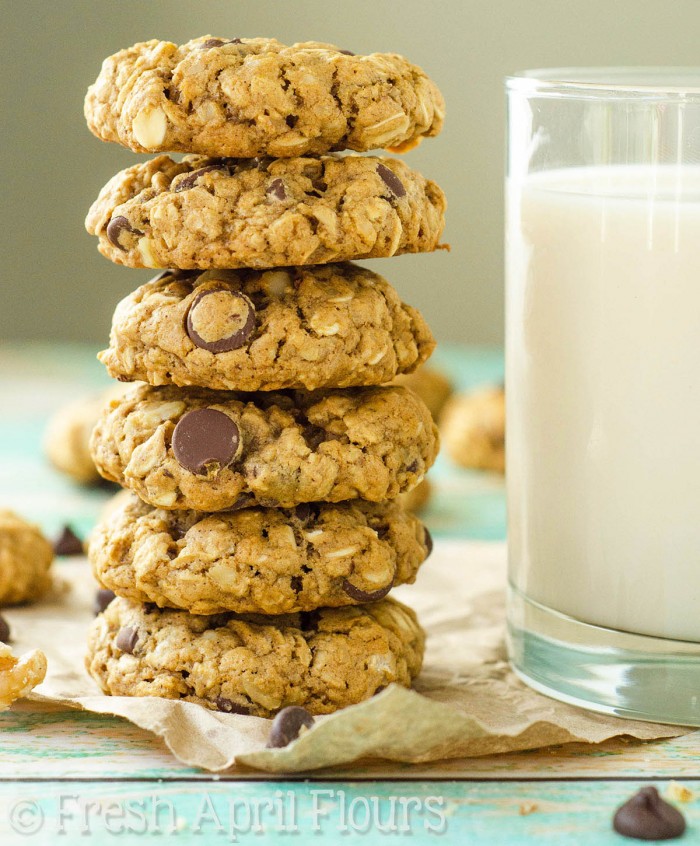 And for all that leftover Halloween candy… Candy Bar Blondies!