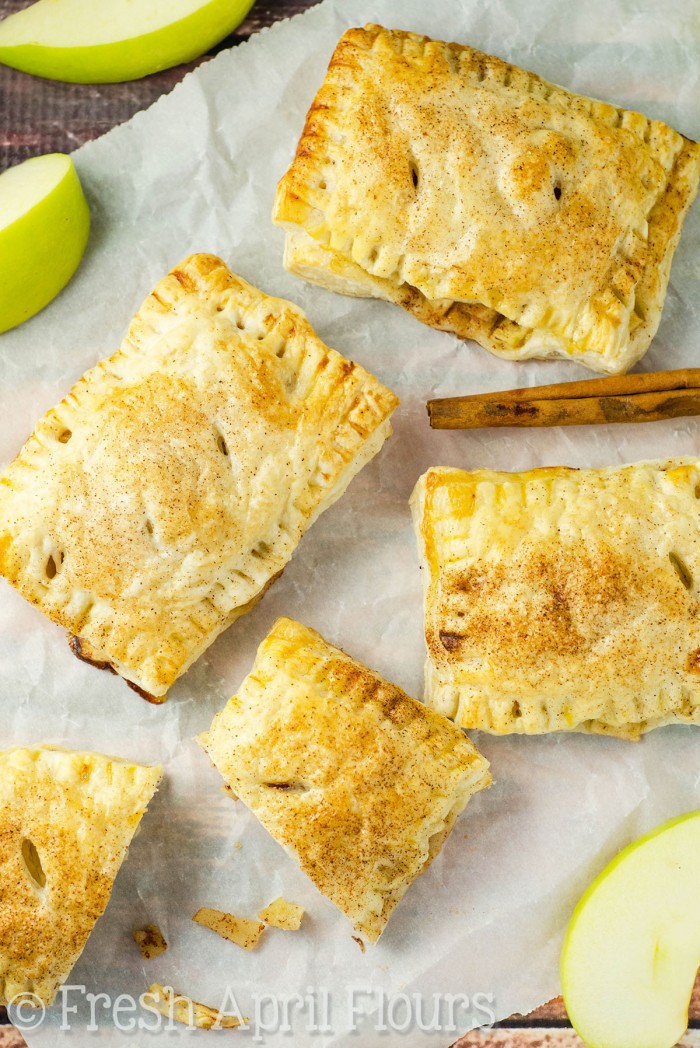 I have a confession: I'm not all that into pies. As a baker, I think this is something I should feel bad about. I'd much rather eat a brownie, or a cookie, or hummus with pita chips… Uhhh, wait. What? Hummus isn't dessert for you? Oh, welcome to my weird food world!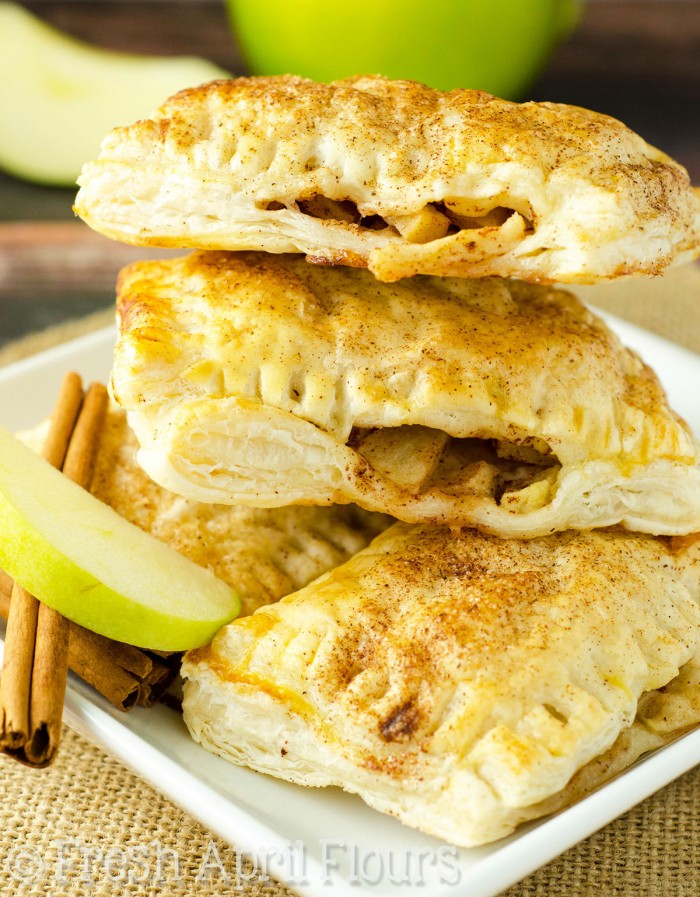 But no, pies just don't do it for me. Of course, I love a good ol' slice of pumpkin pie at Thanksgiving, and I'll usually eat a slice of apple pie at a summer picnic just for the patriotic gesture of the whole thing. Ironically enough, I have a killer pie crust recipe (comin' atcha soon enough!) that I very much enjoy using to bake things for other people. And special cookies (gahhh, I can't even wait for December on the blog)! But honestly… Pies? I could take 'em or leave 'em.
UNLESS they're portable and I can hold them in one hand and they're made with puff pastry and filled with perfectly spiced apples and I don't even need a fork! Yeah. Now we're pie-talkin'! Can you tell hand pies changed my life?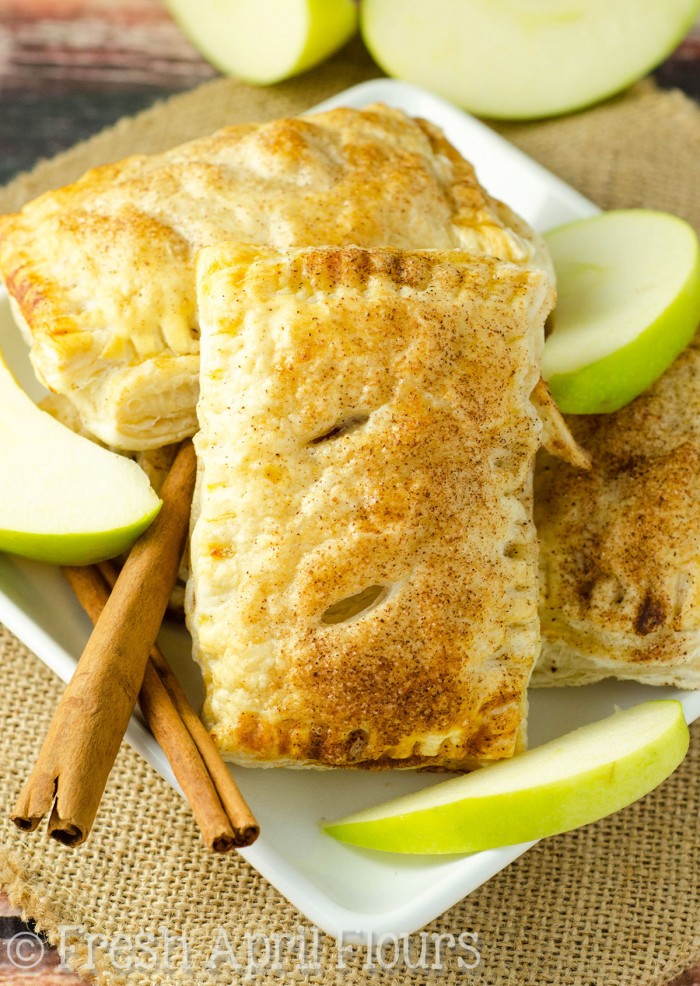 I wasn't expecting to go ga-ga over these apple hand pies when I first made them, but I did. And so did my large group of taste testers!
We threw a retirement party for the CEO of our company and a little bird told me that his favorite dessert was apple pie. Since there are 50-some employees at my company and we were planning on having a whole slew of food and other desserts for the party, I wanted to make something that was small, could be saved if it didn't all get eaten, and wasn't super complicated to put into a buffet line.
These apple hand pies totally fit the bill and then some.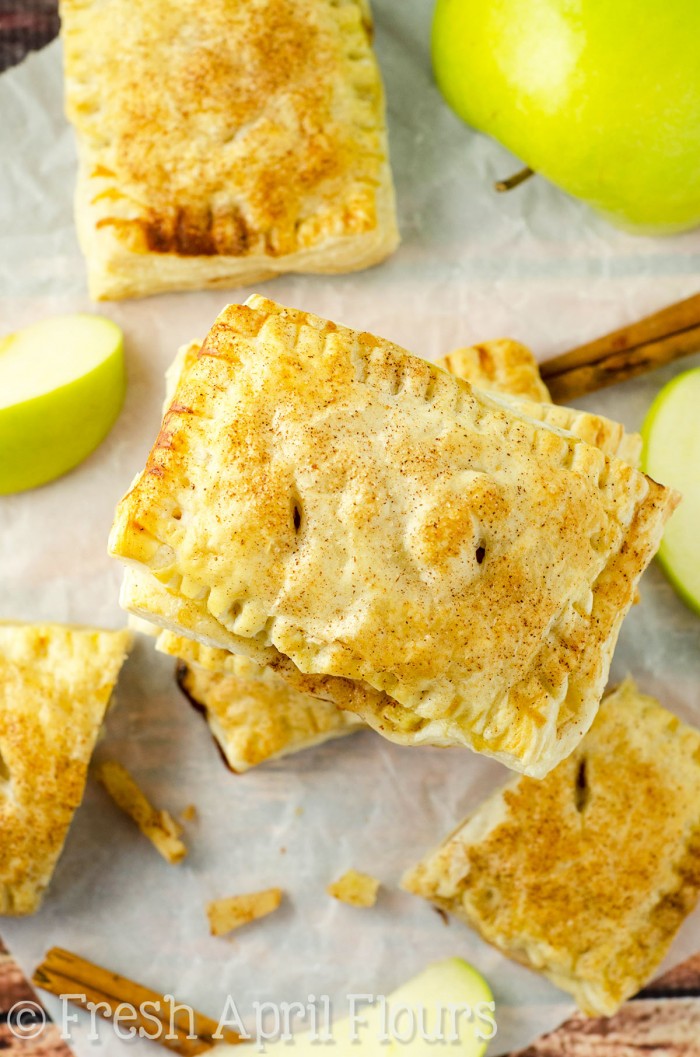 Made with pre-made frozen (thawed) puff pastry, these mini-pies are similar to turnovers and also remind me of Toaster Strudels. Surely you were a fan of Toaster Strudels growing up? Oh yeah. Memories.
Since you're working with pre-made puff pastry, the hard work is basically done for you. After you prepare your apple chunks, you'll prepare your pastry shell. Each box of puff pastry contains 2 sheets, which will give you 12 pies (24 rectangles total). Use a pizza cutter to cut your dough into 12 rectangles.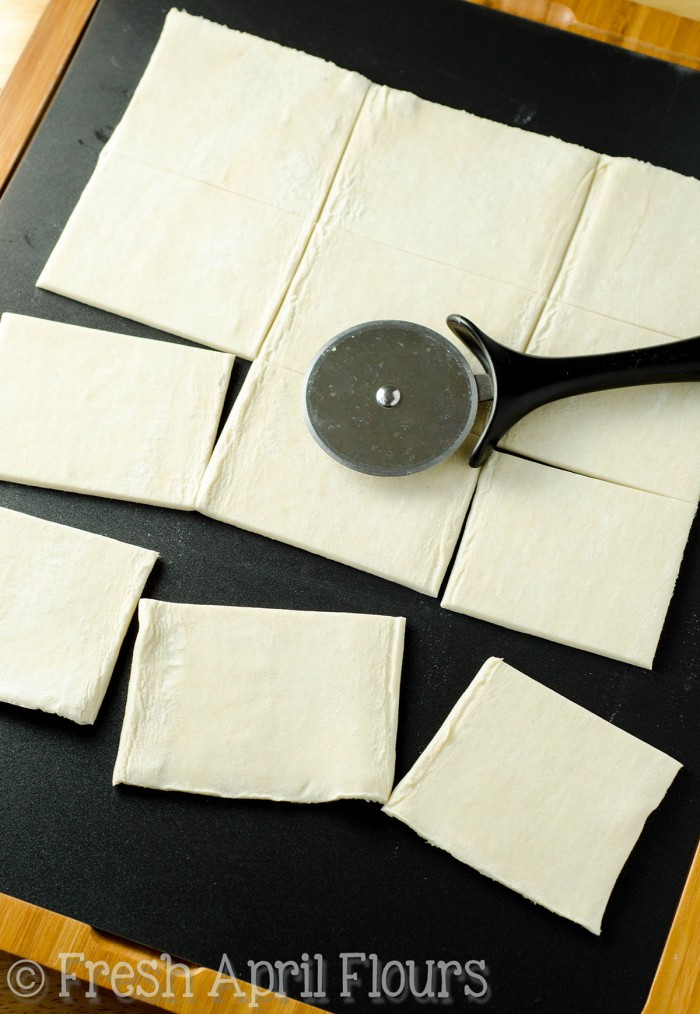 You've just created your hand pie bottoms. Wasn't that easier than rolling out a big pie crust?
Next, fill each pie with about 1-2 Tablespoons of your spiced apple filling, leaving a bit of a margin around the edge for crimping.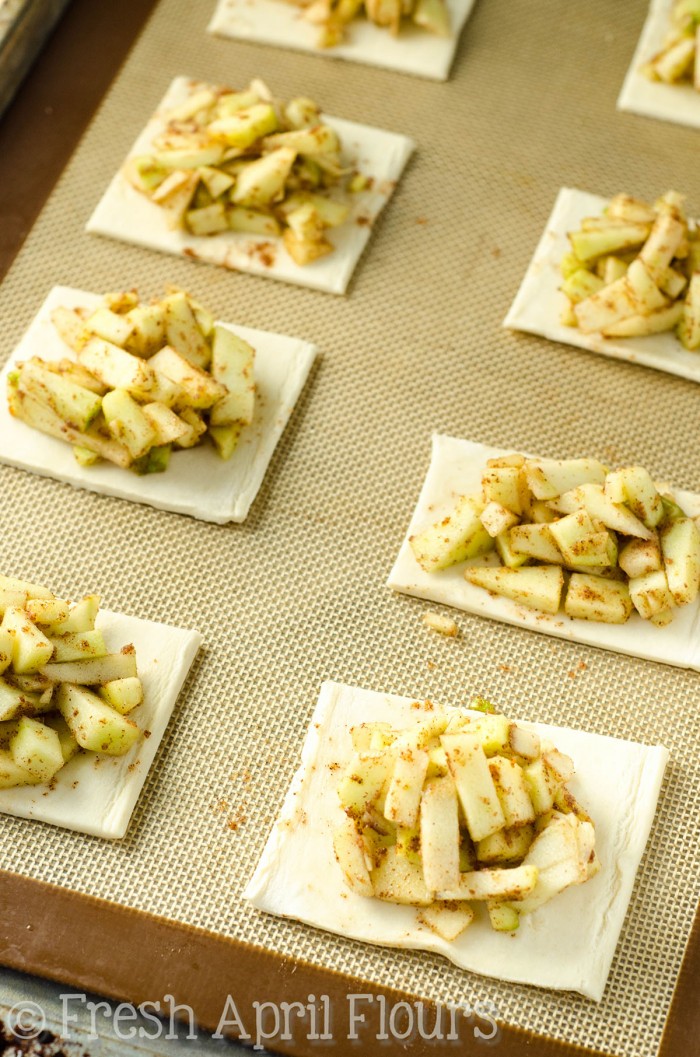 Cut the other sheet of puff pastry into 12 more rectangles, pop those babies on top of the filled bottoms, and crimp the edges with a fork. You'll likely have some apple chunks fall out or get crimped into the sides of the pie. This is totally ok. And totally encouraged.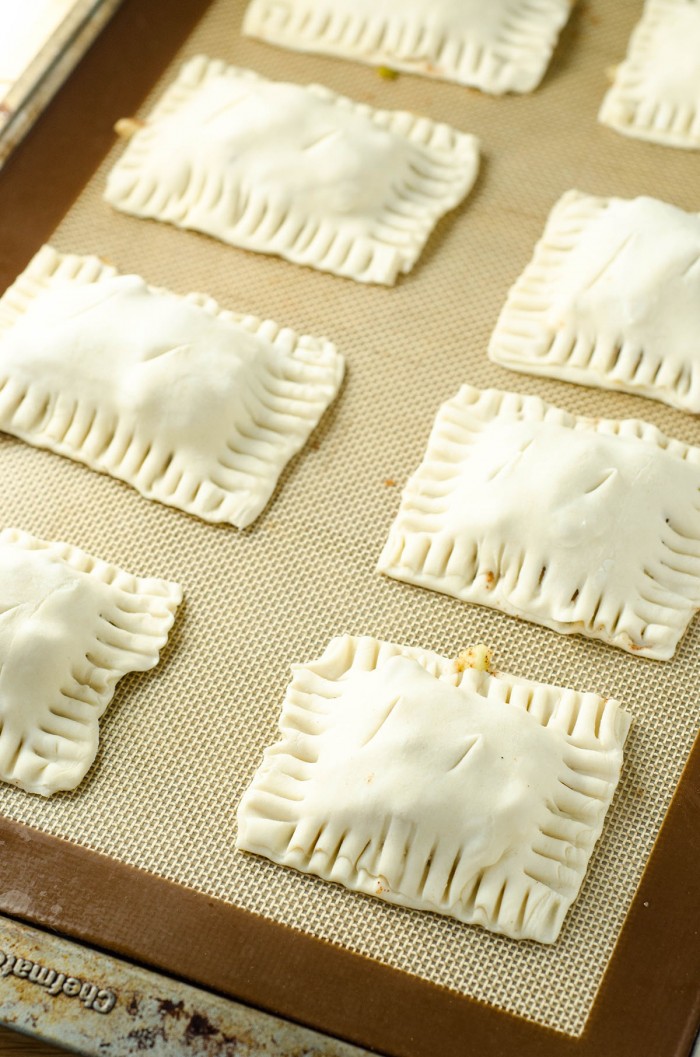 Cut a couple slices into the tops of each pie, brush with an egg wash, and sprinkle with more cinnamon + sugar.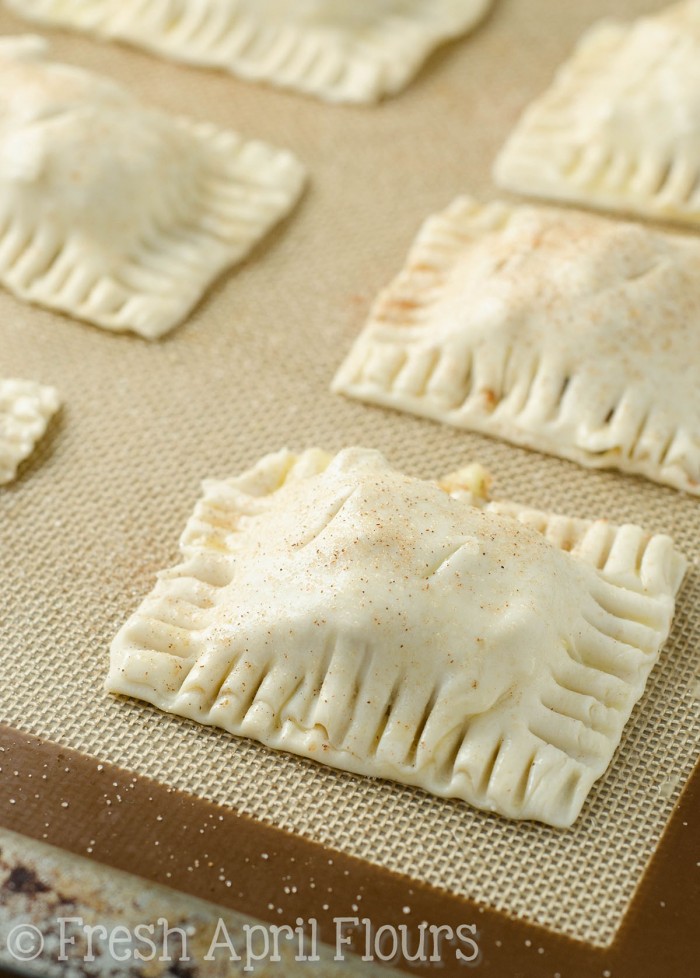 Bake. Enjoy.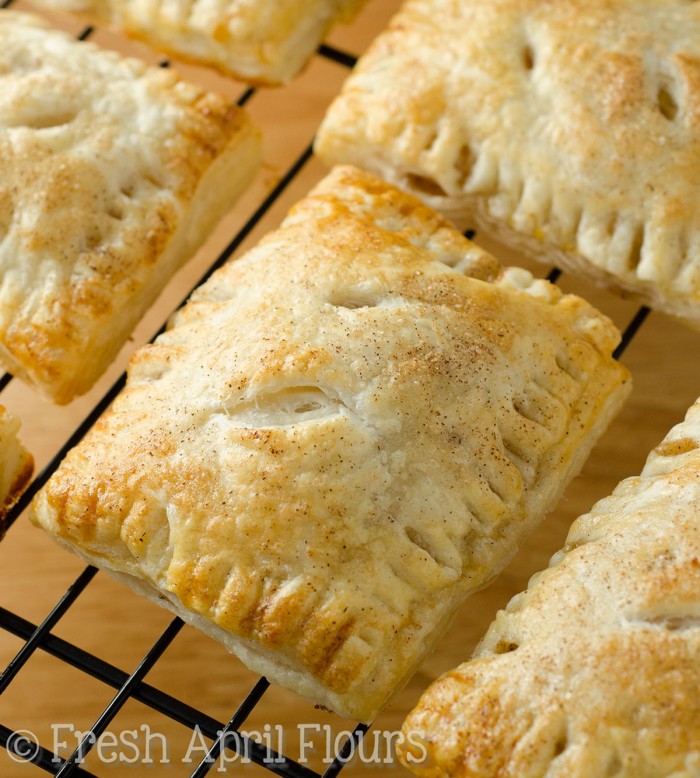 Easy, right?
Remember how I said I wanted something that could be easily stored if there were leftovers? Yeah, that wasn't a problem. I made a triple batch of these apple hand pies, and there wasn't a single one left by the end of the afternoon. Best of all, the man of the hour loved them!
Buttery, flaky, perfectly spiced, and full of natural, sweet/tart apple flavor… These pies are definitely something that should go on your fall baking list. I promise, they're much easier than you probably originally thought at first glance.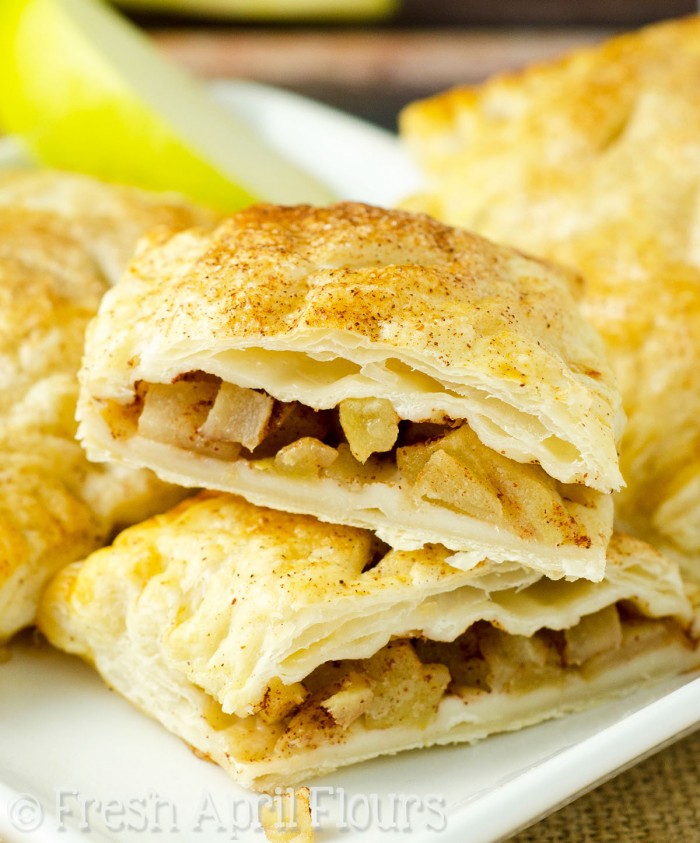 Plus… Fall gets all pumpkin-ed up. Let's show the apples some lovin'!
Check out some more of my favorite recipes containing apples!