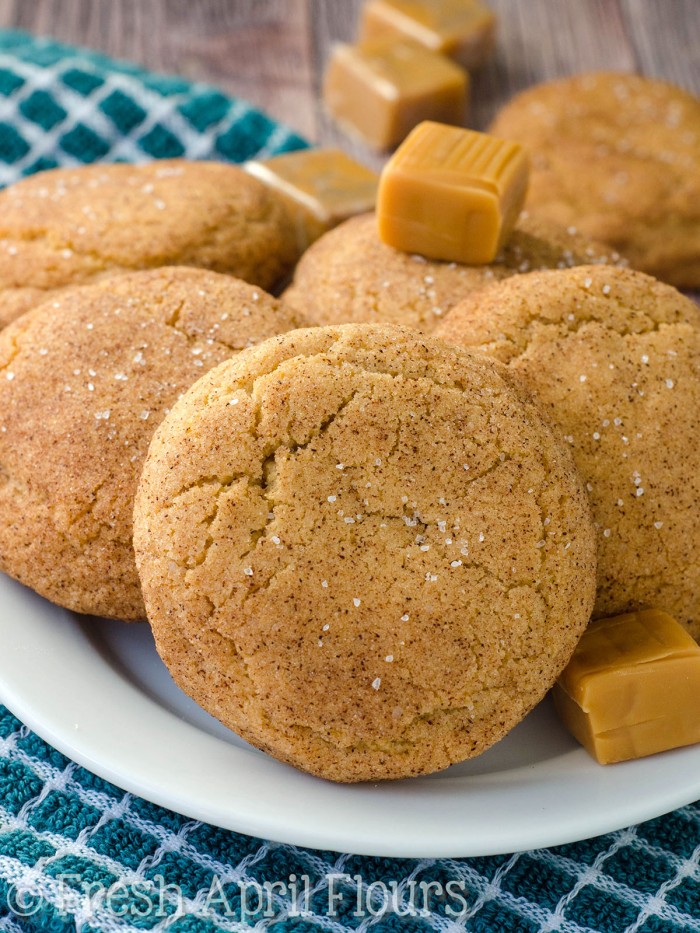 So you may remember these bad boys from a few weeks ago. My classic snickerdoodle recipe was a hit on the blog with my invisible friends and in real life with my REAL PEOPLE friends. No surprise there– they were slightly crisp on the outside, ever so lightly chewy on the inside, and coveredddd in cinnamon sugar. What's not to love? You can't beat a classic.
Unless, of course… You take that classic and stuff it with something amazing and sprinkle it with salt. NOW we're talkin' something to write home about.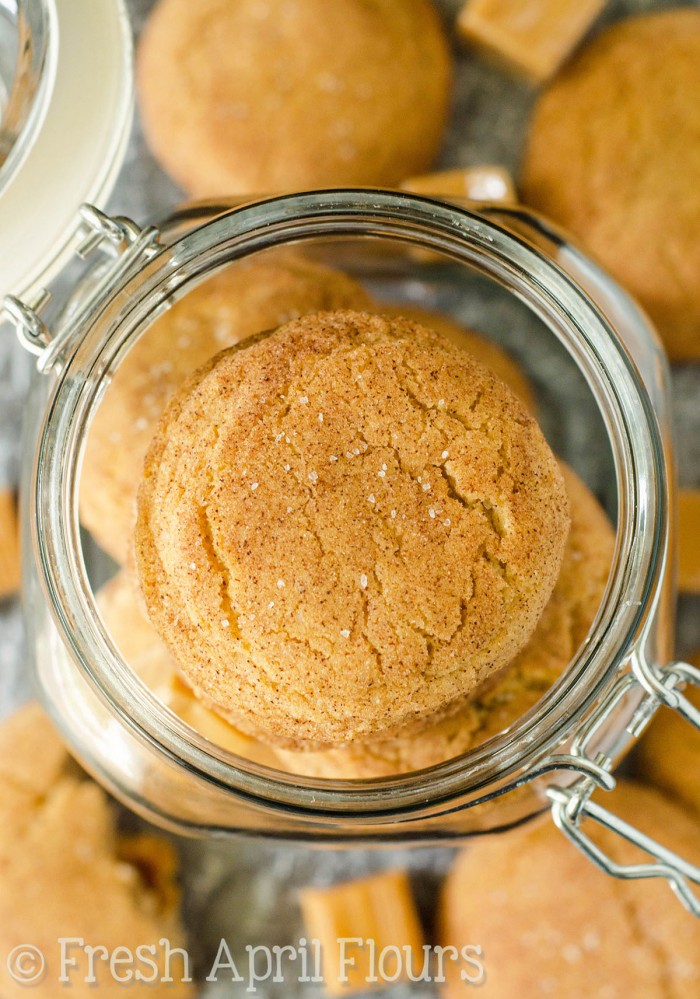 Don't get me wrong, I was/am/always will be totally in love with my classic snickerdoodle recipe, but there's something to say about salted caramel. Add it to any dessert and that dessert is automatically infinitely better. Amirite? I'm right.
Let's put it this way: if my classic snickerdoodles are my husband, these salted caramel stuffed variety are my hubbahubbahubby with his shirt off. I'm totally in love with the original, but absolutely smitten with the jazzed up version. Are you following?
If you missed all the science of snickerdoodles in the original post, read about it now. Or, if you could not care less, then don't. Not all of us are food/cookie nerds, and that's a-ok. We can all live in perfect harmony as we agree as a group that snickerdoodles (salted caramel stuffed or otherwise) make the world a better place.
So, about this salted caramel center…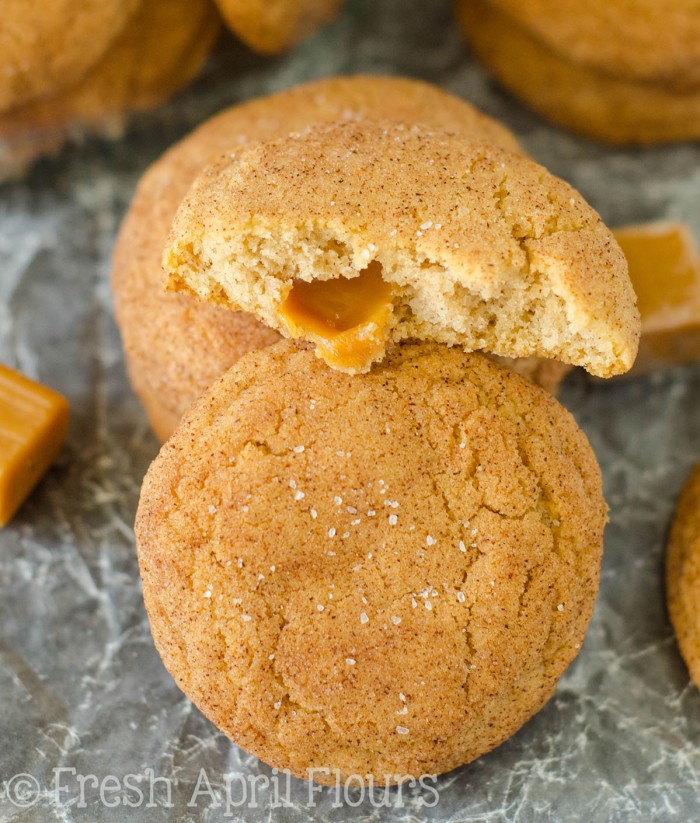 I am still looking for ways to use leftover ingredients from writing my cookbook, and I had quite a large bag of caramels leftover that I was dying to put in something. I was keeping them shoved into the back of my baking cabinet so I wouldn't be tempted to eat them. That's a really good way to forget you have something, but then also a great way to forget TO USE SOMETHING. Thankfully, individually wrapped caramels don't go bad quickly at all, so when they resurfaced during a reorganization, I knew exactly what I needed to do with them.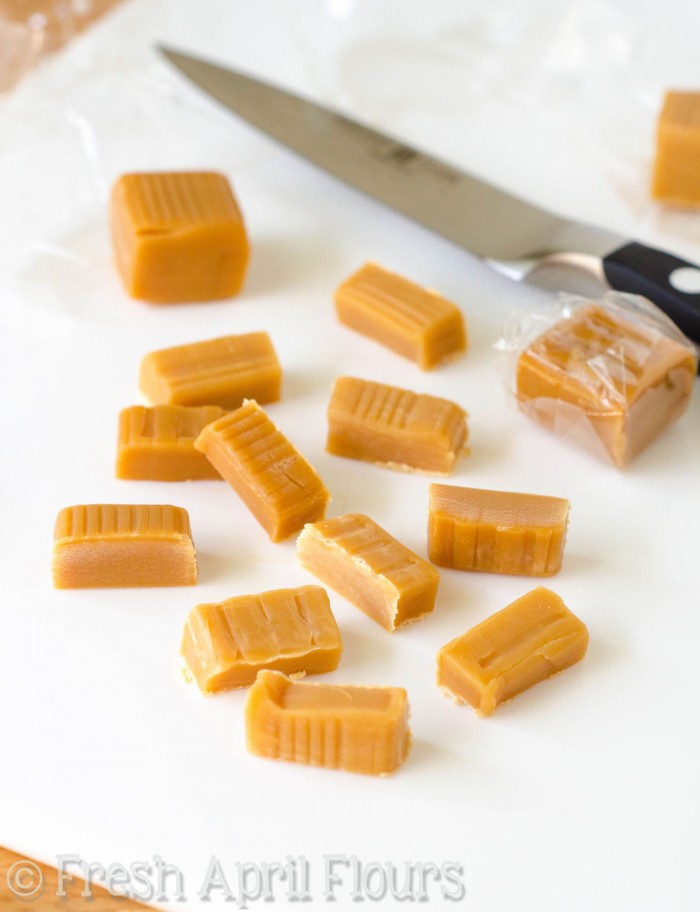 I sliced each caramel into 4 pieces, and stuffed 1 into each cookie. In hindsight, I could definitely have put 2 pieces per cookie (or only cut each caramel into 2 pieces, and put 1 of those pieces in each– did I lose you?). Your call. Either way, a sprinkle of sea salt goes right on top of the caramel piece. In the oven, the caramel melts into gooey oblivion, taking on the saltiness of every single crystal of salt surrounding it. Umm… Perfection.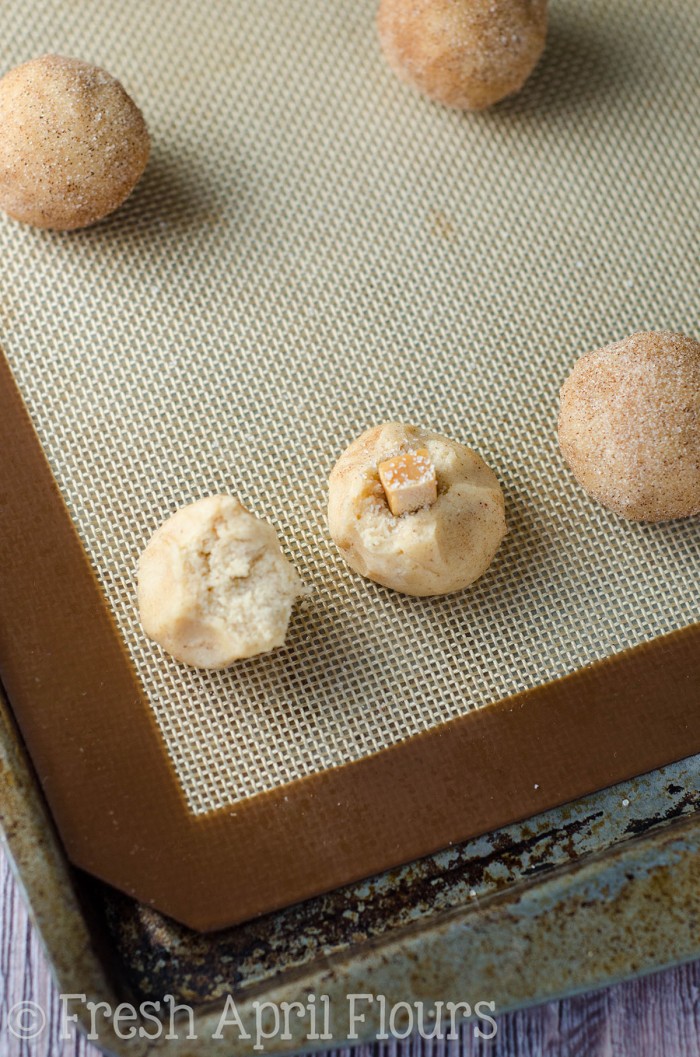 Let's back up a bit, though. Does this look complicated? It's not. Once you roll your dough into balls and before you roll them in cinnamon sugar, you'll rip the dough ball in half, insert the caramel, sprinkle a teeny bit of sea salt, put the dough ball back together, and give it another quick roll to seal in that salted caramel goodness. Simple! I promise.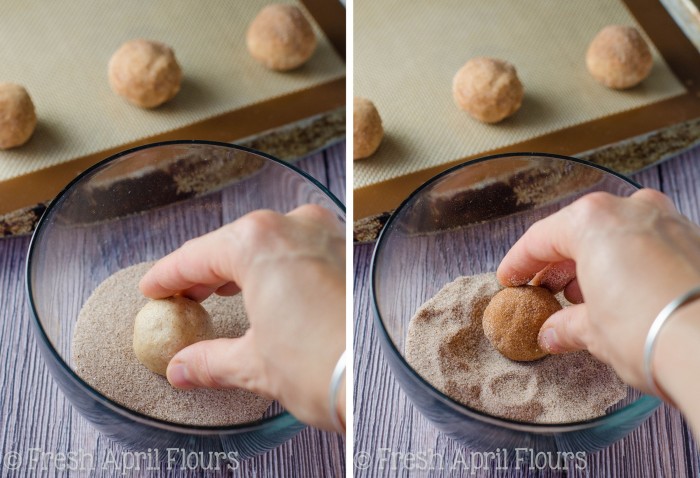 Juuuuust make sure you're using sea salt. Or kosher salt. Any kind of large, flaky salt. Table salt will not do well here. Trust me. The granules of table salt are much finer, so a "pinch" of table salt winds up being much saltier than a "pinch" of flaky salt.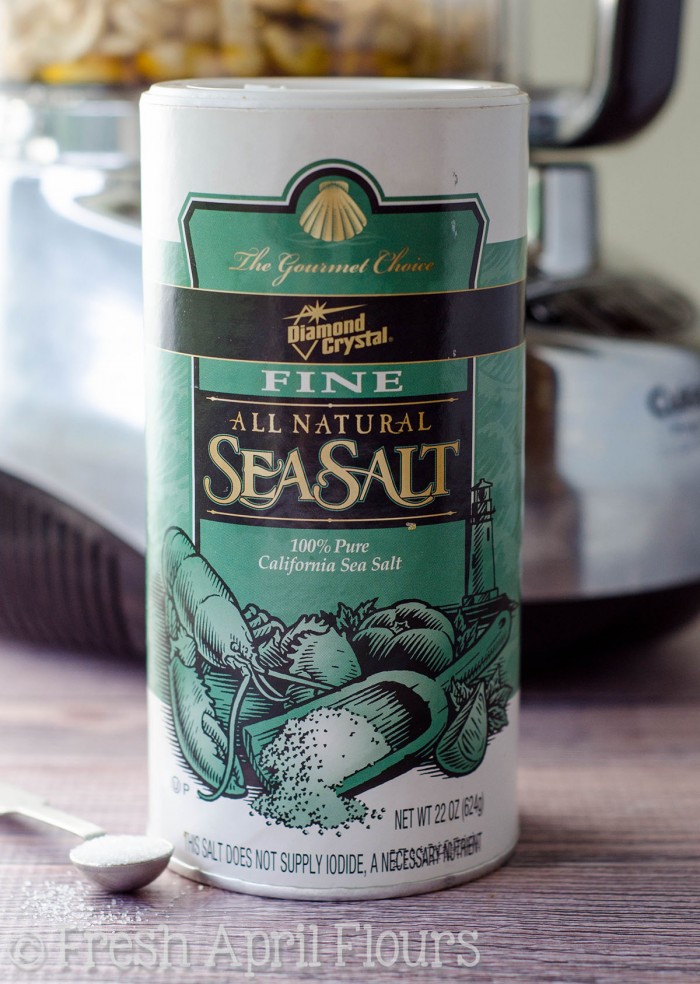 Sea salt, sea salt, sea salt. Or kosher. Just make it flaky!
Ok my people (invisible friends), if there is one cookie you must try right now, it's this one. Yes, I would encourage you to try any of the cookies I have on my blog, but this one is out of this world good. If you eat one of these cookies while it's warm, fahgedaboutit. You will wind up in a puddle on the floor because of how much your tastebuds enjoy that salted caramel, cinnamon sugary combination. It is heavenly.
If you don't get to enjoy one right away, a quick 3-5 second zap in the microwave makes these cookies just like fresh out of them oven, so you're never too far from an ooey gooey centered snickerdoodle! Unless, of course, you've stuffed one (some) in your purse and you're eating one on the go or in your car or walking down the street. Then you might have some trouble getting it all melty inside, but I assure you, the flavor is still wow-worthy enough to impress your tastebuds.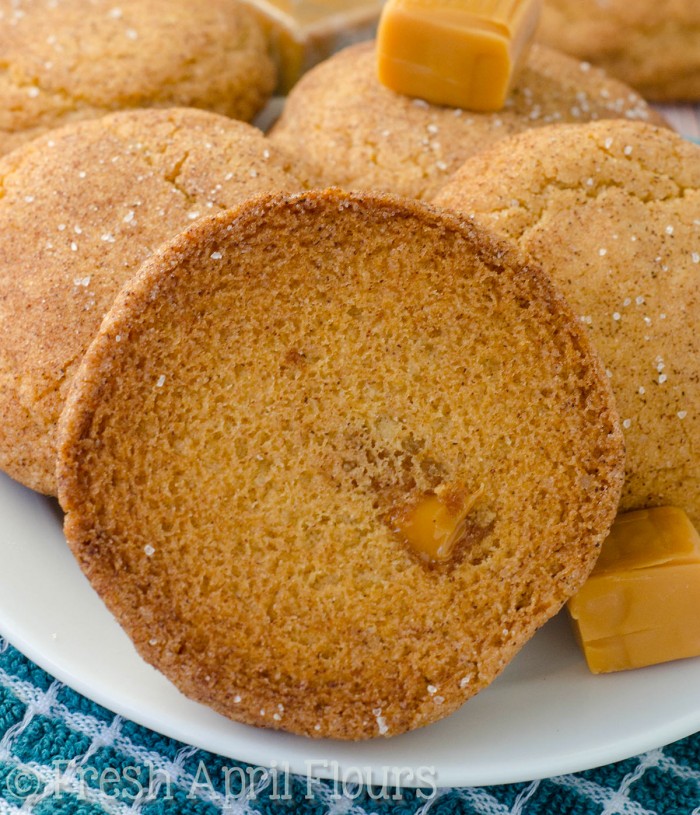 Sweet, tangy, spicy, and salty. A jazzy remix of the classic. A dessert you can get smitten with. A must try!
Check out more salty sweet treats!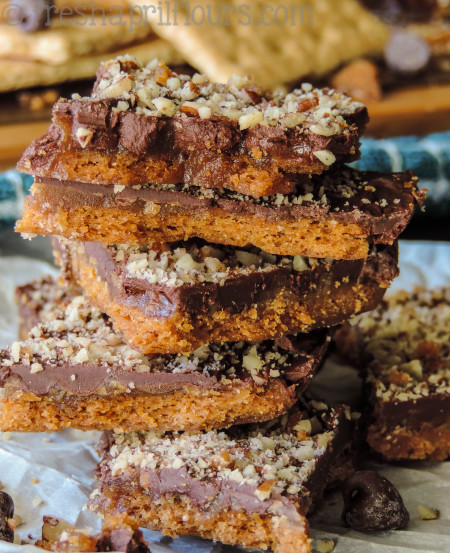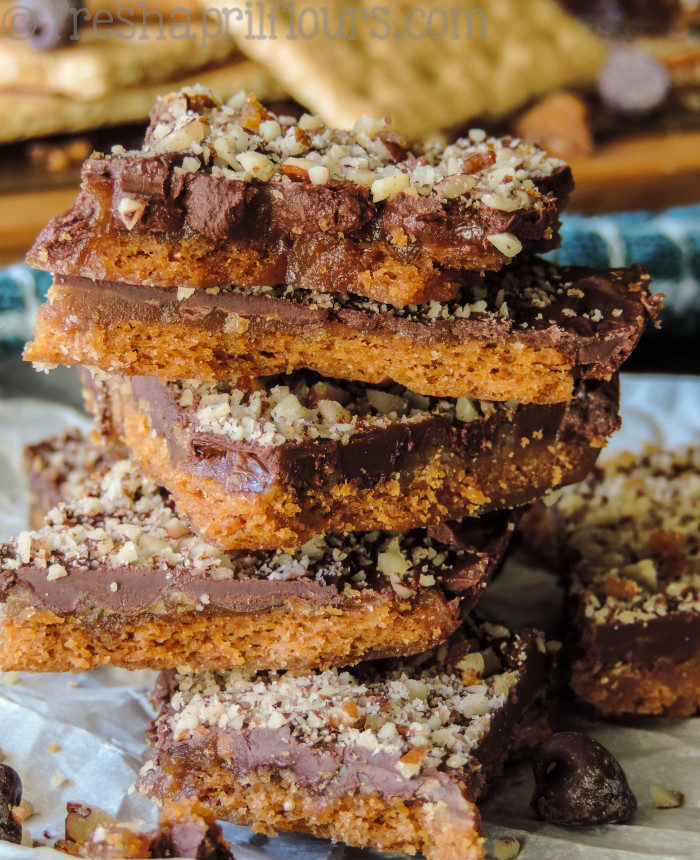 Flourless Crunchy Peanut Butter Cookies