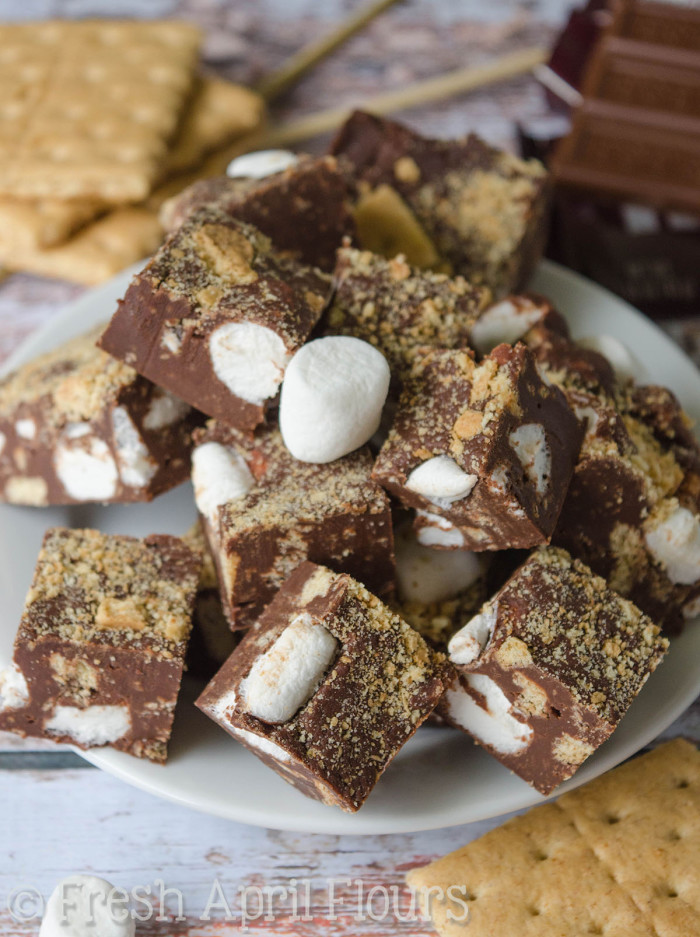 There are two things I must have every summer– one? A hot dog, fresh off the grill, with ketchup, mustard and relish (if it's available) on a white bread bun. Must. Have to. Gotta. Don't judge me. The second is at least one giant s'more. Preferably 10 giant s'mores. Also, just roasted marshmallows once I feel I've met my graham cracker and chocolate intake for that period of time. But seriously… 15 s'mores.
S'mores is an underrated flavor combination for dessert, in my opinion (did you know there's a s'mores puppy chow recipe in my book?). We all know chocolate is the easiest thing to get all up in dessert (goodness knows I've got no shortage of it here), but marshmallows and graham crackers should join their cocoa friend more often in this world. I think it would be a happier place if people had more marshmallow stuck to their faces. CAN I GET AN AMEN?!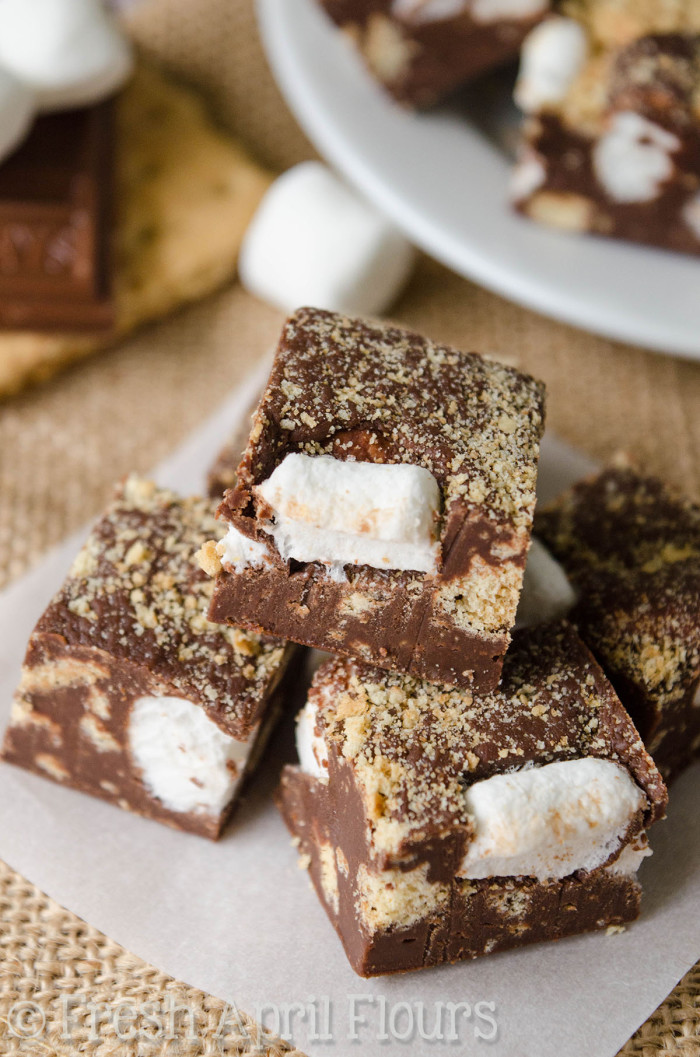 This week, I had grand plans to bring you 3 different s'mores recipes. Yes, 3. But the way things work when you're a food blogger is sometimes recipes don't work out and sometimes you run out of time and sometimes… Things fall apart. Like one of my s'mores recipes. Ohhh, don't you worry, we and our vacationmates are still enjoying it while we're away, but it just wasn't blog worthy yet. It needs some tweaking. And I am a-ok with that, because it means I get more chocolatemarshmallowgrahamcracker business in my kitchen when we get back. The third one, I just ran out of time for, but DO NOT FRET, because I will get to it eventually this summer. I must. I'm really excited about that one. #foodbloggernerdstatus
The good thing about this s'mores recipe is that it was so easy, I almost was too confident that I wouldn't mess it up. I'm certain you won't mess it up either. Unless you're one of those people who can burn water… Then, phone a friend. Otherwise, this fudge is easy peasy. I've been into easy peasy lately.
This fudge does not require a candy thermometer. PHEW! Because I am so afraid of that thing. I've used one before, and it's just… Incredibly intimidating. I will learn to use it properly and get comfortable with it at some point in my baking career (probably when my friend Sally's book comes out), but for now… I'm all about the candy recipes that don't require thermometers (like this one).
All you need is a bag of semi-sweet chocolate chips (you may certainly use milk if you prefer), a can of sweetened condensed milk, some crushed graham crackers, and some mini marshmallows.  You'll heat the chips and milk in a pan on the stovetop (or melt in a bowl in the microwave) until smooth, throw in your graham crackers (saving some for sprinkling on top) and marshmallows, pour it all into a pan, and 2 hours later, BAM!, you've got fudge that's filled with crunchy pieces of graham crackers and swirly, gooey marshmallows. I cannot express to you enough how easy this is.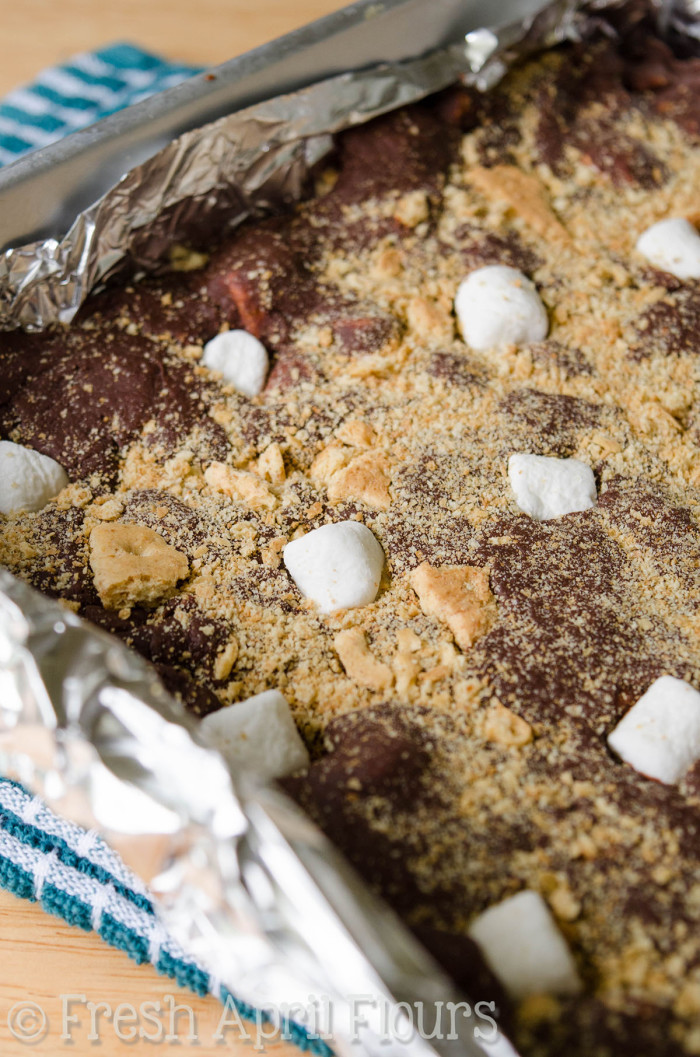 This recipe is perfect for the 4th of July because it's quick, it's painless, it's summery, and your friends will think you spent a lot of time creating this glorious little dessert, when in reality, it did most of the work for you in the fridge getting nice and firm for you to cut it into pieces to share. Or not share. I know it's hard… We've been sneaking pieces of it all week, and it's dangerously good.
Chocolate + graham crackers + marshmallow = s'mlove. Happy summer, friends!
If you're into candy, check out my Candy & Snacks.
Pumpkin knows no season to me. My Pumpkin Fudge is one of the most popular recipes in my kitchen (and among my readers) September through November!