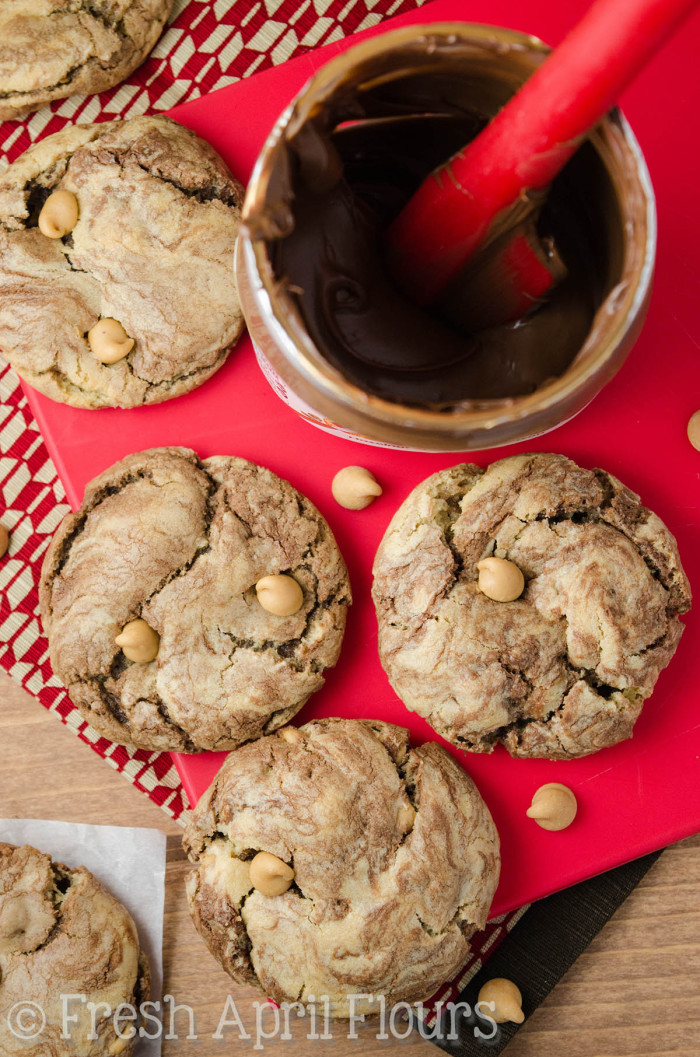 If there's one combination people in this world love more than life itself, it's chocolate and peanut butter. I am a fan, don't get me wrong, but I definitely don't go gaga over it. I have friends who would kill for a Reese's peanut butter cup. A handful in particular come to mind. They know who they are.
So when it comes to chocolate and peanut butter, I find that most people who are in the "lovers" group like many different forms and remixes of this flavor combination. For example, my homemade white chocolate peanut butter, or my almond butter chocolate chunk cookies, and especially my triple chocolate peanut butter bites (<– killer) are all quite popular among my chocolate and peanut butter fans. Don't worry– I have a whole category set aside for these recipes. You're welcome.
I thought up these cookies at 4am on Friday last week. No, seriously… At about 3:30am, I woke up, somehow remembered I had 1/4 cup of butter sitting out on the counter from all of the baking I did on Thursday (more on that in a minute), and wondered how I could take advantage of its room temperature state before I decided to save it and put it back in the fridge. And then I started thinking about all of the candy/condiments/spreads/stuff I still have leftover from this beast and how I need to start using it up (I started with these cookies bursting with mint chocolate!), and it just snowballed from there. #foodbloggerproblems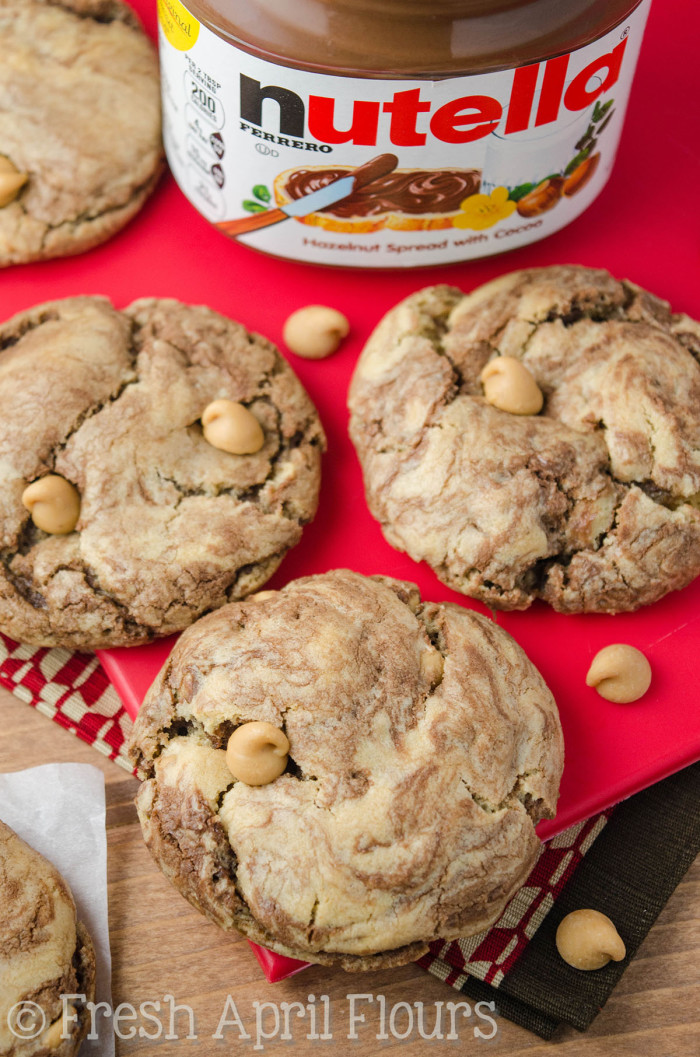 Another reason I couldn't sleep was because Friday was the day before my brother-in-law's wedding. I agreed to make the cake and cupcakes despite no longer running this business, so I spent essentially the entire day on Thursday in the kitchen, save for a Skype date with my favorite nephews on the other side of the country. A lot of excitement/anxiety about the wedding/transporting the cake and cupcakes = Lynn can't sleep. And what better to do, as a part-time food blogger, than use the wee hours of the morning to bake? Nothing. It was time to bake (some more).
The fun thing about making these at 4am on a Friday is that not only did I bring the cookies with me to the wedding festivities (and handed them off to the groomsmen as taste testers who devoured the entire batch for me), but I was also able to tweak the recipe for when I made them a second time, on a Monday afternoon, in broad daylight. Much more conducive to pretty photos (more #foodbloggerproblems) and why WOULDN'T you want to make more cookies swirled with Nutella?!?!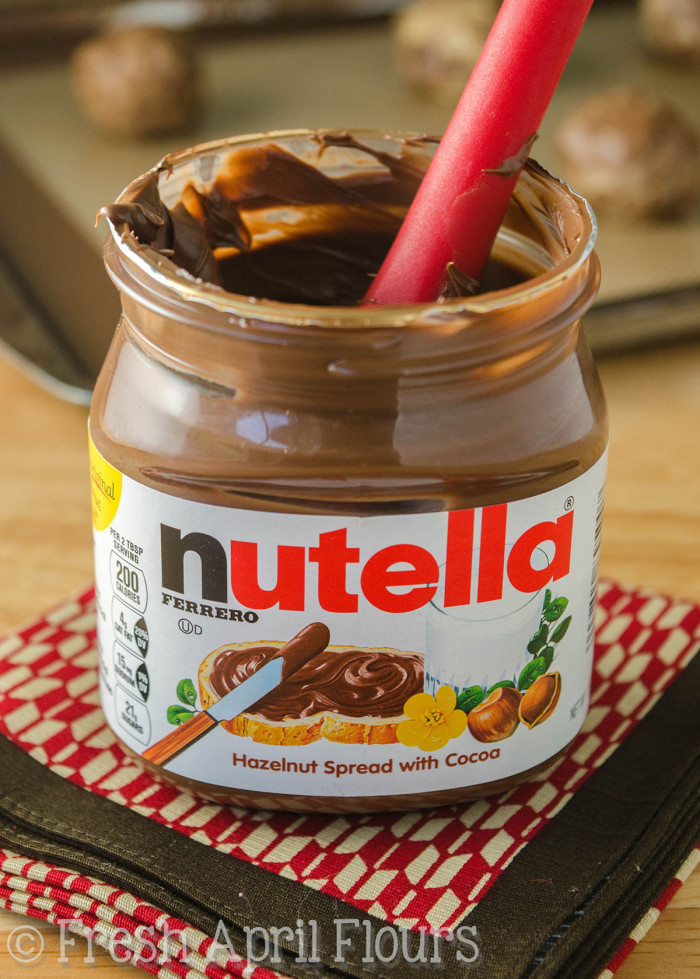 These cookies are super easy. They're almost identical to my Andes Mint cookies, except I added a hefty dose of peanut butter chips instead of Andes Mints and then created some beautiful Nutella swirls in the finished batter. Maybe I should bake at 4am more often because "Nutella swirls" are one of the best things that happened to me that weekend. And remember it was my brother-in-law's wedding… (just kidding Chris and Shan, I love you guys and your wedding was a blast, but these cookies…)… 🙂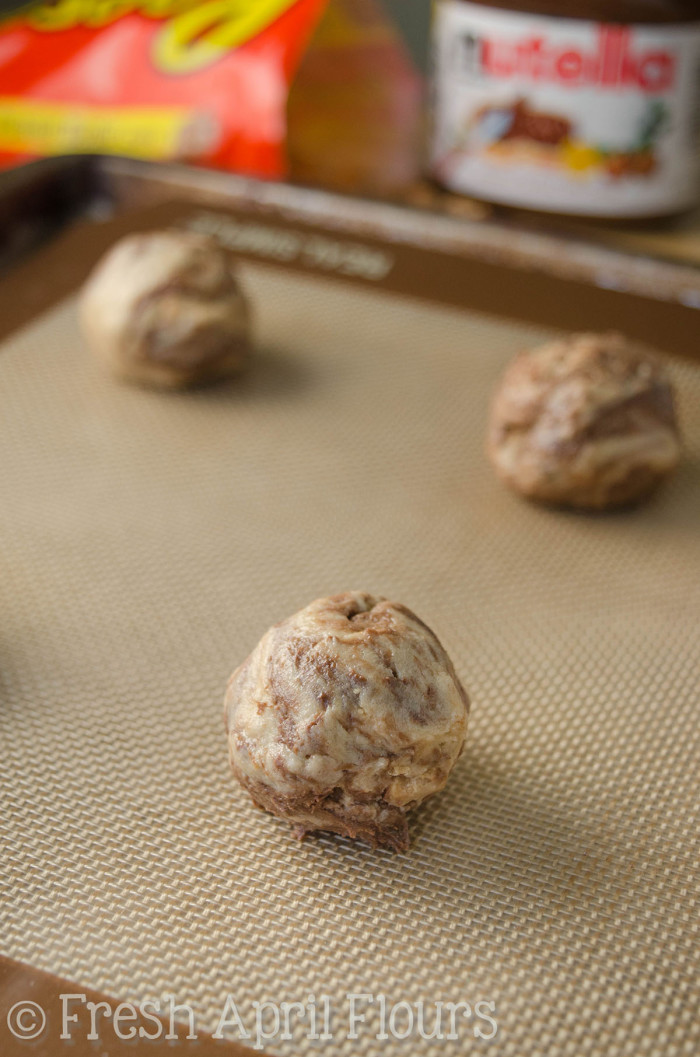 What I think I love most about these cookies is that you're really not sure what you're going to get when you take a bite. Will there be more Nutella than peanut butter? Will your tastebuds be graced with just one peanut butter chip or maybe several or maybe even a CHUNK of a Nutella swirl?! Oh man, could it always be that last one??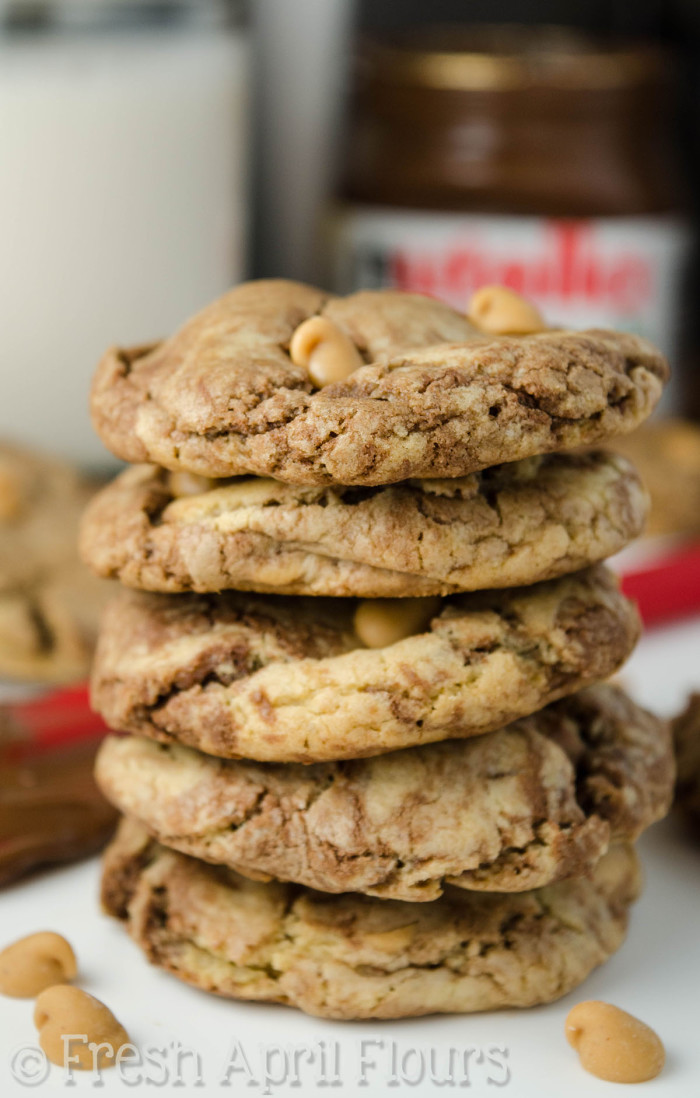 The exterior of these cookies is ever so slightly crisp, which is my favorite way for cookies to be, and the inside is silky smooth, filled with ooey gooey Nutella and melty peanut butter chips. I found the cookies to be the best slightly warm from the oven, and just as delicious heated up in the microwave for a few seconds to get all that Nutella peanut butter business juuuust a tad bit melty again.  Of course, completely cooled at room temperature is perfectly fine, and a little bird told me these cookies are reeeeeally good for dunking (please tell me you're a dunker, too).
I've got to say– if you're a fan of chocolate and peanut butter, these may be one of your new favorite ways to enjoy it.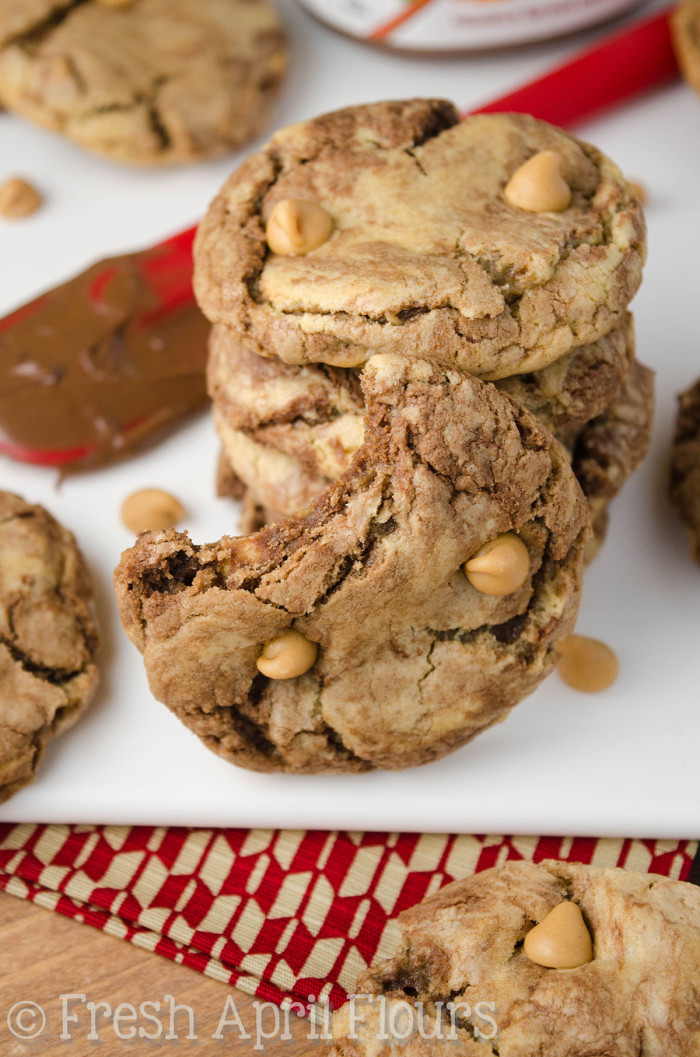 Peanut butter chips. Brown sugar cookie base. Nutella swirls… Did you hear me? NUTELLA SWIRLS (!!!). All the caps and exclamation marks in the world, my friends. Seriously. It's Nutella go time.
A bit of a cookie monster? Check out all of my cookie recipes. 
Peanut butter chips make an appearance in my Fluffernutter Bars. Have you tried them yet?