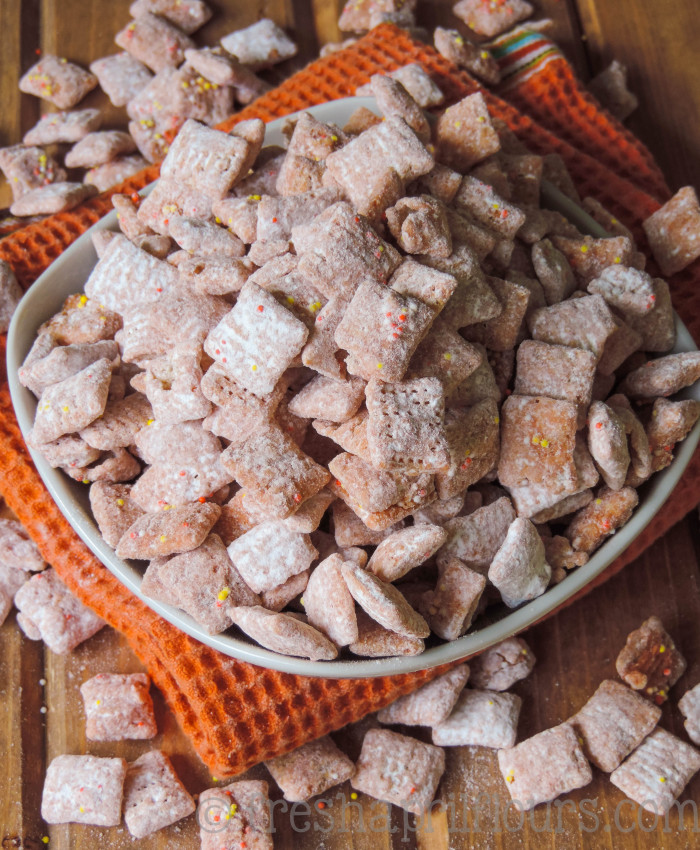 If you love puppy chow, check out my cookbook! 20+ exclusive puppy chow recipes!
It's no secret I like puppy chow (see this or this plus MY BOOK), so it shouldn't come as a surprise to you that I've rolled everyone's favorite fall flavor into my Chex cereal snack this week. And just so you know, I wasn't lying when I said I was going to try a million different flavors. I have quite a few varieties up my sleeve for the coming winter months (the 2nd best baking season).
I'm not the first by any means to try this flavor on my puppy chow. But I am, however, the first (that I've seen) to use an ingredient I happened to stumble upon in WalMart a couple weeks ago: Wilton Candy Melts PUMPKIN SPICE flavor. I immediately grabbed 2 bags. I would have bought the entire end cap if I wasn't talked out of it by my Halloween-costume-shopping-partner-in-crime who knew we were there for other reasons.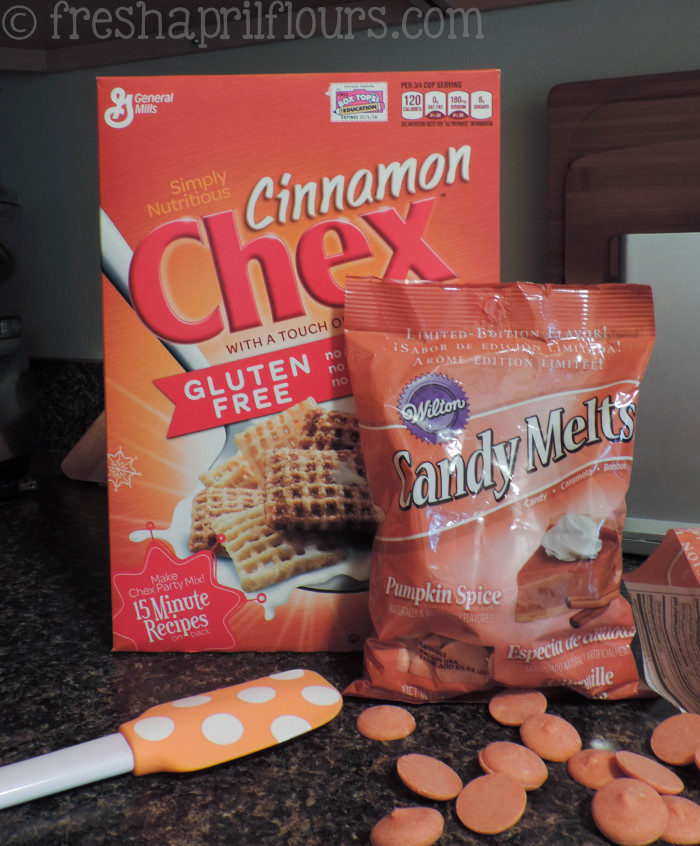 (Orange polka dot spatula not required, but certainly encouraged :-))
Now before you weep over your keyboard because you fear you'll never find this, fear NOT! I was pleasantly surprised that they tasted exactly like pumpkin spice Hershey's Kisses. So if you can't find Wilton's candy melts, just use Kisses (given you can find them as well). The great news is, the bags have the same weight in candy inside. Bad news, you'll need to unwrap each Kiss before you can use it. Total first world problem and totally worth the struggle.
This recipe could not be easier. You only need 3 ingredients: Cinnamon Chex, melting candy, and powdered sugar. If you can't find pumpkin spice melting candy or pumpkin spice Kisses, you'll need one more ingredient: pumpkin pie spice. See notes at bottom of recipe if this is the case.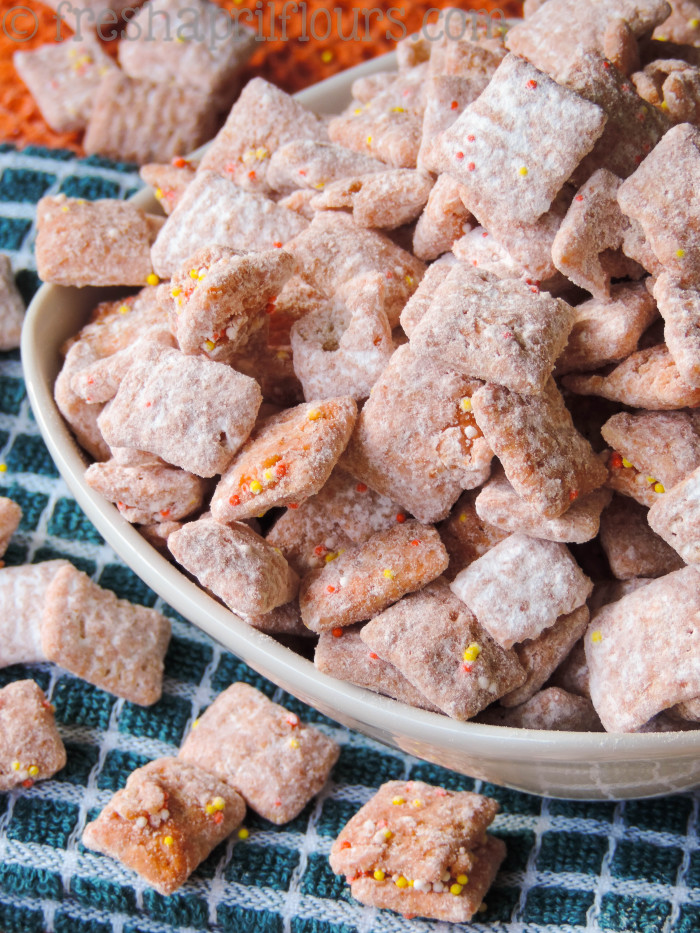 I gathered these ingredients, took some pictures, threw everything together, and took more pictures in under 20 minutes. That means 10 minutes TOPS for you (unless you want to take pictures too)!
I added 1/3 cup of festive nonpareil sprinkles, but I bet this would be great with other mix-ins like… Candy Corn or Pumpkin Spice m&m's (1 cup), mallowcreme pumpkins (1 cup), Reese's pieces (1 cup) [don't knock the pumpkin and peanut butter combo!], fall colored m&m's (1 cup), cinnamon chips (1 cup), Halloween/fall sprinkles (1/2 cup), or even something salty like roasted sunflower or pumpkin seeds (1 cup).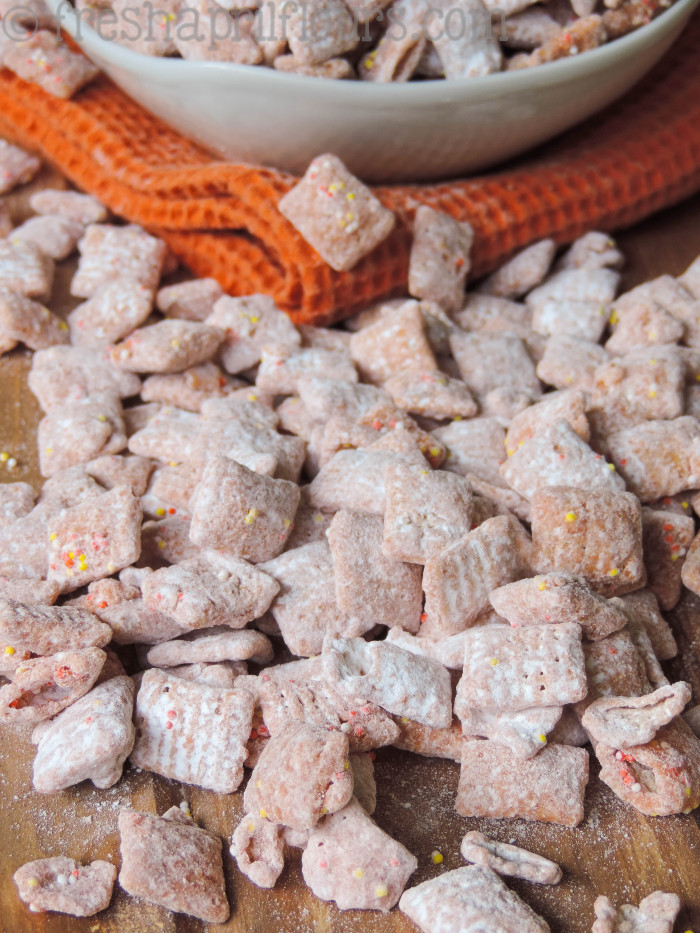 This is a great fall snack, and it would be great to bag up and hand out to little Trick-or-Treaters! So easy to put together, and so easy to snack on. Like I said, watch out for more varieties coming your way soon…
Read more about my PUPPY CHOW COOKBOOK!