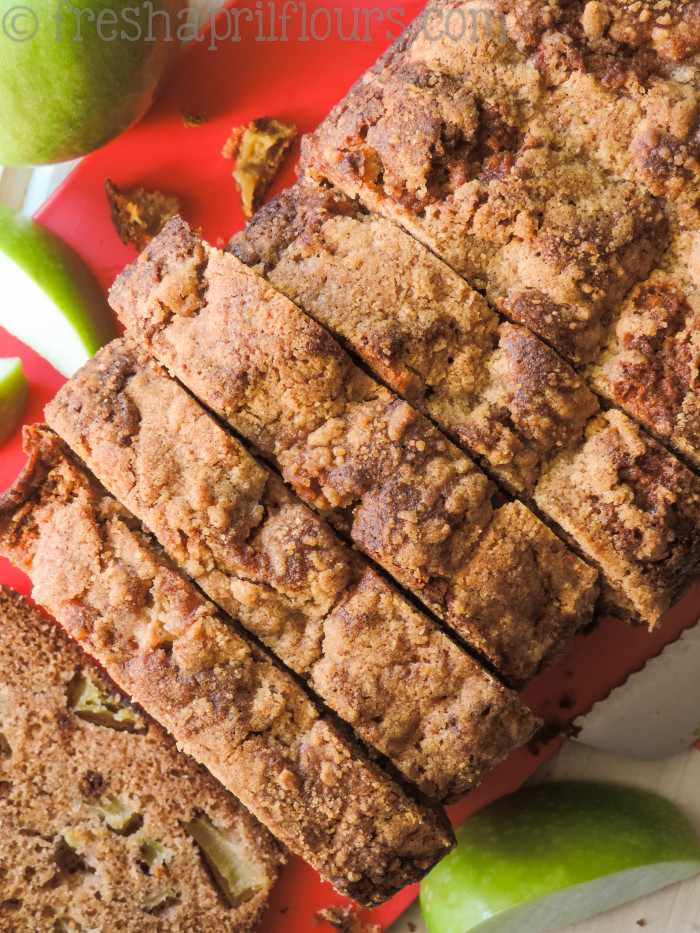 Well, friends… I'm here, as promised, with a way you can use some of the beautiful apple butter I showed you how to create just a couple days ago.
I started this recipe a week ago. I had been racking my brain for a way to incorporate some apple butter into a baked good, and I finally figured out that a quick bread would be the best route to go. I don't have a quick bread on my blog yet! So it was definitely time. Let's do this!
I've made my MIL's banana and zucchini breads many times, so I am pretty familiar with the standard quick bread recipe. I figured I would swap out the bananas/zucchini with some apple butter and see where it got me. I was so excited that my bread was coming together– I was diligently writing down all of my ingredients, being careful to measure exactly and stir gently, I layered my batter into my heavy-duty Wilton loaf pan, sprinkled the sparkly, sugary streusel on top and popped that baby in the oven. I had a huge smile on my face until I realized… I forgot baking soda and baking powder.
Night. Ruined. See this incident and more baking fails here.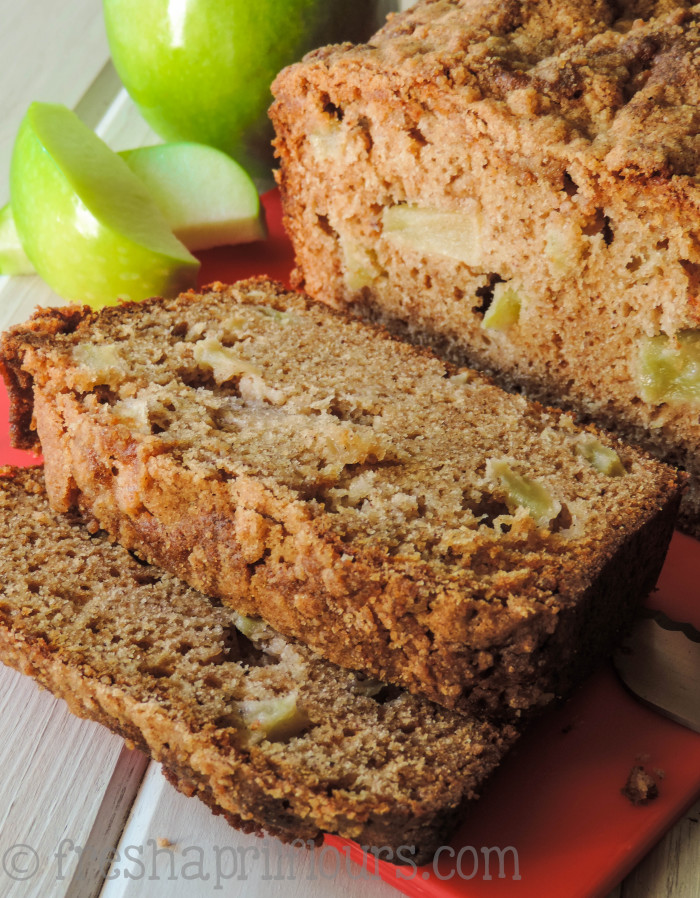 I baked it anyway, while I angrily threw together another loaf, this time with some leavening agents in it, and posted my baking fail to IG to make myself feel better. It worked when I saw how many photos were under the hashtag #bakingfail.
Fast forward to a gross loaf in the trash and one perfect loaf cooled and sliced for a housewarming party, I've now baked this bread 2 more times. Yes, 2. It's that good. And I've made a few tweaks here and there along the way so that you can have the best of the best to work with!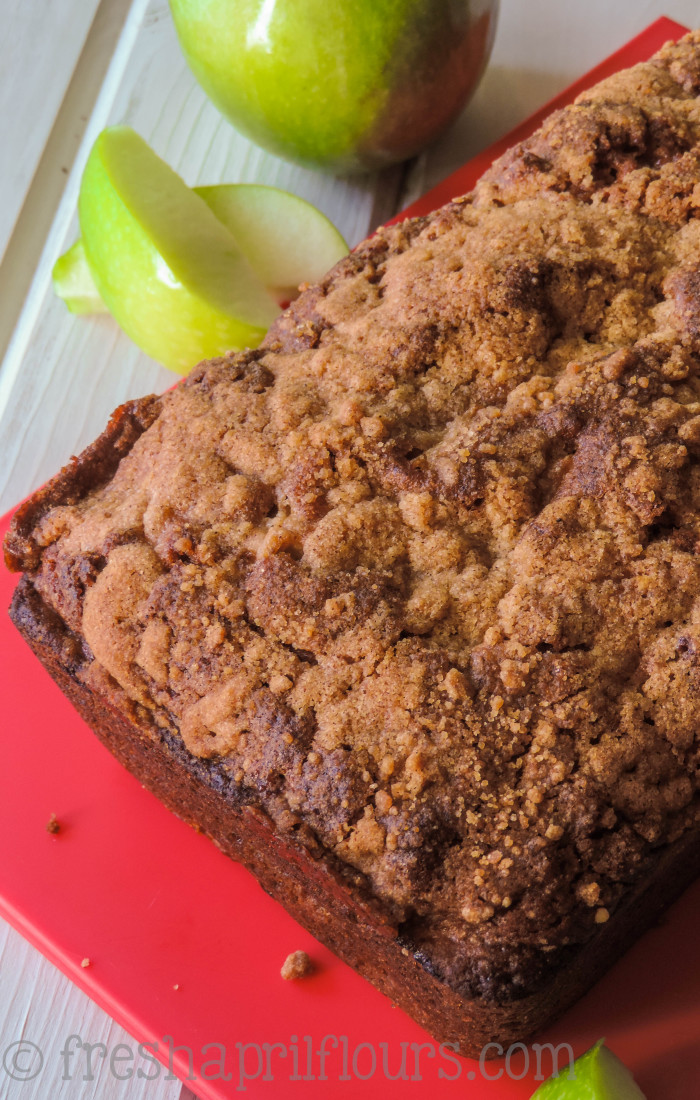 How do you feel about cinnamon streusel toppings? If your answer is that you feel amazing about them, you've come to the right place. Let's put cinnamon streusel topping on everything, ok?
If you've never made a streusel topping, it's crazy simple. Brown sugar, flour, cinnamon, and butter. That's it. I've put together this handy little collage to show you exactly what it should look like.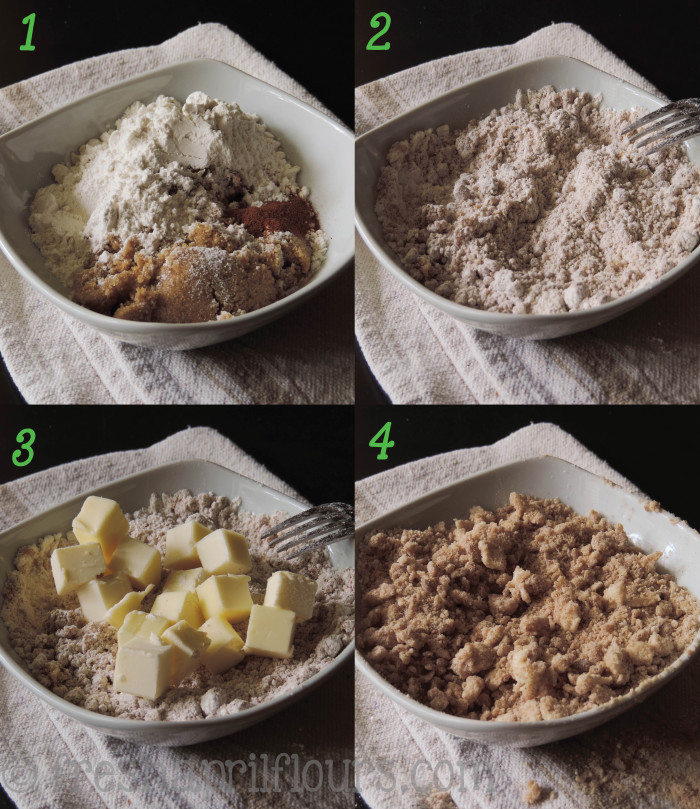 1) in a small bowl, combine your brown sugar, flour, and cinnamon.
2) toss together with a fork.
3) add your softened butter.
4) blend together using a fork (or your fingers) until pea-size clumps have formed.
Easy. Just try not to eat all of it before you put it on the bread (#streuselproblems).
You'll want to use one, bright green, sweetly tart Granny Smith. Don't even think about using another kind. Ok, ok, you can use another kind if you want, but Granny does know best…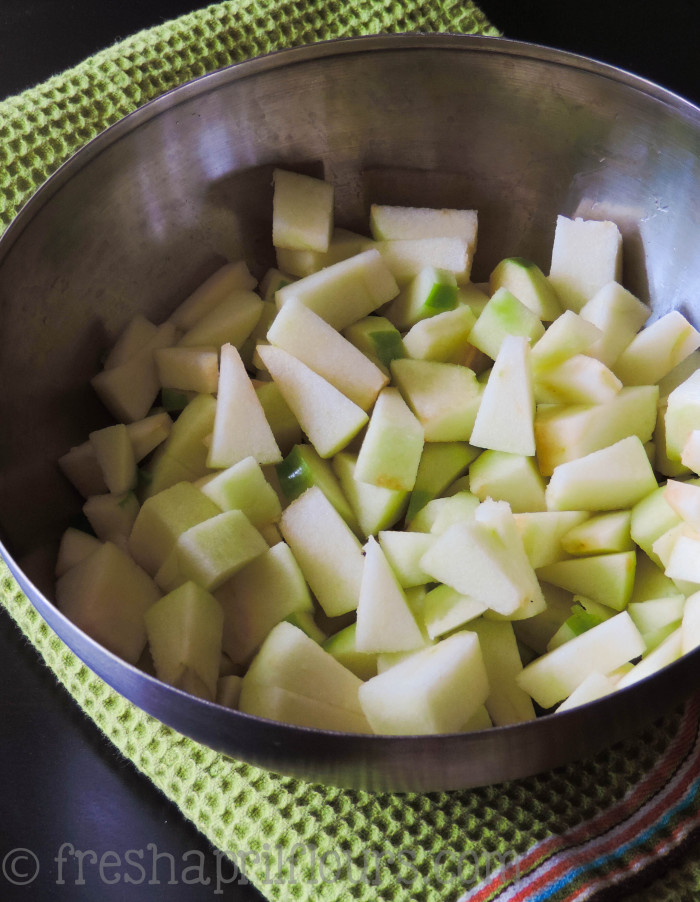 You'll see there's no butter in this bread. Instead, you'll use oil for fat and for incredible moisture. Brown sugar will also help keep the bread moist while adding a rich sweetness to the overall flavor.
This bread is pretty easy to put together, just please please pretty please don't over mix your batter. You want to keep this bread as soft and moist as possible, so just stir until everything is combined. Once everything is mixed, fold in your apples, throw it in your loaf pan, and sprinkle that amazing streusel topping all over the top. There is no shortage of streusel goodness gracing the surface of this loaf of apple chunk bread, and that's how we like it here in the April household.
This bread. Oh man… It's not super sweet, which is what I love most about it. It's sweetened just enough to allow the apple flavor to really shine through. Any more sweetness and I'm afraid the apples would get lost in all the sugar. Besides, that streusel topping really gets to stand out against the tart apple bread. It's crunchy, it's cinnamon-y, and it absolutely melts.in.your.mouth! It even caramelizes just a tad on the sides of the bread that touch the pan. Wowwwwww. Those bites were my favorite.
If you haven't made my homemade apple butter, no worries– you can most certainly use store bought. But let me ask you this… Why haven't you tried it yet??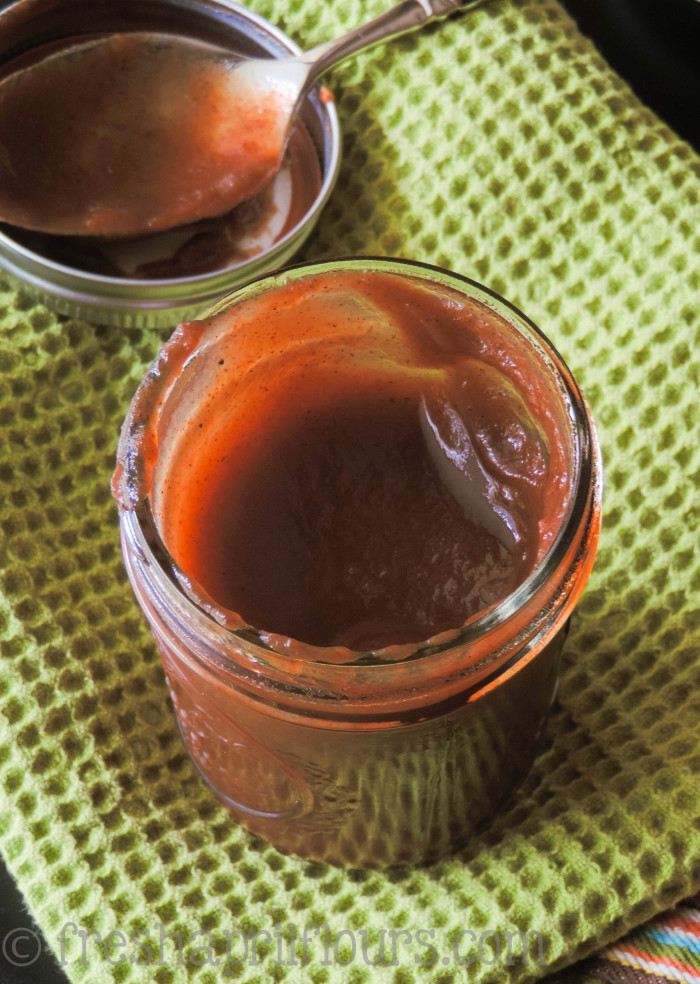 Enjoy, my fellow apple lovers!