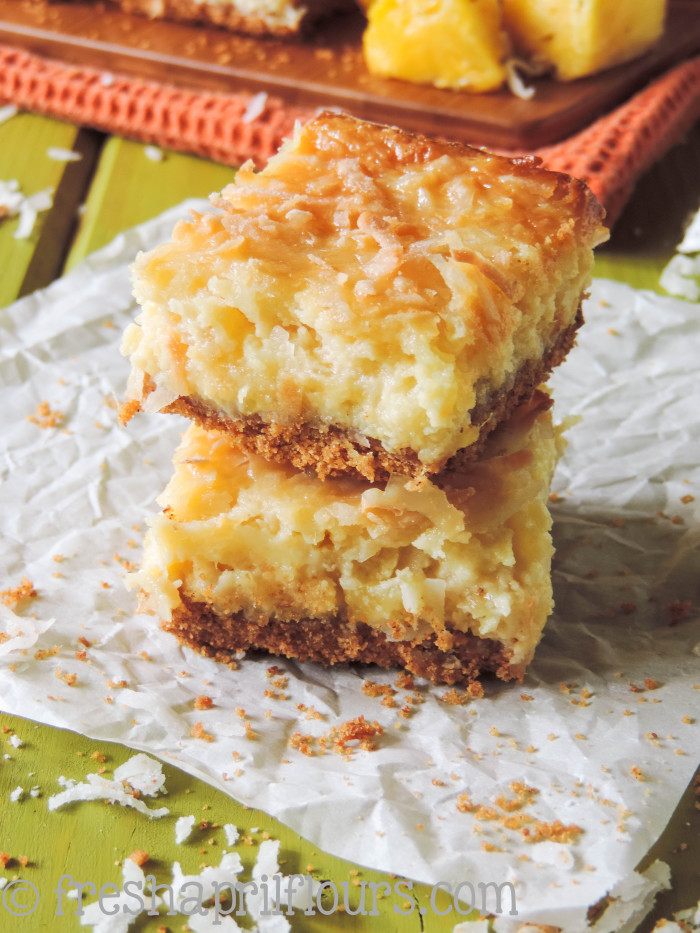 I am not a cocktail girl. Not one bit. I am most definitely a wine or beer girl, 100%. Although I do enjoy a traditional margarita with salt on the rim, I haven't touched a sweet, fruity drink since my bachelorette party last year. Don't get me wrong, I had a great time celebrating with all of my girlfriends, but let's just say I won't be having any fruity or pink drinks for a long time. Maybe ever again. Thank you, Cinco De Mayo weekend + too many strawberry drinks + sombreros.
Despite my non-interest in fun cocktails, I do have a major interest in boozy desserts that taste like typical "umbrella drinks." My coworkers and I went to Dewey Beach this past weekend and although there was quite the selection of rum in many different infused flavors, I decided to bring MY rum in the form of this piña colada bar. I mean, can you invite the dessert queen to a beach party weekend and expect her not to bring a boozy dessert? The answer is no you cannot.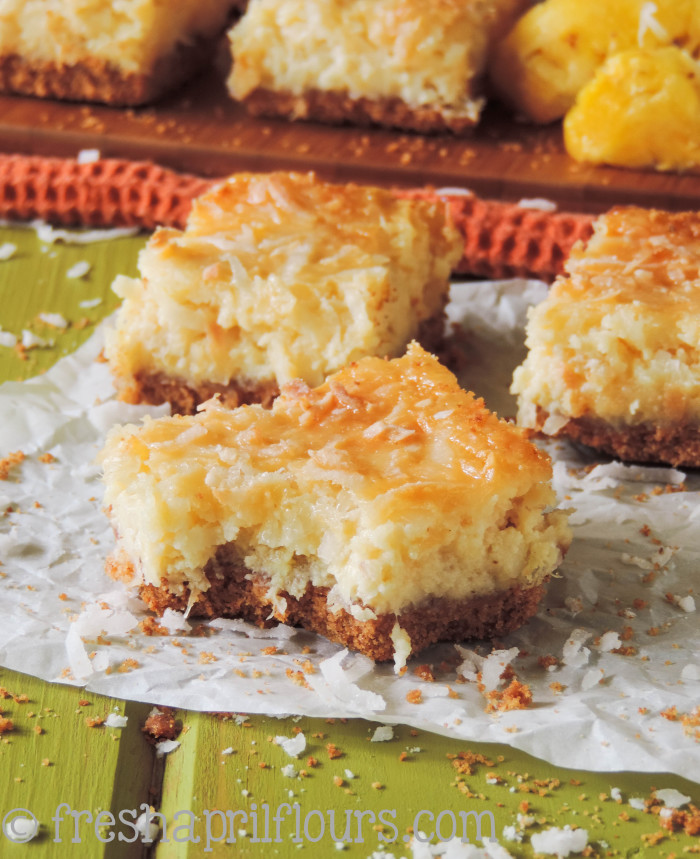 Although there is no actual alcohol in these bars, you can most certainly add some to make these truly a cocktail dessert. See my notes at the bottom of the recipe for suggestions. On the opposite hand, if you don't like rum, simply omit the extract. You may just need to reduce the baking time by a few minutes.
I modeled these piña colada bars after my key lime pie bars because I knew the texture I was going for was a creamy, flavorful filling. I kept the graham cracker crust the same because it's sturdy, crunchy, and buttery all at the same time. As a sidenote, I loveeee making my own graham crackers, but for this recipe, I actually prefer store-bought. My homemade ones are quite flavorful, and there are so many flavors going on in this filling, I wanted to keep the crust as an afterthought and not so bold like I did for the key lime bars. Plus, any recipe that keeps my oven on the least amount of minutes possible in the summer is a win in my book! (Speaking of… Have you tried my no-bake reader favorite yet? Pinned to Pinterest over 2K times in less than a week!)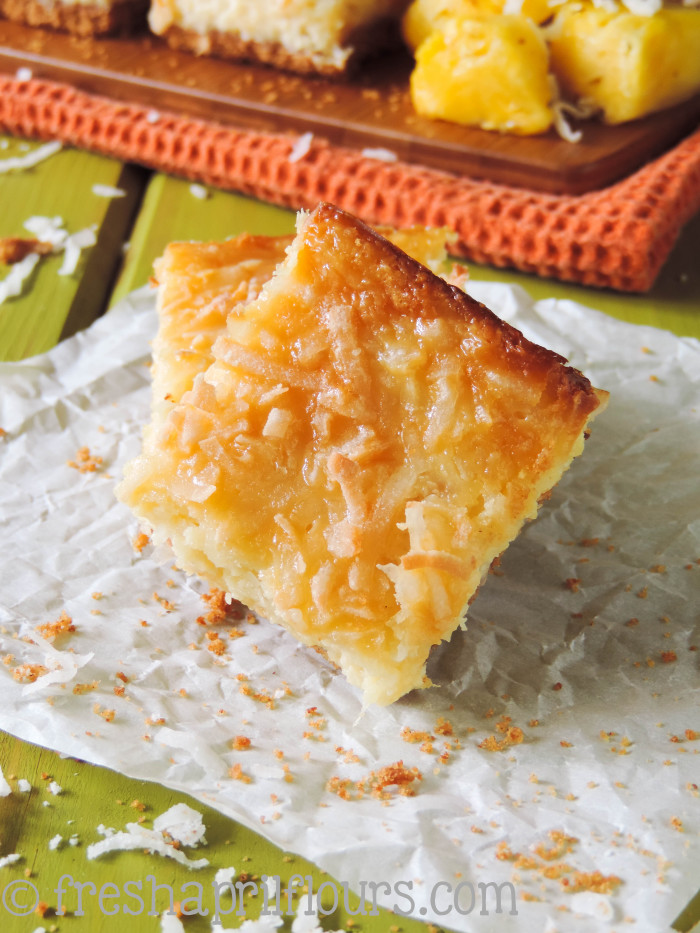 For the filling, I upped the cream cheese because there is a lot of moisture going into these bars: smooth, creamy sweetened condensed milk, sweet and slightly tart crushed pineapple, a hint of rum extract, and a touch of coconut extract to kick the coconut flavor up a notch.
Just like the key lime bars, these will need to cool to room temperature and then sit in the fridge or freezer before they're ready to cut and serve. It really is the hardest part. Prep only takes 15 minutes, and you can whip up the filling during the 10 minutes it takes to bake the graham cracker crust.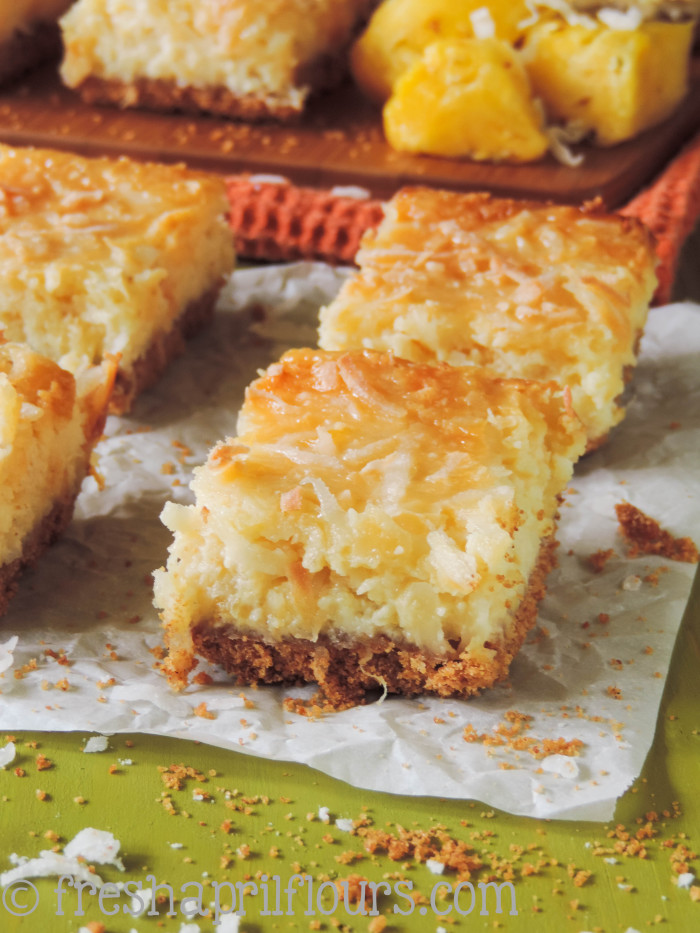 Let me tell you what– bringing this bar to the beach was a great decision on my part. For me, there is no such thing as too much coconut in my life, and these bars are jam-packed with it. It's the perfect summery dessert. The coconut sprinkled on top browns just a little bit, so the slight toasted coconut flavor in each bite meshes well with the sweetness and rumminess (?! it's totally a word right now) of the bar. My favorite part of the bar is the caramelized edges that come from the baking of the pineapple juice. It makes the bars just the right amount of sticky and chewy that belong in a dessert.
To make things even more fun, I topped my bars with a maraschino cherry, so it was essentially a chewy cocktail. Now that I've typed that, it sounds kind of gross, but I promise, these bars are a tropical dream. If you like piña coladas, you must try this dessert.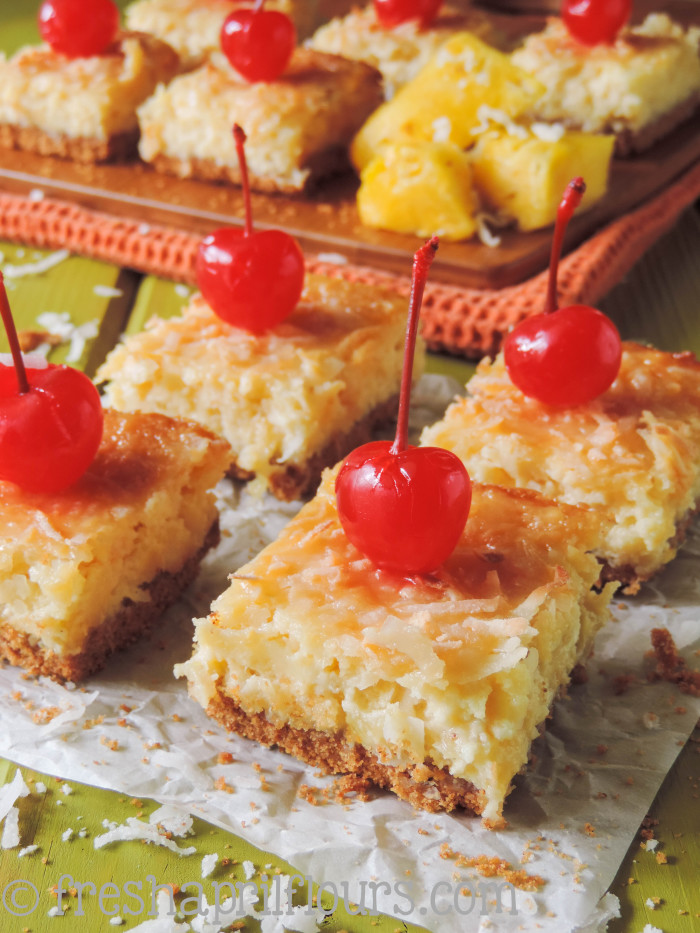 And the best part? You can eat ALL of these bars and not have a hangover!
Ok, ok, please don't do that… It's not so great for your health! Besides, these are too good not to share with fellow piña colada loving friends!
If you love these, there's a good chance you'll love this boozy dessert too… Check out my Strawberry Margarita Squares!